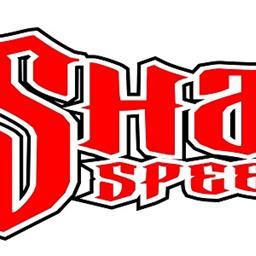 ---
IN 2011 FINALE, REX KING WINS 3RD RUSS KING MEMORIAL IN BRP MOD TOUR; 14 Y.O. MONTGOMERY UPSETS FASTRAK LM NE TOUR FOR 1ST WIN; BURNS OPENS & CLOSES S
By Mike Leone
September 17, 2011
(Hartford, OH)…Night 2 of the annual "Apple Festival Nationals� wrapped up the 2011 racing season at Sharon Speedway with 130 cars in the pit area on a cool fall-like evening and a great crowd on hand. Celebrating with wins in the Hovis Auto & Truck Supply victory lane were Rex King-BRP Modified Tour for the Governor Insurance Agency Big Blocks, Ryan Montgomery-FASTRAK Northeast Touring Series for the Barris Supply Late Models, Tim Burns-Gibson Insurance Agency Stock Cars, Brandon Blackshear-Summit Racing Equipment Econo Mods, and Bill Fuchs & Jamie Wrightsman-Presidential Lawn Care Mini Stocks.
The season long FASTRAK drawing for the Golf Cars 4 All golf car was held as Troy Holtgraver of Pittsburgh, Pa. was the winner. All proceeds from the drawing went to the American Cancer Society as over $2,000 was raised.
On Friday night at Pittsburgh's Pennsylvania Motor Speedway, New York invader Chad Brachmann ran down Rex King and passed the western Pa./eastern Ohio great for the BRP Modified Tour win. On Saturday night, Brachmann came from 13th to run down King in the closing laps, but wasn't able to steal a second straight win away from King, who would recorded his third career win in his father Russ' Memorial event. The 35-lap feature was worth $2,000.
"He was just much faster last night at Pittsburgh,� revealed the Bristolville, Ohio veteran. "I was just happy to be able to run on that slick track as good as we did last night. It was a real good car and I have a lot of great people; my boys, my wife, my family. I have a ton of sponsors and 95% of them are here tonight. A lot of employees from King Bros. are here. I appreciate everything they do for us.�
King drew the outside pole and took the lead away from Rob Curtis, who was debuting a new car for Mini Stock driver Rob McElhaney. Jim Rasey, a three-time Russ King Memorial winner, passed Curtis on lap two for second. Kevin Hoffman started sixth and was on the move driving under Curtis for third on lap four. Jeremiah Shingledecker was another driving making his way to the front. Shingledecker started 12th and cracked the top five on lap seven then grabbed fourth from Tom Mattocks on lap nine. Brachmann wasn't far behind moving into the top five on lap 12 past Mattocks.
Following a caution for Curtis, Hoffman got around Rasey for second on lap 13 with Brachmann taking fourth from Shingledecker. Lapped traffic came into play on lap 23 allowing Hoffman to close in; meanwhile, Brachmann dove under Rasey on lap 23, but couldn't make the pass stick. Finally Brachmann was able to clear Rasey driving under and past Rasey for third on lap 28.
King opened up some ground as the laps ticked off, while it was a four-car race for second with Hoffman trying to hold off Brachmann, Rasey, and Shingledecker. A scary accident took place on lap 32 when Justin Rasey slammed the fence and Rob Kristyak took a wild flip into the turn three catch fence and also collected Rex King, Jr. All drivers were okay, but heavy damage was sustained by Rasey and Kristyak.
When racing resumed, Brachmann and Shingledecker got great restarts taking over second and third from Hoffman and Rasey. With a clear track, Brachmann began to cut into King's lead and was nearly right on him at the finish, but came up shy by 0.251 seconds to King's Bristol Disposal/Midway Garage Door/RD Banks Chevrolet/Hunyady Auction/Cedar Steel/Auntie V's Pizza/GS Engine Power-sponsored #65. King's division-leading fifth win of the season was his 39th of his career moving him into a second place tie with Bob Kraus on the all-time win list!
On the July 12 Lou Blaney Memorial, Brachmann rallied from 21st to finish third and in his second appearance on Saturday night had to pass 11 cars to record a career best finish at the track. Making just his third start of the season, Shingledecker recorded his third top five matching his third from April 30. Hoffman crossed the line in fourth, but came up light at the scales for the second time in three races at Sharon. Rasey and Kevin Bolland were credited with fourth and fifth.
Sixth through 10th were Dave Murdick, New York's Shannon Whaley, Jim Weller, Jr., 20th starting Scott Gurdak, who was behind the wheel of the Lon Baker #2, and King, Jr. Heat victors over the season-high 36-car field were Bolland, Curtis, Rasey, and Murdick. Steve Feder and Skip Moore won the two B mains.
Mike Pegher, Jr. really found a setup to his liking to Sharon Speedway. After his Friday night FASTRAK Late Model win, Pegher looked like he was primed for his fourth consecutive Sharon victory, but on lap 14 he had nowhere to go to avoid an accident. The complexity of the race really took a turn as "Futures Cup� racers Damian Bidwell, Matt Latta, and Ryan Montgomery really went at it for their first career win.
Bidwell took command, but on the last two laps his car started to get away from him as Montgomery ran him and down and made the winning pass in turn four on the final lap to score a thrilling first career Northeast Touring Series victory in the 25-lap, $1,200 to-win feature! The 14-year-old racer became the youngest FASTRAK Touring Series winner in the history of the Series, and what was even just as impressive was the fact that Montgomery started in 13th! Montgomery became the 13th different FASTRAK winner of the season at Sharon!
"I knew he (Bidwell) was going to get nervous the last couple laps,� explained the Fairmont, West Virginia driver. "I was hoping he'd push up the race track. If he wouldn't have pushed up it was his. I thought it was his going into turn three. I've tore up some cars this year, but this is just awesome!�
Pegher powered into the lead off the bottom, which is normally a disadvantage at Sharon, over Latta, Bidwell, Andrew Wylie, and Wayne Robertson. Following a caution for Kevin Decker, who got into the fence with five laps completed, Sharon champion Josh Double was on the move from the 11th starting spot cracking the top five as he passed Robertson.
By lap eight, Pegher began to pull away as he broke the track record with a lap of 16.218. Double was all over Wylie and finally made the pass driving under him in turn four on lap nine for fourth. At the halfway point as Pegher approached lapped traffic, he had opened up a straightaway lead, while the battle began to heat up for second. Just as Pegher was beginning to lap cars, Eric Wilson spun in turn three and collected Ben Black. Pegher was just entering turn three and had nowhere to go. Pegher's shot at his sixth win and opportunity of really gaining points ended.
When racing resumed, Latta inherited the lead with Bidwell alongside. Latta led lap 14, while Robertson passed Double for third. Just one more lap was completed before another caution waved for an accident involving newcomer Nolan Dalton, Brian Lessley, and Black. This time when racing restarted, Bidwell powered into the lead on the outside; meanwhile, Montgomery got a great restart as he moved from sixth past Touring point leader Max Blair, Double and Robertson for third!
Montgomery caught Latta and made the pass for second in turn four on lap 17. Blair brought out the caution with 19 laps completed, which resulted in his first DNF of the season. On the ensuing restart, Robertson took third from Latta as one more lap was completed before the event's final caution when West Virginia racer Derek Rogers hit the fence with 20 laps scored.
Bidwell again took off in the lead, while Latta and 21st starting George Kowatic both moved by Robertson for third and four respectively. Kowatic, who won the last Touring Series race at Sharon last month, continued his progression forward taking third from Latta on lap 22.
Bidwell continued to tick off the laps, but on lap 24 got a little high coming off turn two allowing Montgomery to close. Montgomery stayed within striking distance of Bidwell as it appeared Bidwell was primed for his first career Touring Series win and first ever victory at the track; however, on the final lap entering turn three, Bidwell caught a bump, which unsettled his car. Then as Bidwell approached turn four, his car got away from him as he got up into the marbles and Montgomery sped by to win by 0.398 seconds in the Jeff Montgomery-owned, TJ Contracting/Custom Homes-sponsored #12.
Ironically, Montgomery had just taken over the "Futures Cup� point lead last weekend from Bidwell, who settled for a disappointing second- his best ever in a Touring Series race. Montgomery, who does have two FASTRAK Weekly Series wins this season at Roaring Knob, becomes the ninth different Northeast Touring Series winner of the season and 29th different all-time in 71 races. Montgomery's prior best Touring Series finish came at Dog Hollow Speedway on July 26 when he finished seventh, and prior to that was only a 16th!
Kowatic's impressive third came over a great run by Latta, who made just his fourth career Touring Series start and easily bettered his prior best finish of 21st. Robertson, who made the four and half hour tow from Corning, New York, had a solid fifth as he's now finished in the top 10 of all five of his Touring Series starts this season.
Joe Martin came from 14th to finish a respectable sixth. Double dropped back to seventh. Butch Lambert was eighth after starting 15th. Josh Holtgraver and Doug Horton completed the top 10.
Making his first ever Touring Series start, Wendell Pinckney ended the night by winning the eight-lap Non-Qualifier event. Pinckney started on the pole and led all of the way of the non-stop event for the $125 victory in his self-owned, unsponsored #11. "I like FASTRAK,� stated the Albion, Pa. racer. "We're going to try it again next year. It's different without all of the motor.�
Pinckney became the 13th different winner in the 15 races held all-time. Shane Weaver finished second for the third time this season and continues to lead the "Wheelman� Bonus Event Challenge Series. Brian Booher, Jamie Brown, and Tony Tatgenhorst completed the top five.
Picking up heat race wins over the 36-car field were Pegher, Wright, Latta, and Dalton, while the B mains were won by Kowatic and Lessley. A total of 43 different FASTRAK cars participated in the two days. It was the 10th time this season, 30 or more FASTRAK cars were in the pit area, as the average car count was 29 in their inaugural season as a weekly division at the track. A total of 94 different drivers competed!
A first ever Australian Pursuit was run for the "Futures Cup� racers. Cody Rogers drove his brother Derek's #23 to victory leading all eight laps for the $125 victory. Eric Wilson passed Joe Petyak to finish second. Montgomery was third after starting sixth over Bidwell, Petyak and Weaver. Clay Ruffo, Latta, and Wright did not start the race.
Tim Burns opening night $2,100 open Stock Car victory was considered an upset for his biggest career win, but you couldn't say Saturday night's 25-lap victory was another upset! Burns started seventh, passed Dan Lewis on lap 16, and pulled away for an easy victory in the Gibson Insurance Agency feature.
"I love it,� expressed the 39-year-old Greenville, Pa. racer. "It was great race, great weekend, nice track, and great facility. You guys did a great job this weekend. I want to thank my wife for being there all this time. My friend John, and my kids. My oldest son is in boot camp right now and he has three weeks to go and he'll graduate. After the wreck last night it was a lot of work getting the car back together for tonight.�
Making just his second start of the season in consecutive nights, Cutis J. Bish raced to the early lead with Lewis and fourth starting Mike Clark trailing. Bish got high in turn four on lap two, allowing Lewis to fly by. Following a caution for Buck Buchanan, Jr. with two laps scored, Clark and Burns moved into second and third past Bish. Another caution slowed action when Andy Thompson spun with seven completed, and on the ensuing restart, Burns made the pass of Clark for runner-up.
The last caution would be the final one of the race as the last 18 went non-stop. Burns began putting the pressure on Lewis on lap 11 and at the halfway point it was a seven-car race for the lead. On lap 16, Burns got a run off turn two and pulled even with Lewis. Burns went to the top in turn three and made the pass using the lapped car of Willie Aley to his advantage.
Burns instantly pulled away. By lap 18, Burns opened up a straightaway lead. Burns checked out with five laps to go, while a six-car race ensued for second. Burns would take the checkered flag by a whopping 6.597 seconds using FASTRAK Late Model Hoosier Tires in his Dad's Pet Care/Hittles Auto Supply-sponsored #66 for his fourth career Sharon win.
Clark slowed in the closing laps as Bish, Bobby Whitling, and Bob Sloss were able to get by to finish third through fifth. Sloss drove the #44s that Rod Laskey drove to a runner-up finish on Friday night. Clark, who finished second in Sharon's points, finished sixth over Mike Duritsky, Rusty Moore, Paul Davis, and Jamie Scharba. Heat winners over the 30-car field were Burns, Terry Wheeler, and Bish. Ed Bolyard II won the B main.
Brandon Blackshear made it three wins a row driving the Tubby Tessean #10 in the Econo Mods. Blackshear led every lap in one of the most dominating performances seen by any driver in any division this season. Blackshear's fifth win of the season was worth $350 and came in the 15-lap Summit Racing Equipment feature.
"Outside pole is the place to be here,� expressed the 21-year-old Brookfield, Ohio driver. "I knew we had a pretty good chance starting there, but Steve (Haefke) is a real good racer being in that 91 car tonight. We had to do that complete restart, but it came out alright. This car is working so good right now.�
After a caution on the first lap, the 15-lap event would go non-stop. Fifth starting Larry Root and 12th starting Derek Dellinger moved through the pack to take second and third on lap two. By lap five, Blackshear had opened up a straightaway lead, while Dellinger passed Root for second with a slider in turn two. At the halfway point, Blackshear extended his lead to one-half lap, and the remainder of the race did a great job through lapped traffic to maintain that margin at the finish.
Dellinger was second for his fifth straight top three finish. Root's third was his sixth top five of the season. Jim Turley came from seventh to finish fourth over 19th starting Brad Blackshear. Point champion Junior Mechling suffered his first finish outside of the top four all season long as he failed to finish the race. Brandon Blackshear and Kevin Robinson were heat winners. Robinson won his first career heat on Friday night and repeated the feat on Saturday nights.
The Mini Stocks ran twin 15-lap features and it was Sharon regulars Bill Fuchs and Jamie Wrightsman sharing the glory. Each Presidential Lawn Care feature paid $200 to-win and both races were great ones right down to the wire.
In the first one, champion Bill Fuchs captured his track-leading 10th win of the season. Fuchs started third and was in a wild, hard battle for the lead with Lucas Sprouse and Wrightsman. Fuchs began smoking on lap six as he was all over race-long leader Lucas Sprouse, who just scored his first career Sharon win last time out on August 27. Coming down for five laps to go, Sprouse tried to avoid Friday night winner John Schenker, Jr., who was off the pace. Sprouse couldn't clear him as he ran up over Schenker to bring out the only caution of the race and end a great battle.
Fuchs, 35 of Greenville, Pa., led the final five laps for his all-time division leading 13th career win in his RTW Industrial Contracting/Hittles Auto Supply/Kreider Tire-sponsored #10. Ken Koby II was a career best second after inheriting the spot when Wrightsman dropped from the event on the restart. Scharba came from 14th to finish third over Ed Huge and 15th starting Pete Blazczak.
The second feature saw the lead lap cars inverted. From the sixth starting spot, Koby raced to the early lead, while ninth starting Wrightsman was on the march. Wrightsman led lap five only to yield it back to Koby on lap six. Wrightsman would regain the lead for good on lap 10 and the 21-year-old Cortland, Ohio rookie would go on for his second career win in the last four nights of competition in his King Bros.-sponsored #21J.
Koby began the season with a fifth place finish, but didn't return to the top five until Friday night when he finished fourth and then capped off a great weekend with a pair of career best runner-ups on Saturday night! Scharba was third for the second straight race. Schenker was fourth over Randy Sprouse.
BRP Big-Block Modified Tour (35 laps, $2,000 to-win): 1. REX KING (65) 2. Chad Brachmann (3) 3. Jeremiah Shingledecker (37MD) 4. Jim Rasey (32) 5. Kevin Bolland (777) 6. Dave Murdick (61) 7. Shannon Whaley (44) 8. Jim Weller, Jr. (31) 9. Scott Gurdak (Baker 2) 10. Rex King, Jr. (165) 11. John Buchanan (44) 12. Brad Rapp (11R) 13. Carl Weatherby (919) 14. Steve Feder (45) 15. Rob Curtis (McElhaney 6 7/8) 16. Mike Turner (96) 17. Rob Kristyak (00) 18. Rick Robinson (Snider 1s) 19. Justin Rasey (32X) 20. J.R. McGinley (66) 21. Tom Mattocks (69) 22. Skip Moore (17M) 23. Donny Minor (22M) 24. Chris Haines (35H) 25. Eric Gabany (3E) 26. Kevin Hoffman (17H)-DSQ (light) DNQ: Mark Frankhouser (03), Chad Homan (91), Rick Hall (B4), Carl Murdick (6), Tom Shaffer, Jr. (34), Shawn Fleeger (88), Kevin Green (74), Don Brown (71B), Randy Chronister (71), Dave Reges (27R).
Sweeney Chevrolet Buick GMC FASTRAK Northeast Late Model Touring Series (25 laps, $1,200 to-win): 1. RYAN MONTGOMERY (12) 2. Damian Bidwell (17) 3. George Kowatic (5) 4. Matt Latta (21) 5. Wayne Robertson (20) 6. Joe Martin (55) 7. Josh Double (38) 8. Butch Lambert (27) 9. Josh Holtgraver (00) 10. Doug Horton (15c) 11. Mike Pegher, Jr. (Geisler 1c) 12. Will Thomas III (9) 13. Rod Laskey (1R) 14. Ben Black (27B) 15. Chad Wright (6) 16. Derek Rogers (23) 17. Max Blair (111) 18. Brian Lessley (Powell 100) 19. Kevin Decker (07) 20. Andrew Wylie (84) 21. John Volpe (Bidwell B1D) 22. Noland Dalton (Henry R7) 23. Eric Wilson (27) 24. Bill Cunningham (59).
Non-Qualifier Bonus Event (8 laps, $125 to-win): 1. Wendell Pinckney (11) 2. Shane Weaver (Ruffner 325x) 3. Brian Booher (Hoover 00H) 4. Jamie Brown (135) 5. Tony Tatgenhorst (63) 6. Jason Stanke (44) 7. Justin Kreider (29) 8. Stan Woomer (2)-DNS 9. Clay Ruffo (14R)-DNS 10. Rusty Cade (47)-DNS 11. Joe Petyak (44)-DNS 12. Marv Wilkinson (Cole 9T)-DNS.
Gibson Insurance Agency Stock Cars (25 laps, $1,000 to-win): 1. TIM BURNS (66) 2. Dan Lewis (64) 3. Curtis J. Bish (Tarr 29T) 4. Bobby Whitling (7W) 5. Bob Sloss (44s) 6. Mike Clark (7) 7. Mike Duritsky (90) 8. Rusty Moore (17M) 9. Paul Davis (3) 10. Jamie Scharba (00s) 11. Colton Gearhart (Scott T3) 12. Bob Schwartzmiller (28s) 13. Terry Wheeler (2W) 14. Tommy Fox, Jr. (80) 15. Ed Bolyard II (Patrick 05) 16. Rich Howell (44) 17. Andy Thompson (7) 18. Mike Aley (99) 19. Willie Aley (9) 20. Rod Laskey (Sloss 4s) 21. Brian Carothers (02c) 22. Buck Buchanan, Jr. (93B) 23. Shaun Hooks (Janovick (65) 24. Ed Cornell (55) 25. Bob McCann (Fornataro 33)-DNS DNQ: Steve Hall (93), Steve Burns, Jr. (70B), Jeff Sweeney (222), Michael Hudzik (31H), Ryan Blood (Zimmer 24).
Summit Racing Equipment Econo Mods (15 laps, $350 to-win): 1. BRANDON BLACKSHEAR (Tessean 10) 2. Derek Dellinger (119) 3. Larry Root (22x) 4. Jim Turley (117) 5. Brad Blackshear (19) 6. Kevin Robinson (24R) 7. Corey Skully (Haefke 21) 8. Brian Hathaway (22) 9. David Covatch (415) 10. Mike Smith (81) 11. Steve Haefke (Berry 91) 12. Junior Mechling (89) 13. Jim Dellinger (1)-DNS.
Presidential Lawn Care Mini Stock Feature 1 (12 laps, $200 to-win): 1. BILL FUCHS (10) 2. Ken Koby II (22) 3. Mike Scharba (30M) 4. Ed Huge (72) 5. Pete Blazczak (77) 6. Duane Westfall (Spencer 0) 7. Troy Lehnortt (46) 8. Jason Easler (02) 9. Mitch Stokes (6M) 10. Gina Thompson (Webber 25) 11. Jamie Wrightsman (21J) 12. Lucas Sprouse (24s) 13. Jason Schenker, Jr. (25) 14. Maria Nevin (9) 15. Randy Sprouse (23s).
Presidential Lawn Care Mini Stock Feature 2 (12 laps, $200 to-win): 1. JAMIE WRIGHTSMAN (21J) 2. Ken Koby II (22) 3. Mike Scharba (30M) 4. Jason Schenker, Jr. (25) 5. Randy Sprouse (23s) 6. Troy Lehnortt (46) 7. Pete Blazczak (77) 8. Maria Nevin (9) 9. Lucas Sprouse (24s) 10. Duane Westfall (Spencer 0) 11. Gina Thompson (Webber 25) 12. Jason Easler (02) 13. Ed Huge (72) 14. Bill Fuchs (10)-DNS 15. Mitch Stokes (6M)-DNS.
Sharon Speedway will next be in action next on Saturday, January 7 for the first of two Snowmobile races followed by the annual awards banquet and dinner on Saturday, January 14 at Yankee Lake Ballroom then Snowmobile races again on Saturday, January 21.
Sharon Speedway is owned by the Blaney, Weller, and Kirila Families and is a 3/8-mile dirt track located on Custer-Orangeville Road in Hartford, Ohio near the intersection of Routes 7 & 305. For more information, check out the website at www.sharonspeedway.com or call 330-772-5481. Become a fan of Sharon Speedway on Facebook at www.facebook.com/sharonspeedway and follow us on Twitter at www.twitter.com/sharonspdwy.
Back to News