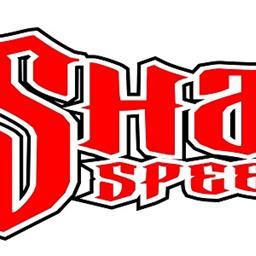 10/20/2011
Sharon Speedway
---
SNOWMOBILE RACES RETURN ON JANUARY 7 & 21; AWARDS BANQUET FEBRUARY 4 AT YANKEE LAKE
January 7, 2012 "Circle Track Showdown" Snowmobile Races Registration Form
January 21, 2012 "Circle Track Showdown" Snowmobile Races Registration Form
By Mike Leone
October 19, 2011
(Hartford, OH)…While the successful 2011 season at Sharon Speedway wrapped up a month ago, the focus now shifts to 2012 as three Saturday events will kick off the new year!
Sharon Speedway is thrilled to announce the return of snowmobile races to the 3/8-mile facility on Saturday, January 7 and Saturday, January 21! Back in January, a packed grandstands braved bitter cold temperatures with the wind chill well below zero and watched over 100 competitors put on a quite a show for the inaugural "Circle Track Showdown�.
"We only had a month to put together last year's event,� acknowledged GM Dave Willoughby. "The turnout in such a short notice was unbelievable! We learned a lot and will be better prepared this year. We'll have more information in the coming months along with registrations for the racers. So many people are already looking forward to this coming year's events.�
Following the snowmobile races, the annual awards banquet and dinner will be held on Saturday, February 4 at the Yankee Lake Ballroom, located just north of Brookfield, Ohio on Route 7. All of the top racers from the 2011 season will be honored. More information on the banquet and a form to order banquet tickets will be released in future.
Sharon Speedway is owned by the Blaney, Weller, and Kirila Families and is a 3/8-mile dirt track located on Custer-Orangeville Road in Hartford, Ohio near the intersection of Routes 7 & 305. For more information, check out the website at www.sharonspeedway.com or call 330-772-5481. Become a fan of Sharon Speedway on Facebook at www.facebook.com/sharonspeedway and follow us on Twitter at www.twitter.com/sharonspdwy.
Back to News