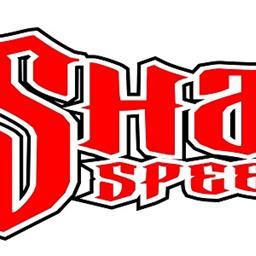 12/13/2011
Sharon Speedway
---
SNOWMOBILE RACES NEARING ON JANUARY 21 AT SHARON; JOHNNYK'S POWERSPORTS TO PRESENT BOTH THE JAN 21 & FEB 11 EVENTS
January 12, 2012               
(Hartford, OH)…While Sharon Speedway has been busy preparing for the upcoming 2012 auto racing season, track officials are anxiously awaiting the return of the ultra-successful "Circle Track Showdown� Snowmobile Races to be held on Saturday, January 21 and Saturday, February 11.  Both events will be presented by new marketing partner JohnnyK's Powersports of Niles, Ohio.
Last year's inaugural event saw a packed grandstands brave bitter cold temperatures with the wind chill well below zero and watched over 100 competitors put on a quite a show.  Once again, admission is just $5 for an all-access facility pass, which includes both grandstands and pits!
The following classes will be in action in both independent front suspension and leaf: 400cc and under, 401-500 cc, 501-600cc, 601-700cc, 701-800cc, 801cc+ & mods, along with the vintage sleds.  Age groups per class will be 12-14, 15-17, 18+, and the senior vintage class of 55+. 
Helmets are required, while suits, gloves, chest protectors & tethers are highly recommended. Each class will run heats, last chance races (if necessary) and a feature. Â Drivers will be permitted a few warm-up laps. Â There will be no cash prizes as winners will receive trophies only. Â Hay bales will be setup around the 3/8-mile track.
Sled and/or rider must be visibly numbered!  Pre-registration is $20 per class through January 14 for January 21's event and through February 4 for the February 11 event.  It's $30 per class on race day.  Registration forms are available at www.sharonspeedway.com/drivers/registration. 
"We're really looking forward to the return of snowmobiles at Sharon Speedway,� expressed third year GM Dave Willoughby.  "Last year's event was tremendous!  This year we wanted to try two events, and the response has been great!  This is great exposure for the speedway at this time of the year and attracts a lot of new customers to Sharon Speedway.  In the event we don't have snow and provided it's not unseasonably warm well above freezing, we're going to ice down the speedway so we can still have the events.  I have to thank Johnny K's Powersports for coming on board to present these events.�
JohnnyK's Powersports is located at 420 Youngstown-Warren Road in Niles, Ohio.  JohnnyK's specializes in ATV's, snowmobiles, utility vehicles, watecraft, scooters, cargo trailers, and sport utility trailers in brands like Arctic Cat, Can-Am, Sea-Doo, Ski-Doo, E-Ton, Triton, and Kawaski.  For more information, check out their website at www.johnnykspowersports.com or call 330-544-9696.
Gates open at 9 a.m. with racing at 11 a.m. for both events.  In the event of no snow and unseasonably warm weather, make-up dates of the following Saturdays (January 14 & January 28) would be utilized.
Following the two snowmobile events, Sharon will host the annual awards banquet and dinner on Saturday, February 4.  The first auto racing event of 2012 will hit the track on Saturday, March 24 with open practice followed by the "Springduro 150� Enduro.  Ticket order forms and registration forms for these events are on our website at www.sharonspeedway.com. 
Sharon Speedway is owned by the Blaney, Weller, and Kirila Families and is a 3/8-mile dirt track located on Custer-Orangeville Road in Hartford, Ohio near the intersection of Routes 7 & 305. For more information, check out the website at www.sharonspeedway.com or call 330-772-5481. Â Become a fan of Sharon Speedway on Facebook at www.facebook.com/sharonspeedway and follow us on Twitter at www.twitter.com/sharonspdwy.
Back to News