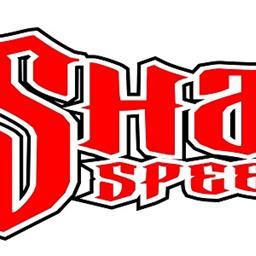 ---
King wins #2 & takes over Big-Block Mod pt lead; Watson flies to Mod win; Martin adds 5th in RUSH Mods; 1st ever for Miller in Stocks; #3 for Fraley i
By Mike Leone
July 25, 2015
(Hartford, OH)…Beautiful, hot summer weather greeted race fans and teams on Saturday night for the third annual FREE "Fan Appreciation Night" and driver autographs presented by University Hospitals. A big crowd watched 100 race cars compete. Celebrating in the Hovis Auto & Truck Supply victory lane were Rex King-Hovis Auto & Truck Supply DIRTcar Big-Block Modifieds, Joel Watson-Summit Racing Equipment (E) Modifieds, Greg Martin-Weller Hughes Contracting & Developing RUSH Sportsman Modifieds, Mike Miller-Gibson Insurance Agency Stock Cars, Ryan Fraley-HTMA/Precise Racing Products Econo Mods, and Adam Little-Deforest Used Parts Mini Stocks.
After the King Family won the first four DIRTcar Big-Block Modified features to open the season, Brian Swartzlander, Jim Weller, and Ricky Richner were new winners in successive events; however, on Saturday night it was a King back in victory lane with Rex, Sr. victorious in the 20-lap Hovis Auto & Truck Supply feature holding off a challenge by New York invader Randy Chrysler.
"He's got good equipment and is a lot of fun to race with- I'm glad he's coming down here," said the Bristolville, Ohio veteran in regards to Chrysler. "I tried the top and about ate the wall coming out of turn two so I figured I better do something different. I moved down and ran right through the middle of the black. I actually slowed down and went faster. I have a lot of great sponsors. University Hospitals is here tonight and is one of our sponsors. It's a great place if you ever need anything done. I have a great crew that helps. I want to thank all of the fans. I hope all the people that came tonight come back some more."
Jimmy Weller III led the opening lap before a caution for a Justin Rasey spin slowed action. On the ensuing restart, King made the winning move driving under Weller in turn four. Weller slipped high in turn two allowing Chrysler to make the pass for second with the entire field freight-training Weller. Chrysler stayed with King for the duration, even getting alongside the leader on several different occasions, but the elder King was too strong as he captured his 51st career win by 1.673 seconds in the KMB Inc.-owned, University Hospitals/G S Engine Repair/RD Banks Chevrolet/Campbell Indoor Gardening Supply/Hunyady Auction/Cintas Uniforms/Mahan Welding & Fab/Schaeffer Oil/Midway Garage Door-sponsored #65.
Chrysler recorded his best ever Sharon finish in runner-up. Rex King, Jr. had made his way to third before suffering mechanical issues, which allowed his father to take over the point lead for the first time this season. Jim Rasey was third. Last week's winner, Richner, raced from seventh to fourth over Jim Weller, Jr. Completing the top 10 were Rob Kristyak, Tom Glenn, Justin Rasey, Carl Murdick, and King, Jr. Weller, Jr. and Chrysler won the heat races over the 17-car field. After leading the first three laps of his heat race in just his second start of the season, Skip Moore suffered terminal issues ending his night and was awarded the hard luck. Moore received two complimentary pit passes for next Saturday from Hovis.
Joel Watson won an exciting 20-lap Summit Racing Equipment Modified feature with some daring moves and held off a season best performance by Scott Stiffler for his second win of the season. "I'll tell you I'm out of breath- I was really driving hard," expressed the 36-year-old Conneaut, Ohio racer. "I was taking some big chances going in above the cushion and turned back down in the corner. There was a lot of speed up there, but it took a lot of guts. I try to put on a show every time I get behind the wheel. Stiffler was really on his game tonight. I really thought he was going to win and I was going to follow him around the track, but we mounted up some monster runs. I really can't believe I passed him on the inside. He was up on the cushion and I thought was the dominate car."
Two-time winner and current point leader, Will Thomas III, raced to the early lead over Stiffler and Watson. Following a caution with three laps scored, Stiffler took over the top spot on lap four with Watson moving into third. Mike Kinney and Watson battled for the spot with Kinney getting back by before a caution with seven laps scored. On the ensuing restart, Watson found the outside to his liking racing past both Kinney and Thomas for second.
Watson's winning move came on lap 10 following another restart when he dove under Stiffler in turn one and made the pass stick racing off the bottom of turn two. Watson survived two more cautions to beat Stiffler by just 0.509 of a second. The victory was Watson's 21st of his career in his Northwest Restoration/Zimmer's Service Center/Close Racing Supply-sponsored #92.
Kinney, Thomas, Dwayne Clay, and David Scott were third through sixth and were right in the thick of things for the entire race. Rounding out the top 10 were Jeremy Double, Paul Davis, John Scheneker, Jr., and Jacob Eucker. Clay and Scott won the heat races. Davis passed seven cars to earn the $25 Summit Racing Equipment Hard Charger certificate.
Greg Martin won back-to-back races for the second straight time this season in route to his track-leading fifth victory of 2015 in the Weller Hughes Contracting & Developing RUSH Sportsman Modifieds. "Boy tonight the track was nice," stated the 33-year-old Wilson, New York driver. "It was a lot like last year's track. She was hooked up. We do a lot of traveling and had to learn the hard way to read tracks and adapt. I have a lot of help from guys down here- the King Brothers, Brian Swartzlander. They've really helped at tracks we come down here to. I give them a lot of credit for getting me in the ballpark. You find the guys that have the most victory lane stickers and go ask them what to do!"
Veteran Larry Kugel and Jordan Eck raced side-by-side for the lead for the first three laps, but on lap four sixth starting Martin squeezed between both with a three-wide winning move. Four cautions between laps 9-12 were all that slowed Martin from his division-leading ninth career win in his NYKDS/Jeffery Machine/Atwal Eye Care/Race 1-sponsored #4.
Fourth starting Nick Ritchey passed Eck for second on lap 11. Ritchey, who is second in points, actually closed in on Martin in the final laps, as he came up just 0.390 of a second behind. Eck had a solid third place finish in his first Sharon start of 2015. Jerry Schaffer was fourth. After matching a season best last Saturday in eighth, the ever improving Michael Kristyak turned in a career best performance in fifth after starting 12th. Schaffer and Ritchey won the heat races.
Mike Miller has been oh so close to victory lane since he became a Sharon regular late last season. Miller had two fourth place finishes last year and opened the season with four straight top four finishes including a career best runner-up. On Saturday night, Miller finally captured that elusive career first win with a late race pass of Jamie Duncan in the 15-lap Gibson Insurance Agency Stock Cars.
"This is awesome- I can't tell you how happy we are," expressed the 33-year-old East Hickory, Pa. driver not to be confused with the Mike Miller that races Stock Cars at Lernerville. "It was back and forth there for a bit and he got away from me for awhile. I figured if I slowed down more and let the car roll in I could hang with him. If I threw it in too hard it was unhooking the back end and I was burning tire coming off. I knew that wasn't going to work."
Though Miller started on the pole, it was Duncan that used the outside to race into the lead. Miller chased Duncan throughout the event's duration, but really put the heat on in the final laps. Miller got under the leader on lap 12 and the two raced side-by-side for the lead over the next two laps with Miller making the pass stick coming off the bottom of turn four on lap 13.
Miller raced on to the victory to become the season's sixth different winner in as many races in his Francis Engineering/Cougar Bobs/Armor Linings/JF Transmissions/The Pit Stop/Jones Performance-sponsored #Triple6. Duncan crossed the finish in second, but came up light at the scales moving Brian Carothers, Mike Clark, last week's winner Rusty Moore, and Brett McDonald into positions two through five. McDonald started 12th and earned the $25 Summit Racing Equipment gift certificate. Carothers and Clark won the heat races over the 17-car field.
Despite seven cautions, the racing up front in the Econo Mods kept the fans on the edge of their seats. Jason Longwell, Brad Blackshear, Butch Lambert, and Ryan Fraley put on quite a race with close racing and position changing, but in the end it was Fraley garnering his second straight win and third of the season to take over the HTMA/Precise Racing Products point lead.
"I came up here and watched Joel Watson win the last one," revealed the 26-year-old Fowler, Ohio winner. "The top had something and we tried it. I thought the top would be the way to go on the restarts, but the bottom may have been better. He (Lambert) got alongside of us and I saw him more than I needed."
Longwell led the first three laps before Blackshear made the pass. Lambert made his way to second on lap six getting by Longwell. Fraley joined the mix taking third then it was three-wide for the lead on laps nine and ten. Fraley edged ahead of Lambert for second on lap nine then made the winning pass on lap 10 from Blackshear. Lambert would get by Blackshear, but Fraley had enough to hold on by just 0.485 of a second for his eighth career win in his RADA Truck Service/CD Gibbs Construction/Tri-State Trailer Sales/Clay Bros. Transmission/Lautanen Trucking/Clay Trucking-sponsored #12.
Third through fifth were Keith Felicetty, Blackshear, and Wayne Daniels. Daniels received the $25 Summit Racing Equipment gift certificate for being the race's hard charger gaining five positions. Fraley drew the number one pill in victory lane and earned himself a pair of pit passes for next Saturday compliments of Hovis Auto & Truck Supply. Fraley and Steve Haefke won the heat races.
In the wildest race of the night, the Mini Stocks ended a great night of racing with Adam Little capturing his season's first victory in the Mini Stocks. With 19 cars on hand, the entire field received a pay raise with Little picking up $150 to become the season's seventh different winner in eight races in the Deforest Used Parts-sponsored division.
"I've had some financial and mechanical problems, but I've got them both fixed so hopefully we'll be making the rest of the races," explained the 30-year-old Leetonia, Ohio driver. "I want to thank the fans. This is Fan Appreciation Night. You are our number one sponsor. We wouldn't be out here if it wasn't for you so please come back every Saturday night."
Joe Campbell set the pace for the first six laps until a caution was displayed for Geof Pinch. Campbell brought the field to green slowly and it was rush hour down the frontstretch with Bill Fuchs passing Andy Proper, Little, and Campbell for the lead. The two-time winner and two-time champion led until lap 10 when fourth starting Little made the winning pass. Proper got by Fuchs on the last lap for second, but didn't have any time to mount a challenge on Little, who captured his second career win in his Heroes & Halos-sponsored #99. Campbell and Fuchs dropped to third and fourth respectively. Jim Haefke, Jr. came from 12th to fifth to earn the $25 Summit Racing Equipment Hard Charger certificate. Little and Campbell won the heat races.
Hovis Auto & Truck Supply DIRTcar Big-Block Modifieds (20 laps): 1. REX KING (65) 2. Randy Chrysler (21K) 3. Jim Rasey (32) 4. Ricky Richner (26) 5. Jim Weller, Jr. (31) 6. Rob Kristyak (00) 7. Tom Glenn (83T) 8. Justin Rasey (21) 9. Carl Murdick (6) 10. Rex King, Jr. (165) 11. Jimmy Weller III (23) 12. Erik Martin (29E) 13. Tom Mattocks (69) 14. Rick Regalski, Jr. (13) 15. Erick Rudolph (Chrysler 21R)-DNS 16. Skip Moore (17M)-DNS 17. Tom Shaffer (24)-DNS.
Summit Racing Equipment (E) Modifieds (20 laps): 1. JOEL WATSON (92) 2. Scott Stiffler (14) 3. Mike Kinney (3) 4. Will Thomas III (9) 5. Dwayne Clay (007) 6. David Scott (Engles 68) 7. Jeremy Double (83) 8. Paul Davis (3D) 9. John Scheneker, Jr. (65) 10. Jacob Eucker (64) 11. Amanda Stiffler (14A) 12. John Mollick (White 53) 13. Clayton Kennedy (9) 14. Rich Jaeger (5) 15. J.J. Bametzrieder (74) 16. Bob Williamson (93)-DNS.
Weller Hughes Contracting & Developing RUSH Sportsman Modifieds (15 laps): 1. GREG MARTIN (4) 2. Nick Ritchey (77N) 3. Jordan Eck (1M) 4. Jerry Schaffer (14) 5. Michael Kristyak (404) 6. Jim Bryce (30X) 7. Brandon Ritchey (17) 8. Josh Deems (9D) 9. Kole Holden (2) 10. Larry Kugel (0) 11. Jeff Hughes, Jr. (22) 12. Will Schaffer (4) 13. Jessica Kriegisch (Schaffer 28) 14. Kyle Martell (8) 15. Chelsie Kriegisch (Schaffer 10).
Gibson Insurance Agency Stock Cars (15 laps): 1. MIKE MILLER (T6) 2. Brian Carothers (02c) 3. Mike Clark (7) 4. Rusty Moore (17M) 5. Brett McDonald (25) 6. Dillon Kineston (19) 7. Troy DeZarn (21D) 8. Brian Mulichak (36D) 9. Tony Bruno (97) 10. Dan Fedorchak (Bruno x7) 11. Tim Deutsch (11D) 12. Gary Robinson (44R) 13. Mark Hopkins (69H) 14. Jamie Duncan (67J)-DSQ (light) 15. Dave Myers (Burns 70B)-DSQ (light) 16. Steve D'Apolito (84)-DNS 17. Bob McCann (Fornataro USA1)-DNS.
HTMA/Precise Racing Products Econo Mods (15 laps): 1. RYAN FRALEY (12) 2. Butch Lambert (Hendrickson 19) 3. Keith Felicetty (98) 4. Brad Blackshear (19) 5. Wayne Daniels (4) 6. Junior Mechling (89) 7. Chris Clay (99) 8. George Vestal IV (4) 9. Jason Longwell (7s) 10. Dan McEwen (44) 11. Brian Foley, Jr. (16JSR) 12. Jace Ferringer (02) 13. Jamie Scharba (11S) 14. Casey Bowers (20)-DNS 15. Cole Longwell (7)-DNS 16. Steve Haefke (41)-DNS.
Deforest Used Parts Mini Stocks (12 laps, $150 to-win): 1. ADAM LITTLE (99) 2. Andy Proper (17) 3. Joe Campbell (40c) 4. Bill Fuchs (10) 5. Jim Haefke, Jr. (421) 6. Matt Rubright (X) 7. Michael DelliQuadri (77D) 8. Jamie Maxwell (6) 9. Tim McAninch (43) 10. Joe Keney (15K) 11. Rick Wilson, Jr. (55) 12. Riley Ballentine (145R) 13. Jeff Little (42) 14. Geof Pinch (36) 15. Cole Brugmann (12) 16. Logan Keney (16) 17. Steve Walker II (4M) 18. Travis Creech (75T) 19. Pat Drennan (Sirrine 24)-DNS.
Coming up next Saturday night is the "Bill Kirila Memorial" featuring all six weekly "Steel Valley Thunder" divisions in action. Gates open at 5 p.m. with racing at 7.
Sharon Speedway is owned by the Blaney, Weller, and Kirila Families and is a 3/8-mile dirt track located on Custer-Orangeville Road in Hartford, Ohio near the intersection of Routes 7 & 305. For more information, check out the website at www.sharonspeedway.com or call 330-772-5481. Become a fan of Sharon Speedway on Facebook at www.facebook.com/sharonspeedway and follow us on Twitter at www.twitter.com/sharonspdwy.
Back to News