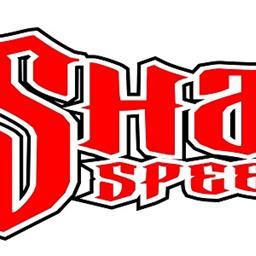 ---
Strong 2nd Big-Block Mod win for Weller; Thomas is 1st 3-time Mod winner; 3 in-a-row for Martin in RUSH Mods; Clark is 1st Stock repeat winner; 3rd wi
By Mike Leone August 1, 2015
(Hartford, OH)…After a wet spring and early summer, dry conditions have prevailed in July and the start of August as Sharon Speedway completed the fifth straight event on Saturday night as part of the 86th anniversary season. Celebrating in the Hovis Auto & Truck Supply victory lane for the "Bill Kirila Memorial" were Jim Weller, Jr.-Hovis Auto & Truck Supply DIRTcar Big-Block Modifieds, Will Thomas III-Summit Racing Equipment (E) Modifieds, Greg Martin-Weller Hughes Contracting & Developing RUSH Sportsman Modifieds, Mike Clark-Gibson Insurance Agency Stock Cars, Casey Bowers-HTMA/Precise Racing Products Econo Mods, and Bill Fuchs-Deforest Used Parts Mini Stocks.
After winning the biggest race of the season to date on July 11 for the "Lou Blaney Memorial" Mod Tour event, Jim Weller, Jr. returned to victory lane on Saturday night in a strong performance to win his season's first weekly "Steel Valley Thunder" DIRTcar Big-Block Modified feature in the 20-lap Hovis Auto & Truck Supply event.
"It's nice to be back believe me," stated the Hubbard, Ohio veteran. "We needed to tighten the car up a little more in the middle of the corner, but we can drive off like crazy. The guys came down and told me guys were running the bottom, but the topside was good."
Weller wasted no time bolting the lead using the bottom of the track to pass front row starters Rick Regalski, Jr. and Brad Rapp to lead lap one. Weller quickly pulled away from the field on lap two, while the battle was on for second with Regalski trying to hold off a bevy of competitors. On lap three, Rapp made the pass. The event's only caution was for Jim Rasey, who slowed with four laps completed. He'd be the only DNF and received a pair of pit passes for next Saturday compliments of Hovis for being the hard luck recipient.
Kevin Bolland had taken third just before the caution light was displayed then was able to slip past Rapp for second racing off turn four on lap five. Bolland was fast as he began to close in on Weller by lap seven. The top two distanced themselves from the pack; meanwhile, point leader Rex King was on the move from the eighth starting spot as he was halfway to the front by lap nine getting by Regalski. King closed in Rapp and the two battled side-by-side between laps 10-14 before King finally made the pass on the 14th circuit.
After Bolland had closed in, Weller changed his line and got back away from Bolland and was never challenged over the second half of the event taking the checkered flag by 2.620 seconds in the Zip Motorsports owned, Liberty Steel Products-sponsored #31. Weller now has 33 career Big-Block Mod wins and 39 overall at the Speedway.
Bolland's runner-up was his season's best on the circuit. King, Rapp, and Regalski were third through fifth. Dave Murdick, 15th starting Brian Swartzlander, Rex King, Jr., Garrett Krummert, and Ricky Richner completed a strong sixth through 10th group. Heat winners were Bolland and Weller.
Will Thomas III left little doubt he's become the driver to beat for the Modified Championship in his first year of open wheel racing. Thomas led all 20 laps of the Summit Racing Equipment feature for his third win, but first in the division since week two to extend his point lead to 17. Thomas, the two-time RUSH Late Model Champion, also has a win in that division giving him four for the season.
"We had no fuel pressure," revealed the 39-year-old Sharpsville, Pa. resident. "We've been fighting this for three weeks. We've changed the fuel pump, the regulator, and all kinds of stuffs, but I don't know what's causing it. I was worried because at times it shut off and you're just hoping it keeps going and going. At the beginning of the race it was fine, but as the race went on it was just 'blubber, blubber, blubber'. We were real fortunate and luck was on our side."
Thomas started second and used the outside to power past Dwayne Clay on the start with Jeff Johnson following in second on lap two. A pair of cautions on laps three and five were all that slowed Thomas' run to the checkered flag. The final 15 laps went caution-free and Thomas was never seriously challenged winning his 17th career feature at Sharon by 1.879 seconds in his Colonial Metal Products/Barris Supply/All Star Performance/Sweet Manufacturing/King Sanitary/Russ King Racing/Wedge Motorsports/Five Star Bodies/Motorstate-sponsored #9.
Johnson held off Mike Kinney for second.  Russ Dunn and Jacob Eucker recorded their season first top five finishes in fourth and fifth respectively.  Completing the top 10 were Clay, J.J. Bametzrieder, Steve Burns, Jr., Jeremy Double, and newcomer Jack Young.  Double earned the $25 Summit Racing Equipment hard charger certificate for advancing the most positions.  Heat victories went to Clay and Thomas.
Despite starting 12th, Greg Martin made it three wins in a row in the RUSH Sportsman Modifieds and will now have to start last next week.  Martin's track-leading sixth victory of 2015 came in the 15-lap Weller Hughes Contracting & Developing feature.   During the course of the feature while running third, Martin set a new track record for the division with a lap of 17.407.
"The track was real bitey and this car was just awesome tonight," expressed the 33-year-old Wilson, New York winner.  "I was watching under the pace laps and was hoping I could get a jump up top where they just rolled and it didn't dust up yet and I thought 'boy that looks good'.  I set it up there, hoped it stuck, and boy it got a good run a couple times; I made some moves and we got lucky.  It's not easy.  These guys are fast.  They're all friends and it's fun coming down."
Jim Bryce raced to the early lead past Michael Kristyak with fourth starting Nick Ritchey following.  The battle was on for third with Kristyak trying to hold off Larry Kugel and Martin on laps two and three.  Kugel and Martin made the passes on lap three for third and fourth respectively.  One lap later, Martin drove under Kugel for third.
Up front, Bryce and Ritchey were putting on a good race for the lead running side-by-side on laps five and six; meanwhile, Martin began to close in and made it a three-car battle on lap eight.  Ritchey got too high on the backstretch trying to maneuver by Bryce, while at the same time trying to fend off Martin, which allowed Martin to go by for the lead.  Ritchey slapped and rode the fence ending his night, but was able to make it to the infield without bringing out a caution.
Bryce then would lose the lead on lap nine to Martin when he slipped high in turn four.  The event's only cautions were for Kole Holden, who spun in turn four on lap 10 and then again on lap 13.  Bryce tried everything he had on the double file restarts to get back by, but Martin was too strong as he took his division-leading 10th career win by 1.510 seconds in his NYKDS/Jeffery Machine/Atwal Eye Care/Race 1-sponsored #4.  Bryce's runner-up was a career best.  Kugel held off eighth starting Kyle Martell for third.  Jordan Eck rounded out the top five.  Martin and Rocky Kugel won the heat races.
It looked for awhile like Gary Robinson may become the seventh different Stock Car winner in as many races this season, but Mike Clark had other ideas as he became the division's first repeat winner.  Clark took a step closer to his third straight Gibson Insurance Agency Championship with the 15-lap victory in an event that marred by several hard, multi-car accidents.  Clark's run to the front came from seventh, which also earned him the $25 Summit Racing Equipment hard charger certificate.  "I thought I was in trouble with my hood up early in the race," expressed the 49-year-old Bristolville, Ohio driver.  "I couldn't understand what those guys were doing up front slowing down so much going into the turns and I got into my sponsor Tim Deutsch.  I feel bad about that, but I guess it's not as bad as it looks from inside the car.  I'm glad I was the first to repeat and hopefully I'll be the first to win three!"
Brian Carothers led the first five laps before Robinson found the outside to his liking racing to the lead on lap six. The two swapped the lead on laps seven and eight with Robinson leading when a caution was displayed with nine laps scored. Another caution came out when third place running Bob McCann lost the handle. That lined Clark up third for the restart and he was able to pass both Carothers and Robinson to lead lap 10.
Clark went on to lead the rest of the way to win the 15th of his career by 0.844 of a second in his Martuccio Eye Care/Champion Supply/Son's of Italy of Warren/Wedge Motorsports/May's Towing/Trumbull County Auto Parts/Minor's Performance/Hoosier Tire-sponsored #7. Carothers and eighth starting Bryan Wagner both got by Robinson in the closing laps to finish second and third respectively. Wagner was making his season debut. Robinson dropped to fourth over Tim Deutsch. Heat wins went to Wagner and Clark over the 18-car field.
Casey Bowers joined Ryan Fraley as a three-time winner in the Econo Mods and it's no surprise the duo will battle down to the end for the HTMA/Precise Racing Products Championship as both contest for their first ever track title. "I think the tires started to go away," explained the soon-to-be 17-year-old Cranesville, Pa. racer. "I'd come in and halfway through the corners the back end would want to come around so I slowed down and got it down. I got a little nervous when I saw him (Steve Haefke), but I knew if I just calmed down, hit my lines, I could get him. We're hoping we can get back in the lead and get the championship."
Bowers started second and took the lead on the opening lap, but he'd have his hands full with several racers including Steve Haefke, who took the lead on lap 11 using the outside. Bowers stuck with it on the bottom and regained the top spot on lap 13 and led the final three laps to win by 1.138 seconds over Haefke. Bowers has now doubled his career win total to six this year at Sharon in the Jody Bowers-owned, Baycrete Ready Mix/Clingerbuilt E-Mods/BSI/955 Automotive/Lath Rop Electric-sponsored #20.  Butch Lambert was a close third over Brad Blackshear and 12th starting Fraley, who earned the $25 Summit Racing Equipment hard charger certificate.  Lambert and Haefke copped the heat race victories.
Bill Fuchs may not have had the fastest car, but in the end it was him standing in victory lane for the division-leading third time this season as he looks primed to capture his third Mini Stock championship.  The win came in the 12-lap Deforest Used Parts feature event, but was Fuchs' first since back on May 30.
"Last night at this time there was no drive train in this car," revealed the 39-year-old Greenville, Pa. racer.  "We blew a motor up on jack stands Thursday night.  We didn't know what we were going to do.  This is a bone stock $100 motor that we pulled out of the woods and cleaned it up.  I'm speechless.  I've won races, but this is an emotional win.  My team busted their butt all week long.  Two motors in and out of this car.  I didn't know this morning if we were even going to make it or not."
Fuchs started on the pole, but problems for top running cars of Travis Creech, Adam Little, and Joe Campbell made Fuchs' victory much easier.  The eighth starting Campbell actually took the lead from Fuchs on lap eight, but would exit the event one lap later allowing Fuchs to go unchallenged in the final laps for his all-time leading 26th career win in his Crash Auto Wrecking/RTW Industrial Contracting/Higbee Family-sponsored #10.
Jamie Maxwell came from 15th to second and earned the $25 Summit Racing Equipment hard charger certificate.  Maxwell now has four runner-up finishes this year as he still searches for his first career win.  Rookie Matt Rubright matched his career best finish in third and moved into second place in points.  Jim Haefke, Jr. was fourth over Tim McAninch, who was the lucky recipient of a pair of pit passes compliments of Hovis Auto & Truck Supply for next Saturday.  Campbell and Little were heat race victors.
Hovis Auto & Truck Supply DIRTcar Big-Block Modifieds (20 laps): 1. JIM WELLER, JR. (31) 2. Kevin Bolland (777) 3. Rex King (65) 4. Brad Rapp (11R) 5. Rick Regalski, Jr. (13) 6. Dave Murdick (61) 7. Brian Swartzlander (83) 8. Rex King, Jr. (165) 9. Garrett Krummert (29) 10. Ricky Richner (26) 11. Skip Moore (17M) 12. Rob Kristyak (00) 13. Carl Murdick (6) 14. Tiffany Williams (58) 15. Jim Rasey (32).
Summit Racing Equipment (E) Modifieds (20 laps): 1. WILL THOMAS III (9) 2. Jeff Johnson (Smith 1) 3. Mike Kinney (3) 4. Russ Dunn (White 53) 5. Jacob Eucker (64) 6. Dwayne Clay (007) 7. J.J. Bametzrieder (74) 8. Steve Burns, Jr. (Duncan 67J) 9. Jeremy Double (83) 10. Jack Young (67) 11. Amanda Stiffler (14A) 12. Paul Davis (3D) 13. Bob Williamson (93) 14. Jason Longwell (Petsko 00) 15. Jesse Gould (2G)-DNS. 
Weller Hughes Contracting & Developing RUSH Sportsman Modifieds (15 laps): 1. GREG MARTIN (4) 2. Jim Bryce (30x) 3. Larry Kugel (0) 4. Kyle Martell (8) 5. Jordan Eck (1m) 6. Michael Kristyak (404) 7. Jessica Kriegisch (Schaffer 28) 8. Josh Deems (9D) 9. Brandon Ritchey (17) 10. Steve Burns, Jr. (70B) 11. Rocky Kugel (6R) 12. Chelsie Kriegisch (Schaffer 10) 13. Kole Holden (2) 14. Nick Ritchey (77N) 15. Joe Plesniak (89)-DNS. 
Gibson Insurance Agency Stock Cars (15 laps): 1. MIKE CLARK (7) 2. Brian Carothers (02c) 3. Bryan Wagner (56) 4. Gary Robinson (44R) 5. Tim Deutsch (11D) 6. Bob McCann (Fornataro USA1) 7. Dan Fedorchak (Bruno x7) 8. Tony Bruno (97) 9. Mike Miller (T6) 10. Troy DeZarn (21D) 11. Jacob Billyk (4) 12. Jamie Duncan (67J) 13. Dave Myers (Burns 70B) 14. Brian Mulichak (36D) 15. Travis Creech (75T) 16. Charlie Jasinski (5J) 17. Ryan Newman (12)-DNS 18. Mark Hopkins (69H)-DNS.
HTMA/Precise Racing Products Econo Mods (15 laps): 1. CASEY BOWERS (20) 2. Steve Haefke (41) 3. Butch Lambert (Hendrickson 19) 4. Brad Blackshear (19) 5. Ryan Fraley (12) 6. Jamie Scharba (11s) 7. Ty Rhoades (12R) 8. Chris Clay (99) 9. Jeff Weber (25) 10. Jason Longwell (7s) 11. Keith Felicetty (98) 12. Wayne Daniels (4) 13. Junior Mechling (89) 14. George Vestal IV (4).
Deforest Used Parts Mini Stocks (12 laps): 1. BILL FUCHS (10) 2. Jamie Maxwell (6) 3. Matt Rubright (X) 4. Jim Haefke, Jr. (421) 5. Tim McAninch (43) 6. Rick Wilson, Jr. (55) 7. Robert Wagner (35) 8. Logan Keney (16) 9. Joe Campbell (40c) 10. Adam Little (99) 11. Joe Keney (15K) 12. Nick Brown (01) 13. Michael DelliQuadri (77D) 14. Pat Drennan (Sirrine 11) 15. Travis Creech (75T) 16. Ed Roberts (6s)-DNS. 
Coming up next Saturday night (August 8) is the "Johnny Zdelar Memorial" featuring all six weekly "Steel Valley Thunder" divisions in action. It's Pittsburgh Circle Track Club Night plus kids power wheels races at intermission. Gates open at 5 p.m. with racing at 7. And don't forget, the "410" Sprint Cars will be back on Saturday, August 15!
Sharon Speedway is owned by the Blaney, Weller, and Kirila Families and is a 3/8-mile dirt track located on Custer-Orangeville Road in Hartford, Ohio near the intersection of Routes 7 & 305. For more information, check out the website at www.sharonspeedway.com or call 330-772-5481. Become a fan of Sharon Speedway on Facebook at www.facebook.com/sharonspeedway and follow us on Twitter at www.twitter.com/sharonspdwy.
Back to News