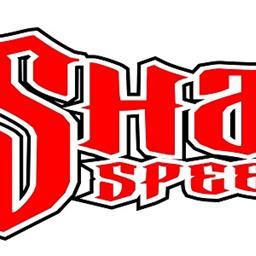 ---
King Jr wins $3K Zdelar Memorial; 1st ever wins for Davies & Bish in Mods & Stocks; Ritchey stops Martin's RUSH Mod streak; 1st for Haefke in 4 yrs in
By Mike Leone
August 8, 2015
(Hartford, OH)…Sharon Speedway was able to complete another "Steel Valley Thunder" program on Saturday night as the great stretch of weather throughout July and August continued. Fans witnessed tremendous racing with several new winners on SMS Technical Services and Pittsburgh Circle Track Club Night. Celebrating in the Hovis Auto & Truck Supply victory lane for the "Johnny Zdelar Memorial" were Rex King, Jr.-Hovis Auto & Truck Supply DIRTcar Big-Block Modifieds, Dan Davies-Summit Racing Equipment (E) Modifieds, Nick Ritchey-Weller Hughes Contracting & Developing RUSH Sportsman Modifieds, Curt J. Bish-Gibson Insurance Agency Stock Cars, Steve Haefke-HTMA/Precise Racing Products Econo Mods, and Joe Campbell-Deforest Used Parts Mini Stocks.
After winning three of the season's first four DIRTcar Big-Block Modified races, Rex King, Jr. has been shutout of victory lane at Sharon for over two months. The young King got the weekend started picking up the victory on Friday night at Lernerville Speedway then went to win one of the biggest races of his career on Saturday night in the second annual "Johnny Zdelar Memorial". The 30-lap Hovis Auto & Truck Supply feature was worth $3,000.
"This the biggest one I've ever won and this is obviously for Johnny (Zdelar)," expressed the 24-year-old Bristolville, Ohio racer. "You want to win them all, but in my mind there's a couple races you really want to win and this is one of them. There's the Russ King Memorial for my grandpa and this one. I got this one and I don't want anyone to win the other one. He was like an uncle growing up, but was taken too soon. He was there when I was racing go-karts. I've been doing this (Mods) nine years now and it hasn't been right since he's been gone. I have to thank everyone for coming out- my sponsors, crew, family, and Sharon Speedway for putting this on. Johnny's family is great. I love those guys. He was a hell of a guy and everyone that knew him would agree."
Dave Murdick looked strong early on racing to the lead over Brad Rapp and Garrett Krummert. Sixth starting Rex King was on the move as he passed Rick Regalski, Jr. on lap two for fourth and then Krummert for third on lap four before the event's first caution. Several cars made contact on the frontstretch that resulted in Tom Glenn slamming into the turn one fence and the accident also ended the night for Skip Moore. Glenn was awarded the hard luck and received two pit passes for the next event compliments of Hovis.
Back under green King and seventh starting King, Jr. drove by Rapp on the restart for second and third. The elder King took over the top spot on lap six driving under Murdick in turns one and two with his son following in second one lap later. Murdick's race ended when he slowed with eight laps scored. King chose the inside on the restart, but "Cooter" found the outside to his liking blasting by his father for the lead that he'd never relinquish. A caution for a spinning Jeremiah Shingledecker, who had moved from eighth into a battle for third, slowed the race for the final time with 15 laps completed.
The last 15 saw the two Kings distance themselves from the field. "Cooter" opened up a comfortable advantage, but King closed back in during the final laps and was actually almost right on his son's rear bumper at the finish coming up just 0.461 of a second back for the $1,000 runner-up finish. King, Jr's win was the 18th of his career tying him for seventh with Jim Rasey on the division's all-time win list, and came in the Jim Brown Seed Sales/University Hospitals/Schaeffer Oil/Arrowhead Services/Bristol Disposal/Cedar Steel/Mahan Welding & Fab/Profession Heating Systems/Reese Services X-10-sponsored #165.
A great race took place over the final 15 laps for third between Krummert, Richner, and Jim Weller, Jr.  All three drivers had their share of the position, but it was Weller garnering the $750 spot on lap 29.  Weller started from the 16th starting spot.  Richner came from 15th to third before losing the spot at the end to Weller.  Krummert was fifth as Rapp, Regalski, Kevin Bolland, Rasey, and Shingledecker completed the top 10.  Heat winners were Shingledecker and King, Jr.
Dan Davies and Mike Kinney put on one of the best races for the lead witnessed in a long time.  The duo ran side-by-side nearly the entire final 11 laps with Davies pulling out his first career Sharon win in the 20-lap Summit Racing Equipment Modified feature.  It was redemption for Davies, who came up just 0.001 of a second shy of a victory Friday night at Raceway 7.  In addition to the $750 win, Davies also received the $25 Summit Racing Equipment Hard Charger award.
"I went soft on tires," revealed the 30-year-old Warren, Pa. driver.  "I was just maintaining making sure I wasn't going to burn my stuff off and 3 (Kinney) get back by me so I just rode to keep my stuff underneath me.  We finally got it done and got that 0.001 out of the way.  You have to have a lot of trust with the guy outside of you.  He did an awesome job.  He stayed out to the wall.  We were neck and neck.  It's possible to race side-by-side without smashing your stuff all up.  We have a lot of help tonight and some guys I think it's their first time to victory lane so that's pretty cool."
The race got off to an ugly start when a big accident at the start of the race collected nine of 20 starters; however after that point the 20 laps went green-to-checkered.  Kinney raced to the early lead over Shawn Shingledecker, Matt Lux, and eighth starting Davies, who was halfway to the front after one lap.  Davies drove under Lux for third on lap two then three laps later passed Joe Gabrielson off the bottom of turn two for second.
Kinney was out front setting the pace in search of his season's first victory, but Davies began to close in on lap seven and was on the leader on lap eight.  This is when things got good and the two ran side-by-side nearly the entire way to the finish with Davies on the bottom and Kinney on the top.  Davies officially led lap 12, but Kinney regained the lead on laps 14 and 15 only to see Davies nose back ahead on lap 16.  It looked like Davies may have finally cleared Kinney, but the lapped car of Shingledecker made things interesting as it was three-wide off turn two and down the backstretch on lap 18- this time with Davies on the outside and he had enough run to maintain his lead.
Davies finally got away from Kinney over the final two laps to win by 1.440 seconds.  Davies became the 51st different winner in the history of the division at Sharon taking the victory in his King Fab-sponsored, Lethal Chassis #71D.  Gabrielson rode third the final 15 laps and was selected in the random draw to receive two pit passes for next Saturday compliments of Hovis Auto & Truck Supply.  Lux was fourth over Jack Young, who had a solid run in his second night out after starting 11th.  Completing the top 10 were point leader Will Thomas III, Brent Rhebergen in a second Dan Davies entry, Jeff Johnson, Jacob Eucker, and Dwayne Clay.  Heat victors were Lux and Kinney.
Nick Ritchey was the last driver to beat Greg Martin back on June 20 before Martin went on a tear winning three straight features in the RUSH Sportsman Modifieds. On Saturday night, Ritchey out-dueled Jordan Eck and held off a charge from 15th starting Martin for his second 15-lap Weller Hughes Contracting & Developing feature win. Ritchey, who has three wins at Sportsman's Speedway, is atop the $3,000 to-win Bicknell Racing Products RUSH Weekly Series point standings.
"When that caution came out I thought 'man I didn't want to see that'," acknowledged the 32-year-old Oil City, Pa. racer. "I came down the backstretch and saw Greg was there and I knew he came up a long ways. It was some good racing tonight. I drove real hard to beat Jordan. The longer it went the better my tires got. I figured if it keeps going and going I could get him. I have to thank all of my sponsors, my crew, my mom and dad, and everyone that puts everything into this car."
Jerry Schaffer led the first four laps before a caution for Kyle Martell, who was running second, slowed action. This moved fifth starting Ritchey to second for the restart and was trailed by Jim Bryce with Martin now up to sixth. When racing resumed, Martin gained two more spots. Up front, Ritchey put the pressure on Schaffer as the two raced side-by-side for the lead on laps six and seven with Ritchey taking over.
Eighth starting Jordan Eck was on the move as he passed Schaffer for second on lap nine with Martin following in third one lap later. On lap 12, Schaffer would lose the handle in turn three and collected teammate Jessica Kriegisch along with Bryce ending a good run for all three racers. Ritchey chose the inside for the restart putting Eck on the outside. The duo ran side-by-side over the final three laps with Martin following closely. Eck was credited with leading lap 14, but Ritchey led the lap that counted for the victory in his E&R Motorsports/Cranberry Auto/DRK/Jeff Aiken/Kings Landscaping-sponsored #77N. by 0.279 of a second over Eck.
Eck was disqualified in post-race tech for a carburetor violation moving point leader Martin to second. Earlier in the night, RUSH Officials confiscated Martin's $135 Bilstein sealed, spec shocks for further testing and gave him four new ones. RUSH "Futures Cup" point leader, Kole Holden, was third. Michael Kristyak continues to improve. Two weeks ago he matched a career best finish in eighth and bettered that last week with a fifth and did one better Saturday in fourth! Brandon Ritchey also turned in his best career Sharon finish in fifth. Heat winners were Nick Ritchey and Holden.
Making just his second appearance of the season, Curt J. Bish became the seventh different Stock Car winner in eight races this season! Bish made a late race pass of Tim Deutsch to win the non-stop 15-lap Gibson Insurance Agency feature for his first career win at the track.
"I knew I had to patient," explained the 31-year-old, who became the second driver from Oil City, Pa. to win on the night. "We probably went a little harder on tires than maybe should have, but I knew if we had a long green flag run we'd be real good. Luck played in our favor tonight. There's a lot of good cars and drivers. I'd like to thank everyone from my work- SMS technical Services. This is our corporate night here so I'm glad we were able to produce a good finish for you guys. I have to thank my wife along with car owners Bob and Brian Tarr- without those guys I wouldn't be here."
Pole-sitter Deutsch took charge early on over opening night winner Chris Haines. Bish started third, but lost the position temporarily on lap two before regaining it on lap five from Brian Carothers. Bish then drove under Haines for second on lap eight and set his sights on Deutsch. Bish ran down the leader and made the winning pass on lap 10 driving under Deutsch.
Once in front, Bish pulled away and wasn't challenged over the final five laps for the win in the Bob Tarr-owned, Martin Excavating/Bish Heating & Cooling/Bernard's Electrical Services/RK Virgile Scrap Metals/Allegheny Tool & Supply/Pioneer Electric/Dr. Kennedy-sponsored #29. Deutsch was a season best second over Haines. Sixth starting Jacob Billyk recorded his career best Sharon finish in fourth over Rod Laskey, who made just his second start of the season and first since May 23. Point leader Mike Clark raced from 10th to sixth and earned the $25 Summit Racing Equipment Hard Charger certificate. Carothers and Bish won the heat races over the 18-car field.
Steve Haefke has been close on several occasions, but it took him nearly four years to return to victory lane at Sharon winning on Saturday night in the 15-lap HTMA/Precise Racing Products Econo Mod feature. Haefke started on the pole, but the win was far from easy as for the third straight week the top four cars really went at it for the win.
"That was a lot of fun," expressed the 49-year-old Austintown, Ohio resident. "We ran second last week to Casey (Bowers) and he thanked me saying that was the most fun he had racing. I told (Brad) Blackshear let's race. We did and put on a good show- it was fun. I wasn't sure, which lane he wanted, but I shot to the outside behind the pace truck because I wanted the outside. I figured if he wanted it bad enough he'd make the move to go out there so I took it."
Brad Blackshear used the outside to take the lead on the opening lap over Haefke, Ryan Fraley, and Casey Bowers. Blackshear and Haefke raced side-by-side for the lead between laps three through six as the top four cars distanced themselves from the field. A caution for a spin by Bob Burk slowed action with six laps completed followed up by another caution by Chris Clay before the final nine laps went caution-free.
Fifth starting Bowers drove around Fraley on the outside for third on lap eight. Blackshear and Haefke resumed their side-by-side battle for the lead on lap 10 with Haefke getting by on the backstretch, while Bowers followed in second. Fraley then got by Blackshear for third on lap 13. Up front, Haefke was able to hold off Bowers, a three-time winner, for the victory, which came in his Tub's Automotive/Wedge Motorsports/DT Dyno/212 Chiropractic-sponsored #41. Haefke now owns two career Econo Mod wins and three overall as he has a (E) Modified win on the old half-mile track back in the 1990s.
Bowers was 0.711 of a second back in runner-up as he beat out point leader and fellow three-time winner, Fraley. Keith Felicetty continued his consistent season taking the fourth spot over Josh Mueller after Blackshear broke on the final lap. Blackshear and Haefke copped the heat race wins.
Joe Campbell has been fast all season, but just hasn't been able to win a feature whether it be early season mechanical woes or coming up short in recent weeks with a pair of third place finishes. On Saturday night, Campbell returned to victory lane for the second time in his career winning the 12-lap Deforest Used Parts Mini Stock main.
"About half of the season we didn't finish a race," stated the 31-year-old, who became the second Austintown, Ohio winner of the night. "I was hoping it was going to stay together because after the first half of the season we had anything could happen at any time. This feel great. I have to thank my father. He helps me more than anybody. I also have to thank all of my wonderful sponsors."
The event's only caution came on the opening lap when second starting Steve Walker II wasn't able to make it off the speedway. That moved Campbell to the front row and allowed him to blast by pole-sitter Jamie Maxwell. For the remainder of the race, Campbell 'simply' had to keep Bill Fuchs, Travis Creech, and Jim Haefke, Jr. at bay. Those three drivers own 53 of the 120 all-time races run and the last four track championships!
Campbell, a second year racer, was able to perform the tall task as he led all 12 laps for the win in his Tub's Automotive/Custom Metal Works of Austintown/DCS Truck & Trailer Repair/Statton-Borowski Funeral Home/Henry's Dynatorium/Coney Island Hot Dogs-sponsored #40C. Fuchs and Creech battled hard for second swapping the position several times; however, Creech slowed on lap 11 moving point leader Fuchs to second at the finish over eighth starting Haefke, who earned the $25 Summit Racing Hard Charger certificate. Creech creeped across the finish line in fourth over Pat Drennan. Heat victors were Campbell and Walker.
Hovis Auto & Truck Supply DIRTcar Big-Block Modifieds "Johnny Zdelar Memorial" ($3,000 to-win, 30 laps): 1. REX KING, JR. (165) 2. Rex King (65) 3. Jim Weller, Jr. (31) 4. Ricky Richner (26) 5. Garrett Krummert (29) 6. Brad Rapp (11R) 7. Rick Regalski, Jr. (13) 8. Kevin Bolland (777) 9. Jim Rasey (32) 10. Jeremiah Shingledecker (37MD) 11. Rob Kristyak (00) 12. Carl Murdick (6) 13. Dave Murdick (61) 14. Justin Rasey (21)Â Â  15. Skip Moore (17M) 16. Tiffany Williams (58) 17. Tom Glenn (83T).
Summit Racing Equipment (E) Modifieds (20 laps): 1. DAN DAVIES (71D) 2. Mike Kinney (3) 3. Joe Gabrielson (58) 4. Matt Lux (21) 5. Jack Young (67) 6. Will Thomas III (9) 7. Brent Rhebergen (Davies 71) 8. Jeff Johnson (Smith 1) 9. Jacob Eucker (64) 10. Dwayne Clay (007) 11. Paul Davis (3D) 12. Jason Longwell (Petsko 00) 13. Shawn Shingledecker (54s) 14. Jeremy Double (83) 15. Jamie Duncan (67J) 16. Scott Stiffler (14) 17. Clayton Kennedy (9) 18. J.J. Bametzrieder (74) 19. Russ Dunn (White 53) 20. Amanda Stiffler (14A).
Weller Hughes Contracting & Developing RUSH Sportsman Modifieds (15 laps): 1. NICK RITCHEY (77N) 2. Greg Martin (4) 3. Kole Holden (2) 4. Michael Kristyak (404) 5. Brandon Ritchey (17) 6. Kyle Martell (8) 7. Tiffany Williams (Smith 3G) 8. Chelsie Kriegisch (Schaffer 10) 9. Josh Deems (9D) 10. Will Schaffer (4) 11. Cody Cooper (24) 12. Jerry Schaffer (14) 13. Jim Bryce (30X) 14. Jessica Kriegisch (Schaffer 28) 15. Jordan Eck (1M)-DSQ (carburetor).
Gibson Insurance Agency Stock Cars (15 laps): 1. CURT J. BISH (TARR 29) 2. Tim Deutsch (11D) 3. Chris Haines (35H) 4. Jacob Billyk (4) 5. Rod Laskey (1R) 6. Mike Clark (7) 7. Mike Miller (T6) 8. Brett McDonald (25) 9. Bob McCann (Fornataro USA1) 10. Gary Robinson (44R) 11. Dan Fedorchak (Bruno x7) 12. Tony Bruno (97) 13. Brian Mulichak (36D) 14. Brian Carothers (02c) 15. Troy DeZarn (21D) 16. Mark Hopkins (69H) 17. Shane Smith (299) 18. Brent Coleman (01)-DNS.
HTMA/Precise Racing Products Econo Mods (15 laps): 1. STEVE HAEFKE (41) 2. Casey Bowers (20) 3. Ryan Fraley (12) 4. Keith Felicetty (98) 5. Jacob Mueller (01) 6. Jeff Webber (25) 7. Wayne Daniels (4) 8. Brad Blackshear (19) 9. Jamie Scharba (11S) 10. Chris Clay (99) 11. Bob Burk (72c) 12. Jason Longwell (7s)-DNS.
Deforest Used Parts Mini Stocks (12 laps): 1. JOE CAMPBELL (40c) 2. Bill Fuchs (10) 3. Jim Haefke (421) 4. Travis Creech (75T) 5. Pat Drennan (Sirrine 24) 6. Jamie Maxwell (6) 7. Logan Keney (16) 8. Matt Rubright (X) 9. Gary Stanke II (34) 10. Tim McAninch (43) 11. Bobby Wagner (35) 12. Nick Brown (01) 13. Michael Derr (627) 14. Steve Walker II (4M) 15. Joe Keney (15K)-DNS 16. Jeff Little (42)-DNS.
Coming up next Saturday night (August 15) is the return of the "410" Sprint Cars for their third and final visit of 2015. Joining the Sprints will be the (E) Modifieds, Stock Cars, Econo Mods, and Mini Stocks. Regular pricing is in effect with $10 general admission for those 14 and over. 13 and under are free. Pits open at 4 p.m. with grandstands at 5 and heat races at 7.
Sharon Speedway is owned by the Blaney, Weller, and Kirila Families and is a 3/8-mile dirt track located on Custer-Orangeville Road in Hartford, Ohio near the intersection of Routes 7 & 305. For more information, check out the website at www.sharonspeedway.com or call 330-772-5481. Become a fan of Sharon Speedway on Facebook at www.facebook.com/sharonspeedway and follow us on Twitter at www.twitter.com/sharonspdwy.
Back to News