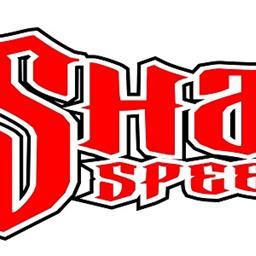 ---
410 Sprint Cars return Saturday for their final 2015 appearance along with Mods, Stocks, Econo Mods & Mini Stocks
By Mike Leone
August 11, 2015
(Hartford, OH)…Sharon Speedway will look to complete its seventh straight event this Saturday night (August 15) as the "410� Sprint Cars return for their third and final visit of the 86th anniversary season.  Joining the Sprints will be the Summit Racing Equipment Modifieds, Gibson Insurance Agency Stock Cars, HTMA/Precise Racing Products Econo Mods, and the Deforest Used Parts Mini Stocks.  The DIRTcar Big-Block Modifieds and RUSH Sportsman Modifieds will have the night off.  Heat races get underway at 7 p.m.
Saturday is Lincoln Electric Night.  All 50/50 and beer proceeds will benefit the local fire and EMS.  Saturday's kitchen special is cabbage and mashed potatoes.
Coming off two successful All Star Circuit of Champions events in June and July for Ohio Speedweek and the "Lou Blaney Memorial� won by Dale Blaney and Sheldon Haudenschild, the "410� Sprint Cars will appear Saturday in a regular event paying $1,500 to-win, $200 to-start for the 25-lap feature.  If 24 or more cars are present, the payoff will increase to $2,000 to-win, $225 to-start.  The complete payoff is posted below.  The national "410� Hoosier Tire rule will be in effect.  Mufflers are not required.  Drivers will draw pills for the heat race line-ups with an invert up to eight for the feature lineup.
One of the top local Sprint Car drivers looking forward to returning to Sharon is Jack Sodeman, Jr.  The North Jackson, Ohio racer won back-to-back titles when the Sprints ran weekly at Sharon in 2009 and 2010 and owns 12 career wins at the Hartford, Ohio oval.
Several other top local talent like defending Mercer Champion Eric Williams, recent two-time 2015 Lernerville winners A.J. Flick and Dan Kuriger, past Speedweek winner Brandon Matus and his father Brent, former Lernerville Champions Brandon Spithaler and Carl Bowser, Mercer winner Adam Kekich, and others are expected.
The Modified feature race last Saturday between Dan Davies and Mike Kinney was one of the best races of the season with Davies capturing his first career win at the track.  Kinney, the 2013 champion, has his sights set on his second track championship as he's closed the gap to eight behind leader Will Thomas III in the Summit Racing Equipment standings.  Kinney is still looking for his season's first win, while Thomas already has three checkered flags.  Dwayne Clay is third in points over Paul Davis and Joel Watson, who has fell 124 points back in fifth after missing last week due to building a new car.
Curt J. Bish invaded Sharon last Saturday night for just his second appearance of the season and won for the company he works for, SMS Technical Services' corporate night.   Bish became the seventh different Stock Car winner in the eight events run this season.  Atop the standings is Mike Clark, the division's only repeat winner.  Clark leads Mike Miller by 34 points in the Gibson Insurance Agency standings in hopes of his third straight title.  Third through fifth in points are Brian Carothers, Brian Mulichak, and Tony "Spaghetti� Bruno.  Sixth place point man, Gary Robinson, nearly became another winner back on August 1 before Clark made a late race pass for the win.  The Stock Car count has been higher this season than in recent years.
While the Econo Mod car count has been lower than usual this season, the racing up front has been tremendous.  In fact, each of the past three weeks at least four drivers have been in a pack battling for the win, side-by-side to the finish.  Steve Haefke ended a four-year winless drought picking up the victory and stopping Casey Bowers and Ryan Fraley from winning their fourth feature events.  Fraley leads Bowers by 22 as it appears those two will battle for their first HTMA/Precise Racing Products Championship.  Keith Felicetty has a very consistent career best season and is third in points over Jamie Scharba and Wayne Daniels.
Joe Campbell won his season's first last Saturday in the Mini Stocks, but Bill Fuchs is well on his way to his third straight championship.  Fuchs leads the division with three victories and has the biggest point lead at the Speedway at 51 over rookie racer Matt Rubright in the Deforest Used Parts standings.  Jamie Maxwell moved up to third in points over Michael DelliQuadri, who missed last Saturday night.  Tim McAninch is fifth.  Fuchs is the only driver in the top seven in points that has won a feature this season!  Forty-four different Mini Stock drivers have participated this season.
"410� Sprint Car Payoff for less than 24 cars: 1. $1,500  2. $900  3. $725  4. $600  5. $550  6. $475  7. $425  8. $350  9. $325  10. $275  11. $250  12. $225  13-24. $200.  $100 NQ/Tow
"410� Sprint Car Payoff for 24 or more cars: 1. $2,000  2. $1,000  3. $725  4. $600  5. $550  6. $475  7. $425  8. $350  9. $325  10. $275  11. $250  12. $230  13-24. $225.  $100 NQ/Tow
Hovis Auto & Truck Supply will again award a pair of complimentary pit passes to a lucky driver in the division that competes first and a pair to a lucky fan. Â Summit Racing Equipment will award $25 gift cards to the hard charger in the Modified, Stock Car, Econo Mod, and Mini Stock divisions.
Pits open at 4 p.m. with grandstands at 5, and heat races are slated for 7.  Grandstand admission for those 14 and over is just $10.  As always, children under 13, parking, and camping is always FREE!  Pit passes are $30.  Sharon has a no carry-in cooler policy.
Sharon Speedway is owned by the Blaney, Weller, and Kirila Families and is a 3/8-mile dirt track located on Custer-Orangeville Road in Hartford, Ohio near the intersection of Routes 7 & 305. For more information, check out the website at www.sharonspeedway.com or call 330-772-5481. Become a fan of Sharon Speedway on Facebook at www.facebook.com/sharonspeedway and follow us on Twitter at www.twitter.com/sharonspdwy.
Back to News