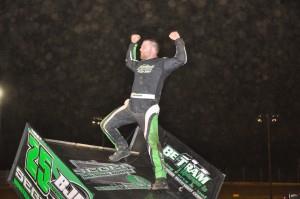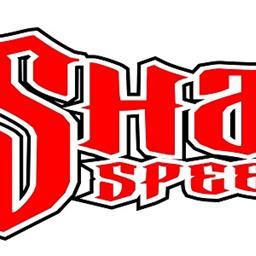 ---
Seger wins his 1st ever at Sharon in his return to 410 Sprint racing; Clay wins 1st in over a year in Mods; Carothers, Lambert & Proper repeat in Stoc
By Mike Leone
August 15, 2015
(Hartford, OH)…Sharon Speedway dodged some storms and was able to complete another program on Saturday night as the great stretch of weather throughout July and August continued. A strong crowd witnessed great racing in the final appearance of the season by the "410" Sprint Cars as all five features were determined by less than one-second of a margin! Celebrating in the Hovis Auto & Truck Supply victory lane on Lincoln Electric Night were Jimmy Seger-410 Sprint Cars, Dwayne Clay-Summit Racing Equipment (E) Modifieds, Brian Carothers-Gibson Insurance Agency Stock Cars, Butch Lambert-HTMA/Precise Racing Products Econo Mods, and Andy Proper-Deforest Used Parts Mini Stocks.
There's no question it's been a tough week in the Sprint Car world, but on Saturday night at Sharon Speedway, Jimmy Seger completed what could be called a miraculous comeback to be standing in victory lane after winning his first ever feature at the track. Seger was critically injured in a terrifying crash last June at Williams Grove Speedway. He recently made his return to racing in a "305" Sprint, but "410" racing is where Seger wanted to be and he showed he's ready to be back as he drove the race of his career to hold off hard charging Brandon Matus by just 0.304 of second in the 25-lap feature!
"I need to thank Jesus Christ as my Lord and savior for letting me be here a year later and to be able to race at Sharon Speedway," expressed the emotional Morrisdale, Pa. driver, who just celebrated his 28th birthday on Wednesday. "I saw Brandon's nose poking in there. I didn't have anything left. I tried pulling my wing back a little bit, but I had too much bite in the rear. I've never won here before- this is all new and cool!"
An invert six from the heat races put Seger alongside one-time Sharon winner, Dan Kuriger. Seger used the fast outside line around the 3/8-mile to take the lead. Matus, who won scored an upset Ohio Speedweek All Star win at the track in 2012, started fifth and raced by Gary Edwards for fourth on lap two. Seger quickly pulled away from the field opening up a near straightaway lead on Kuriger, while eighth starting Eric Williams followed Matus by Edwards for fifth on lap four.
Seger caught lapped traffic on lap 10 and got a break when the third place running Jimmy Morris III spun in turn one. Morris tried to keep moving, but Edwards and Shetler spun in the process bringing out the first caution with 10 laps scored. This moved Matus to third with Williams and Jack Sodeman, Jr. now fourth and fifth. Two more laps were completed before Eric L. Williams spun around on the backstretch.
Back under green, Kuriger looked like he found a fast line as he pulled his wing back and began to close in on Seger; however, another caution wasn't what Kuriger wanted to see. On the ensuing restart, Matus snuck under Kuriger in turn two and down the backstretch for second on lap 15. As the laps ticked off, Matus moved up to the top in turns one and two and found a good line around the bottom of turns three and four as he really cut into Seger's lead by lap 22.
Matus got a great run off the bottom of turn four with the white flag waving as Seger's car continued to loosen up. With lapped traffic ahead, Matus stayed committed to the bottom heading into turn one. It was a near side-by-side race on the final lap and a drag race to the checkered flag with Seger barely holding on in his Seger Industrial Radiator/Denochick Logging and Clearing/Jim McBride Enterprises/BJD Motorsports-sponsored #25.
"Jack Sodeman (Jr.) has been one of the biggest blessings to our racing team that has ever come down the line," revealed Seger, who became the 153rd driver to win a Sprint Car feature in the history of Sharon. "We've went all over the place to race and down East. We got help, but it wasn't enough. Jack lays it out on the line and tells you the truth and it is what it is. I have to thank my father. I had to beg him to race. He was miserable all week so I had to give him a little coaching on being happy. We stuck the motor in this thing, he heard it thumping and it was like a light came on for him. Thanks to everyone and the fans for coming out and supporting this."
Kuriger held off Williams and Sodeman for third. Sodeman, the last Sharon Sprint Champion in 2010, won Friday night at Lernerville for the first time in two years in his own car and was Seger's teammate on his Saturday night. Carl Bowser came on strong at the end finishing sixth after starting 12th as Dennis Wagner, 14th starting A.J. Flick, , Michael Bauer, and Russ Sansosti completed the top 10. Heat races were won by Shetler, Matus, and Edwards over the 22-car field.
Dwayne Clay passed Jeff Johnson on lap six and went on to win his first Modified race since June 21, 2014 in the 20-lap Summit Racing Equipment feature. Clay became the season's sixth different winner. "I didn't want to see that last caution," acknowledged the 50-year-old Mineral Ridge, Ohio veteran. "My guy on the backstretch is telling me what a little lead I had. I was trying to keep my rhythm and hit my marks and knew I would be ok, but these guys are tough and good. I have to thank God for all of the blessings in my life. My crew works their butts off on this car. I was getting nervous I wasn't going to win one this year. I think this is one of the toughest divisions there is."
Clay started alongside Johnson, but it was Johnson leading the first five laps in his search of his season's first win before a caution slowed action for the first time for a spin by Jacob Eucker. Johnson chose the outside for the restart giving Clay the bottom and that would prove beneficial for Clay as he made it work taking the lead on the restart. A caution for Amanda Stiffler's spin with 17 laps completed was all that would slow Clay from his eighth career win. Clay took the checkered flag by a margin of 0.810 of a second in his Deforest Used Parts/Clay Bros. Transportation-sponsored #007.
A lot of good racing and position swapping was taking behind Clay. Even though Johnson came home second, he lost the spot to Mike Kinney between laps 16-17. Kinney, who looked to make a charge at Clay, would end up losing two spots on the final restart to fade to fourth as Joe Gabrielson came on strong at the end to claim to third. Gabrielson earned the $25 Summit Racing Equipment Hard Charger certificate from his seventh place starting spot. Scott Stiffler came from ninth to fifth as point leader Will Thomas III, Paul Davis, Amanda Stiffler, Jason Longwell, and Russ Dunn completed the top 10. Heat winners were Johnson and Clay.
Brian Carothers led all but the opening three laps to capture his season's second win holding off point leader Mike Clark in the 15-lap Gibson Insurance Agency Stock Cars. Carothers then drew the number one pill in victory lane to earn a pair of pit passes for next Saturday compliments of Hovis Auto & Truck Supply!
"Tonight was our owner Jerry Sanford's picnic and he told all of the employees to come on out," explained the 36-year-old Youngstown, Ohio driver. "I guess we couldn't have picked a better night to get this done. That along with the flat tire that took us out last week kind of had me fired up today. I was trying to cool the right rear down a little under caution as it was giving up a little bit, but I wasn't going to give up. This year has been really good for us. The sponsors are happy and showing up and it makes it fun. I have to thank everyone that came here to support us tonight along with the track management and staff- they do a great job."
One-time winner, Mike Miller, earned the pole position after an invert zero from the heat races. Miller and Carothers ran side-by-side for the lead on laps three and four. Carothers made the pass for the lead in turn two as front end problems would sideline Miller under caution for a Brian Mulichak spin with three laps scored. Clark would restart second over Jacob Billyk, Tim Deutsch, and Brent Coleman.
The next 10 laps were completed caution-free as Carothers opened up a comfortable lead, while the battle raged for second with Clark trying to fend off the likes of Billyk, Deutsch, and Bob McCann. McCann, who started eighth, was on the move as he got by Deutsch then passed Billyk for third on lap 11. A caution for a spin by Gary Robinson tightened the field and turned out to be a big break for Deutsch.
The final two laps saw Carothers hold off Clark for his seventh career win by just 0.847 of a second in his Boardman Steel/Acura of Boardman/Lawless Industries/Don's Hair Den/529 Design/Select Body Service/Southern Auto Parts-sponsored #02c.  Deutsch would pass both Billyk and McCann to take third at the finish as McCann was fourth with Billyk dropping to fifth for his third top five in just four starts.   Miller and Carothers won the heat races.
Butch Lambert won his first career Sharon feature on opening night back on May 2, but had only made three starts since; however, Lambert was back on Saturday night and captured a hard-fought victory in the 15-lap HTMA/Precise Racing Products Econo Mod feature.
"That was a blast- I love racing with these guys," expressed the 42-year-old Valencia, Pa. resident.  "All the guys that are running up front can win.  Mike (Hendrickson) the car owner said earlier in the night it's pretty much a matter of whoever starts in front of who.  We're all pretty tough and equal, which makes it even tougher, but a lot of fun to race.  I didn't want to see that last restart.  Ryan (Fraley) is fast and I knew I couldn't let him get to the outside.  I was pretty good on top.  I figured he gave me a slide job so I'd give him one back.  I have to thank Mike and his family- without him I wouldn't be doing this.  I got rid of all of my stuff and he put the fun back into it for me.  The car has been awesome every night."
Lambert started from the pole position, but it was fourth starting point leader Ryan Fraley on the move.  Fraley passed Jamie Scharba for second on lap three then went after Lambert and caught the leader on the seventh circuit.  The duo put on a great side-by-side battle with Fraley putting a slide job on Lambert to lead lap 10, but Lambert returned the favor one lap later to regain the lead on lap 11.
Two final cautions bunched up the field.  Last week's winner, Steve Haefke, started eighth and came on strong in the closing laps.  He passed both Casey Bowers and Fraley on a lap 12 restart and made a run at Lambert.  The two were side-by-side in the final laps, but it was Lambert holding on by just 0.404 of a second in the Mike Hendrickson-owned, Townsend Gas & Oil/Whitehill's Garage/Leisure Time Power Sports/Brad Penn Oil/Hoosier Tires/VP Fuels-sponsored #19.
Haefke received a $25 gift certificate from Summit Racing Equipment for being the hard charger advancing six positions.  Sixth starting Bowers was third as Fraley dropped to fourth over Scharba.  Heat victors were Fraley and Jason Longwell.
Andy Proper was running third when he took the white flag in the 12-lap Deforest Used Parts Mini Stock feature, but a couple minutes later he was standing in victory lane for the second time this season after getting by Bill Fuchs and then the slowing leader Pete Blazczak.  Proper also received a $25 Summit Racing Equipment gift certificate for being the hard charger advancing 10 positions.  Proper said it was his 13th overall win of 2015!
"The cautions really helped me," acknowledged the 43-year-old Tidioute, Pa. racer. "I had a lot of good cars in front of me. I had a great battle with Todd Hanlon, Jim Haefke, and Bill Fuchs. I think the 77 (Pete Blazczak) would have won that, but had some problems on the last lap. I got lucky tonight- that's for sure. My heat race was horrible. I tried a different setup so I had to come from back and put my old setup back in. It's a fast car and you have to test sometimes, but it worked out. I can't wait to come back here in September. I have to thank my friends, family, and sponsors."
Like Lambert, Blazczak won on opening night, but had only made two appearances since. Blazczak was back on Saturday night with a new car and appeared headed for victory. Blazczak started on the pole and three cautions were pretty much all the slowed his run until he began to slow on the final lap. A mad scramble down the frontstretch saw 11th starting Proper sneak by for his second win in his Phillips Auto Care/Kunick Automotive/Cornfield 500-sponsored #17. Fuchs also got by the slowing Blazczak to finish second as he is close to clinching his third championship.  Blazczak barely held off Jim Haefke, Jr. for third.  Jamie Maxwell was fifth.  Haefke and Joe Campbell were heat race winners.
410 Sprint Cars (25 laps, $1,500 to-win): 1. JIMMY SEGER (25) 2. Brandon Matus (13) 3. Dan Kuriger (08) 4. Eric Williams (7) 5. Jack Sodeman, Jr. (Seger 25S) 6. Carl Bowser (10) 7. Dennis Wagner (38) 8. A.J. Flick (2) 9. Michael Bauer (46) 10. Russ Sansosti (23s) 11. Brent Matus (33) 12. Gary Edwards (57) 13. Jason Dolick (D12) 14. Dan Shetler (7K) 15. Gale Ruth, Jr. (1R) 16. Eric L. Williams (4w) 17. Jimmy Morris (16) 18. Mike Flynn (VanTassel 12X) 19. Bobby Siegel (91) 20. Zach Morrow (27)-DNS 21. Shawn Minor (3M)-DNS 22. Donny Minor (22M)-DNS.
Summit Racing Equipment (E) Modifieds (20 laps): 1. DWAYNE CLAY (007) 2. Jeff Johnson (Smith 1) 3. Joe Gabrielson (58) 4. Mike Kinney (3) 5. Scott Stiffler (14) 6. Will Thomas III (9) 7. Paul Davis (3D) 8. Amanda Stiffler (14A) 9. Jason Longwell (Petsko 00) 10. Russ Dunn (White 53) 11. Jeremy Double (83) 12. Levi Spinneweber (Peterman 11) 13. Jacob Eucker (64). 
Gibson Insurance Agency Stock Cars (15 laps): 1. BRIAN CAROTHERS (02c) 2. Mike Clark (7) 3. Tim Deutsch (11D) 4. Bob McCann (Fornataro USA1) 5. Jacob Billyk (4) 6. Dan Fedorchak (Bruno x7) 7. Lee Patrick (Bolyard 05) 8. Tony Bruno (97) 9. Troy DeZarn (21D) 10. Brian Mulichak (36D) 11. Mark Hopkins (69H) 12. Gary Robinson (44R) 13. Brent Coleman (01) 14. Mike Miller (T6) 15. Gary Miller, Jr. (1M)-DNS 16. Shane Smith (299)-DNS.
HTMA/Precise Racing Products Econo Mods (15 laps): 1. BUTCH LAMBERT (Hendrickson 19) 2. Steve Haefke (41) 3. Casey Bowers (20) 4. Ryan Fraley (12) 5. Jamie Scharba (11S) 6. Jason Longwell (7s) 7. Brian Foley, Jr. (16JSR) 8. Keith Felicetty (98) 9. Wayne Daniels (4) 10. Chris Clay (99) 11. Jeff Webber (25) 12. Dan McEwen (44) 13. Brad Blackshear (19) 14. Haley Lapcevich (77).
Deforest Used Parts Mini Stocks (12 laps): 1. ANDY PROPER (17) 2. Bill Fuchs (10) 3. Pete Blazczak (77) 4. Jim Haefke, Jr. (421) 5. Jamie Maxwell (6) 6. Matt Rubright (X) 7. Robert Wagner (35) 8. Darren McAninch (43) 9. Pat Hanlon (7H) 10. Joe Keney (15K) 11. Joe Campbell (40c) 12. Ed Roberts (6R) 13. Pat Drennan (Sirrine 24) 14. Logan Keney (16) 15. Scott Hites (66)-DNS. 
Coming up next Saturday night (August 22) is the return of the RUSH Late Models. Joining the Late Models will be the Big-Block Modifieds, RUSH Sportsman Modifieds, Stock Cars, Econo Mods, and Mini Stocks. Kids bike races will be held at intermission. Regular pricing is in effect with $10 general admission for those 14 and over. 13 and under are free. Pits open at 4 p.m. with grandstands at 5 and heat races at 7. Pit passes are $30.
Sharon Speedway is owned by the Blaney, Weller, and Kirila Families and is a 3/8-mile dirt track located on Custer-Orangeville Road in Hartford, Ohio near the intersection of Routes 7 & 305. For more information, check out the website at www.sharonspeedway.com or call 330-772-5481. Become a fan of Sharon Speedway on Facebook at www.facebook.com/sharonspeedway and follow us on Twitter at www.twitter.com/sharonspdwy.
Back to News