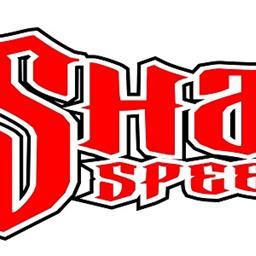 ---
RUSH Late Models return Saturday along with Big-Block Mods, RUSH Mods, Stocks, Econos & Minis
By Mike Leone
August 20, 2015
(Hartford, OH)…With great weather predicted, Sharon Speedway will look to complete its eighth straight event this Saturday (August 22) as the RUSH Late Models return for their next to last visit of the 86th anniversary season. Joining the Late Models will be the Hovis Auto & Truck Supply DIRTcar Big-Block Modifieds, Weller Hughes Developing & Contracting RUSH Sportsman Modifieds, Gibson Insurance Agency Stock Cars, HTMA/Precise Racing Products Econo Mods, and the Deforest Used Parts Mini Stocks. The (E) Modifieds will have the night off. Heat races get underway at 7 p.m.
Saturday is Preston Ford Corporate Night. Kids bike races will be held during intermission. Helmets are required and kids must sign up with their parents prior to competing. The kitchen special is lasagna. All 50/50 raffle and beer proceeds will benefit the local food banks.
After getting rained out in their first three scheduled appearances this season, the RUSH Late Models did get their July 18 event in as two-time champion Will Thomas III beat David Scott's sons, Wyatt and Kyle, who were amongst the 18-car field. Saturday is another Sweeney Chevrolet Buick GMC "Weekly Series� event for the Late Models. If 24 or more cars are present, Sharon will pay $1,000 to-win otherwise the weekly payoff from the past will be used. There is no longer a required Hoosier Crate Racin' USA D55 on the right rear. 2013 track champion Dennis Lunger, Jr. along with inaugural 2011 champion, Josh Double, are expected to be in the field along with several other top racers like Alan Dellinger, Matt Latta, Bobby Whitling, and others. Thomas leads the all-time win list with 14 victories over Lunger's 11.
Just two more nights of points remain for the weekly divisions. After the DIRTcar Big-Block Modifieds had last Saturday off, they return this Saturday night. Rex King will try and maintain his 18-point lead over his son and defending champion, Rex King, Jr. The Kings have accounted for six victories this season with King, Jr. leading the way at four. Jim Weller, Jr., Ricky Richner, and Jim Rasey, who is looking for his first win in over four years, complete the top five in the Hovis Auto & Truck Supply point standings.
Like their big brother, the RUSH Sportsman Modifieds will also be back in action this Saturday after having August 15 off. Nick Ritchey put a halt Greg Martin's three race win streak as he won his second Weller Hughes Developing & Contracting feature on August 8. Martin, of Wilson, NY, has a commanding 47-point lead on Ritchey, and if he can finish 14th or better in the feature the next two events he'll win the title no matter what Ritchey does. Martin could clinch the title Saturday night if he wins both the heat race and feature. Kole Holden has a comfortable cushion for the third position in points, while fourth through seventh is very tight as just 20 points separate Chelsie Kriegisch, Michael Kristyak, Brandon Ritchey, and Kyle Martell.
Brian Carothers joined Mike Cark last Saturday as the only repeat winners in the highly competitive Stock Car division in 2015. Carothers has overtaken one-time winner, Mike Miller, for the second spot in the Gibson Insurance Agency points, but trails Clark by 38. Clark, of Bristolville, Ohio, has a pretty commanding 38-point lead in search of his third consecutive track championship. Miller has dropped to third in points over Brian Mulichak and Tony "Spaghetti� Bruno. After blowing up two open motors, 32-time winner and four-time track champion, Steve D'Apolito, is expected to have his GM 604 crate motor ready for competition Saturday.
Opening night winner Butch Lambert became just the third driver to score multiple wins last Saturday in the Econo Mods joining the top two HTMA/Precise Racing Products point drivers of Casey Bowers and Ryan Fraley. Both drivers have three wins, but Fraley leads by 22 points with two events remaining. Consistent Keith Felicetty has a pretty solid lock on the third position over Jamie Scharba and Wayne Daniels.
Bill Fuchs just missed out on his third feature win of the year after coming up just shy to Andy Proper's second victory last Saturday in the Mini Stocks. Fuchs though of Greenville, Pa. can clinch his second straight and fourth Deforest Used Parts championship by simply finishing seventh or better in Saturday's feature. Rookie Matt Rubright is 62 points behind Fuchs, but has a 25-point lead on Jamie Maxwell, who is still searching for his first career win. Jim Haefke, Jr. is a distant fourth in points over Michael DelliQuadri, who was second in points earlier in the year.
Hovis Auto & Truck Supply will again award six complimentary pit passes for the following week; a pair going to the hard luck driver in DIRTcar Big-Block Modifieds, a pair to a lucky driver in the division that competes first, and a pair to a lucky fan. Summit Racing Equipment will award $25 gift cards to the hard charger in the Modified, Stock Car, Econo Mod, and Mini Stock divisions.
Pits open at 4 p.m. with grandstands at 5, and heat races are slated for 7. Grandstand admission for those 14 and over is just $10. As always, children under 13, parking, and camping is always FREE! Pit passes are $30. Sharon has a no carry-in cooler policy.
Sharon will have another "Summer Jam & BBQ Series� next Friday night (August 28) featuring "Escape� a Journey Tribute Band along with "Ronnie V & Friends�. Gates open at 6 p.m. with entertainment from 7-11. Admission is just $5. Saturday the 29th will be the final "Steel Valley Thunder� program of the season featuring the six weekly divisions plus ATV & Side-by-Side races. Admission is $10 for the racing and just $8 if you bring your band from Friday night.
Sharon Speedway is owned by the Blaney, Weller, and Kirila Families and is a 3/8-mile dirt track located on Custer-Orangeville Road in Hartford, Ohio near the intersection of Routes 7 & 305. For more information, check out the website at www.sharonspeedway.com or call 330-772-5481. Become a fan of Sharon Speedway on Facebook at www.facebook.com/sharonspeedway and follow us on Twitter at www.twitter.com/sharonspdwy.
Back to News