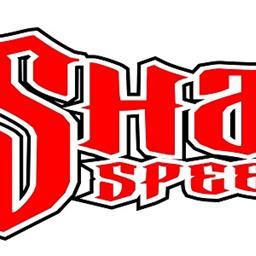 ---
Susice invades for 1st time & wins Big-Block Mods; Lunger wins RUSH LM return; #2 for Kugel in RUSH Mods; Fawcett wins in 1st Stock visit; 1st for Bla
By Mike Leone
August 22, 2015
(Hartford, OH)…Chamber of commerce weather greeted racers and fans alike on Saturday as Sharon Speedway was able to complete the eighth straight event as the great stretch of weather throughout July and August continued. A strong field of 107 cars filled the pit area for the next-to-last "Steel Valley Thunder" program of the 86th anniversary season. Celebrating in the Hovis Auto & Truck Supply victory lane were Ryan Susice-Hovis Auto & Truck Supply DIRTcar Big-Block Modifieds, Dennis Lunger, Jr.-RUSH Late Models, Rocky Kugel-Weller Hughes Contracting & Developing RUSH Sportsman Modifieds, Shawn Fawcett-Gibson Insurance Agency Stock Cars, Brandon Blackshear-HTMA/Precise Racing Products Econo Mods, and Bill Fuchs-Deforest Used Parts Mini Stocks.
Not many people in the western Pa. and eastern Ohio area had ever heard of Ryan Susice, but after Saturday night's performance fans will certainly remember the name. Susice made his first ever visit to the region a successful one winning one of the season's best DIRTcar Big-Block Modified features. Susice out-dueled fellow Empire State racer Ricky Richer then held off a big charge by Rex King, Jr. from 16th for the 20-lap Hovis Auto & Truck Supply feature win!
"This is our big-block car," stated the 25-year-old Ransomville, NY driver, who leads the "358" small-block points at Ransomville Speedway. "We've been competing a little bit at Canandaigua so it's a little different setup for us. We've struggled during the year with it, but we've got a new setup in the back. I really owe this all to my crew. I just have my buddy Ricky with me along with my fiancé and mom so we really didn't have a lot of help. We blew a tire on the way down and drew a horrible pill coming in the pits so I guess this is a good way to cap off the night. I've raced at a lot of tracks all over the Northeast and man this is a beautiful facility. You guys have a gem here in Ohio. I don't know what my schedule is the rest of the year, but I'd sure like to come down here a couple more times."
Richner took charge early on over Garrett Krummert, Dave Murdick, and the fifth starting Susice. Richner quickly pulled away from the pack on lap three, while Murdick began to pressure Krummert for the runner-up spot. Murdick drove around Krummert off turn two for the second spot on lap five, but found himself a straightaway behind the leader. Susice had stayed within striking distance and darted under Krummert racing off the inside of turn four to nab third on lap eight.
Following the event's first caution for a spin by Justin Rasey with 13 laps scored, Susice moved past Murdick on the restart for second and went after Richner. A pair of cautions slowed action with 15 laps scored including a multi-car accident on a restart that claimed several top racers. Back under green, Richner and Susice raced side-by-side with Susice leading lap 16; however, Richner reclaimed the lead on the 17th circuit before the event's final caution.
Richner chose the bottom for the double file restart, but Susice again made the highline work carrying his momentum into the lead. After getting caught up in a heat race accident, King, Jr. was making his way forward. He cracked the top five on lap 16, moved into fourth on lap 17 past Murdick then passed his father on the final restart for third. King, Jr. was flying as he went after the New York racers passing Richner for second on lap 19. Susice though was able to hold off the four-time winner and defending track champion by just 0.306 of a second in his Susice Motorsports-owned, Asset Consulting Experts/Subway/Tim Phillips Garage/NMCC/OSB National Maintenance/DMS Powder Coating-sponsored #38. Susice became the season's sixth different winner and 84th different winner all-time in the division.
Richner, who led 16 laps, was third over point leader Rex King. Murdick dropped to fifth. Jim Rasey came back from the lap 15 accident to finish sixth as Kevin Bolland, Rick Regalski, Jr., Skip Moore, and Tiffany Williams completed the top 10. Krummert was selected as the hard luck driver after dropping from the event running in the top five and received a pair of pit passes for next Saturday compliments of Hovis. Heat winners were King and Jimmy Weller III over the 17-car field.
The RUSH Late Models made the second appearance of the season despite three of the other scheduled events getting rained out. It was a familiar face back in victory lane as 2013 champion and last year's five-time winner, Dennis Lunger, Jr., picked up the 20-lap Sweeney Chevrolet Buick GMC Weekly Series victory. Lunger was dominating the July 18 race before getting tangled up with a lapped car.
"I had a point to prove from earlier this year when we had the field covered," expressed the 47-year-old Albion, Pa. racer, who has now won 16 feature events this season throughout the region! "I got tangled up with a lapped car and wanted to make sure that didn't happen tonight. They (lapped cars) held their line real good tonight. The track was outstanding- a little rough coming off four, but I've seen a lot worse. I wish we were here every week. I love racing at this place. I wish they'd bring the Late Models back."
Lunger started fourth, but made quite the move to shoot into the lead off the bottom of turn four on the opening lap past Bobby Pifer III, Josh Double, and Bruce Hordusky, Jr. Wilson started fifth and followed Lunger forward as he dove past Hordusky for second on lap two. Hordusky and Double raced side-by-side for third on laps three and four before the event's first caution.
Back under green, Hordusky and Double's battled continued; however, seventh starting Will Thomas III joined the fray and it was three-wide off turn four on lap five with Thomas getting the nod for the third spot. Up front, Lunger kept a steady advantage over Wilson. Lunger caught lapped traffic on lap 14, but made the right moves until a caution with 16 laps completed for Bryan Hoffman, who was making his first ever visit. Under caution, Thomas pitted and relinquished third back to Double with eighth starting Alan Dellinger now up to fourth.
When green replaced yellow, it was three-wide again for third, but this time Hordusky had the advantage, while Dellinger also got by Double to maintain fourth. Hordusky and Dellinger put on a good race for third racing side-by-side again on lap 19 with Dellinger making the pass.
Lunger though was too much as he took the checkered flag in the Schwartz Construction-owned, English Tire/Carter Lumber/Edward Jones/Ken's Automotive/Kabantime.com/State-Farm/Beacon Lubricants/Lukjan Metal Products/Stateline Lumber/Penn-Ohio/Race 1/Ron & Don North-sponsored #71L for his 12th career win by 0.868 of a second over Wilson, who made his first start of the season. Dellinger was third. Hordusky had a nice run in fourth in his first ever appearance. Double dropped to fifth. Completing the top 10 were Wyatt Scott, Jamie Wrightsman, Pifer, Joe Long, and Dave Shagla, Jr. Lunger and Pifer copped the heat race wins over the 16-car field.
For the first time in the two-year existence of the RUSH Sportsman Modifieds, New York dominator Greg Martin was defeated two events in a row. At the last event, Nick Ritchey stopped Martin's three-race win streak then on Saturday night Rocky Kugel defeated Martin for his season's second win in the 15-lap Weller Hughes Developing & Contracting feature.
Kugel, 39 of East Liverpool, Ohio, quickly took off from the pole position over veteran Jerry Schaffer. Martin started sixth and was up to fourth after one lap. On lap two, Martin spilt Schaffer and Kole Holden racing down the backstretch to take over second. Kugel had a half-straightaway lead built up by the time Martin made his way to second. The lead was erased though when Holden spun in turn two with three laps scored.
The next seven laps went off uneventful until Ritchey got into the fence in turn three. The lights then went out causing a delay. Back under green, Kugel was able to hold off Martin over the final five laps to capture his third career win in his Paper Services/Jones Racing Products-sponsored #6R. Martin was 0.896 of a second back in runner-up; however, was able to clinch the track title and also leads the $3,000 to-win Bicknell Racing Products Weekly Series Championship!
Schaffer was third beating out Brandon Ritchey, who did one better than his prior best finish of fifth at the last event on August 8. Larry Kugel completed the top five. Martin and Larry Kugel were heat race winners over the 16-car field, which was a record count.
Shaun Fawcett made his first appearance of the season a winning one as he captured the victory in the 15-lap Gibson Insurance Agency Stock Car feature. Fawcett was prepping for the upcoming "Apple Festival Nationals" next month and beat a season-high 23-car field. He became the division's eighth different winner in 10 races this year, but more impressively the fifth different Stock Car driver to win their first ever feature this season at Sharon!
"We wrapped up the championship at Raceway 7 and wanted to come down here and check this place out," explained the 42-year-old Albion, Pa. resident. "It was pretty awesome. It's been a long time coming- I've been coming here for years and it just worked out for us."
Fawcett was in the right place at the right time to avoid two accidents that claimed several of the top runners. The first caution was for last week's winner, Brian Carothers, who spun and collected Gary Miller, Jr., with four laps completed. The second one was a bigger one. Current point leader, Mike Clark, was looking to become the first three-time winner. Clark led the first nine laps, but got spun by runner-up Jacob Billyk in turn two and collected Paul Davis and Gary Robinson.
Fawcett started fourth and had passed Tim Deutsch for third back on lap five. That was important as the prior accident gave him the lead. Fawcett then was able to hold off Andy Buckley over the final five laps for the win in his Wright's Garage/Campbell Mini Storage/Bushnell Store/Everhart Asphalt-sponsored #224. Deutsch was third over 10th starting Mike Miller. Steve D'Apolito came from 13th to fifth, but came up light at the scales moving Shawn Smith into the top five. Brandon Wearing made his first ever visit with his GM 604 crate engine and raced from 17th to seventh to earn the $25 Summit Racing Equipment hard charger certificate. Billyk, Clark, and Carothers were heat race winners.
Brandon Blackshear hopped in his brother Brad's car and picked up the 15-lap victory in his season's first start in the Econo Mods. Blackshear became the HTMA/Precise Racing Products sixth different winner with his first victory since August 16 of last year. In fact, it was only the 25-year-old Brookfield, Ohio driver's second race of the season at Sharon as he ran his Modified back on June 20.
Blackshear started second and took the lead from pole-sitter Keith Felicetty. Seventh starting Steve Haefke passed Josh Ferry for third on lap six. After seven caution-free laps, the event was slowed due to dust from the infield that kicked up from a spinning car causing visibility problems. Three straight cautions then slowed action without another lap getting completed. When racing resumed for good on lap eight, Haefke passed Felicetty for second.
Blackshear though was able to hold off the Haefke, who won on August 8, by 1.887 seconds for his all-time division-leading 17th career win in the Brad Blackshear-owned, Blackshear Auto/Intense Fabricating/WDC Concrete/Blackshear Engines-sponsored #19. Ferry was third in his first appearance since his only start of the year on May 23 when he was leading the feature and his transmission blew with three laps to go. Butch Lambert raced from eighth to fourth as point leader Ryan Fraley completed the top five. After coming up light at the scales following his heat race victory, Casey Bowers advanced from 15th to sixth to earn the $25 Summit Racing Equipment Hard Charger certificate. Lambert and Haefke were heat winners over the 16-car field.
Bill Fuchs clinched his third track championship by winning his division-high fourth feature of the season in the Mini Stocks. The 12-lap Deforest Used Parts event was worth $150 to the 39-year-old Greenville, Pa. driver due to the 19-car field. Fuchs, like Fawcett in the Stocks, was the benefactor of other's misfortunes. Newcomer Steven Morse exited the event in the lead under caution when last year's 10-time winner lost a wheel. Pete Blazczak then inherited the lead and led until lap nine when he lost a wheel!
Fuchs, who actually started on the pole and led the first lap, regained the lead on lap nine and led to the finish for his all-time leading 27th career win in his Crash Auto Wrecking/RTW Industrial Contracting/Higbee Family-sponsored #10.  Jamie Maxwell, who just can't get over the hump for his first career win, was second for the fifth time this season!  Maxwell started seventh and earned the $25 Summit Racing Equipment Hard Charger certificate.  Morse came back from pitting to finish third over Pat Drennan and newcomer Tyler Fulton.  Creech and Blazczak were heat race winners.
Hovis Auto & Truck Supply DIRTcar Big-Block Modifieds (20 laps): 1. RYAN SUSICE (38) 2. Rex King, Jr. (165) 3. Ricky Richner (26) 4. Rex King (65) 5. Dave Murdick (61) 6. Jim Rasey (32) 7. Kevin Bolland (777) 8. Rick Regalski, Jr. (13) 9. Skip Moore (17M) 10. Tiffany Williams (58) 11. Tom Glenn (83T) 12. Jimmy Weller III (23) 13. Jim Weller, Jr. (31) 14. Carl Murdick (6) 15. Garrett Krummert (29) 16. Justin Rasey (21) 17. Rob Kristyak (00)-DNS.
RUSH Late Models (20 laps): 1. DENNIS LUNGER, JR. (Schwartz 71L) 2. Eric Wilson (27W) 3. Alan Dellinger (Williams 8) 4. Bruce Hordusky, Jr. (3) 5. Josh Double (38) 6. Wyatt Scott (x3) 7. Jamie Wrightsman (21J) 8. Bobby Pifer III (6P) 9. Joe Long (71) 10. Dave Shagla, Jr. (6) 11. Lon Emerick (3) 12. Khole Wanzer (01w) 13. Bud Watson (Cole 28) 14. Will Thomas III (9) 15. Bryan Hoffman (15H) 16. Russ Byler (Hoover 00H).
Weller Hughes Developing & Contracting RUSH Sportsman Modifieds (15 laps): 1. ROCKY KUGEL (6R) 2. Greg Martin (4M) 3. Jerry Schaffer (14) 4. Brandon Ritchey (17) 5. Larry Kugel (0) 6. Kole Holden (2) 7. Jordan Eck (1m) 8. Michael Kristyak (404) 9. Nick Ritchey (77N) 10. Kyle Martell (8) 11. Josh Deems (9D) 12. Will Schaffer (4) 13. Justin Shea (14s)-DNS 14. Steve Burns, Jr. (70B)-DNS 15. Tiffany Williams (Smith 3G)-DNS 16. Chelsie Kriegisch (Schaffer 10)-DNS.
Gibson Insurance Agency Stock Cars (15 laps): 1. SHAUN FAWCETT (224) 2. Andy Buckley (965) 3. Tim Deutsch (11D) 4. Mike Miller (T6) 5. Shawn Smith (36) 6. Andy Thompson (5) 7. Brandon Wearing (Neely 27) 8. Tony Bruno (97) 9. Jesse Brock (22B) 10. Jacob Billyk (4) 11. Troy DeZarn (21D) 12. Shane Smith (299) 13. Michael Hudzik (31H) 14. Brian Mulichak (36D) 15. Brian Carothers (02c)Â  16. Mike Clark (7) 17. Paul Davis (3) 18. Gary Robinson (44R) 19. Dan Fedorchak (Bruno x7) 20. Mark Hopkins (69H) 21. Gary Miller, Jr. (1M) 22. Steve Burns, Jr. (70B) 23. Steve D'Apolito (84)-DSQ (light).
HTMA/Precise Racing Products Econo Mods (15 laps): 1. BRANDON BLACKSHEAR (19) 2. Steve Haefke (41) 3. Josh Ferry (33) 4. Butch Lambert (Hendrickson 19) 5. Ryan Fraley (12) 6. Casey Bowers (20) 7. Keith Felicetty (98) 8. Dan McEwen (44) 9. Brian Foley, Jr. (16JSR) 10. Brian Toto (8B) 11. Wayne Daniels (4) 12. Haley Lapcevich (77) 13. Chris Clay (99) 14. Jamie Scharba (11S) 15. George Vestal IV (4) 16. Jeff Webber (25)-DNS.
Deforest Used Parts Mini Stocks (12 laps, $150 to-win): 1. BILL FUCHS (10) 2. Jamie Maxwell (6) 3. Steven Morse (14M) 4. Pat Drennan (Sirrine 11) 5. Tyler Fulton (09) 6. Matt Rubright (X) 7. Robert Wagner (35) 8. Jim Haefke, Jr. (421) 9. Ryan Moyer (13) 10. Joe Campbell (40C) 11. Jason Easler (02) 12. Darren McAninch (43) 13. Pete Blazczak (77) 14. Michael DelliQuadri (77D) 15. Logan Keney (16) 16. Steve Walker II (4M) 17. Travis Creech (75T) 18. Mitch Stokes (6M) 19. Ed Roberts (6s)-DNS.
Next weekend will feature a doubleheader of events.  Friday (August 28) will be another "Summer Jam & BBQ Series� featuring "Escape� a Journey Tribute Band along with "Ronnie V & Friends�.  Gates open at 6 p.m. with entertainment from 7-11.  Admission is just $5.  Saturday the 29th will be the final "Steel Valley Thunder� program of the season featuring the six weekly divisions plus ATV & Side-by-Side races.  Admission is $10 for the racing and just $8 if you bring your band from Friday night.  Pit gates open at 4 p.m. with grandstands at 5 and heat races at 7.
Sharon Speedway is owned by the Blaney, Weller, and Kirila Families and is a 3/8-mile dirt track located on Custer-Orangeville Road in Hartford, Ohio near the intersection of Routes 7 & 305. For more information, check out the website at www.sharonspeedway.com or call 330-772-5481. Become a fan of Sharon Speedway on Facebook at www.facebook.com/sharonspeedway and follow us on Twitter at www.twitter.com/sharonspdwy.
Back to News