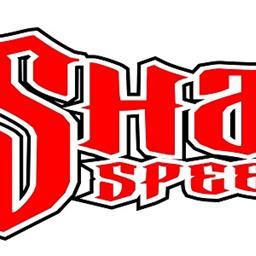 ---
Final "Steel Valley Thunder" weekly racing program Saturday to decide top 10 point races; "Summer Jam & BBQ Series" Friday
By Mike Leone
August 26, 2015
(Hartford, OH)…A big weekend is in store at Sharon Speedway beginning on Friday night (August 28) with the "Summer Jam & BBQ Series IV� followed up by the final "Steel Valley Thunder� weekly program of the 2015 season featuring the Hovis Auto & Truck Supply DIRTcar Big-Block Modifieds, Summit Racing Equipment Modifieds, Weller Hughes Contracting & Developing RUSH Sportsman Modifieds, Gibson Insurance Agency Stock Cars, HTMA/Precise Racing Products Econo Mods, and Deforest Used Parts Mini Stocks. In addition, there will be ATV and Side-by-Side races (if less than 10 feature only). Heat races gets underway at 7 p.m.
"Escape�, a "Journey� Tribute Band will headline the entertainment, which will get underway at 7 p.m. with "Ronnie V & Friends�. Gates open at 6 p.m. and entertainment will wrap up at 11. The food menu will include barbeque chicken dinner, barbeque country ribs, pulled pork sandwiches, and hot sausage sandwiches. Admission is $5. Free camping is available for the entire weekend. Admission is just $5 on Friday and if you bring your wristband to Saturday's race event you will receive $2 off the normal $10 admission.
Saturday's race program will conclude the 2015 point championship races in all six weekly divisions. The top 10 drivers will receive cash and hardware at the awards banquet typically held the first Saturday in February at Yankee Lake (OH) Ballroom.  Saturday's 50/50 raffle and beer proceeds will benefit the American Cancer Society. The Joedance Film Festival will be Saturday's event sponsor.
One of the closest championship races is in the headline Big-Block Modified division where Rex King leads his son Rex, Jr. by 18 points. The elder King will be looking for his fifth championship at the speedway. The Bristolville, Ohio veteran won his first title back in 1985 then won when Sharon returned to weekly racing in 1996 followed up by back-to-back crowns in 2010 and 2011. His son "Cooter�, who won three of the first four races this season but has only won one race since, still has an outside shot at repeating, but pretty much needs a perfect night and something to go wrong for his father.
Ricky Richner has a five-point lead over Jim Weller, Jr. for the third spot. Currently completing the top 10 in the Hovis Auto & Truck Supply points are Jim Rasey, Tom Glenn, Carl Murdick, Rob Kristyak, Rick Regalski, Jr., and Garrett Krummert. Dave Murdick is on the outside looking in, three points out of 10th.
The closest championship battle is in the Modifieds where rookie open wheel racer Will Thomas III leads Mike Kinney by just two points! Thomas is coming off two championships in the past three seasons in the RUSH Late Models. Thomas won the season's first two races in his Modified debut, but since has only won one race; meanwhile, Kinney, the 2013 champion, is still looking for his season's first win. Can he pull off a win and the title on the final night!?
Dwayne Clay has a lock on the third spot in the Summit Racing Equipment points and has no chance of winning the title unless neither Thomas nor Kinney show. Veteran Stock Car racer, Paul Davis, leads Jeff Johnson by 10 in the race for fourth. Completing the top 10 are Jacob Eucker, Joel Watson, Joe Gabrielson, Scott Stiffler, and Matt Lux. J.J. Bametzrieder is on the outside looking in just two points out of 10th.
After competing eight times last year during their inaugural season, the RUSH Sportsman Modifieds were added to the weekly card in 2015 at Sharon. The little brother to the big blocks, have increased their counts from 10-13 last year to 13-16 per night this season. Last Saturday night's 16-car field was the highest ever at Sharon and matched the region high count set twice this year at Lernerville and Sportsman's Speedways.
Greg Martin locked up the inaugural Weller Hughes Developing and Contracting title last Saturday night; however, the Wilson, New York driver was shutout of victory lane for the second straight race, which is the first time that's happened over the two-year period. Martin leads the speedway with six wins and has yet to finish third in any feature over the two years.
Two-time winner, Nick Ritchey, is second in points and has a solid 31-point lead over Kole Holden. The improving Brandon Ritchey and Michael Ritchey and have moved into fourth and fifth in points. Two-time winner, Rocky Kugel, is sixth in points and still has a shot at fourth. Completing the top 10 are Kyle Martell, Chelsie Kriegisch, Will Schaffer, and Josh Deems. Outside looking in are Larry Kugel and Jerry Schaffer. The elder Kugel is just one-point behind Deems and has a shot at moving to ninth.
After a close battle for much of the season, Mike Clark distanced himself from Mike Miller in the Stock Cars. The Bristolville, Ohio driver simply needs to attempt to race and he'll capture his third straight Gibson Insurance Agency title! The last time that feat was accomplished was in 1996-1998 by Rick Prosser, Jr. Clark and Brian Carothers are the only two drivers to repeat this year in the highly competitive division, which have seen five different drivers win their first career Sharon Stock features!
Miller has just a three-point advantage on Carothers for second. Brian Mulichak and Tony Bruno are fourth and fifth in points and pretty much have a lock on those positions. Completing the top 10 are Gary Robinson, Tim Deutsch, Troy DeZarn, Dan Fedorchak, and Jacob Billyk.
Ryan Fraley and Casey Bowers have battled all season long in the Econo Mods. Both drivers lead the division with three victories. A blown motor earlier in the season was costly for Bowers, which allowed Fraley to pull away. Bowers was chipping away at Fraley's point lead in recent weeks and won his heat race last Saturday, but coming up light at the scales pretty much ruined his shot at the title. Fraley leads Bowers by 28 points.
As long as Bowers attempts to race, he won't finish worse than second in points. Keith Felicetty has a solid lock on third in his best career season. Jamie Scharba, Wayne Daniels, Steve Haefke, Chris Clay, Brad Blackshear, Brian Foley, Jr., and Butch Lambert are currently fourth through 10th in the HTMA/Precise Racing Products points.
Like Greg Martin, Bill Fuchs was able to clinch his championship last Saturday in the Mini Stocks. Fuchs though did it in grand style by winning the feature! Fuchs' fourth win of the season was his all-time leading 27th of his career in the division. The Greenville, Pa. driver, who was able to defend his 2014 title, also leads the division with three championships!
Rookie Matt Rubright has a 17-point advantage on Jamie Maxwell in the battle for second in points. Both drivers are in search of their first career wins. Jim Haefke, Jr., Michael DelliQuadri, Joe Campbell, Joe Keney, Tim McAninch, Logan Keney, and Pat Drennan currently complete the top 10 in Deforest Used Parts standings. No one outside of the top 10 has a shot at breaking in.
Summit Racing Equipment will award $25 gift cards to the hard charger in the Modified, Stock Car, Econo Mod, and Mini Stock divisions.
Pits open at 4 p.m. on Saturday with grandstands at 5, and heat races are slated for 7. Grandstand admission is $10 for those 14 and other. Pit passes are $30. As always, children under 13, parking, and camping is always FREE! Sharon has a no carry-in cooler policy.
Sharon will be off over Labor Day Weekend then will conclude the 86th anniversary season with the two-day "Apple Festival Nationals� on Friday and Saturday, September 11-12. Friday will feature complete shows for the Mod Lites and Sportsman Dwarf Cars along with heat races for the RUSH Late Models, Modifieds, RUSH Sportsman Modifieds, Stock Cars, Econo Mods, and Mini Stocks. Saturday will be a complete show for The Mod Tour big blocks along with last chance B mains and features for Friday's divisions (excluding Mod Lites and Dwarfs).
Sharon Speedway is owned by the Blaney, Weller, and Kirila Families and is a 3/8-mile dirt track located on Custer-Orangeville Road in Hartford, Ohio near the intersection of Routes 7 & 305. For more information, check out the website at www.sharonspeedway.com or call 330-772-5481. Become a fan of Sharon Speedway on Facebook at www.facebook.com/sharonspeedway and follow us on Twitter at www.twitter.com/sharonspdwy.
Back to News