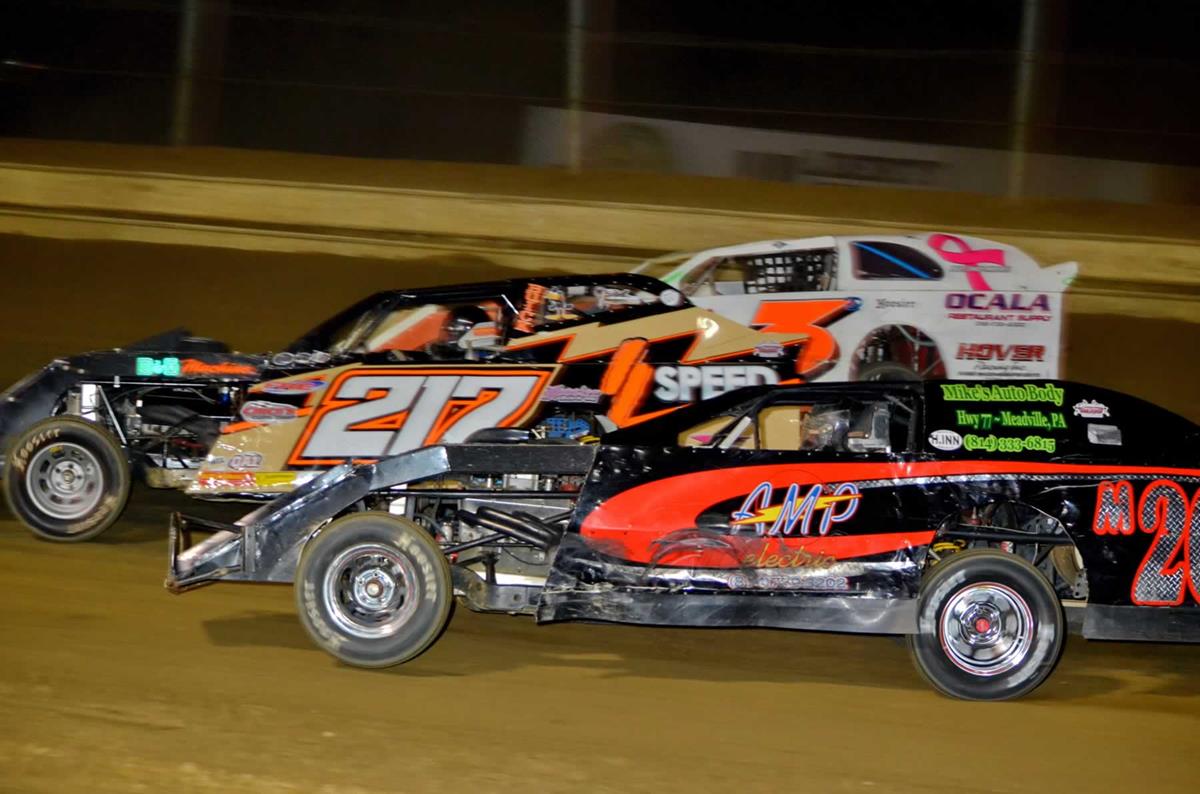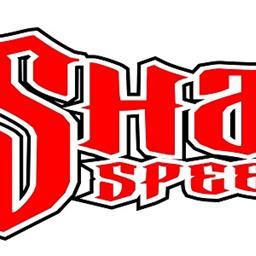 ---
Career 1st Sharon win for Krummert in Big-Block Mods; Davies returns & wins Mods; #3 for Kugel in RUSH Mods; Moore, Haefke & Blazczak repeat in Stocks
By Mike Leone
August 29, 2015
(Hartford, OH)…Sharon Speedway was able to dodge the rain Saturday night and complete the final "Steel Valley Thunder" program of the 2015 season continuing the perfect streak of completing all events scheduled throughout July and August. A strong crowd watched 104 race cars compete in addition to 18 ATVs and six UTV Side-by-Sides.
Celebrating in the Hovis Auto & Truck Supply victory lane were Garrett Krummert-Hovis Auto & Truck Supply DIRTcar Big-Block Modifieds, Dan Davies-Summit Racing Equipment Modifieds, Rocky Kugel-Weller Hughes Contracting & Developing RUSH Sportsman Modifieds, Rusty Moore-Gibson Insurance Agency Stock Cars, Steve Haefke-HTMA/Precise Racing Products Econo Mods, and Pete Blazczak-Deforest Used Parts Mini Stocks. Aaron Srbinovich (Burghill, OH) and Rocco Townsend (Hubbard, OH) won the ATV features, while Doug Keyser (East Liverpool, OH) captured the UTV Side-by-Side feature.
Congratulations to the following drivers who captured championships in the 86th anniversary season: Rex King-Hovis Auto & Truck Supply DIRTcar Big-Block Modifieds, Will Thomas III-Summit Racing Equipment Modifieds, Greg Martin-Weller Hughes Developing & Contracting RUSH Sportsman Modifieds, Mike Clark-Gibson Insurance Agency Stock Cars, Ryan Fraley-HTMA/Precise Racing Products Econo Mods, and Bill Fuchs-Deforest Used Parts Mini Stocks.
While Garrett Krummert was able to pick up a win earlier this season at Lernerville Speedway and finish third in points in his return to the DIRTcar Big-Block Modified division, he hasn't had the same type of season on Saturday nights at Sharon. On Saturday though, Krummert put together a strong performance with a dominating first career Sharon win in the 20-lap Hovis Auto & Truck Supply DIRTcar Big-Block Modified feature.
"That was tough," expressed the 27-year-old New Castle, Pa. driver when asked about running the top. "Usually we come here and run right around the bottom and get our butts whooped so tonight I figured we were going to run the top and live or die by it. We've been really good at Lernerville, but really bad here. Actually after last week we weren't going to come back, but Sharon took care of us and sent us the hard luck award with two pit passes so I had to come back and I'm glad we did!"
With Lernerville's all-time winningest Modified racer, Brian Swartzlander, on the pole many figured he'd be the driver to beat. Swartzlander was looking for his second win of the year and led the opening four laps before a caution for Justin Rasey. Krummert started third and passed Carl Murdick for second right before the caution. That lined Krummert up alongside Swartzlander. Krummert, who ironically is driving one of Swartzlander's cars from last season, used the cushion on the outside to power into the lead.
Kevin Bolland, who started seventh, worked his way to third getting by Murdick on the restart then drove under Swartzlander for second on lap seven. Rex King, Jr., who started sixth, followed Bolland by Swartzlander for third on lap 10. Krummert pulled away as the last 16 laps went caution-free to win by a big 4.302 seconds in his East End Powder Coating/M&D Landscaping/DuBois Battery/Approved Toilet Rentals-sponsored #29. Krummert became the season's seventh different winner and 85th overall in the division.
Bolland's runner-up was his best finish of the season on the circuit King, Jr. was third. Swartzlander edged out Ricky Richner and Rex King in a torrid battle for fourth right to the finish. The elder King beat out his son by just eight points to garner his fifth track championship! Completing the top 10 were Murdick, Rick Regalski, Jr., Jim Rasey, and Kevin Hoffman. Heat winners were King, Jr. and Skip Moore.
After winning his first career Sharon feature on August 8, Dan Davies returned and laid down another great run to win the highly-competitive 20-lap Summit Racing Equipment Modified feature; meanwhile, Will Thomas III and Mike Kinney had their own race going on throughout the event. Thomas entered the feature one point up on Kinney and was able to beat him by two positions to win the title by three in his first year in the division. Thomas has now won championships in three of the past four years as he was a two-time RUSH Late Model Champion!
"I gave it all I had there," expressed the 30-year-old Warren, Pa. winner. "My light was flashing with my water temp at 220 and I was screwing up. I figured I was holding everyone up, but luckily we came home winning this thing and that's awesome! (Joel) Watson and David (Scott) are the class of the field around this part of the country. We came down here to try and get better for your deal (Apple Festival Nationals) in two weeks. Maybe we're on to something."
Pole-sitter Jeff Johnson raced to the early lead; however, it was Davies flying from his fifth starting position into second after one lap. Davies tracked down Johnson and made the winning pass around the cushion in turns one and two on lap five. Thomas and Kinney weren't far behind going at it, but Kinney got into Thomas in turn four on lap six forcing Thomas to spin, which brought out the first caution. Kinney was also put to the tail.
Back under green, sixth starting Joel Watson was able to pass Johnson for second with David Scott following in third on lap nine. The remainder of the event saw the top three of Davies, Watson, and Scott really go at it. Watson and Scott were trying several different lines on the racey surface, but just didn't have enough to make a strong enough bid to overtake Davies, who raced to the checkered flag by a margin of 1.113 seconds in his Hutchison Carpentry/Hornberg Drilling/Cousins Designs/King Fab/Hoosier Tire-sponsored, Lethal Chassis #71D.
Watson edged out Scott for second.  Johnson dropped to fourth over 11th starting Scott Stiffler, who earned the $25 Summit Racing Equipment Hard Charger certificate.  Completing the top 10 were Joe Gabrielson, Dwayne Clay, Jack Young, Jeremy Double, and Thomas, who recovered from the early spin.  Heat winners were Johnson and Davies over the 20-car field.
Six-time winner, Greg Martin, had already clinched the inaugural RUSH Sportsman Modified championship and decided to take the night off instead of traveling the three and half hours down from Wilson, New York.  That left Rocky Kugel and Nick Ritchey as the two drivers to beat.  The duo both entered the night as two-time winners, but after the 15-lap Weller Hughes Developing & Contracting feature it was Kugel beating out Ritchey for his second straight win and third of the season.
"Those guys were driving over their heads a bit," stated the 39-year-old East Liverpool, Ohio racer.  "It was the start of the race and they need to calm down.  They need to keep their car straight and figure out what it's going to do for the rest of the race.  We had some carburetor issues earlier this season.  We bought this car after flipping ours last year.  We finally have it figured out and I have just a few changes to do from heat to feature and it works out perfect."
Jordan Eck led the opening lap before a hard crash ended the night for Kole Holden, Jessica Kriegisch, and newcomer Jeremy Weaver.  Kyle Martell had advanced from fourth to second on the opening lap; however, was spun by Brandon Ritchey when racing resumed.  Both cars went to the tail.  After that, action settled down and the final 14 laps ran off caution-free.
Kugel, who started sixth, lined up alongside Eck on the restart and powered to the lead- one he'd never relinquish.  Nick Ritchey started fifth and worked his way by Eck for second on lap four.  Seventh starting Michael Kristyak also was able to get by Eck to move into the third position on lap seven.  Back up front, Kugel was too strong for Ritchey to make any attempt at a challenge as Kugel took the checkered flag in his Paper Services/Jones Racing Products-sponsored #6R by 2.134 seconds over Ritchey for his fourth career win.  Kristyak, who has really improved over the latter half of the season, was a career best third.  Eck dropped to fourth over 10th starting Chelsie Kriegisch.  Kugel and Nick Ritchey copped the heat race victories.
Making his first start in over a month, Rusty Moore made a winning return to capture the 15-lap Gibson Insurance Agency Stock Car feature. Moore's second win of the season came over a 23-car field for the second straight week as he became just the third driver to repeat this season. Mike Clark struggled throughout the night, but only had to attempt to race to capture his third straight title.
"I wanted to protect the bottom," explained the 52-year-old New Castle, Pa. victor. "If they were going to pass me it was going to be on the outside. I have to thank Close Racing Supply for building a great car. They do great work. 955 Automotive- that's where the power is at and where it comes from."
The front row of the feature was made up of Brent Coleman and Jacob Billyk, but Billyk got into Coleman on the opening lap sending him spinning in front of the whole field. Thankfully everyone was able to avoid the accident as Billyk was also sent to the tail. The new front row was veterans Steve D'Apolito and Bob McCann as it was McCann leading the first lap over D'Apolito, while sixth starting Moore was up to third. Moore then passed D'Apolito for second on lap two and McCann on the outside the following lap for the winning move.
Moore began to distance himself from the field, while seventh starting Andy Buckley was on the move. Buckley passed D'Apolito for third on lap three then nearly made the pass of McCann, but McCann was able to maintain the position. McCann began to cut into Moore's lead on lap 11 and was right on the leader on lap 13. McCann got under Moore, but Moore used a lap car to his advantage. A caution on the final lap setup a one-lap shootout to the finish.
Moore chose the bottom and drove away, while Buckley was able to get by McCann for second. Buckley didn't have any time to challenge Moore, who won by 0.291 of a second for his third career win in his Shaffer Auto & Exhaust/Watkins Landscape-sponsored #17M.  McCann was a season best third.  Brian Carothers and Mike Miller were able to get by D'Apolito to finish fourth and fifth respectively.  Gary Robinson came from 19th to ninth and earned the $25 Summit Racing Equipment Hard Charger certificate.  Heats went to Moore, Carothers, and McCann.
Steve Haefke wired the 15-lap HTMA/Precise Racing Products Econo Mod feature leading from green-to-checkered for his second win of the season; however, it was three-time winner Ryan Fraley capturing his first career track championship.  "We are having a ball," expressed the 49-year-old Austintown, Ohio winner.  "We weren't that good in the heat.  We came in and were scratching our heads.  We made a couple little changes and started watching the track.  This track looks nice, it's beautiful.  It was a good night for us and looked like good racing.  I have to thank everyone on this car, my dad, and all of my sponsors- they are what makes this car fast."
Haefke used the outside to power to the lead over another three-time winner in Casey Bowers followed by fifth starting Fraley.  As has been the case for much of the latter half of the season, the top four or five racers have been putting on great racing battling for the lead.  Seventh starting Butch Lambert joined the battle up front getting by Jason Longwell for fourth on lap 11, while Fraley nosed by Bowers for second.
While Haefke continued to lead, Bowers and Fraley went at right down to the finish with Lambert having the best seat in the house for the battle.  Haefke took his Tub's Automotive/Wedge Motorsports/DT Dyno/212 Chiropractic-sponsored #41 to his third career victory in the division and fourth overall by a margin of 1.408 seconds. Bowers got back by Fraley on the final lap for second with Fraley beating out Lambert and Jamie Scharba for third. Brian Toto advanced from 14th to eighth to earn the $25 Summit Racing Equipment Hard Charger certificate. Heat winners were Scharba and Lambert over the 17-car field, which matched a season high.
Pete Blazczak opened the season winning the Mini Stock feature and had hopes of contending for the championship, but problems throughout the season and some missed nights cost him a title run; however, Blazczak was back in victory lane to close out the regular season on Saturday night in the 12-lap Deforest Used Parts feature. Meanwhile, four-time winner, Bill Fuchs, had already wrapped up his second straight championship and third overall.
"I was really nervous," expressed the soon-to-be 45-year-old Gibsonia, Pa. winner. "On lap eight or nine I thought something was breaking. I don't know. I have to thank Barry that comes with me every week and all the guys that's with me. Special thanks to Dillon Kineston and his dad- they're the best. We'll be back for the Apple Fest."
Blazczak started second and blasted to the lead past Logan Keney with fourth starting Steve Walker II following. Blazczak went unchallenged over the 12 non-stop laps in his Blazczak's Salvage #77 for his seventh career win. Walker, who entered the night with just one top five and two top 10s finishes, ran his best race in several seasons to finish second. Travis Creech got by Fuchs on lap 10 for third. Fuchs was fourth over Steven Morse, who recorded his second straight top five finish in as many starts. Rookie Matt Rubright advanced from 11th to seventh and picked up the $25 Summit Racing Equipment Hard Charger certificate as he captured second place in points. Joe Campbell and Creech were heat winners over the 17-car field.
Hovis Auto & Truck Supply DIRTcar Big-Block Modifieds (20 laps): 1. GARRETT KRUMMERT (29) 2. Kevin Bolland (777) 3. Rex King, Jr. (165) 4. Brian Swartzlander (83) 5. Ricky Richner (26) 6. Rex King (65) 7. Carl Murdick (6) 8. Rick Regalski, Jr. (13) 9. Jim Rasey (21) 10. Kevin Hoffman (00H) 11. Tom Glenn (83T) 12. Jimmy Weller III (23) 13. Justin Rasey (21) 14. Skip Moore (17M).
Summit Racing Equipment (E) Modifieds (20 laps): 1. DAN DAVIES (71D) 2. Joel Watson (92) 3. David Scott (Engles 68) 4. Jeff Johnson (Smith 1) 5. Scott Stiffler (14) 6. Joe Gabrielson (58) 7. Dwayne Clay (007) 8. Jack Young (67) 9. Jeremy Double (83) 10. Will Thomas III (9) 11. Mike Potosky (m20) 12. Mike Kinney (3) 13. Howard Fraley (217) 14. Paul Davis (3D) 15. Jacob Eucker (64) 16. Alan Atkinson (32) 17. J.J. Bametzrieder (74) 18. Amanda Stiffler (14A) 19. Bob Williamson (93) 20. Tom Hagberg (27H).
Weller Hughes Developing & Contracting RUSH Sportsman Modifieds (15 laps): 1. ROCKY KUGEL (6R) 2. Nick Ritchey (77N) 3. Michael Kristyak (404) 4. Jordan Eck (1m) 5. Chelsie Kriegisch (Schaffer 14) 6. Brandon Ritchey (17) 7. Josh Deems (9D) 8. Kyle Martell (8) 9. Will Schaffer (4) 10. Larry Kugel (0) 11. Kole Holden (2) 12. Jeremy Weaver (35W) 13. Jessica Kriegisch (Schaffer 28).
Gibson Insurance Agency Stock Cars (15 laps): 1. RUSTY MOORE (17M) 2. Andy Buckley (965) 3. Bob McCann (Fornataro USA1) 4. Brian Carothers (02c) 5. Mike Miller (T6) 6. Steve D'Apolito (84) 7. Tim Deutsch (11D) 8. Chris Haines (35H) 9. Gary Robinson (44R) 10. Andy Thompson (5) 11. Brett McDonald (25) 12. Jacob Billyk (4) 13. Dan Fedorchak (Bruno x7) 14. Mike Clark (7) 15. Shaun Fawcett (224) 16. Tony Bruno (97) 17. Mark Hopkins (69H) 18. Steve Burns, Jr. (70B) 19. Brian Mulichak (36D) 20. Brent Coleman (01) 21. Troy DeZarn (21D) 22. Shane Smith (299) 23. Randy Grimm (27K)-DNS.
HTMA/Precise Racing Products Econo Mods (15 laps): 1. STEVE HAEFKE (41) 2. Casey Bowers (20) 3. Ryan Fraley (12) 4. Butch Lambert (Hendrickson 19) 5. Jamie Scharba (11s) 6. Brad Blackshear (19) 7. Tyler Frankenberry (38) 8. Brian Toto (8B) 9. Junior Mechling (89) 10. Haley Lapcevich (77) 11. Wayne Daniels (4) 12. Chris Clay (99) 13. Jason Longwell (7s) 14. Brian Foley, Jr. (16JSR) 15. Dan McEwen (44) 16. Keith Felicetty (98) 17. Bob Burk (72c).
Deforest Used Parts Mini Stocks (12 laps): 1. PETE BLAZCZAK (77) 2. Steve Walker II (4M) 3. Travis Creech (75T) 4. Bill Fuchs (10) 5. Steven Morse (14M) 6. Logan Keney (16) 7. Matt Rubright (X) 8. Jim Haefke, Jr. (421) 9. Casey Burch (55X) 10. Joe Keney (15K) 11. Joe Campbell (40c) 12. Robert Wagner (35) 13. Ed Roberts (6s) 14. Jeff Little (42) 15. Jamie Maxwell (6) 16. Jordan Ehrenberg (JD57) 17. Pat Drennan (Sirrine 24)-DNS.
There will no racing over Labor Day Weekend.  The 86th anniversary season will conclude with the two-day "Apple Festival Nationals� on Friday and Saturday, September 11-12.  Friday will feature complete shows for the Mod Lites and Sportsman Dwarf Cars along with heat races for the RUSH Late Model Touring Series, Modifieds, RUSH Sportsman Modified Touring Series, Penn-Ohio Stock Car Series, Econo Mods, and Mini Stocks.  Saturday will be a complete show for The Mod Tour big blocks in the "Russ King Memorial" along with last chance B mains and features for Friday's divisions (excluding Mod Lites and Dwarfs).
Sharon Speedway is owned by the Blaney, Weller, and Kirila Families and is a 3/8-mile dirt track located on Custer-Orangeville Road in Hartford, Ohio near the intersection of Routes 7 & 305. For more information, check out the website at www.sharonspeedway.com or call 330-772-5481. Become a fan of Sharon Speedway on Facebook at www.facebook.com/sharonspeedway and follow us on Twitter at www.twitter.com/sharonspdwy.
Back to News