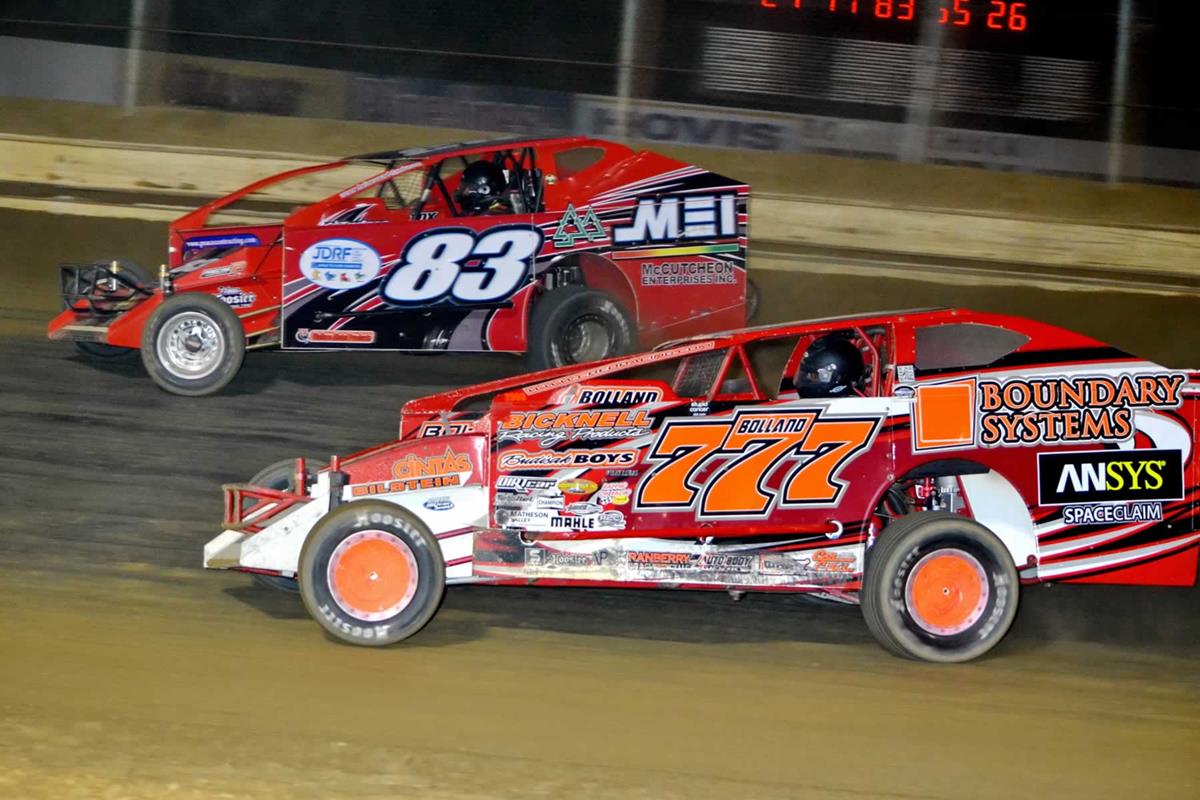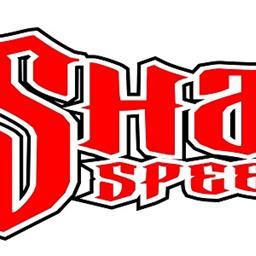 ---
"Apple Festival Nats" Fri & Sat; Most of the region's divisions in action highlighted by $2K to-win for Mod Tour, RUSH LM Tour, E-Mods & Penn-Ohio Sto
By Mike Leone
(Hartford, OH)…Sharon Speedway will conclude the 86th anniversary season this weekend with the running of the annual "Apple Festival Nationals� on Friday and Saturday night.  Nine different divisions will compete plus the vintage cars will also be on display and will run an exhibition each night.  The Mod Lites and Sportsman Dwarf Cars will run a complete show on Friday night, while The Mod Tour will run their entire "Russ King Memorial� on Saturday night; meanwhile, the RUSH Late Model Touring Series, (E) Modifieds, Penn-Ohio Stock Car Series, RUSH Sportsman Modified Touring Series, Econo Mods, and Mini Stocks will have their shows split over the two days with their features on Saturday night.  Race time is 7 p.m. on Friday night and 6 p.m. on Saturday night.
The weekend's 50/50 and beer proceeds will benefit the Jacob Lewis Memorial Fund/New Hope Racer.   King Motor Sports joined forces with Jones Performance, Moore's Auto Body, Bicknell Chassis, and McCool Graphics to manufacturer the race simulator.  The goal is to have one in every children's hospital in the country as they are getting their IV therapy.  In 2015, the Jacob Lewis Memorial Fund developed a new program. If an organization or business does a charity event with the proceeds being donated to the Hope Racer project in excess of $3,000 that organization will receive a  car with their logo as the design and get to choose what children's hospital  receives the simulator.  The Mod Tour drivers will be doing their helmet collection during the redraw and 100% of the money collected goes to fund the Hope Racer Project.
The Mod Tour returns for their second time this season as part of the "Russ King Memorial� on Saturday paying $2,000 to-win.  Rex King, Jr. won the first appearance back on July 11 in the "Lou Blaney Memorial�.  King, Jr. came up short to his father on repeating his Hovis Auto & Truck Supply championship, but would love to close out the season winning his first memorial race for his grandfather.  Rex King is the current Mod Tour point leader after the last event at Eriez Speedway won by Kevin Bolland, which was his first since returning to racing this year.
To date, there have been 29 "Russ King Memorial� events run with 15 different winners.  The late Lou Blaney leads the win list at five.  The top active racers include King, Jim Rasey, and last year's winner Jim Weller, Jr. with three wins each, which is tied for second with the retired hall of fame racer Bob Kraus.  Steve Feder and Ricky Richner scored upset wins in 2012 and 2013 for their first career wins at the speedway.  One of the biggest upsets took place in 2008 when the "358� of Lonny Riggs won his first career Sharon feature!
The Sweeney RUSH Late Model Tour will make its first visit of the season in the fifth annual "Gary Knollinger Memorial� racing for $2,000 to-win.  Knollinger was a top Crate Late Model racer from Triadelphia, West Virginia that tragically lost his life after being struck by an automobile near his business.  Sharon was Knollinger's favorite track and the site of his first career Touring Series win.  Past winners of the event include Max Blair (2011), Joe Martin (2012), Ryan Montgomery (2013), and Russell King (2014).  Blair is the current point leader with eight victories on the Tour.
The RUSH Late Models did make two appearances this season at Sharon for Sweeney Weekly Series action despite three others being rained out. Â Standouts and former track champions Will Thomas III and Dennis Lunger, Jr. picked up those $700 wins.
Speaking of Thomas, he's coming off clinching the Summit Racing Equipment Modified crown in his first year of open wheel racing.  Thomas was a three-time winner in the division and will be doing double duty this weekend.  Thomas will be one of the drivers to beat in this weekend's big $2,000 to-win feature.  Drivers like David Scott, Joel Watson, Dan Davies, Mike Kinney, Dwayne Clay, Jeff Johnson, Joe Gabrielson, Scott Stiffler and others will be chomping at the bit in the season's richest event.
The Penn-Ohio Stock Car Series will make their first visit of the season in a $2,000 to-win event as well.  The Stock Car counts on a weekly basis have been up this year; in fact, 23 cars were on hand at each of the final two events.  Mike Clark though still came out on top in the Gibson Insurance Agency points capturing his third straight title and would look to cap off the season with the richest event of the season against the invaders.  On Friday night, there will be a "Jim Hooks Memorial� Dash featuring selected drivers by the friends and family of Hooks.  Chris Schneider swept last year's "Apple Festival� event; however, has not competed at Sharon in 2015.
The RUSH Sportsman Modifieds completed their first season as being a weekly division and averaged 15 cars per night.  This weekend, the RUSH Mods will race in their first Bicknell Racing Products Touring Series event at Sharon racing for $800 to-win.  Earlier this season New York racers Greg Martin and Adam Hilton won the Tour events at Expo and Lernerville Speedways.  Martin captured the Weller Hughes Developing & Contracting track championship over Nick Ritchey, who won the Sportsman's Speedway track championship.  Veteran Larry Kugel is the current Bicknell Tour point leader.
The Econo Mods will battle for a big $700 payday- their richest of the season. Â Ryan Fraley and Casey Bowers each won three feature events during the season and battle down to the end in the HTMA/Precise Racing Products Championship race with Fraley coming out on top. Â Veterans Steve Haefke and Butch Lambert got hot at the end of the season each winning two events and will try to add a third to end the season.
The Mini Stocks have put up solid car counts all season long as the "Apple Festival Nationals� always draws in several outsiders and high car counts.  That's again expected this weekend with the season's richest event paying $500 to-win!  Bill Fuchs was crowned champion for the second straight year and third time of his career.
The Mod Lites and Sportsman Dwarf Cars will return once again as part of the "Apple Festival Nationals� running their complete show on Friday.  The Mod Lites will race for $400 to-win, while the Sportsman Dwarfs for $300 to-win presented by Teeters Motorsports and Joe's Radiator.   Many of the competitors race weekly at Deerfield Speedway and Mercer Raceway Park and always enjoy a chance to compete at Sharon.
Breakfast will be served in the main concession on Saturday morning and lunch in the pit concession. Â There will be live entertainment by Damian Knapp on Friday night from 10 p.m. until 2 a.m. and "Fast Freddie" from 93.3 FM will be on hand Saturday night. Â There will be bonfire after the races both nights.
On Friday, pits open at 4 p.m. with grandstands at 5. Â The drivers meeting will take place at 6:15 p.m. with warm-ups at 6:30 followed by Late Model group qualifying and racing. Â On Saturday, pits open at 3 p.m. with grandstands at 4. Â Warm-ups for the Big-Block Modifieds will get underway at approximately 5:40 followed by their group qualifying with racing to follow.
Grandstand admission for those 14 and over is $10 on Friday and $15 on Saturday or $20 for a two-day pass. Â Pit passes are $30 on Friday and $35 on Saturday or $60 for a two-day pass. Â As always, children under 13, parking, and camping is always FREE! Â Sharon has a no carry-in cooler policy.
Sharon Speedway is owned by the Blaney, Weller, and Kirila Families and is a 3/8-mile dirt track located on Custer-Orangeville Road in Hartford, Ohio near the intersection of Routes 7 & 305. For more information, check out the website at www.sharonspeedway.com or call 330-772-5481. Become a fan of Sharon Speedway on Facebook at www.facebook.com/sharonspeedway and follow us on Twitter at www.twitter.com/sharonspdwy.
###
Back to News