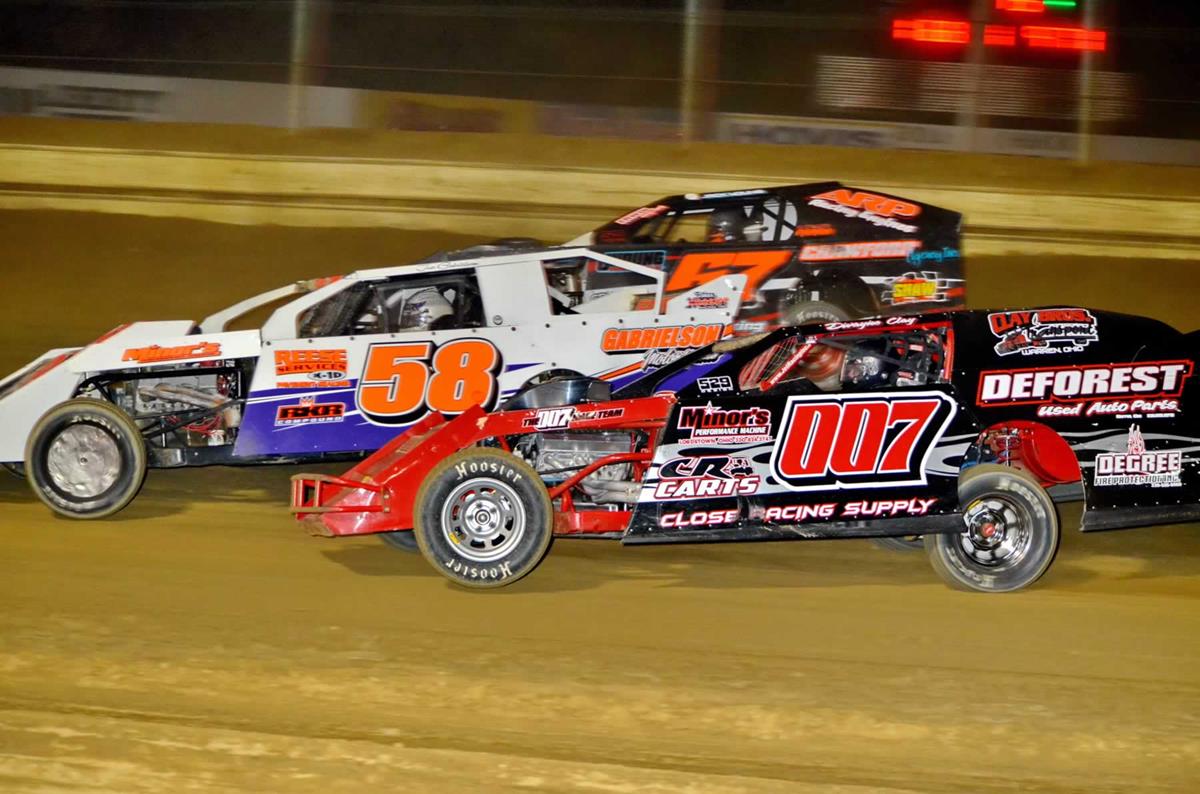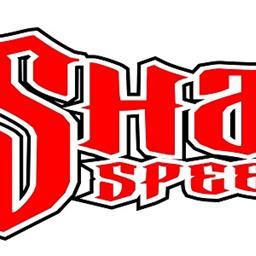 ---
Rod Jones wins Mod Lites & Joe Grzelak, Jr takes Dwarf Cars on Friday; Saturday's "Apple Festival Nationals" PPD to October 3
By Mike Leone
September 11-12, 2015
(Hartford, OH)…Despite rain being forecasted from late afternoon through the evening Friday, Sharon Speedway was able to beat Mother Nature for night one of the "Apple Festival Nationals"; however, steady showers developed late afternoon on Saturday forcing night two to be postponed to Saturday, October 3 at 6 p.m. Rod Jones (Mod Lites) and Joe Grzelak, Jr. (Sportsman Dwarf Cars) were Friday night's winners in an event presented by Teeters Motorsports and Joe's Radiator. A total of 169 race cars were in the pit area Friday night in addition to the vintage cars with the Mod Tour for big blocks set to join Saturday's action.
Rod Jones passed Doug Stanley with two laps to go to steal the Mod Lite feature win away from race-long leader Stanley. The 20-lap win was Jones' first of the season at Sharon in the Mod Lites' second appearance and was worth $400.
"These cars are fun to drive here," expressed the 39-year-old West Middlesex, Pa. racer. "We appreciate Sharon for putting this on along with Teeters Motorsports and Joe's Radiator for sponsoring it. We love coming here. The cars are so fast, but twitchy and you can get in trouble in a hurry. I have to thank everyone for helping me and it worked out pretty good."
Stanley used the outsides to race past Jason Darocha on the start. Darocha stuck with Stanley and the two raced side-by-side on laps two and three for the lead before Stanley took control. The top five of Stanley, Darocha, Aaron Meister, Jacob Bova and Jones began to distance themselves from the field. Bova moved past Mesiter for third on lap three, but lost the handle and spun bringing out the first caution with seven laps scored.
Jones lined up fourth for the restart and took third from Meister when racing resumed on lap eight. A pair of cautions for Doug Jones on laps 12 and 13 were the final stoppages. Back under green, Jones and Meister passed Darocha for second and third respectively on lap 14. Jones tracked Stanley down and was able to slip under and past the leader racing off turn four to lead lap 18.
Stanley tried everything to get back by Jones in the final two laps, but the Mod Lite veteran and former Sprint Car racer was able to hold off Stanley, another former Sprint Car racer, in his Jones Performance #820. Mesiter was a close third as Darocha fell to fourth over Todd Rhoades. Heat winners were Meister and Bova over the 22-car field.
Joe Grzelak, Jr. held off female racers Tiffany Williams and Angie Grzelak along with stopping Rod Jones' bid to sweep both features to capture the 15-lap Sportsman Dwarf Car main event. The win was the 26-year-old Hubbard, Ohio driver's first at Sharon since April 15, 2011, and was worth $300.
It was three-wide on the opening lap with Angie Grzelak leading over her brother Joe and Jones. Joe Grzelak took the lead on lap two before his sister spun in turn four to bring out the caution with two laps scored. Several cautions slowed action over the next 10 laps. Williams passed Steve Mix for third and brought Angie Grzelak, who charged back from the tail, with her on lap 10. Williams got under Jones for second on lap 12 with Grzelak following in third one lap later.
Joe Grzelak was simply too strong out in front and was never seriously challenged to win in the Joe's Radiator/Weiss Enterprise/Broadway Service/Grzelak Photography-sponsored #888. Williams, who has raced at Sharon this year in the Big-Block and RUSH Modified divisions, edged out fellow female racer Angie Grzelak for her best finish of 2015 in her third different division she's competed in. Jones was fourth over Steve Mix, Jr. Jones and Grzelak, Jr. won the heat races over the 22-car field.
The Gibson Insurance Agency Stock Cars had the biggest field of cars on Friday with 47 in the pit area for the Penn-Ohio Series event. Heat wins went to Shaun Hooks, Andy Buckley, Rusty Moore, Tim Bish, and Steve D'Apolito. Moore also won the $500 to-win "Jim Hooks Memorial" Dash event. There will be two B mains and the 25-lap feature paying $2,000 to-win on October 3.
Max Blair set fast in $100 Bobby Lake Motorsports "Shock the Clock" Qualifying for the RUSH Late Models in their Tour event with a lap of 16.419. Blair, Will Thomas III, and Steve Lowery earned $25 for their Bobby Lake Motorsports heat race wins. Charlie Duncan won the K&N Dash and earned the pole for the 30-lap, $2,000 to-win feature on October 3. Twenty-two cars were in the pits with several more planning on attending on Saturday before the rain out.
Mike Kinney and Joel Watson won the two heat races for the Summit Racing Equipment Modifieds. Just 12 cars were on hand for the $2,000 to-win event. Track champion Greg Martin and RUSH Sportsman Modified Tour point leader Larry Kugel were heat race winners in the Weller Hughes Developing & Contracting division that will race for a record $800 to-win on October 3. Track champion, Ryan Fraley, and two-time winner, Steve Haefke, copped the two heat races for the 17 Econo Mods. Their October 3 HTMA/Precise Racing Products feature will pay $700 to-win. 2014 track champion, Travis Creech, and two-time 2015 winner, Pete Blazczak, captured the Mini Stock heat race wins over the 14-car field. Their 15-lap Deforest Used Parts feature on October 3 will pay $500 to-win.
New cars will be permitted to tag the field on Saturday, October 3. Pit gates will open at 3 p.m. with grandstands opening at 4. Group qualifying for the Big-Block Modifieds will take place at 5:45 p.m. followed by racing at 6. Rain checks will be good. For those without rain checks, grandstand admission for those 14 and over is $15 and pit passes are $35.
Mod Lites (20 laps, $400 to-win): 1. ROD JONES (820) 2. Doug Stanley (Coen 1c) 3. Aaron Meister (46) 4. Jason Darocha (5) 5. Todd Rhoades (23R) 6. Jim Good (31) 7. Jacob Bova (28J) 8. Reese Shelton (13H) 9. Jim Gump (71) 10. Shane Webb (267) 11. Mike Flockerzi (44) 12. Bill Stivason (116) 13. Keith Smith (16) 14. Elvis Matlick (00) 15. Dusty Frantz (825) 16. Doug Jones (X) 17. Chris Robinson (12) 18. Josh Christopher (27) 19. Cole Petrelle (84)-DNS 20. Ted Williams (48)-DNS 21. Kelly Teeters (L1)-DNS 22. David Innes (18)-DNS.
Sportsman Dwarf Cars (15 laps, $300 to-win): 1. JOE GRZELAK, JR. (888) 2. Tiffany Williams (Smith 58) 3. Angie Grzelak (57) 4. Rod Jones (82) 5. Steve Mix, Jr. (85) 6. Steve Mix (3) 7. Teddy Williams (818) 8. Chas Wolbert (46) 9. Tyler Purnell (51) 10. Greg Davis (34) 11. Larry Rhoades (33) 12. Cody Stillion (25) 13. Mark Suchan (66) 14. Jerry Langley, Jr. (31) 15. Taylor Suchan (44) 16. Jenna Golden (5) 17. Jerry Golden (7) 18. Terry Ohl (9) 19. Kelly Teeters (L1) 20. Art Williams (1) 21. Vivian Jones (20) 22. Jeff Davis (830)-DNS.
Sharon Speedway is owned by the Blaney, Weller, and Kirila Families and is a 3/8-mile dirt track located on Custer-Orangeville Road in Hartford, Ohio near the intersection of Routes 7 & 305. For more information, check out the website at www.sharonspeedway.com or call 330-772-5481. Become a fan of Sharon Speedway on Facebook at www.facebook.com/sharonspeedway and follow us on Twitter at www.twitter.com/sharonspdwy.
Back to News