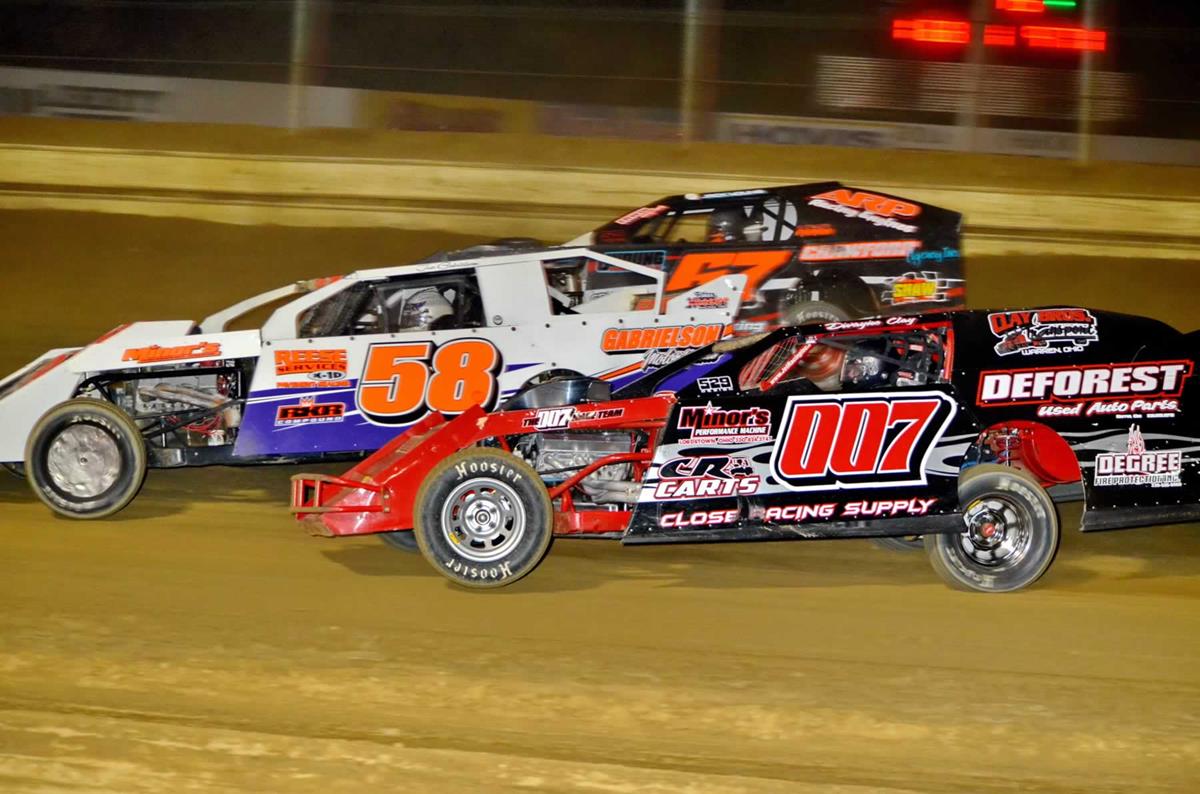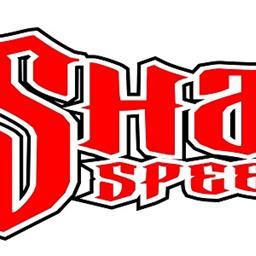 ---
Night 2 of rescheduled "Apple Festival Nat's" Saturday featuring "Russ King Mem" for Mod Tour plus RUSH LM & Mod Tour, Stocks, E-Mods, Econos & Minis
By Mike Leone
October 1, 2015
(Hartford, OH)…Weather permitting Sharon Speedway will look to wrap up its 86th anniversary season this Saturday night (October 3) with the rescheduled night two of the "Apple Festival Nationals�. Night one was completed back on September 11, but late afternoon rain washed out the scheduled night two on September 12. Racing will get underway Saturday at 6 p.m.
The Mod Tour for the Hovis Auto & Truck Supply Big-Block Modifieds will run a complete show, while the Sweeney RUSH Late Model Tour, Bicknell RUSH Sportsman Modified Tour, Summit Racing Equipment Modifieds, Gibson Insurance Agency Stock Cars, HTMA/Precise Racing Products Econo Mods, and Deforest Used Parts Mini Stocks will finish their program that has already included heat races that were completed on September 11.
Cars that didn't complete on September 11 are permitted to race in all of the divisions. New cars will draw pills to determine their starting order behind the qualified cars. Qualified cars that will have a driver change on Saturday will force that car to start behind all of the qualified cars, but ahead of any new cars.
The Mod Tour returns for their second visit of the season as part of the "Russ King Memorial� on Saturday in a complete show paying $2,000 to-win. Rex King, Jr. won the first appearance back on July 11 in the "Lou Blaney Memorial�. King, Jr. came up short to his father on repeating his Hovis Auto & Truck Supply championship, but would love to close out the season winning his first memorial race for his grandfather. Rex King is the current Mod Tour point leader after the last event at Eriez Speedway won by Kevin Bolland, which was his first since returning to racing this year.
To date, there have been 29 "Russ King Memorial� events run with 15 different winners. The late Lou Blaney leads the win list at five. The top active racers include King, Jim Rasey, and last year's winner Jim Weller, Jr. with three wins each, which is tied for second with the retired hall of fame racer Bob Kraus. Steve Feder and Ricky Richner scored upset wins in 2012 and 2013 for their first career wins at the speedway. One of the biggest upsets took place in 2008 when the "358� of Lonny Riggs won his first career Sharon feature!
Back on September 11, Max Blair set fast in $100 Bobby Lake Motorsports "Shock the Clock� Qualifying for the Sweeney RUSH Late Models in their Tour event with a lap of 16.419. Blair, Will Thomas III, and Steve Lowery earned $25 for their Bobby Lake Motorsports heat race wins. Charlie Duncan won the K&N Dash and earned the pole for the 30-lap, $2,000 to-win feature. Twenty-two cars were in the pits with several more planning on attending Saturday.
The Gibson Insurance Agency Stock Cars had the biggest field of cars with 47 in the pit area for the Penn-Ohio Series event. Heat wins went to Shaun Hooks, Andy Buckley, Rusty Moore, Tim Bish, and Steve D'Apolito. Moore also won the $500 to-win "Jim Hooks Memorial� Dash event. There will be two B mains and the 25-lap feature paying $2,000 to-win Saturday.
Mike Kinney and Joel Watson won the two heat races for the Summit Racing Equipment Modifieds. Just 12 cars were on hand for the $2,000 to-win event. Track champion Greg Martin and RUSH Sportsman Modified Tour point leader Larry Kugel were heat race winners in the Weller Hughes Developing & Contracting division that will race for a record $800 to-win as 13 cars were on hand.
Track champion, Ryan Fraley, and two-time winner, Steve Haefke, copped the two heat races for the 17 Econo Mods. Their HTMA/Precise Racing Products feature on Saturday will pay $700 to-win. 2014 track champion, Travis Creech, and two-time 2015 winner, Pete Blazczak, captured the Mini Stock heat race wins over the 14-car field. Their 15-lap Deforest Used Parts feature on Saturday will pay $500 to-win.
The 50/50 and beer proceeds will benefit the Jacob Lewis Memorial Fund/New Hope Racer. King Motor Sports joined forces with Jones Performance, Moore's Auto Body, Bicknell Chassis, and McCool Graphics to manufacturer the race simulator. The goal is to have one in every children's hospital in the country as they are getting their IV therapy. In 2015, the Jacob Lewis Memorial Fund developed a new program. If an organization or business does a charity event with the proceeds being donated to the Hope Racer project in excess of $3,000 that organization will receive a car with their logo as the design and get to choose what children's hospital receives the simulator. The Mod Tour drivers will be doing their helmet collection during the redraw and 100% of the money collected goes to fund the Hope Racer Project.
Pits open at 3 p.m. with grandstands at 4. Warm-up/group qualifying for the Big-Block Modifieds will get underway at approximately 5:45 p.m. with racing to follow at 6.
For those without rain checks or two-day passes, grandstand admission is $15 for those 14 and other and pit passes are $35. As always, children under 13, parking, and camping is always FREE! Sharon has a no carry-in cooler policy.
Sharon Speedway is owned by the Blaney, Weller, and Kirila Families and is a 3/8-mile dirt track located on Custer-Orangeville Road in Hartford, Ohio near the intersection of Routes 7 & 305. For more information, check out the website at www.sharonspeedway.com or call 330-772-5481. Become a fan of Sharon Speedway on Facebook at www.facebook.com/sharonspeedway and follow us on Twitter at www.twitter.com/sharonspdwy.
Back to News