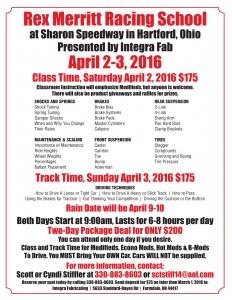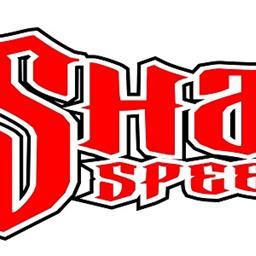 11/14/2015
Sharon Speedway
---
Rex Merritt Racing & Driving School coming to Sharon April 2-3
The Rex Merritt Racing and Driving School will be held at Sharon Speedway in Hartford, Ohio on April 2nd and 3rd, with a rain date if needed set for April 9th and 10th. The two-day racing school will begin on Saturday, April 2nd, 2016 at 9AM.
Day one of the racing school involves primarily classroom work taught by one of the best in the business, Rex Merritt.
Merritt brings a wealth of racing knowledge and experience to the school not only as an extremely successful veteran racer on both dirt and asphalt but he is also a shock and tech specialist for AFCO Racing Products.
Rex has over 500 career feature wins in 30 plus years of racing. Accomplishments include over 38 Track Championships including the 2008 Lucas Oil Speedway Modified Crown, and Championships in IMCA Modifieds, NASCAR Modifieds, Dirt Late Models, and Asphalt Late Models. Rex is a 3 TIME "World Series of Asphalt" Winner in New Smyrna Beach Florida, past IMCA Asphalt Supernationals Champion, 3-Time Winternationals Champion, 3-time IMCA Supernationals "Race of Champions" Winner, and IMCA Iron Man Award Winner. Rex has been featured in many Motorsports Magazines including: Speedway Illustrated, Circle Track Magazine, Stockcar Racing, Big "O" Sports, and Dirt Late Model. He has also been featured on ESPN, SPEED Channel, and Prime Network Racing Television Shows along with local sports programs.
Day One classroom instruction topics will include Front Suspension, Rear Suspension, Braking, Maintenance & Scaling, Shocks & Springs, and Tires. The cost for Day One only of the class is $175. There will also be product give ways and raffles.
Day Two takes to the racetrack for expert advice on driving techniques including heavy vs. slick track, tight vs. loose conditions, how to pass, using the brakes for traction, outthinking your competition and differences in driving the cushion vs. the bottom of the racetrack. Participants must bring their own racecar for this training and also have a receiver so instructor can communicate with driver while on the track. The cost for day two of the school is $75, however you can purchase both days at savings of only $200.
The intense, 2-Day program covers the spectrum from new to experienced drivers and skills at every level in between.
Spends quality time mentoring and instructing each and every driver as he shares not only practical skills but technical as well.
To participate in the Rex Merritt Racing School for both days a deposit fee of $75.00 must be paid no later than March 1, 2016 and is required to hold your seat in the class, with the balance due before the class. If you are unable to attend both days of class, Saturday only classroom work is $175 or Sunday only track work is $75. Space is limited so sign up now to claim your seat in the Rex Merritt Racing and Driving School. While the emphasis for this particular driving school is geared for Modified drivers in both the A-Mods and B-Mods (aka in this area as Economods and Hot Mods), Drivers or crews from other dirt circle track divisions are welcome to participate in the classroom training. Space is very limited and reserved to the first 75 drivers to sign up.
Reserve your spot today by calling 330-883-8603, and send deposit for $75 no later than March 1, 2016 to:
Integra Fabricating
5633 Stoddard-Hayes Rd
Farmdale, OH 44417
Back to News