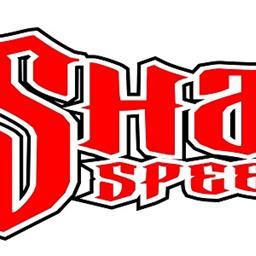 ---
Kyle Fink's "358" Small-Block defeats Big-Block Mods in $1700 "Johnny Zdelar Memorial" Friday; Mark Marcucci wins Mod Lites; 1st ever Sharon win for V
By Mike Leone
September 16, 2016
(Hartford, OH)…Sharon Speedway kicked off the first of two nights of the annual "Apple Festival Nationals� on Friday night with 219 race cars filling the pit area in addition to the Vintage Auto Racing Club. Capturing their first wins and celebrating in the Hovis Auto & Truck Supply victory lane were Kyle Fink-Hovis Auto & Truck Supply Big-Block Modifieds in the "Johnny Zdelar Memorial�, Mark Marcucci-Leader Chassis Mod Lites, Vivian Jones-Joe's Radiator Service-Sportsman Dwarf Cars, and Mike Lutz, Jr.-Junior Sprints. Heat races were completed for the RUSH Late Model Touring Series, Renegades of Dirt Modifieds, Penn-Ohio Stock Car Series, RUSH Sportsman Modified Touring Series, HTMA/Precise Racing Products Econo Mods, and Deforest Used Parts Mini Stocks.
Kyle Fink has won numerous "358� Small-Block Modified features over his career in western Pennsylvania at Mercer Raceway Park and Sportsman's Speedway, but has only run sparingly against the higher-powered Big-Block Modifieds. Fink though jumped at the chance to run his "358� small-block against the big blocks when the "Johnny Zdelar Memorial� event for non-winners was announced. And on Friday night, the 22-year-old Strattanville, Pa. driver led all 25 laps of the feature holding off good friend and big-block runner, J.R. McGinley, for the $1,700 win.
Fink took off in the lead from the pole, while McGinley passed Jeff Miller for second on the opening lap with sixth starting Rick Regalski, Jr. following in third. By lap three, the top three began to pull away from the pack. The "358� of Eric Gabany started in ninth and was on the move cracking the top five on lap seven when he passed Jimmy Holden, who was driving Kevin Hoffman's big-block. Gabany then took fourth from Miller's big-block on lap nine.
As the laps ticked off caution-free, lapped traffic came into play for Fink on laps 16 and 17, which allowed McGinley to close right in. The event's only caution was displayed when Tom Mattocks went up in smoke with 19 laps completed. When racing resumed, Gabany continued to move to the front getting by Regalski's big-block for third on lap 21.
McGinley and Gabany were all over Fink in the closing laps, but Fink's Sieg Homes/Commodore Homes/Unique Fabrication-sponsored #66F was able to hold on for the victory by 0.514 of a second over McGinley. Gabany, Regalski, and eighth starting Mike Turner were third through fifth. Bob Warren and Justin Rasey were sixth and seventh. Eric Beggs advanced from 16th to eighth and earned an extra $50 for the hard charger compliments of Double Motorsports. Tom Glenn and Kevin Green completed the top 10. Heat winners were Regalski and Holden over the 18-car field.
Veteran Mod Lite racers Mark Marcucci and Doug Stanley put on a great battle in the 15-lap Leader Chassis feature with Marcucci coming out on top after a late race restart. The win was worth $500 for the 27-year-old West Middlesex, Pa. driver, who is the division's all-time winner at Mercer Raceway Park.
Rod Jones led the opening three laps until a caution. When racing resumed, fourth starting Marcucci and sixth starting Stanley took over the top two spots. Marcucci and Stanley then battled side-by-side for the lead on lap seven with Stanley taking the lead. The event's final caution was displayed when Doug Jones spun with 11 laps completed. Marcucci then made quite a move on the restart in turns one and two to take the lead from Stanley on lap 12.
Marcucci's D&M Excavating/M&D Paving-sponsored #8M held off Stanley in the closing laps for the victory. Dave Innes raced from seventh to third. Keith Smith was fourth over Jones, who faded to fifth. Heat race winners over the 24-car field were Kurt Eckstrom, Shane Pfeuffer, and Innes.
The Sportsman Dwarf Cars that compete at Deerfield Speedway made their annual appearance during the "Apple Festival Nationals� and it was female racer Vivian Jones coming out on top for her first career Sharon win. The West Middlesex, Pa. teenager and daughter of veteran racer Rod Jones earned $250 for the 15-lap feature win presented by Joe's Radiator Service.
Several of the top runners had issues in the first part of the race including the brother-sister tandem of Angie Grzelak and Joe Grzelak, Jr., who both spun, along with Tiffany Williams, who broke in second. Jones meanwhile started from fifth and inherited the lead on lap nine. She then held off Angie and Joe Grzelak, Jr., who came from the back, to score the win in the Jones Performance #20. Cody Stillion and Art Williams were fourth and fifth. Grzelak, Jr. and Steve Mix won the heat races over the 19-car field.
The Junior Sprints for children that compete at Deerfield and Mercer made their first ever appearance at Sharon and it was third generation driver, Mike Lutz, Jr., capturing the six-lap feature win. Lutz of Mercer, Pa. took the lead on the opening lap and led green-to-checkered for the win in the #86. Nathaniel Bale, Charlie Biskup, Sammy Darby, and Ty Lance were second through fifth. Alstau Randall won the heat race.
The balance of Friday night's program will be completed on Saturday night (September 17) at 6 p.m. along with a complete show for The Mod Tour in the $3,000 to-win "Russ King Memorial�.
Hovis Auto & Truck Supply Big-Block Modifieds (Non-Winners) "Johnny Zdelar Memorial� (25 laps, $1,700 to-win): 1. KYLE FINK (66F) 2. J.R. McGinley (66M) 3. Eric Gabany (3E) 4. Rick Regalski, Jr. (13) 5. Mike Turner (96) 6. Bob Warren (96B) 7. Justin Rasey (21) 8. Eric Beggs (29*) 9. Tom Glenn (83T) 10. Kevin Green (74) 11. Tom Holden (68H) 12. Shawn Kozar (3K) 13. Rusty Johns (17) 14. Jason Sines (38DD) 15. Jimmy Holden (Hoffman 00) 16. Tom Mattocks (69) 17. Jeff Miller (75) 18. Larry Johns (03).
Leader Chassis Mod Lites (15 laps, $500 to-win): 1. MARK MARCUCCI (8M) 2. Doug Stanley (Coen 1c) 3. 3. Dave Innes (18) 4. Keith Smith (16s) 5. Rod Jones (Lewis 21) 6. Chris Logan (2) 7. Tracy Fritter (59) 8. Jay Dye (13T) 9. Aaron Meister (46) 10. Brian Stuhldreher (17) 11. Chris Robinson 12. Glenn Teeter (41) 13. Reece Shelton (86) 14. Doug Jones (71X) 15. Dusty Frantz (825) 16. Jacob Bova (28J) 17. Cole Petrelle (1) 18. Shane Webb (267) 19. Kurt Eckstrom (625) 20. Shane Pfeuffer (Lawson 10)-DNS 21. Alan Dellinger (Smith 16)-DNS 22. Teddy Williams II (48)-DNS 23. Charlie Armstrong, Jr. (45)-DNS 24. Kelly Teeters (23)-DNS.
Joe's Radiator Service Sportsman Dwarf Cars (15 laps, $250 to-win) 1. VIVIAN JONES (20) 2. Angie Grzelak (57) 3. Joe Grzelak, Jr. (888) 4. Cody Stillion (25) 5. Art Williams (1) 6. Terry Ohl (9) 7. Mark Biskup (33) 8. Jerry Langley (31) 9. Jim McKelvey (32) 10. Jereme Bean (49) 11. Mark Suchan (66) 12. Jeff Davis (830) 13. Tiffany Williams (Smith 58) 14. Jacob Teeters (23) 15. Steve Mix (85) 16. Kelly Teeters (1T) 17. Todd Canter (Grzelak 4) 18. Tyler Purnell (51) 19. Taylor Suchan (44).
Junior Sprints (6 laps): 1. MIKE LUTZ, JR. (86) 2. Nathaniel Bale (01) 3. Charlie Biskup (09) 4. Sammy Darby (8) 5. Ty Lance (44L) 6. Alstau Randall (36) 7. Blake Robbins (18S) 8. Stone Lapcevich (22) 9. Mason Canter (88).
Sharon Speedway is owned by the Blaney, Weller, and Kirila Families and is a 3/8-mile dirt track located on Custer-Orangeville Road in Hartford, Ohio near the intersection of Routes 7 & 305. For more information, check out the website at www.sharonspeedway.com or call 330-772-5481. Become a fan of Sharon Speedway on Facebook at www.facebook.com/sharonspeedway and follow us on Twitter at www.twitter.com/sharonspdwy.
Back to News