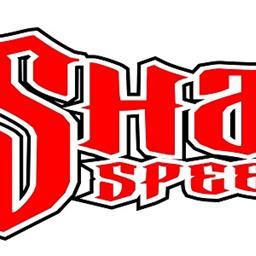 ---
Erick Rudolph repeats in "Russ King Memorial" taking $3000 Big-Block Mod Tour on Saturday; Will Thomas wins 1st ever RUSH Late Model Tour race in "Gar
By Mike Leone
September 17, 2016Â Â Â Â Â Â Â Â Â Â Â Â Â Â 
(Hartford, OH)…Sharon Speedway brought down the curtain on the 87th anniversary racing season as the two-day "Apple Festival Nationals" was cut short by rain Saturday night.  Despite a near 100% chance of thunderstorms in the forecast all day and night, the track was able to withstand some light showers throughout the day and dodge the heavy storms to get started on time.  Two feature events were completed with Erick Rudolph ("Russ King Memorial" Big-Block Mod Tour) and Will Thomas III (RUSH Late Model Tour) celebrating in the Hovis Auto & Truck Supply victory lane before rain washed out the remainder of the program.  The remaining feature events will be completed throughout the spring of 2017 with the dates to be announced in the offseason.
Eric Rudolph won the 2015 "Russ King Memorial" part of the "Apple Festival Nationals", which was actually made up back on April 16.  On Saturday night, the Mod Tour point leader started back in 10th, but that only delayed the inevitable as he made the winning pass on lap 21 and went on to win the 32-lap rain-shortened event, worth $3,000.
After drawing the pole position, J.R. McGinley jumped to the early lead over Skip Moore.  Seventh starting Rex King, a three-time winner of his father's memorial event, moved to third on lap 10 getting by Dave Murdick then took over second from Moore on lap 14 as Rich Richner and Rudolph followed in third and fourth.
Rudolph then snatched runner-up away from King on lap 20 before making the winning move one lap later following a restart as King followed past McGinley.  Rudolph would then drive away from the field until two-time track champion, Rex King, Jr., brought out the event's final caution with 32 laps scored as his bid once again ended to win his first memorial event for his grandfather.  At this point the intensity of the rain picked up and the cars were sent off the track.  Too much rain would fall ending the event and the night.  The race was considered complete as it was past the halfway point of the scheduled 35-lap distance.
Rudolph became the eighth driver to score multiple "Russ King Memorial" wins in the 31st running of the event driving the Randy Chrysler-owned #25R.  King was second.  After coming up a close second to Kyle Fink on Friday night in the Big-Block Modified non-winners event, McGinley, who has little Sharon experience, completed an excellent weekend in third after leading the first 20 circuits.
Richner was fourth as Jim Rasey, Rob Kristyak, Moore, Brad Rapp, Eric Gabany, and Kevin Bolland completed the top 10.  Rapp received an extra $50 as the hard charger award winner compliments of Double Motorsports after starting 20th.  King, Jr. set fast time in qualifying with a lap of 16.506 just 0.007 over his father.  Heat winners over the 24-car field were King, Jr., King, and Jimmy Weller III.
Will Thomas III out-dueled Matt Latta for his first career Sweeney RUSH Late Model Touring Series victory in the 30-lap "Gary Knollinger Memorial" feature event. Thomas got by Latta on lap 18 following a restart and held him and several other racers off that challenged for the lead in the final laps for the $2,000 win. Thomas became the ninth different Tour winner of the season, and also the sixth different "Gary Knollinger Memorial" winner in as many years!
"I've always wanted to win this," acknowledged the 40-year-old Sharpsville, Pa. driver. "We've been blessed to win several races over our career at Sharon Speedway, but from what everyone has told me about Gary Knollinger he was a class out and would help any racer, any time. It feels great to win a race in his honor. Matt (Latta) and I work together. We have a great relationship. He's a first class guy and has a great family. I knew he'd race me clean and I'd do the same. Russ King helps me a ton and we made a last minute tire change and that won us this race. Matt had a really good car, but we were able to be a little better late in the race."
Following his dash win, Latta took off in the lead over Thomas and Dave Airgood, Jr., who got by John Waters for third on the opening lap. The top four quickly began to distance themselves from the pack on lap two as Waters regained the third spot. Latta opened up some breathing room by lap five as it was a three-car race for second with Airgood taking third once again from Waters. Eric Wilson joined the battle making it a four-car race for the runner-up position on lap seven. Lap after lap Airgood and Waters raced side-by-side for third. On lap 11, Waters regained control of the spot.
As the laps ticked off caution-free, Latta caught the lapped cars of Tony White and Chuck Recker, while Thomas and Waters broke free of Airgood and Wilson. Airgood and Wilson battled for fourth with Wilson moving up a spot on lap 15. The event's first caution slowed action when Recker spun with 16 laps completed. When racing resumed, Waters ran out of room on the backstretch fighting for position and spun to the infield.
The caution proved critical as when racing resumed, Thomas made the outside stick through turns one and two to come out with the lead- one he'd never relinquish. The man on the move was ninth starting Alan Dellinger. Dellinger took fourth from Wilson on lap 22. A few more late race cautions bunched up the field with the last occurring with 25 laps scored.
The final five laps would go green-to-checkered as Thomas pulled away, while the battle was on for second and on back. Dellinger finally got by Airgood for third on lap 28, but would run out of time to make a bid for second on the #B1D of Latta. Thomas took the win by 1.377 seconds over Latta in his Hallman Foundry/Colonial Metal Products/Russell King Racing/Allstar Performance/955 Automotive-sponsored #9. The win was Thomas' all-time leading 15th of his career at Sharon in the RUSH Late Models. Thomas also won his fourth career Modified race earlier this season giving him 19 wins for his career at the track.
Latta, who won the 2015 "Apple Festival Nationals" make-up back on April 16, came up just shy of his second Tour win of the season at Sharon for the former track regular. Dellinger was less than seven tenths of a second behind Latta in third place. Airgood was a solid fourth in his first ever Sweeney RUSH Tour start beating out Wilson. Davis, the Sweeney Tour point leader, was never a factor in the event finishing sixth, but was able to stay ahead of Waters, the runner-up point man, who finished right behind him in seventh after coming from the tail in the final 13 laps. Wrightsman was eighth as Brian Knowles and Bob Diver completed the top 10.
On Friday night, Waters set fast time in $100 Bobby Lake Motorsports "Shock the Clock" qualifying with a lap of 16.803. Thomas and Latta won the $25 Bobby Lake Motorsports heat races. Latta picked up his first K&N "Cold Air Induction" Dash win of the season for a $100 K&N certificate.
On Friday, Renegades of Dirt Modified point leader Jacob Hawkins set fast time with a lap of 17.139 then went out and won heat race one and established a new track record with a fast lap of 16.567. Matt Lux and Carl McKinney won the other two heat races. Twenty-one cars were scheduled to start Saturday's $3,000 to-win feature.
A strong field of 24 Lyden/Red Line Oil RUSH Sportsman Modifieds were on hand for their $800 to-win Bicknell Touring Series event. Friday night's heat race winners were point leader Chas Wolbert along with Kyle Martell and Calvin Clay. Chelsie Kriegisch won the K&N Dash.
The Penn-Ohio Stock Car Series brought 43 cars for their event as Randy Wyant, Joe Stajnrajh, Andy Buckley, and Brian Carothers copped heat race wins on Friday night. Saturday's last chance B mains were won by Rod Laskey and Todd Weldon.
A season high 23 Econo Mods were slated to start Saturday's 20-lap $500 to-win HTMA/Precise Racing Products feature after Friday night's heat wins went to George Vestal IV, Steve Haefke, and Josh Ferry.
The Deforest Used Parts Mini Stocks also produced a season high car count of 22 cars that were set to take the green for their 15-lap feature after Friday's heat races were won by three-time champion Bill Fuchs and Logan Keney.
Mod Tour "Russ King Memorial" for Hovis Auto & Truck Supply Big-Block Modifieds (32 laps, $3,000 to-win): 1. ERICK RUDOLPH (Chrysler 25R)  2. Rex King (65)  3. J.R. McGinley (66M)  4. Rick Richner (26)  5. Jim Rasey (32)  6. Rob Kristyak (00)  7. Skip Moore (17M)  8. Brad Rapp (11R)  9. Eric Gabany (3E)  10. Kevin Bolland (777)  11. Justin Rasey (21)  12. Mark Flick (Turner 96)  13. Shawn Fleeger (88F)  14. Eric Beggs (29*)  15. Rodney Beltz (64)  16. Rick Regalski, Jr. (13)  17. Jimmy Weller III (23)  18. Bob Warren (96B)  19. Rex King, Jr. (165)  20. Dave Murdick (61)  21. Mark Frankhouser (03)  22. Jeremiah Shingledecker (37MD)  23. Shawn Kozar (3K)  24. Tom Glenn (83T).
Sweeney Chevrolet Buick GMC RUSH Late Model Touring Series "Gary Knollinger Memorial� (30 laps, $2,000 to-win): 1. WILL THOMAS III (9)  2. Matt Latta (B1D)  3. Alan Dellinger (Williams 8)  4. Dave Airgood, Jr. (42)  5. Eric Wilson (27W)  6. Bryce Davis (94)  7. John Waters (LeBarron 11)  8. Jamie Wrightsman (21J)  9. Brian Knowles (7)  10. Bob Diver (23)  11. Clay Ruffo (14R)  12. Zach Kane (10)  13. Jake Gunn (14G)  14. Ed Bolyard II (Patrick 05)  15. Tony White (27)  16. Chuck Recker (6R)  17. Jason Knowles (4)  18. Dave Lyon (14L)  19. Clinton Hersh (16).
Sharon Speedway is owned by the Blaney, Weller, and Kirila Families and is a 3/8-mile dirt track located on Custer-Orangeville Road in Hartford, Ohio near the intersection of Routes 7 & 305. For more information, check out the website at www.sharonspeedway.com or call 330-772-5481. Become a fan of Sharon Speedway on Facebook at www.facebook.com/sharonspeedway and follow us on Twitter at www.twitter.com/sharonspdwy.
Back to News