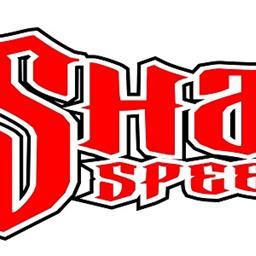 12/21/2016
Sharon Speedway
---
140 loads of red clay & a wider surface to greet fans & racers in 2017; New "Speedway Grille" & other amenities to be offered
By Mike Leone
December 20, 2016               
(Hartford, OH)…Sharon Speedway is thrilled to announce that an all new racing surface with wider turns will greet fans and drivers when the 2017 season kicks off on Friday, April 21 featuring the Lucas Oil Late Model Dirt Series for the first time ever.  Several other amenities have also been added to enhance the night's experience such as the new "Speedway Grille", five additional laps to all feature events, fan giveaways, suite upgrades, and the FanCeiver option. 
After a lot of inquiry and a thorough search, 140 tri-axle loads of red clay were trucked in to Sharon Speedway. In addition to the new surface, the track has been reconfigured and will feature wider turns by 15-20' with more progressive banking all to promote better racing and less tire wear.  The surface and turns will mirror that of Pennsylvania's Port Royal Speedway.
"I have to commend the owners for making this huge investment," expressed general manager Dave Willoughby. "It was an exhausting search and everything was done proper to insure we got quality clay and a reconfigured, racier track.  I also have to thank Steve O'Neal and Steve Stimely of Port Royal for coming out and working with us.  Port Royal has received rave reviews on their surface and racing in recent years, and we hope the same will be said about Sharon for years to come."  
The weekly "Steel Valley Thunder" divisions will get their first chance on the new track on Saturday, April 29. The weekly divisions for the 88th anniversary season will be the Hovis Auto & Truck Supply Big-Block Modifieds, Lyden/Red Line Oil RUSH Sportsman Modifieds, Gibson Insurance Agency Stock Cars, and Summit Racing Equipment Econo Mods.  Each division will be given five additional feature laps in 2017; 25 for the Big-Block Modifieds and 20 for the other three classes.  
Debuting in 2017 will be the "Speedway Grille", which will be located on the turn one grandstand side of the facility near the Hovis Auto & Truck Supply victory lane. The "Speedway Grille" will have a unique look and offer non-traditional race track concession items such as pulled pork, hand-pressed made-to-order burgers, barbeque sundaes, fresh-squeezed lemonade, sweet tea, and ice cold beer.
Several other amenities have been added to better the experience of race fans. There will be nightly fan giveaways both before the races begin and during intermission.  For $20, fans will have the ability to upgrade their general admission seat for indoor VIP accommodations.  While the drivers have long had RACEceiver communication with track officials, fans will now be able to listen in on race control or the track announcer's feed by purchasing the FanCeiver for $99.     
Banquet tickets along with 2017 season grandstand and pit passes, reserved pit parking, and driver registration forms are all available at SharonSpeedway.com. Advanced and reserved tickets for 2017 special events will be available soon.    
Sharon Speedway is owned by the Blaney, Weller, and Kirila Families and is a 3/8-mile dirt track located on Custer-Orangeville Road in Hartford, Ohio near the intersection of Routes 7 & 305. For more information, check out the website at www.sharonspeedway.com or call 330-772-5481. Become a fan of Sharon Speedway on Facebook at www.facebook.com/sharonspeedway and follow us on Twitter at www.twitter.com/sharonspdwy.
Back to News