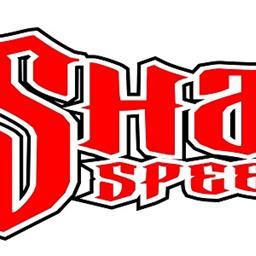 ---
World of Outlaws Late Models return to Sharon Saturday night for $10,000 to-win; 8 winners in 8 prior events; Econo Mods also on the card
By Mike Leone 
August 18, 2021                  
(Hartford, OH)..Sharon Speedway welcomes back the World of Outlaws Morton Buildings Late Models this Saturday night (August 21) for their first appearance in two years!  Also on the card will be the Whelen Econo Mods racing for $500 to-win.  As the 92nd anniversary season winds down, Sharon will look to complete its fifth straight program after losing two consecutive events in July.  Warmups will begin for the World of Outlaws at 6:30 p.m. followed by their qualifying and heat races.  It's Stackhouse Construction Night. 
Saturday's 40-lap $10,000 to-win, $1,000 to-start feature event will mark the ninth all-time appearance by the World of Outlaws Late Models at Sharon.  No driver has been able to repeat!  The most recent visit was on August 30, 2019 when Brandon Sheppard won an absolute thriller over Ricky Weiss.  Sheppard also owns the Super Late Model track record at Sharon with a 14.842.  Unfortunately a power outage cancelled the following night's WoO event in 2019 and the COVID-19 pandemic wiped out the 2020 show. 
Prior to 2019, the WoO made seven prior appearances at Sharon all taking place in consecutive years from 2004-2010 on the old surface.  Davey Johnson, a 27-time Super Late Model winner at Sharon and the 1987 track champion, won the 2004 inaugural event with Tim McCreadie (2005), Rick Eckert (2006), Chub Frank (2007), Donnie Moran (2008), Tim Fuller (2009), and Darrell Lanigan (2010) also victorious.
Sheppard enters the four-race WoO weekend as the points leader by 102 over Chris Madden.  Both drivers have four Series wins in 2021.  Rookie Tyler Bruening sits third in points.  Veteran Dennis Erb, Jr. is fourth with three wins.  Weiss, who nearly pulled off a dramatic win at Sharon in 2019, is fifth as he is still is in search of his first win of 2021.  Completing the top 10 in points are Cade Dillard (two wins), Ryan Gustin, Boom Briggs, Brent Larson, and Kyle Strickler (two wins). 
Saturday will mark the second and final Super Late Model show of 2021 at Sharon.  Back on April 24 at the season opener, Michael Norris won the $3,000 ULMS-sanctioned show for his first ever Sharon win.  A lot of regional talent will be on hand Saturday to take on the World of Outlaws as they battle for the $50,800 feature purse. Ohio standout Ryan Missler, is one of those regional stars, who will make his Sharon debut on Saturday night.
The Whelen Econo Mods will compete in their final night of points capped off by a 20-lap $500 to-win, $100 to-start feature.  Thus far this season, Will Thomas III has won four of the five events he's competed in after missing the opener.  Thomas, who has won the last three Econo Mod races including the $2,000 "Ron Shargo Memorial" on August 7, will look for four in a row on Saturday night, but will have to do it from last.  Other winners this year include Dennis Lunger, Jr. on opening night and Jeremy Double on June 5.  Thomas now leads the points by 11 over Double.  Thomas owns three track championships at Sharon including two in the RUSH Late Models (2012 & 2014) and one in the UMP Modifieds (2015).  Rookie Vinnie DePizzo is third in points one ahead of Scott Burk, Jr.  Another rookie, Jordan Simmons, is fifth just four points out of third.      
There is no Sharon registration fee the Econo Mods.  One-way driver radios are mandatory; channel 454.000.  AMB/MyLaps transponders are required; rentals available for $25.  If you have yet to register for the 2021 season, please bring the registration form with you completed  http://www.sharonspeedway.com/wp-content/uploads/2021/01/RegistrationFormSharon2021.pdf
Fans can not only experience viewing from the frontstretch and backstretch grandstands, but also from the infield fan zone.  The fan zone, which includes a concessions and restrooms, debuted in 2020 during the COVID-19 shortened season.  Sharon is the only track in the area to have viewing from the unique infield perspective.  There will be times throughout the night when fans can cross on the frontstretch back and forth.
The pits will be open throughout the afternoon on Saturday with passes going on sale at 3 p.m., while general admission opens at 4.  Pill draw for the Econo Mods will close at 6:15 p.m.  Warmups for the World of Outlaws with take place at 6:30 p.m. with their qualifying and heat races to follow.
Grandstand/fan zone admission for those 14 and over is $30.  As always, children under 14 and parking are always FREE.  Pit passes are $40.  As a reminder, coolers nor outside food or beverages are not permitted.   Advance tickets are on sale for reserved at the following link http://www.sharonspeedway.com/fans/tickets/.
Coming up next Saturday (August 28) will be the rescheduled "Bill Forney Memorial" as the RUSH Late Model Touring Series returns after a near five-year absence, and will compete for $3,199 to-win.  The Hovis Auto & Truck Supply UMP Modifieds will make their final visit of the year for $1,000 to-win.  The non-wing Terry Bowser Excavating RUSH Sprint Cars will be featured again in their next-to-last appearance of 2021.  The Gibson Insurance Agency Pro Stocks and HTMA/Precise Racing Products RUSH Sportsman Modifieds will be competing in their final night of points. 
Sharon Speedway is owned by the Blaney, Weller, and Kirila Families and is a 3/8-mile dirt track located on Custer-Orangeville Road in Hartford, Ohio near the intersection of Routes 7 & 305.  For more information, check out the website at www.sharonspeedway.com or call 330-772-5481.  Like us on Facebook at www.facebook.com/sharonspeedway and follow us on Twitter @sharonspdwy.
Back to News