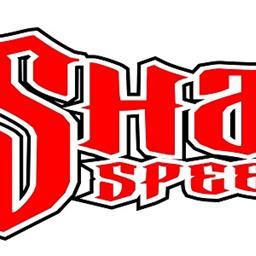 ---
Kyle Larson makes a winning Sharon Late Model debut fending off 14th starting Ryan Gustin for the $10,000 World of Outlaws victory; Jeremy Double wins
By Mike Leone
August 21, 2021              
(Hartford, OH)…Sunny, hot, and humid weather greeted race fans as Sharon Speedway welcomed back the World of Outlaws Morton Buildings Late Models on Saturday night for the first time in two years for the "Battle at the Border".  The fast and racey surface produced tremendous racing as Kyle Larson (World of Outlaws) and Jeremy Double (Whelen Econo Mods) celebrated in the Hovis Auto & Truck Supply victory lane on Stackhouse Construction Night.  It marked the fifth straight completed event as the 92nd anniversary season winds down.
Night after night, no matter the division, surface, or track, Kyle Larson continues to leave race fans and racers from all across the country in awe.  On Saturday night, the two-time "410" Sprint Car winner at Sharon, made his Late Model debut at the track a winning one.  While the box score may show Larson leading all 40 laps, the $10,000 victory was far from easy.  Larson battled early on with three-time World of Outlaws champion and current points leader Brandon Sheppard then fended off a valiant effort by 14th starting Ryan Gustin for his second victory in three Series starts.  In the last week, Larson beat the World of Outlaws Sprints for the Knoxville Nationals crown, won on the IMS road course with NASCAR, and won a pair of midweek USAC Midget races! 
"I heard (Gustin) going into turn one, and saw him coming out of turn two,� explained the Elk Grove, California star. "We kind of drag raced down the backstretch.  He tried to run in and pinch me and kind of block my slider, but I was able to have enough room to get in front of him and kind of get up on the wheel from there.  The top of turns one and two were definitely better when I got up there, and I just had to not make too many mistakes once I got up there.  I feel like when a track is like that is when I'm best.  I'm not the greatest at running the top yet in these things- it's pretty difficult to manhandle up there.  When I don't have to run the top, I don't have to try and run the bottom, I can kind of use momentum and use the middle to be good.  It was good to come to a track I have a lot of laps in a Sprint Car at, but kind of get a different track than I've ever been on here."
Larson drew the pole for the feature and raced to the early lead over Sheppard, Max Blair, Tyler Bruening, and Colton Flinner.  Bruening looked good as he passed Blair for third on lap four and was all over Sheppard.  Flinner then followed Bruening driving around Blair for fourth on lap seven.  Larson caught traffic on lap nine, while Blair was able to get back by Flinner for fourth on lap 11.  Eighth starting Chris Madden became a factor when he passed Flinner for fifth on lap 13 then would inherit fourth when Blair got pinched by the lapped car of Bob Dorman into an infield tire to bring out the event's first caution with 16 laps scored.
Back under green, Flinner re-passed Madden for fourth then drove around Bruening for third on lap 18.  Meanwhile, Gustin was making his way forward and entered contention when he passed Bruening for fourth on lap 20.  Gustin then shot under Flinner for third on lap 23.  Lapped traffic came into play for Larson on lap 26, but a caution for a slowing Madden ended his night with 27 laps scored.
When racing resumed on lap 28, Gustin drove around Sheppard for second.  The last 10 laps saw Gustin all over Larson trying everything to get by him, but Larson was able to fend off his challenges to win by just 0.613 seconds in the Kevin Rumley #6.  Gustin, a World of Outlaws rookie-of-the-year contender, came up just shy of his first career Series win, but earned $6,000 for runner-up.
"We gave it all we had, but we got beat by the best driver in the world as far as I'm concerned,� stated Gustin, who put himself in a hole early on by failing to scale after qualifying and having to start at the tail of his heat race. "Nothing to hang your hat on there, but I wish he wouldn't have been here, so we could've gotten our first win.�
Sheppard was third over Bruening.  After getting up to third, Flinner crossed the line in fifth with an excellent run to earn $2,500 for the local western Pennsylvania racer.  Boom Briggs, Ricky Weiss, Chub Frank, Dennis Erb, Jr., and Gregg Satterlee completed the top 10.  Sheppard set fast time overall against the 28-car field in qualifying with a lap of 16.637.  Sheppard, Blair, Larson, and Bruening won the heat races, while Chad McClellan captured the last chance B main victory.
Jeremy Double has challenged for victory seemingly every night this year in the Whelen Econo Mods, but mechanical issues either early in the night or to end the night has kept his win total at just one heading into Saturday night.  That changed on Saturday night as Double led all 20 laps of the caution-plagued feature and holding off a late challenge by Ty Rhoades to earn $500.
"I knew there was a chance he (Rhoades) could get by me," acknowledged the 25-year-old Bristolville, Ohio racer.  "I overdid it on the throttle and brake on the restart getting into (turn) one and that was the first time I saw a car alongside of me other than the initial start.  We were side-by-side and I was a little sideways, but luckily out of turn four the caution came out and we got the lead back.  There were all those cautions and it would have sucked to lose it that way.  I wish we could have put on a better show for the big crowd, but it is what it is."
Double used the outside to take the lead from 2019 champion Dustin DeMattia, who has returned to the Econo Mod ranks the last two events after running UMP Modifieds.  Rhoades, who won the $1,000 UMP Modified feature on July 31, started fifth and took third from Andy Buckley following a restart on lap six.  Rhoades then overtook DeMattia for runner-up on lap 12 following a restart.  Rhoades had three shots alongside Double on the double file restarts.  It appeared as if he was going to lead lap 19, but a caution spoiled his potential winning pass. 
Double was granted the do-over and he held off Rhoades on the final restart as the race ended in a checkered-yellow due to a multi-car accident in turn three on the final lap.  Double's first win since June 5 came in his Honey Labs/Wedge Motorsports/No Limits Broadband/Russ King Racing/2 Brothers Motorsports/Mahan Welding/King Bros-sponsored #83.  Double's 16th career Sharon victory moved him into sole possession of second place on the division's all-time win list.
Buckley was third over 12th starting Will Thomas III.  Jacob Eucker was fifth.  DeMattia dropped to sixth as Gary Olsen, Kyle Layton, 14th starting Devin Henry, and 15th starting Joe DeWoody completed the top 10.  DeMattia, Double, and Eucker won the heat races over the 31-car field.  Vinnie DePizzo captured the last chance B main.  It was the second straight Econo Mod race with 31+ cars.
Coming up next Saturday (August 28) will be the rescheduled "Bill Forney Memorial" as the RUSH Late Model Touring Series returns after a near five-year absence, and will compete for $3,199 to-win.  The Hovis Auto & Truck Supply UMP Modifieds will make their final visit of the year for $1,000 to-win.  The non-wing Terry Bowser Excavating RUSH Sprint Cars will be featured again in their next-to-last appearance of 2021.  The Gibson Insurance Agency Pro Stocks and HTMA/Precise Racing Products RUSH Sportsman Modifieds will be competing in their final night of points. 
World of Outlaws Morton Buildings Late Models (40 laps, $10,000 to-win): 1. KYLE LARSON (6)  2. Ryan Gustin (19R)  3. Brandon Sheppard (1)  4. Tyler Bruening (16)  5. Colton Flinner (48)  6. Boom Briggs (99X)  7. Ricky Weiss (7)  8. Chub Frank (1*)  9. Dennis Erb, Jr. (28)  10. Gregg Satterlee (22)  11. Brent Larson (B1)  12. Jared Miley (10)  13. Tyler Dietz (77)  14. Logan Zarin (1z)  15. Levi Yetter (9)  16. Chris Madden (44)  17. Steve Kania (76)  18. Ryan Missler (50)  19. Max Blair (111V)  20. Bob Dorman (19)  21. Doug Drown (777)  22. Chad McClellan (119)  23. Logan Jaquay (99B)  24. Andy Boozel.  DNQ: Clay Ruffo (14R), Howard Fraley (217), Garrett Mott (43x), Eric Wilson (27W).
Whelen Econo Mods (20 laps, $500 to-win): 1. JEREMY DOUBLE (83)  2. Ty Rhoades (Sok 28)  3. Andy Buckley (Leamer 965)  4. Will Thomas III (9)  5. Jacob Eucker (64)  6. Dustin DeMattia (77D)  7. Gary Olson (23)  8. Kyle Layton (99L)  9. Devin Henry (21*)  10. Joe DeWoody (3D)  11. William Pinckney (7c)  12. Gary Robinson (44R)  13. Gary Sullivan (47s)  14. Troy Pinch (12P)  15. Alan Dellinger (Meadows 10T)  16. Vinnie DePizzo (1)  17. Dale Reiser (262)  18. Zak Etzel (52)  19. Jordan Simmons (Smith 13)  20. Jarrett Young (21)  21. Junior Mechling (89) 22. Jason Gracey (17)  23. Keith Felicetty (98)  24. Mitchell Wright (m1).  DNQ: Ryan Wisniowski (37), Alex Siekkinen (20), Ed Roberts (6s), Rob Kristyak (Blaney 11B), Scott Burk, Jr. (2), Rick Wilson, Jr. (35), Gary Miller, Jr. (1m).
Sharon Speedway is owned by the Blaney, Weller, and Kirila Families and is a 3/8-mile dirt track located on Custer-Orangeville Road in Hartford, Ohio near the intersection of Routes 7 & 305. For more information, check out the website at www.sharonspeedway.com or call 330-772-5481. Become a fan of Sharon Speedway on Facebook at www.facebook.com/sharonspeedway and follow us on Twitter at www.twitter.com/sharonspdwy.
Back to News