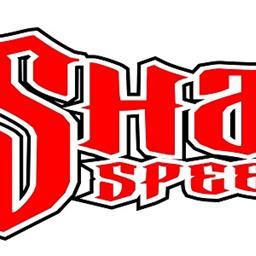 ---
Last lap passes net Chub Frank (RUSH Late Model Tour) & Jarod Larson (RUSH Sprint) thrilling victories; Brian Ruhlman wins an excellent UMP Mod featur
By Mike Leone
August 28, 2021            
(Hartford, OH)…Sharon Speedway wrapped up the month of August by completing the sixth straight race event on a hot and sultry Saturday night that featured some of the best racing of the year with side-by-side battles for the lead and two last lap winning passes!  Celebrating in the Hovis Auto & Truck Supply victory lane were Chub Frank-RUSH Late Model Touring Series "Bill Forney Memorial", Brian Ruhlman-Hovis Auto & Truck Supply UMP Modifieds, Jarod Larson-Terry Bowser Excavating RUSH Sprint Cars, Chris McGuire-Gibson Insurance Agency Pro Stocks, and Garrett Krummert-HTMA/Precise Racing Products RUSH Sportsman Modifieds.  A season high 126 cars packed the pit area on Miller Industries and A&MP Electric Night.  The Canfield/Sharon Speedway Drivers Reunion (1949-1973) was held with over 125 attendees enjoying the dinner and festivities.
Chub Frank emerged victorious in the 30-lap "Bill Forney Memorial" Pace Performance RUSH Late Model feature with a last lap of Joe Martin as the Touring Series returned to Sharon for the first time in five years.  The race featured three different leaders, four lead changes not to mention numerous side-by-side and even three-wide battles for the lead between Frank, Martin, and early leader Michael Duritsky, Jr.  Frank's first career Flynn's Tire/Born2Run Lubricants Touring Series victory was worth $3,000 plus the $199 bonus from Bill Forney's children, Mike and Anita. 
"Any time you can win a memorial it's a big deal," acknowledged the 59-year-old Bear Lake, Pa. great.  "I never raced against the man, but he's a big name around here.  I'm glad to win it and I can hang this (big check) on the wall.  I like this track.  I was here last week for the World of Outlaws and didn't run as well as I'd have liked.  I really wanted to run a crate here because they don't have as much motor and it works out better when the track is slick.  He (Martin) dropped down in that last corner and that was my only chance.  If he'd have stayed on the top, he would have probably beaten me.  I've raced him quite a bit and have all the respect in the world for those guys.  This is tough; people don't realize it.  You have to race a lot closer than you do with a Super Late Model.  If you make a mistake, they'll pounce all over you.  They are actually harder to drive because you have to make every lap almost perfect."
After winning the dash, Duritsky raced to the early lead as Frank and three-time Series champion Jeremy Wonderling passed Will Thomas III for second and third.  Sixth starting John Waters passed David Pangrazio on the opening lap for fifth then Thomas for fourth on lap two.  By lap six, Frank closed in on Duritsky as the top three pulled away, but the caution was displayed for Bill Henry, Jr., who slowed with six laps scored.
Back under green on lap seven, Pangrazio moved into fourth.  All eyes began to shift to Joe Martin, who was running the top side of the speedway.  Martin started eighth and cracked the top five on lap nine by passing Thomas.  By lap 12 the top five of Duritsky, Frank, Wonderling, Pangrazio, and Martin began to distance themselves from the field.  Martin drove around Pangrazio for fourth on lap 13 then did the same to Wonderling one lap later for third.  Now Martin was on Frank and made the pass for second on lap 16.  Duritsky then moved up to block Martin's challenges as Martin went to the bottom and the two raced side-by-side for the lead.
Frank didn't go away as he joined back into the fray as it was three-wide for the lead on lap 19!  Frank would lead lap 20, but Duritsky wasn't about to lose his shot at his first career Tour win taking the lead back on lap 21.  Heartbreak would hit Duritsky as contact was made with the slowing Matt Sipes, who was trying to get off the speedway, which caused a flat tire for Duritsky on lap 22. 
When racing resumed, Frank and Martin went as it to the finish.  Frank continued to run the bottom, while Martin powered around the top.  Finally on lap 27 Martin pulled even and led his first lap of the event on lap 28.  The two raced side-by-side for the lead the rest of the distance.  On the final lap, Martin changed course and shot to the bottom in turns three and four trying to block Frank's run; however, Martin washed across the track in turn four as Frank won the drag race to the checkered flag!  Frank's fourth career Sharon victory came in his 1* sponsored by Briggs Transport, CJ Trucking, and Corry Rubber.
Martin earned $1,500 for his runner-up finish, which was his best of the season with the Tour, but just missed out on his first Tour win in nearly seven years.  Martin has now finished in the top six at 10 of the last 11 events to maintain the runner-up spot in Tour points.  Virginia's Kyle Hardy had never seen Sharon prior to Saturday night.  After struggling in qualifying and his heat race, Hardy even backpedalled in the feature from his ninth starting spot.  Hardy was running 11th on lap nine before charging forward to third place for his 11th podium finish in 12 races as he continues to lead the $12,000 to-win Tour points! 
New York's Pangrazio had a strong fourth place.  Cory Sines had an excellent run coming on late to finish fifth after starting 14th for his best career Tour finish in five years of trying.  Thomas and Wonderling dropped to sixth and seventh respectively.  Tour regular Bud Watson was a season best eighth place.  After racing up to fourth, Waters faded to ninth.  Josh Ferry suffered mechanical issues in qualifying, which forced him to miss his heat race and take a provisional.  Ferry, a two-time Econo Mod winner, then went 25th to 10th to earn the $100 Precise Racing Products hard charger gift card. 
Making just his second career Tour start, 17-year-old Ashton Briggs led wire-to-wire to win the $200 Non-Qualifier.  The Erie, Pa. rookie took the checkered flag first by a commanding 3.209 seconds  over Big-Block Modified standout Jim Rasey.  Martin set fast time over the 33-car field in qualifying with a lap of 16.933.  Winning heat races were Martin, Duritsky, Waters, and Wonderling.  Henry and David Parker won the last chance B mains. 
Brian Ruhlman swapped the lead back and forth with Dave Hess, Jr. over much of the event before getting by for good on lap 16 then held off a charge by 10th starting Brent Rhebergen to win the 25-lap Hovis Auto & Truck Supply UMP Modified feature presented by A&MP Electric.  It was the second career UMP Mod win for Ruhlman, who was the 2019 Bickerstaff Cup Champion at Sharon.
"Dave Hess has one of our cars and has won everything but the 50-50 this year," expressed the 51-year-old Clarklake, Michigan victor.  "This is the first time I've gotten to race with him.  To run side-by-side and come out on top against the hell of racer that he is, I'm really happy.  Veronica does all the work on this.  Last night we ran our Late Model and '410' Sprint Car in Michigan.  We unloaded those cars, loaded up the Mod and RUSH Sprint, and drove out here today- we're tired."
Hess led the first four laps before Ruhlman took over on lap five and held the top spot until lap nine when Hess regained the lead prior to a caution.  Back under green, Ruhlman regained the lead on lap 10, but it was short-lived with Hess powering back ahead on the top to lead the 12th circuit.  The two raced side-by-side until another caution came out with 15 laps scored.  Ruhlman would make the winning pass on the restart.  On lap 21, Hess got too high and cracked the wall.  Hess was able to keep going, but fell out of the top five.
Hess' misfortunate allowed Rhebergen to move into second.  Ruhlman then held off the New York veteran over the final five laps to win by just 0.380 seconds in his Ruhlman Race Cars/Ted Bronson Quality Body & Paints/Ruhlman Engineering-sponsored #49.  It was Ruhlman's third career Sharon win as he also won last year in the RUSH Sprint Cars. 
Ty Rhoades, who won the last UMP Mod show on July 31 from 12th, charged from 16th to third.  Dustin DeMattia was fourth after starting 12th.  Hess dropped to fifth.  Econo Mod champion Jeremy Double was sixth as Joe Gabrielson, Carl McKinney, Joel Watson, and Mike Potosky completed the top 10.  Heat winners over the 25-car field were Ruhlman, Hess, and Casey Bowers.
Jarod Larson made a last lap of Blaze Myers to win his second straight in the Terry Bowser Excavating RUSH Sprint Cars.  Larson started from 10th, took the lead from Zach Morrow on lap seven, only to lose it on lap 12.  A last lap caution gave Larson one last shot at Myers, which he made count driving around Myers for the $600 victory.
"I wasn't that good," acknowledged the 53-year-old Jefferson, Ohio veteran.  "I was good in the middle of the race then the car started going away, but I got one last shot.  I thought he was going to roll into the middle of the track, but he didn't and it worked out so I'm happy.  These cars are fun; they are handful and never settle down.  There's some really good guys racing in this and I'm having a good time.  As long as everyone keeps it clean, we're good to go."
Myers led the first two laps before third starting Zach Morrow took charge on lap three with Larson moving into third already.  Myers and Larson then went at it racing side-by-side for second with Larson getting by on lap five.  Larson made the pass for the lead on lap seven with a slider on Morrow in turns three and four, while Myers followed past Morrow one lap later for second.  Myers grabbed the lead back on lap 12 nipping Larson at the line.  
After the two raced side-by-side in the ensuing laps, Myers broke free and appeared headed for his first career Sprint Car win, but a crash on the last lap by Nolan Groves gave the veteran Larson one more chance.  Larson drove around Myers on the outside on the final lap and took the checkered flag first by 0.321 seconds for his 28th career overall win at Sharon in his Larson Trucking/Clemson Excavating/Trevis Craft/Palmer Farms/Townsend Machine-sponsored #47.
It was Myers' third runner-up of the season at Sharon and sixth top four finish in seven races!  Chad Ruhlman came from eighth to finish third.  John Mollick was fourth.  Brandon Shughart was a career best fifth.  Morrow dropped to sixth as Brian Cressley, Brian Ruhlman, Rod George, and Tyler Newhart completed the top 10.  Heat winners over the 18-car field were brother Chad and Brian Ruhlman.
After going more than two years between victories, Chris McGuire won for the second time in four weeks in the Gibson Insurance Agency Pro Stocks.  McGuire and Coleton Longwell put on a great side-by-side show for the fans with Longwell on the bottom and McGuire ripping the top.  McGuire's winning pass came on lap 11 in the 20-lap feature event.
"There's a very small strip around the top," explained the 30-year-old Erie, Pa. driver.  "You can't make much of an error.  With about two laps to go, I saw Coleton poke his nose under me and I had to step it up.  He was really good on the bottom.  I think we had a decent car on the bottom, but I could keep so much momentum up on the top and lapped traffic was on the bottom.  I had pretty much of a clear track ahead of me."
Longwell, who won his first career Sharon feature on July 31, raced past Jordan Perkins on the start with McGuire following in second.  Fifth and sixth starting Steve D'Apolito and Curt J. Bish advanced to third and fourth respectively on lap two.  Three cautions slowed action between laps three through eight disrupting the side-by-side battle for the lead.  After that, the final 12 laps went green-to-checkered.  Longwell and McGuire resumed their battle before McGuire got by for good on lap 11. 
By lap 15, McGuire opened up some ground on Longwell in lapped traffic and went on for his fifth career win by 1.291 seconds in his Welders Supply/Tobber Racing/Ed's Drywall-sponsored #63.  D'Apolito was a season best third as he beat out Bish, who captured his second straight track championship.  Jason Fosnaught was fifth.  Completing the top 10 were Tim Bish, Perkins, Scott Stiffler, Jason Johns, and 15th starting Brian Carothers.  Heat victors over the 24-car field were Perkins, Longwell, and McGuire.
Track champion Chas Wolbert passed rookie Ben Easler on lap eight and was never challenged over the final laps of the HTMA/Precise Racing Products RUSH Sportsman Modified feature; however, was disqualified in post-race tech for an exhaust violation handing Garrett Krummert his third win in five tries during the 2021 season, worth $500.    
Easler drove by Jordan Ehrenberg at the start of the 20-lap feature.  Krummert, Rob Kristyak, sixth starting Wolbert, and Tony Tatgenhorst passed Ehrenberg for positions two through five on lap two.  Wolbert then slipped under Krummert with contact for second on lap five.  Wolbert was all over Easler in the race for the lead before a caution for a spin by Dave Price with seven laps scored. 
When racing resumed, Wolbert snuck under Easler in turns one and two on lap eight.  Krummert drove around Easler off turn four on lap 10 for second before a pair of cautions slowed action at the halfway point.  The final 10 laps went caution-free.  Krummert tried running the top, but wasn't able to keep pace with Wolbert, who crossed the finish by a commanding 3.851 seconds prior to his disqualification.  Krummert's ninth career RUSH Sportsman Modified win and 10th overall at Sharon came in the MD Landscaping/Jerry Schaffer Racing/Turn 4 Toilets-sponsored #10s. 
Tatgenhorst took the checkered flag unofficially in third; however, was also disqualified in post-race tech for an exhaust violation.  Easler, who had dropped to fourth, was credited with a career best Sharon finish in runner-up.  In his sixth year of trying, Ehrenberg turned in his first career top five in third!  Brandon Ritchey was fourth to ascend from third to first in the Wedge Motorsports "Route 7 Rumble" Series points.  Josh Deems' first start of 2021 resulted in a fifth.  Kristyak was sixth over 22nd starting Gage Priester in his just third start of the year.  Greg Porter, rookie Cole Edwards, and Jacob Jordan completed the top 10.  Krummert, Easler, and Kristyak won the heat races over the 26-car field.
There will be no racing over Labor Day weekend.  The next events are the "Apple Festival Nationals" on Friday and Saturday, September 10-11.  Information can be found at the following link http://www.sharonspeedway.com/wp-content/uploads/2021/09/Apple-Festival-Purses-2021.pdf
Pace Performance RUSH Late Model Flynn's Tire/Born2 Run Lubricants Touring Series "Bill Forney Memorial" (30 laps, $3,199 to-win): 1. 1. CHUB FRANK (1*)  2. Joe Martin (Snyder 10s)  3. Kyle Hardy (99)  4. David Pangrazio (136)  5. Cory Sines (25s)  6. Will Thomas III (9)  7. Jeremy Wonderling (3J)  8. Bud Watson (225)  9. John Waters (LeBarron 11)  10. Josh Ferry (33)  11. Matt Latta (27)  12. Michael Duritsky, Jr. (90J)  13. Andy Boozel (12B)  14. Breyton Santee (9)  15. J.J. Mazur (13)  16. Steve Dixon (65)  17. Jacob Gunn (14G)  18. Ryan Frazee (11F)  19. David Parker (2)  20. Logan Jaquay (99*)  21. Zach Kane (10)  22. Steve Hollabaugh (3)  23. Matt Sipes (25)  24. Bruce Hordusky, Jr. (3)  25. Billy Henry, Jr. (21*).
RUSH Late Model Non-Qualifier (8 laps, $200 to-win): 1. Ashton Briggs (11A)  2. Jim Rasey (Wrightsman 21J)  3. D.J. Krug (83)  4. Jacob Peterson (112)  5. Rob Coffaro (24c)  6. Khole Wanzer (01W)  7. Wendell Pinckney (Cole 49).  DNS: Colby Beighey (36B).
Hovis Auto & Truck Supply UMP Modifieds (25 laps, $1,000 to-win): 1. BRIAN RUHLMAN (49)  2. Brett Rhebergen (07R)  3. Ty Rhoades (12R)  4. Dustin DeMattia (77D)  5. Dave Hess, Jr. (44H)  6. Jeremy Double (83)  7. Joe Gabrielson (58)  8. Carl McKinney (6M)  9. Joel Watson (Titus 25)  10. Mike Potosky (m20)  11. Scott Stiffler (14)  12. Mike Kinney (Porter 20P)  13. Nate Young (42)  14. Travis Creech (75)  15. Steve Rex (27R)  16. Troy Johnson (2J)  17. Jim Plance (4J)  18. Eric Wilson (Felicetty 98)  19. Casey Bowers (20)  20. Matt Alexander (77)  21. Dennis Lunger, Jr. (71L)  22. Alan Atkinson (32)  23. Michael Hudzik (31H)  24. Shane Crotty (4)  25. Butch Southwell (55s).
Gibson Insurance Agency Pro Stocks (20 laps, $700 to-win): 1. CHRIS MCGUIRE (63)  2. Coleton Longwell (7)  3. Steve D'Apolito (84)  4. Curt J. Bish (Tarr 29)  5. Jason Fosnaught (J19)  6. Tim Bish (11B)  7. Jordan Perkins (13J)  8. Scott Stiffler (14)  9. Jason Johns (31)  10. Brian Carothers (02c)  11. Larry Kugel (0)  12. Paul Davis (3)  13. Jamie Scharba (11s)  14. Jonathan Davis (8)  15. Russ Coyne (8c)  16. Tony Spaghetti (Bruno 97)  17. Dale Tuche (310)  18. Blake Scharba (12B)  19. Mike Kerr (25K)  20. Matt Bernard (7B)  21. Ray Gregory (82R)  22. Doug Iorio II (28)  23. Jason Jones (81). DNS: Jamie Duncan (67J).
Terry Bowser Excavating RUSH Sprint Cars (20 laps, $600 to-win): 1. JAROD LARSON (47)  2. Blaze Myers (43Jr)  3. Chad Ruhlman (Engles 68)  4. John Mollick (Clever 14)  5. Brandon Shughart (29)  6. Zach Morrow (Mahoney/Eckart 9J)  7. Brian Cressley (62)  8. Brian Ruhlman (49)  9. Rod George (Hull 41)  10. Tyler Newhart (57N)  11. Gale Ruth, Jr. (McConnell 24)  12. Jeremy Weaver (Clay 12c)  13. Amelia Clay (16c)  14. A.J. MacQuarrie (Hartzell 69x)  15. Ricky Tucker, Jr. (1T)  16. Kevin Kaserman (13K)  17. Russ Sansosti (23s)  18. Nolan Groves (25).
HTMA/Precise Racing Products RUSH Sportsman Modifieds (20 laps, $500 to-win): 1. Garrett Krummert (10s)  2. Ben Easler (02)  3. Jordan Ehrenberg (JD57)  4. Brandon Ritchey (1R)  5. Josh Deems (9D)  6. Rob Kristyak (00)  7. Gage Priester (71)  8. Greg Porter (25)  9. Cole Edwards (29)  10. Jacob Jordan (28J)  11. Jake Rutana (11J)  12. Dalton Gabriel (333G)  13. Cameron McFadden (Pinckney 83)  14. Lucas Canon (2LC)  15. Doug Rutana (70B)  16. Dave Price (111)  17. Bill Adams (717)  18. J.C. Boyer (12)  19. Gary Haupt (16)  20. Brandon Albert (30)  21. Kole Holden (2)  22. Chas Wolbert (c3)-DSQ (exhaust)  23. Tony Tatgenhorst (63T)-DSQ (exhaust).  DNS: Kyle Martell (8), Brandon Tercho (3X), Clayton Deems (55R).   
Sharon Speedway is owned by the Blaney, Weller, and Kirila Families and is a 3/8-mile dirt track located on Custer-Orangeville Road in Hartford, Ohio near the intersection of Routes 7 & 305. For more information, check out the website at www.sharonspeedway.com or call 330-772-5481. Become a fan of Sharon Speedway on Facebook at www.facebook.com/sharonspeedway and follow us on Twitter at www.twitter.com/sharonspdwy.
Back to News