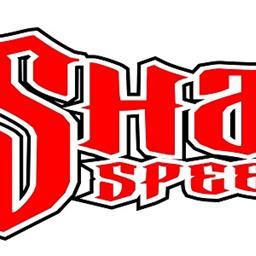 ---
Chad Ruhlman runs away with the non-stop RUSH Sprint feature in night 1 of the "Apple Festival Nationals" for 3rd win at Sharon; Teddy Williams II bec
By Mike Leone
September 10, 2021    
(Hartford, OH)…Sharon Speedway kicked off night 1 of the annual "Apple Festival Nationals" on a beautiful Friday evening marking the seventh straight event completed during the 92nd anniversary season.  Celebrating in the Hovis Auto & Truck Supply victory lane were Chad Ruhlman-Terry Bowser Excavating RUSH Sprint Cars and Teddy Williams II-Joe's Radiator Service/Waterstone Mortgage by Sara Cipriano/R Tumbleweed Transportation Sportsman Dwarf Cars.  In addition to the complete show for the RUSH Sprints and Dwarfs, qualifying events were run for the RUSH Late Model Tour, Penn-Ohio Pro Stocks, Whelen Econo Mods, and RUSH Sportsman Modified Tour.  A total of 144 cars filled the pit area.
Chad Ruhlman broke free of nemesis Gale Ruth, Jr. early and was never challenged over the caution-free 20-lap Terry Bowser Excavating RUSH Sprint Car feature.  The two-time Equipment Rental Options Weekly Series Champion and division's all-time feature winner earned his third $600 win of the season and seventh of his career at Sharon.  The event was timed in 6:51.218.
"Hats off to the crew that does this race track,� expressed the 44-year-old Erie, Pa. racer.  "This is the most fun I have, and I absolutely love this place.  It's smooth, top-to-bottom; you can bang around the cushion or idle around the bottom.  I could hit the guardrail and actually hear the tires squeal when I hit it.  The moisture was quite a ways up there so it was an advantage to be there if you could do it without killing the car.  Gale (Ruth Jr) is tremendous on the cushion and when there's traction he's definitely hard to beat.  Luckily there's enough racing room here; I slid him and he slid me back then I got him one more time and it was really whoever got to the cushion first was going to win it.  Hats off to all the guys that help me; they are probably more happy than I am to win.  There's still a long way to go for the championship, but this one helps.�
An invert 0 from the heat races placed the RUSH Sprint stars of Ruth and Ruhlman on the front row of the feature.  Despite seven feature wins on the circuit this year and 13 for his career, Ruth, who has led several events this year at Sharon, had yet to ever win at the Hartford, Ohio oval.  And Ruhlman, who is in a battle with Ruth for the $5,000 to-win championship, wasn't about to let Ruth's first Sharon win happen on this night. 
After a couple slide jobs, Ruhlman took command; however, Ruth stayed within striking distance early on.  Jarod Larson, who won the last two feature events, passed fellow former "410" Sprint Car great, Rod George, on lap two for third.  By lap three, Ruhlman and Ruth began to distance themselves from the field, while eighth starting Ryan Fraley was halfway to the front taking fourth from George.  George then lost fifth to Brian Hartzell on lap seven.
Lapped traffic came into play on lap 11 for Ruhlman, but Ruth wasn't able to make any ground up.  Ruhlman in fact pulled away over the second half of the event in the Tim Engles-owned, Dirt Roads Logistics/Pennywell Sandblasting/Dotera Oils-sponsored #68 as his all-time leading 32nd career Series victory came by a huge margin of 4.399 seconds.
Ruth was second for the third time in the last four races at Sharon.  Larson's two-race win streak ended with a third place as he's now finished in the top four of all four races he's competed in this year.  Seventh starting Hartzell passed Fraley for fourth on lap four to easily beat his prior season best Sharon finish of seventh.  Fraley was fifth.  Completing the top 10 were Blaze Myers, John Mollick, Nolan Groves, Tyler Newhart, and George.  Ruth and Ruhlman won the heat races over the 18-car field.
Teddy Williams II benefitted from spins by brother and sister, Joe and Angie Grzelak, to inherit the lead and eventual $500 win in the 15-lap Sportsman Dwarf Car feature.  Williams became the third different winner in three races run this season for the Joe's Radiator Service, Waterstone Mortgage by Sara Cipriano, and R Tumbleweed Transportation-sponsored division.
"It looked like she (Angie Grzelak) started losing grip and I was glad to be able to avoid her,� explained the 26-year-old Leavittsburg, Ohio racer.  "I ran my dad's car here two years ago when I won the Apple Fest and the bottom was where the car hooked up the best so that's where it was tonight too.  I'd like thank my mom, dad, girlfriend, and everyone that helps me, and all the fans for coming out.�
After a seven-car pileup in turn one on the opening lap, Williams led the first two circuits before fourth starting Angie Grzelak took over on lap three.  Joe Grzelak meanwhile passed Williams for second on lap four, but lost the handle one lap later moving Williams back to second.  When racing resumed, Angie Grzelak appeared headed for her second win of the season and third of her career, but would spun in turn four with just over three laps to go.
Williams was handed the lead and fended off Shayne Meadows over the final four laps for his second career win in his Tire Bloomers/Leader Racecars/JBR Racing-sponsored #818.  Jacob Eakin was third.  Angie Grzelak charged back through the field in the final four laps to place fourth over fellow female racer Tiffany Williams.  Sixth through 10th were Ted Williams, Joe Grzelak, Jr., Brandon Smith, Michael Heverly, and Jerry Langley.  Heat winners were Angie and Joe Grzelak over the 18-car field.    
Jeremy Wonderling set fast time in the Flynn's Tire/Born2Run Lubricants RUSH Late Model Touring Series qualifying with a lap of 17.996 and won the first heat race to earn a total of $125.  Joe Martin won the second heat race and the Sunoco Dash to earn the pole position for Saturday night's "Cider Jug 40� presented by Zarin Truck & Auto and an anonymous donor in support of Autism Awareness in addition to $25 and a $100 Sunoco gift card.
The Gibson Insurance Agency Pro Stocks ran four heats for their 37-car Penn-Ohio Series field and were won by Jason Johns, Chris Schneider, Chris McGuire, and Paul Davis.  Schneider then won the dash for the heat race winners to earn $250 from Razor Sharp Logistics and the pole for Saturday night's 25-lap $2,000 to-win feature.
The Whelen Econo Mods ran three heats for their 28-car field and were won by Jeremy Double, Mitchell Wright, and Keith Felicetty.  Felicetty then went on to win the dash for the top two heat race finishers to earn the pole position for Saturday's 25-lap $2,500 to-win feature presented by BACA (Bikers Against Child Abuse).  Felicetty also won $100 and a five-foot trophy from Young Family Trucking for winning the dash for the top two heat races finishers.
The HTMA/Precise Racing Products RUSH Sportsman Modified Hovis Auto & Truck Supply Touring Series saw 27 cars compete in heat race action with J.C. Boyer, Jordan Ehrenberg, and Kole Holden winning to set the lineup for Saturday's 25-lap $800 to-win feature.
Tonight (Saturday), pits will open at 3 p.m. with general admission at 5.  There will be a drivers meeting at 6 p.m. with Sprint motor heat at 6:15 p.m. and qualifying at 6:30.  Racing will get underway at 7 p.m. featuring a complete show for the "410� Sprint Cars for $3,000 to-win plus the remainder of Friday's program for the RUSH Late Model Tour, Penn-Ohio Pro Stocks, Whelen Econo Mods, and RUSH Sportsman Modified Tour.  Cars that didn't compete on Friday can tag the B mains tonight.  General admission is $20, seniors are $15, and kids 13 and under are free.  Pit passes are $35.
Terry Bowser Excavating RUSH Sprint Cars (20 laps, $600 to-win): 1. CHAD RUHLMAN (Engles 68)  2. Gale Ruth, Jr. (McConnell 24)  3. Jarod Larson (47)  4. Brian Hartzell (69)  5. Ryan Fraley (12)  6. Blaze Myers (43JR)  7. John Mollick (Clever 14)  8. Nolan Groves (Beedle 25)  9. Tyler Newhart (57N)  10. Rod George (Hull 41)  11. Brian Cressley (62)  12. Brad Church (40)  13. Jeremy Weaver (Clay 12c)  14. Amelia Clay (16c)  15. Russ Sansosti (23s)  16. Kevin Kaserman (13)  17. Jeff Metsger (20). DNS: Zach Morrow (Mahoney/Eckart 9J).
Joe's Radiator Service/Waterstone Mortgage by Sara Cipriano/R Tumbleweed Transportation Sportsman Dwarf Cars (15 laps, $500 to-win): 1. TEDDY WILLIAMS II (818)  2. Shayne Meadows (Ohl 9)  3. Jacob Eakin (14)  4. Angie Grzelak (57)  5. Tiffany Williams (58)  6. Ted Williams (48)  7. Joe Grzelak, Jr. (888)  8. Brandon Smith (13)  9. Michael Heverly (99B)  10. Jerry Langley (23L)  11. Drew Hannah (808)  12. Jared Thompson (25)  13. Jeff Davis (34)  14. Michael Keefe (99K)  15. Bobby Kutsch (33x)  16. Rex Billiter, Jr. (87)  17. Liam VenElzen (88).  DNS: Tyler Yoho (9R).
Sharon Speedway is owned by the Blaney, Weller, and Kirila Families and is a 3/8-mile dirt track located on Custer-Orangeville Road in Hartford, Ohio near the intersection of Routes 7 & 305. For more information, check out the website at www.sharonspeedway.com or call 330-772-5481. Become a fan of Sharon Speedway on Facebook at www.facebook.com/sharonspeedway and follow us on Twitter at www.twitter.com/sharonspdwy.
Back to News