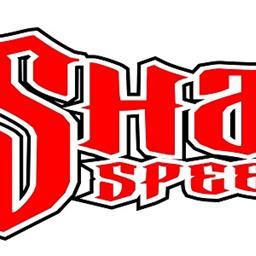 ---
RYAN GUSTIN'S 1ST CAREER WORLD OF OUTLAWS LATE MODEL WIN COMES AT SHARON & IS WORTH $20,000; TONY TATGENHORST GARNERS 1ST CAREER SHARON RUSH MOD WIN
By Mike Warren (WoO PR) and Mike Leone
May 28, 2022
(Hartford, OH)…After losing five of the first six events to begin the 93rd anniversary season at Sharon Speedway, Mother Nature finally gave the Hartford, Ohio oval a reprieve. Rain throughout much of Friday and into Saturday morning washed out night one of the World of Outlaws CASE Construction Late Model event; however, skies clear and allowed the Saturday night finale to be completed. Celebrating in the Hovis Auto & Truck Supply victory lane with their first career Sharon wins were Ryan Gustin (World of Outlaws Late Models) and Tony Tatgenhorst (HTMA/Precise Racing Products RUSH Sportsman Modifieds).
Nine months ago at Sharon, "The Reaper" battled 2021 NASCAR Cup Series Champion Kyle Larson for the lead, ultimately settling for second. Only 12 laps remained Saturday night, and again, Gustin found himself in second; however, this time, he wouldn't let that nine-month heartbreak last any longer. As race leader Shane Clanton clicked off lap 48, Gustin swung his Rocket Chassis underneath the "Georgia Bulldog," pulling even off turn 2. That's when the Marshalltown, IA driver saw his opportunity to pass the former champion. Gustin dove under Clanton in turn 3, getting every ounce of momentum he could to swing in front of the 2015 Series champion to take the lead- one he wouldn't relinquish.
In the final 10 laps, Gustin pulled away to capture his first career World of Outlaws CASE Construction Equipment Late Model Series win worth $20,000. Gustin's confidence rose when he saw Sharon Speedway return to schedule this year, knowing it may be his best chance to win.
"It feels awesome, man," Gustin said. "I definitely didn't want to wait this long, but it definitely feels good, especially to win 20-grand. I knew if we had a shot anywhere, it was going to be [Sharon Speedway]. We were really good last year, and we put a 100 percent identical setup on it, and [the car] was good tonight too. I think we definitely got something figured out at this place."
A caution with 22 laps to go in the feature allowed Gustin to get closer to Clanton, who had almost a full straightaway lead. While the yellow bunched the field back together, Gustin wasn't sure what would happen in the race's final third. "I knew we just had to give her hell there," Gustin said. "There weren't many laps left, and we had to go."
Clanton settled for second, his third top five in his last four World of Outlaws races. The Zebulon, GA driver believes he's moving closer to his first Series victory of the season. "Our confidence is up," Clanton said. "Our cars are good. We're just taking it race by race and hopefully pick one up or two."
Four-time Series champion Josh Richards finished third, his fourth podium in the last five races. The Houston, OH driver took the lead from Max Blair early in the race before a caution negated the pass. However, Richards wasn't sure if he could've held on. "I felt like I was going to slide Max into (turn 3) for the lead," Richards said. "I don't know if we could've held on or not. I was fighting steering down into (turn 1) a little bit, so it was a handful at the end. Shane and Ryan both did a great job as they could turn better through that stuff and keep their speed up. But we're still happy for the night that we had, and with the year we've had, we'll take it; we have to build on it."
Series points leader Dennis Erb Jr. finished fourth, extending his points lead to 106 points ahead of Max Blair, who finished sixth. The finish continues the Carpentersville, IL driver's consistent runs in 2022 on a night he felt track position was vital. Devin Moran from Dresden, OH, rounded out the top five. Sixth through 10th were Tanner English, Blair, Gregg Satterlee, 2010 Sharon WoO winner Darrell Lanigan, and Brent Larson.
Clanton set fast time overall against the 39-car field in WoO Late Model qualifying with a lap 15.819. Picking up heat race wins were Erb, Blair, Gustin, and Richards. Kyle Hammer and John Garvin, Jr. copped the last chance B mains. The WoO will return for their final appearance of the season on Saturday, August 20.
Tony Tatgenhorst became the second driver of the night to earn his first career Sharon Speedway victory. The 42-year-old Columbiana, Ohio driver swapped the lead several times with veteran Modified racer Rob Kristyak before getting by for good on lap nine. Tatgenhorst, whose only two career wins came at Pittsburgh's PA Motor Speedway in 2020 and 2021, earned $700 for the 20-lap HTMA/Precise Racing Products RUSH Sportsman Modified victory.
"Man I have to brag for a minute…I'm so proud of this one," expressed Tatgenhorst, whose father passed away three days after winning the 2021 RUSH Sportsman Modified Touring Series Championship. "A win at Sharon Speedway for us was always an uphill battle, but we finally got here. This guy of mine worked his tail off to get this one. This one was special, this one was for Pap."
Female racer Chelsie Kriegisch led the field to green, but it was Kristyak leading the opening lap. Third starting Tatgenhorst led for the first time on lap three, but Kristyak regained the top spot on lap seven. Kristyak's final time at the head of the field would only last two laps as Tatgenhorst regained the top spot on the ninth circuit and it was one he wouldn't relinquish. Tatgenhorst pulled away over the second half of the event and took the checkered flag first by a commanding 3.214 seconds in his Alcon Mechanical/Edwards Flower Shop of Youngstown-sponsored #63T. Tatgenhorst became the 19th different driver to win a RUSH Sportsman Modified feature in the history of the division.
2021 RUSH "Futures Cup" Champion, Ben Easler, was second after passing Kristyak for the spot on lap 17. Kristyak dropped to third. Justin Shea had a solid run in fourth after staring 15th! Ayden Cipriano, the 2020 RUSH "Futures Cup" Champion, went 10th to fifth. Kriegisch dropped to sixth; however, it was her best Sharon finish since a runner-up on September 9, 2017! Two-time track champion, Kole Holden, was seventh ahead of Kyle Martell and Clayton Deems. Jacob Wolfe rallied from 21st to 10th to earn a $100 Summit Racing Products gift card for being the hard charger. Kriegisch, Kristyak, and Tatgenhorst won the heat races over the 22-car field.
Coming up next Saturday (June 4) will be the Western PA Sprint Speedweek for the Hovis Auto & Truck Supply "410" Sprint Cars along with the Terry Bowser Excavating RUSH Sprint Cars, HTMA/Precise Racing Products, and Whelen Econo Mods.
World of Outlaws CASE Construction Late Models (60 laps, $20,000 to-win): 1. 19R-Ryan Gustin[4]; 2. 25-Shane Clanton[5]; 3. 1-Josh Richards[2]; 4. 28-Dennis Erb Jr[3]; 5. 9-Devin Moran[8]; 6. 81E-Tanner English[14]; 7. 111V-Max Blair[1]; 8. 22-Gregg Satterlee[6]; 9. 29-Darrell Lanigan[7]; 10. B1-Brent Larson[10]; 11. 9Z-Mason Zeigler[16]; 12. 11-Gordy Gundaker[13]; 13. 99B-Boom Briggs[9]; 14. 48-Colton Flinner[22]; 15. 3RK-Daryl Charlier[12]; 16. J4-John Garvin Jr[18]; 17. 45-Kyle Hammer[17]; 18. 17-Zack Dohm[19]; 19. 1*-Chub Frank[11]; 20. X3-Wyatt Scott[20]; 21. 22B-Darrell Bossard[24]; 22. 1C-Alex Ferree[21]; 23. 58-Michael Norris[15]; 24. 0-Ryan Scott[23].
DNQ for the feature: Greg Oakes (22), Jared Miley (10), Andy Boozel (12B), Ricky Weiss (7), Ryan Montgomery (1CJ), Cory Sines (25s), Gary Lyle (10), Steve Kania (76), Eric Wilson (27W), Levi Yetter (9), Doug Eck (20), Clay Ruffo (14R), Garrett Mott (43x), Matt Lux (21), Ron Hall (01).
HTMA/Precise Racing Products RUSH Sportsman Modifieds (20 laps, $700 to-win): 1. 63T-Tony Tatgenhorst[3]; 2. 02-Benjamin Easler[8]; 3. 00-Rob Kristyak[2]; 4. 14S-Justin Shea[11]; 5. 5C-Ayden Cipriano[5]; 6. 10-Chelsie Kriegisch[1]; 7. 2-Kole Holden[4]; 8. 8-Kyle Martell[7]; 9. 55R-Clayton Deems[9]; 10. 7-Jacob Wolfe[21]; 11. 57R-Jacob Rutana[13]; 12. 28J-Jacob Jordan[10]; 13. 1R-Brandon Ritchey[14]; 14. 9D-Josh Deems[12]; 15. 01T-Todd English[16]; 16. 46R-Doug Rutana[15]; 17. 111-Dave Price[20]; 18. 29-Cole Edwards[18]; 19. JD57-Jordan Ehrenberg[19]; 20. 2LC-Lucas Canon[17]; 21. 25-Greg Porter[22]; 22. 333G-Dalton Gabriel[6].
Sharon Speedway is owned by the Blaney, Weller, and Kirila Families and is a 3/8-mile dirt track located on Custer-Orangeville Road in Hartford, Ohio near the intersection of Routes 7 & 305. For more information, check out the website at www.sharonspeedway.com or call 330-772-5481. Become a fan of Sharon Speedway on Facebook at www.facebook.com/sharonspeedway and follow us on Twitter at www.twitter.com/sharonspdwy.
---
Article Credit: Mike Leone
Back to News