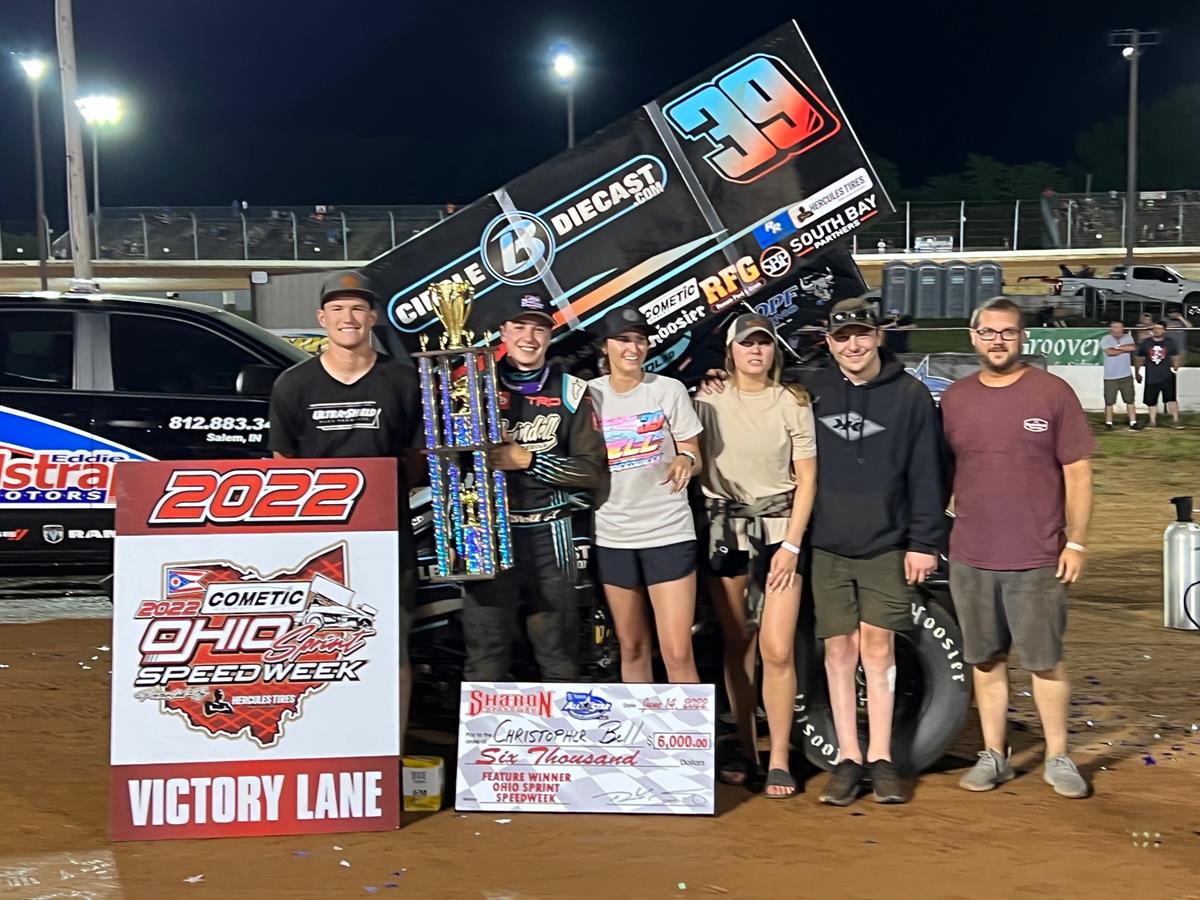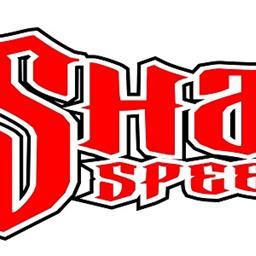 ---
CHRISTOPHER BELL BECOMES 5TH DIFFERENT OHIO SPEEDWEEK WINNER IN AS MANY NIGHTS WITH HIS 3RD SHARON ALL STAR WIN IN 3 TRIES; RUSH SPRINTS TO RUHLMAN
By Mike Leone
June 14, 2022
(Hartford, OH)…Sharon Speedway hosted round five of the 40th annual Cometic Gasket Ohio Speedweek presented by Hercules Tires for the Tezos All Star Circuit of Champions Sprint Cars on Tuesday evening. After heavy rain moved through the area overnight and into the early morning hours, skies cleared throughout the day allowing for a beautiful evening of racing. On the fast and heavy red clay surface, Christopher Bell (Tezos All Star Circuit of Champions Sprint Cars) and Chad Ruhlman (Terry Bowser Excavating RUSH Sprint Cars) celebrated in the Hovis Auto & Truck Supply victory lane.
Making just his second start of the 2022 Ohio Speedweek, Christopher Bell became the fifth different winner in as many nights. Bell unloaded fast and carried that speed throughout the night. The 2017 NASCAR Truck Series Champion and current NASCAR Cup Series racer set fast time in qualifying, went fourth to second in his heat race, won the dash and went on to lead all 30 laps of the feature. Impressively Bell is now three-for-three in All Star Circuit of Champions sanctioned events at Sharon!
"Kevin (Swindell) had this dialed in," stated the 27-year-old Norman, Oklahoma native. "I knew we had been getting better and better each race. I felt really good yesterday and equally as good today. I can't thank Kevin and Jordan enough for the opportunity to drive their race car. They work really hard at this. Tonight the track was completely different than the last two wins (here)- it was treacherous. The cushion got really tall along the fence in (turns) one and two and (turns) three and four. I tried to be smart, run my race, and run consistent laps."
Bell charged into the lead at the start of the 30-lap feature with Sye Lynch, Danny Dietrich, Justin Peck, and Buddy Kofoid in tow. After a four-car accident that saw Tim Shaffer get upside down, Parker Price-Miller moved past Kofoid for fifth when racing resumed on lap three. Peck was all over Lynch and made the pass for second on lap six with a slider in turn two. Bell had a half-straightaway lead once Peck got to second then caught traffic on lap nine. Peck closed in on lap 12, but the following lap saw Bell stretch his lead out. Last year's Sharon Ohio Speedweek winner, Danny Dietrich, got into the fence in turns one and two running fourth to bring out the caution with 17 laps scored.
Lap 17 was a challenging one as All Star points leader Tyler Courtney blew a tire to necessitate a caution then Price-Miller got into the fence also running fourth and was struck by Bill Balog with Cole Macedo also involved. Finally racing would resume for good as the final 13 laps went caution-free. Bell maintained a comfortable lead until Monday night's Wayne County Speedway winner, Peck, closed in on lap 23, but Bell again stretched out his lead in the ensuing laps.
Bell had traffic to deal with on lap 26, but that didn't hinder his lead. Peck was able to cut into Bell's lead on the final lap, but it was too little too late as Bell took the Swindell SpeedLab-owned, CircleBDiecast.com/Bubbly Brands/John Christner Trucking-sponsored #39 to his seventh career All Star victory by 0.514 seconds.
Lynch had his season's best All Star effort with a strong third place. Zeb Wise went 12th to fourth. Kofoid was fifth. Completing the top 10 were Hunter Schuerenberg, April 30 Sharon All Star winner Cap Henry, Cory Eliason, Ian Madsen, and 22nd starting Kyle Reinhardt.
Bell set fast time over the 41-car field in qualifying with a lap of 12.200 less than a half-second off the track record. Heat winners were Peck, Kofoid, Henry, Dietrich, and Schuerenberg. Bell won the dash, while Chris Windom captured the last chance B main.
After winning his first Hovis Auto & Truck Supply RUSH Sprint Car race on the 2022 circuit on Saturday night at Pittsburgh's PA Motor Speedway, Chad Ruhlman led all the way on Tuesday night for his first Sharon win of the year. The 20-lap Terry Bowser Excavating feature win was worth $700 for RUSH's three-time and defending $5,000 Equipment Rental Options Weekly Series Champion.
"The last couple weeks these guys have been getting really good on the bottom here," explained the 45-year-old Erie, Pa. resident. "Normally I don't have that much self-control, but being a Tuesday night I took it easy and idled around the bottom. The track was beautiful. You could have went up top, but I just wanted to play defense tonight and make sure we get a couple more wins here. We have two more nights this week so hopefully we can continue this."
An invert zero put heat race winner Brian Hartzell and Ruhlman on the front row of the feature. Ruhlman used the outside to race into the early lead. Arnie Kent pressured Hartzell for the runner-up spot on lap five; meanwhile, a tremendous four-car battle for the fourth spot was hot and heavy between June 4 winner Ryan Fraley, Blaze Myers, Tyler Newhart, and Nolan Groves. On lap nine, Myers moved past Fraley for fourth, while Groves went around both Newhart and Fraley for fifth on lap 13.
Up front, Ruhlman was never seriously challenged as he took his division leading eighth career Sharon win and 36th all-time overall with RUSH by 0.945 seconds in the Tim Engles-owned, Dirt Road Logistics/Shawgo Realty/Signature Property Group/DoTerra Essential Oils-sponsored #68. After finishing a Sharon career best fourth in the final race of 2021, Hartzell came home third on June 4, and did one better with a career best runner-up on Tuesday night!
Eighth starting Groves was able to power around Kent off the top of turn four to get the third position by just 0.054 seconds! Kent was fourth over Myers. Completing the top 10 were Newhart, 13th starting Andy Priest, Bill Cunningham in just his second Sprint Car start, Fraley, and Brad Blackshear in his first race of 2022. Jarod Larson went 18th to 11th to earn the $100 Summit Racing Equipment gift card for being the hard charger.
Coming up this Saturday night (June 18) will be the first of two appearances by the Renegades of Dirt Series for the Hovis Auto & Truck Supply UMP Modifieds ($1500 to-win) along with the HTMA/Precise Racing Products RUSH Sportsman Modifieds in a Flynn's Tire Touring Series event ($800 to-win) for their "Manufacturers Night", the Terry Bowser Excavating RUSH Sprint Cars, and the Gibson Insurance Agency Pro Stocks. Race time is 7 p.m. The night is presented by A&MP Electric and its Miller Industries Night.
All Star Circuit of Champions Sprint Cars (30 laps, $6,000 to-win): 1. 39-CHRISTOPHER BELL[1]; 2. 13-Justin Peck[3]; 3. 42-Sye Lynch[2]; 4. 10-Zeb Wise[12]; 5. 11K-Michael Kofoid[6]; 6. 55-Hunter Schuerenberg[10]; 7. 4-Cap Henry[8]; 8. 26-Cory Eliason[17]; 9. 49X-Ian Madsen[14]; 10. 91-Kyle Reinhardt[22]; 11. 55-Alex Bowman[9]; 12. 7BC-Tyler Courtney[11]; 13. 19-Chris Windom[21]; 14. 70-Henry Malcuit[18]; 15. 99-Skylar Gee[23]; 16. 17-Carson Short[20]; 17. 48-Danny Dietrich[4]; 18. 11-Parker Price Miller[5]; 19. 10-Dave Blaney[7]; 20. 17B-Bill Balog[15]; 21. 18-Cole Macedo[24]; 22. 101-Lachlan McHugh[19]; 23. 23-Tim Shaffer[13]; 24. 70-Sammy Swindell[16].
DNQ for the feature: Brandon Matus (13), Conner Morrell (28M), Stuart Brubaker (35), Bob Felmlee (6), Sean Rayhall (14), Brent Matus (33), Zach Ames (8), Greg Wilson (97), Jeremy Weaver (35W), Michael Lutz, Jr. (86), Adam Kekich (5K), Chris Myers (25), Darren Pifer (23), Carl Bowser (11), Brent Brunkenhoefer (47), George Hobaugh (40), Logan McCandless (29).
Terry Bowser Excavating RUSH Sprint Cars (20 laps, $700 to-win): 1. 68-CHAD RUHLMAN[2]; 2. 69-Brian Hartzell[1]; 3. 25-Nolan Groves[8]; 4. 9-Arnie Kent[4]; 5. 43JR-Blaze Myers[5]; 6. 57N-Tyler Newhart[9]; 7. 41-Andy Priest[13]; 8. 44C-Bill Cunningham[7]; 9. 12-Ryan Fraley[3]; 10. 19-Brad Blackshear[6]; 11. 47-Jarod Larson[18]; 12. 1-Zack Wilson[11]; 13. 29-Brandon Shughart[15]; 14. 16C-Amelia Clay[10]; 15. 13K-Kevin Kaserman[17]; 16. 23-Charlie Utsinger[16]; 17. 5B-Joe Buccola[12]; 18. 77D-Dustin DeMattia[14].
Sharon Speedway is owned by the Blaney, Weller, and Kirila Families and is a 3/8-mile dirt track located on Custer-Orangeville Road in Hartford, Ohio near the intersection of Routes 7 & 305. For more information, check out the website at www.sharonspeedway.com or call 330-772-5481. Become a fan of Sharon Speedway on Facebook at www.facebook.com/sharonspeedway and follow us on Twitter at www.twitter.com/sharonspdwy.
---
Article Credit: Mike Leone
Back to News