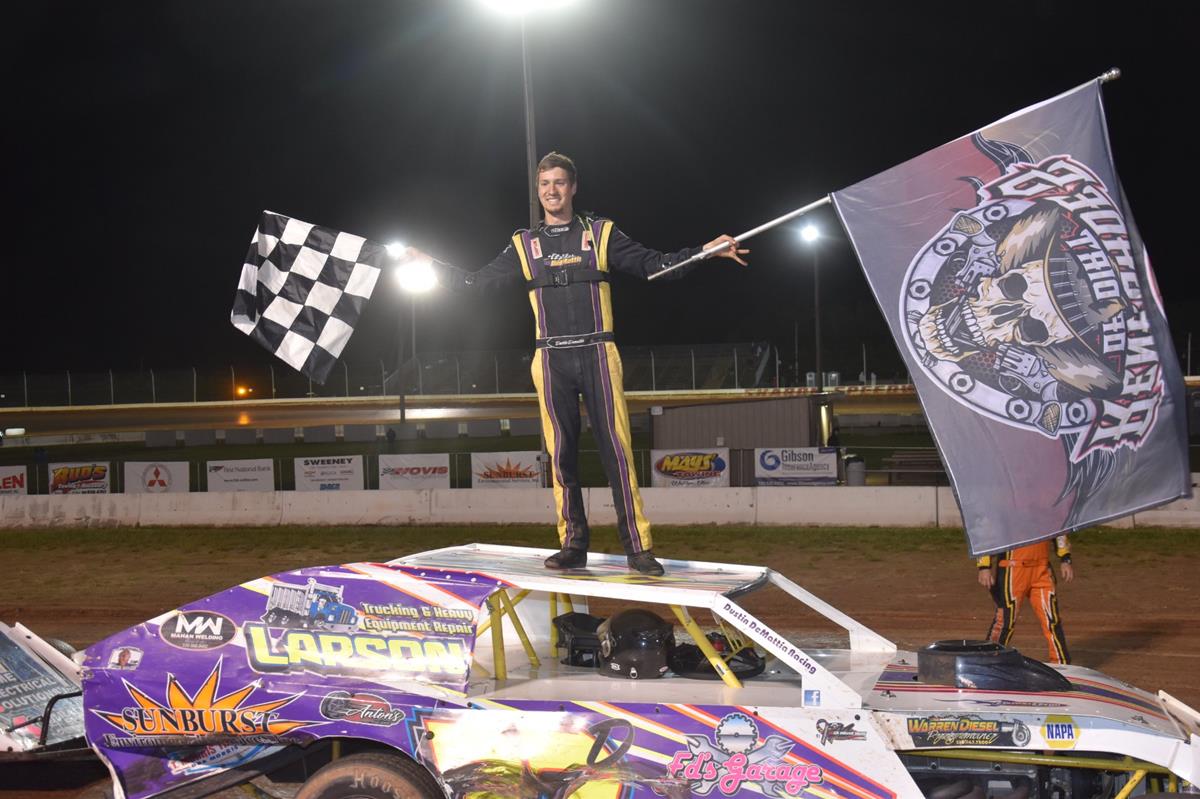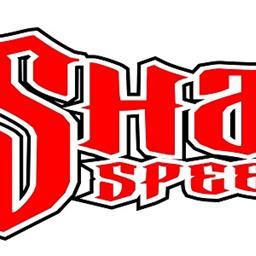 ---
DEMATTIA $1500 RICHER FOR 1ST RENEGADE UMP MOD VICTORY; CAREER 1ST SHARON WIN FOR EASLER IN RUSH MOD TOUR; RUTH & MCGUIRE ALSO WIN
By Mike Leone
June 18, 2022 FOR IMMEDIATE RELEASE
(Hartford, OH)…Sunshine and cooler temps graced fans and racers on Saturday night for the "Steel Valley Thunder" program presented by A&MP Electric. Celebrating in the Hovis Auto & truck Supply victory lane were Dustin DeMattia-Renegades of Dirt Hovis Auto & Truck Supply UMP Modifieds, Ben Easler-HTMA/Precise Racing Products RUSH Sportsman Modified Flynn's Tire Touring Series, Gale Ruth, Jr.-Terry Bowser Excavating RUSH Sprint Cars, and Chris McGuire-Gibson Insurance Agency Pro Stocks. Over $21,000 of valuable products were distributed to RUSH Sportsman Modified racers for their "Manufacturers Night" presented by MSD Performance. Ninety-seven cars filled the pit area for the four-division program on Miller Industries Night.
Three-time Econo Mod winner, Dustin DeMattia, scored a popular first ever UMP Modified victory on Saturday night at Sharon Speedway. After Joel Watson crashed in lapped traffic on lap 11, DeMattia regained the lead back and held off North Carolina invader Austin Holcombe and Econo Mod standout Jeremy Double in the closing laps for the $1,500 victory in the 25-lap Hovis Auto & Truck Supply feature for the Renegades of Dirt Series.
"This is definitely my biggest win yet," stated the 24-year-old Montville, Ohio racer. "I've won some big races here and won the Stampede at Lernerville (Speedway), but this puts the icing on the cake for my biggest one. I knew Austin (Holcombe) was good. I saw him poke his nose down there with two to go and that was the last thing I wanted to see. With lapped traffic coming up, I knew I could roll the middle better than he could. With lapped traffic on the bottom I thought that would be in my favor then the caution came out. At that point, I just tried to take his line away and it all worked out. This is a $5,000 race car that we cut up and reengineered to make our own and I can't ask anything more of it."
Ty Rhoades led the opening lap before spinning and bringing out the caution. DeMattia then took charge of the of the event, while fourth starting Joel Watson moved into second past Eddie Carrier, Jr. on lap three. Joe Gabrielson then passed Carrier for third on lap four. Watson was all over DeMattia on lap six before charging around DeMattia off the top of turn four on lap seven. Watson's lead would only last three more laps as he got into the lapped car of Chris Peterson and crashed in turn one on lap 11.
When racing resumed on the 11th circuit, Holcombe and Double disposed of Gabrielson for second and third respectively. The duo closed in on DeMattia on lap 20 and quite the battle for the lead was shaping up as it was nearly three-wide in turns and two in the ensuing laps, but a spin by Mason Lobb ended the battle bringing out the caution with 23 laps completed.
DeMattia kept Holcombe and Double at bay over the final two laps as he took the checkered flag first by 1.095 seconds for his fourth career Sharon win in his Larson Trucking/Sunburst Environmental/Henly Tool Supply/B&E Milk Cartage/Anton's Hot Rod Shop/Ed's Garage/Orwell American Legion-sponsored #77D. DeMattia became the 59th different driver all-time to win an E-Mod feature at Sharon in the 324 races run all-time.
Holcombe was second in his first ever Sharon appearance. Double's Econo Mod came home third. Gabrielson dropped to fourth over Nate Young. Garrett Calvert went 14th to sixth. Rhoades came back from his early spin for seventh. Carrier dropped to eight. Indiana racer Caleb DeMoss was ninth in his first ever Sharon visit. Scott Burk, Jr. rounded out the top 10. Heat winners over the 30-car field were Young, Double, and Burk. Rhoades won the dash for the six fastest qualifiers to earn the pole. Jacob Eucker captured the last chance B main.
While the box score may show 2021 RUSH Sportsman Modified "Futures Cup" Champion Ben Easler leading all 25 laps of the HTMA/Precise Racing Products feature, Easler's first career Flynn's Tire Touring Series and Sharon victory was far from routine for the 15-year-old. Easler had to fight off a mid-race challenge from 2020 "Futures Cup" Champion Ayden Cipriano then had Modified standout Garrett Krummert all over him in the final laps with two-time RUSH Weekly Series Champion Chas Wolbert on the prowl in third. Easler earned $800 for the thrilling victory in addition to $600 of product giveaways from Wrisco Industries and Big Daddy's Speed Center.
"That was so fun," expressed the Linesville, Pa. phenom. "You don't get to run the top here that often so it was real fun to get up there and race through lapped traffic. I knew Chas was there, but looking at the scoreboard Garrett must have ended up getting by him. That was a great race. I had no idea who was under me if it was Chas, Garrett or a lapped car. I was just trying to get by lapped cars. I just wanted this race to end so bad. I kept looking up at the scoreboard and counting down the laps and was praying. It was awesome to see those guys like Chas, Garrett, and Tony (Tatgenhorst) here. I knew it was going to be a real fun night so it means a lot to race against guys like that and win. It means a lot to win for my dad- it's a great Father's Day gift. He walks around the pits all nerved up and paces so you could tell he was extra nervous for this one, but he seems pretty chill and excited now."
Jordan Ehrenberg and Easler led the 25-car field to green as Easler used the outside to race into the lead with Clayton Deems going from fourth to second. Dalton Gabriel brought out the first caution of the event with three laps completed. When racing resumed, fifth starting Kole Holden moved past Ehrenberg for third. Meanwhile, ninth starting Wolbert was on the move as he cracked the top five on lap four then drove around Ehrenberg and Holden for third on lap five. After dropping back to seventh from the third starting spot early on, Cipriano found the top to his liking as he drove around Holden for fourth on lap seven.
The second and final caution of the event was displayed for J.C. Boyer, who spun with 12 laps completed. When racing resumed, it was three-wide for second with Wolbert and Cipriano getting by Deems. Cipriano then powered around Wolbert for second on lap 14. Cipriano went after Easler, but Easler changed lines to block Cipriano from taking the lead. Cipriano got into the fence on lap 15 allowing Wolbert and Krummert to get by for second and third. One lap later, Krummert disposed of Wolbert for runner-up and then went on the charge after Easler.
Lapped traffic came into play on lap 20 allowing Krummert to close in. Krummert was right on the youngster on lap 21. The final four laps saw Krummert hound Easler, but Easler made the right moves in lapped traffic and Krummert was unable to make a move with the lapped cars running the middle and bottom of the track. Easler took the checkered flag first for his third career RUSH Sportsman Modified win by 0.800 seconds in the Jason Easler-owned, Crawford Custom Consulting/Titusville Ford/Pore's Bodywax/Espyville Heating & Air/Tanner Southern Auto Parts/Latta Bros. Racing/Russ King Racing/Smokin J's Country Corner Inn/Lakeside Lanes/Happy Hill Farms-sponsored #02.
Krummert, who won the RUSH Tour points in 2018 and 2019, crossed the line in second. Wolbert, who has been racing Big-Block Modifieds in 2022, was third in his first RUSH start of the season. Cipriano was fourth over Deems. Holden crossed the finish in sixth over 13th starting Tony Tatgenhorst. Jacob Wolfe, Ehrenberg, and Justin Shea completed the top 10. Easler, Holden, and Clayton Deems won the heat races.
Gale Ruth, Jr. entered the night with 18 career RUSH Sprint Car wins around the circuit, but had never been able to find victory lane in the non-wing cars at Sharon. That changed on Saturday night when Ruth got back by Nolan Groves following a restart on lap 13 to become the third different winner in as many Terry Bowser Excavating features run in 2022, and 11th all-time in the four-year history of the division at Sharon.
"Man the Lord is good to me," acknowledged the 44-year-old Pleasantville, Pa. driver. "He blessed me with this ride. I can't say enough with the Lord in my life what he has blessed me with. We're not very good on a track like this, but he put me up front and we're here because of it. I'm not a very patient guy. I like to be up on throttle, but I just told myself not to overdrive the car. I thought about going to the top, but decided to stick to the bottom. The McConnell Family has been so good to me. Rich puts so much time into this along with his wife and daughter. They all make this possible and I'm just glad I get to drive this car. To win in the RUSH car here means so much after we struggled and struggled here."
Ruth took off in the lead at the start of the 20-lap feature with Brian Hartzell and Blaze Myers in tow. After falling out of the top five early, Groves went to the top of the track and passed Chad Ruhlman for fifth on lap three then ripped around John Mollick, Myers, and Hartzell for second on lap five. By lap eight, Ruth and Groves pulled away from the pack. While Ruth was running the bottom, Groves was banging the boards around the top and was cutting into Ruth's lead. Groves caught Ruth on l0 and after racing side-by-side on lap 11, made the pass racing off the top of turn four.
A caution for Brian Cressley wasn't what Groves wanted to see. When racing resumed, Ruth slipped under Groves to take back the lead on lap 13. Groves hit the fence a couple times and wasn't able to regain his rhythm as Ruth pulled away and took the win by 1.668 seconds in the Rich McConnell-owned, Rustler Sales & Service/Krill Recycling/Economy Landscaping/Boice's Auto Sales/Fat Chad's Taproom & Steakhouse/Knox Bakery/Matus Motorsports-sponsored #24. The victory was Ruth's second of his career at Sharon as he won a "410" Sprint Car race in 2010.
Groves' second was his best finish of 2022. Hartzell recorded his third podium finish of the year and fourth straight at Sharon dating back to last year. Ryan Fraley, who won his first career RUSH Sprint race on June 4, went 11th to fourth. After winning his first in a UMP Mod earlier in the night, Dustin DeMattia went seventh to fifth in just his second career Sprint Car start! Ruhlman, who won on Tuesday night, was sixth. Myers dropped to seventh as Jarod Larson, Mollick, and Bill Cunningham completed the top 10. Heat winners were Ruhlman and Groves over the 20-car field.
After three rainouts to start the year, the Gibson Insurance Agency Pro Stocks were finally able to complete their first night of racing during the 93rd anniversary season at Sharon. And one driver that was certainly glad was Chris McGuire. The 2018 track champion started sixth and made the winning pass on 32-time winner Steve D'Apolito at the halfway point of the 20-lap feature and went unchallenged to the $550 victory.
"The car was really good and the longer we raced the car kept getting better and better," explained the 30-year-old Erie, Pa. resident. "Dave (Willoughby) and his crew gave us a phenomenal track to race on. It feels like home up there (top of the track). The car has been so good here. The car is decent on the bottom, but I can keep up so much momentum on the top."
D'Apolito led the first three laps before Coleton Longwell flew around the top into the lead off turn four on lap four. The #7 of Longwell would exit the event on the seventh lap handing the lead back to D'Apolito, who was starting to feel pressure from McGuire. On lap eight, D'Apolito got hung up behind a lapped car allowing McGuire to power on by. D'Apolito regained the lead on lap nine, but that was the last time the #84 would be out front as McGuire nosed ahead to lead lap 10 before the event's first caution.
After another caution on lap 12, the final eight laps went green-to-checkered. McGuire pulled away every lap and took the checkered flag over D'Apolito for his seventh career win by a commanding 3.158 seconds in his #63 sponsored by Welders Supply, Tobber Racing, Beacon Lubricants, Bob Swanson's Garage, Ed's Drywall, Knight Vineyards, and Wedge Motorsports.
Chris Schneider started ninth and finished a distant third. Former UMP Mod racer Scott Stiffler was fourth over Brian Carothers. Jonathan Davis, Christian Schneider, Larry Kugel, Dale Tuche, and Jason Johns completed the top 10. Kugel earned the $100 Summit Racing Equipment Hard Charger gift card for passing eight cars.
Coming up next Saturday (June 25) will be the return of the Hovis Auto & Truck Supply "410" Sprint Cars in a $3,000 to-win "Super Series" event along with the Terry Bowser Excavating RUSH Sprint Cars, Gibson Insurance Agency Pro Stocks, and the Whelen Econo Mods. Race time is 7 p.m.
Renegades of Dirt Hovis Auto & Truck Supply UMP Modifieds (25 laps, $1,500 to-win): 1. 77D-DUSTIN DEMATTIA[3]; 2. 8A-Austin Holcombe[6]; 3. 83-Jeremy Double[8]; 4. 58-Joe Gabrielson[5]; 5. 42-Nate Young[7]; 6. 7G-Garrett Calvert[14]; 7. 12R-Ty Rhoades[1]; 8. 13-Eddie Carrier Jr[2]; 9. 79C-Caleb DeMoss[11]; 10. 2-Scott Burk Jr[9]; 11. 79D-John Demoss[12]; 12. 64-Jacob Eucker[19]; 13. 98-Keith Felicetty[10]; 14. 8B-Brian Toto[13]; 15. 1-Vinnie DePizzo[18]; 16. 32-Alan Atkinson[20]; 17. 17-Jason Gracey[22]; 18. 2F-Judson Fell II[16]; 19. 21-Eric Reinwald[17]; 20. 28-Mason Lobb[23]; 21. 92-Joel Watson[4]; 22. 25P-Chris Peterson[24]; 23. 27-Jeff Johnson[15]; 24. 55-Alyssa Rowe[21]. DNQ: Dale Reiser (62), Jim Plance (4J), Dennis Dellinger (17), Ed Wilson, Jr. (33), Alex Siekkinen (20), Kenny Meadows (10T).
HTMA/Precise Racing Products RUSH Sportsman Modified Flynn's Tire Touring Series (25 laps, $800 to-win): 1. 02-BEN EASLER[2]; 2. 10S-Garrett Krummert[7]; 3. 01T-Chas Wolbert[9]; 4. 5C-Ayden Cipriano[3]; 5. 55R-Clayton Deems[4]; 6. 2-Kole Holden[5]; 7. 63T-Tony Tatgenhorst[13]; 8. 7-Jacob Wolfe[10]; 9. JD57-Jordan Ehrenberg[1]; 10. 14S-Justin Shea[6]; 11. 9D-Josh Deems[19]; 12. 29M-Leo McGurrin[18]; 13. 00-Rob Kristyak[8]; 14. 1R-Brandon Ritchey[12]; 15. 28J-Jacob Jordan[11]; 16. 12-JC Boyer[22]; 17. 8-Kyle Martell[16]; 18. 29-Cole Edwards[15]; 19. 46R-Doug Rutana[23]; 20. 57R-Jacob Rutana[20]; 21. 25-Greg Porter[25]; 22. 571-Josh Ehrenberg[17]; 23. 2LC-Lucas Canon[24]; 24. 111-Dave Price[21]; 25. 333G-Dalton Gabriel[14].
Terry Bowser Excavating RUSH Sprint Cars (20 laps, $600 to-win): 1. 24-GALE RUTH JR[1]; 2. 25-Nolan Groves[5]; 3. 69-Brian Hartzell[2]; 4. 12-Ryan Fraley[11]; 5. 77D-Dustin DeMattia[7]; 6. 68-Chad Ruhlman[6]; 7. 43JR-Blaze Myers[4]; 8. 47-Jarod Larson[8]; 9. 4J-John Mollick[3]; 10. 44C-Bill Cunningham[12]; 11. 9-Arnie Kent[10]; 12. 1T-Ricky Tucker Jr[15]; 13. 5B-Joe Buccola[13]; 14. 29-Brandon Shughart[9]; 15. 1-Zach Morrow[20]; 16. 16C-Amelia Clay[14]; 17. 13K-Kevin Kaserman[18]; 18. 23-Charlie Utsinger[16]; 19. 62-Brian Cressley[17]; 20. 19-Brad Blackshear[19].
Gibson Insurance Agency Pro Stocks (20 laps, $550 to-win): 1. 63-CHRIS MCGUIRE[6]; 2. 84-Steve D'Apolito[1]; 3. 55-Chris Schneider[9]; 4. 14-Scott Stiffler[7]; 5. 02C-Brian Carothers[4]; 6. 8-Jonathan Davis[15]; 7. 74-Christian Schneider[13]; 8. 0-Larry Kugel[18]; 9. 310-Dale Tuche[2]; 10. 31-Jason Johns[12]; 11. 67J-Jamie Duncan[8]; 12. 81-Jason Jones[14]; 13. 82R-Ray Gregory[17]; 14. 97-Tony Bruno[19]; 15. 3-Paul Davis[11]; 16. 11S-Jamie Scharba[10]; 17. 12M-Scott Malone[16]; 18. 21-Troy DeZarn[21]; 19. 7-Coleton Longwell[3]; 20. 13J-Jordan Perkins[5]. DNS: Blake Scharba (12B), Buzz Seitz (1).
Sharon Speedway is owned by the Blaney, Weller, and Kirila Families and is a 3/8-mile dirt track located on Custer-Orangeville Road in Hartford, Ohio near the intersection of Routes 7 & 305. For more information, check out the website at www.sharonspeedway.com or call 330-772-5481. Become a fan of Sharon Speedway on Facebook at www.facebook.com/sharonspeedway and follow us on Twitter at www.twitter.com/sharonspdwy.
---
Article Credit: Mike Leone
Back to News