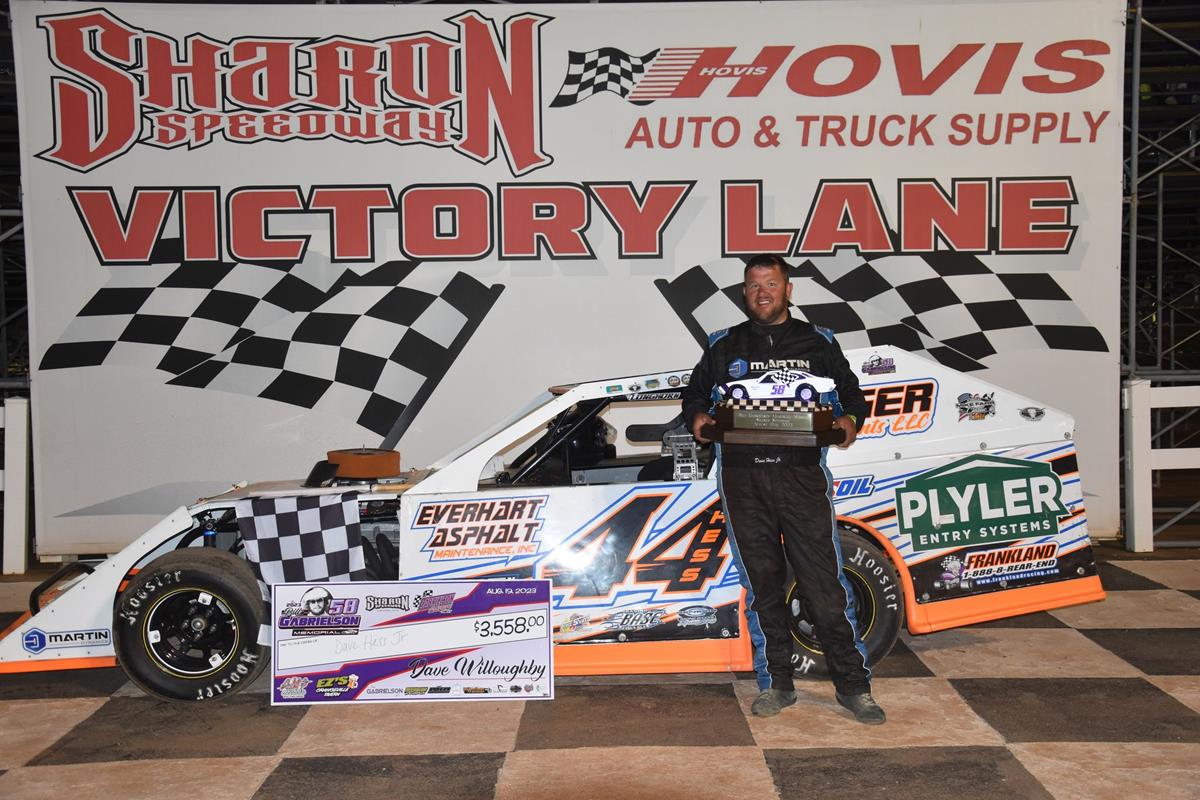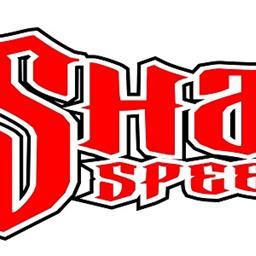 ---
DAVE HESS JR WINS $4100+ IN UMP MOD "BILL GABRIELSON MEMORIAL"; 1ST WINS FOR MYERS (RUSH SPRINTS) & CALVERT (ECONO MODS); #3 FOR EASLER IN RUSH MODS
By Mike Leone
August 19, 2023
(Hartford, OH)...Beautiful weather graced Sharon Speedway on Saturday night for the inaugural "Bill Gabrielson Memorial" presented by EZ's Orangeville Tavern and A&MP Electric. Three drivers celebrated their first wins of the season in the Hovis Auto & Truck Supply victory lane including Dave Hess, Jr.-Hovis Auto & Truck Supply UMP Modifieds, Blaze Myers-Terry Bowser Excavating RUSH Sprint Cars and Garrett Calvert-Whelen Econo Mods, while Ben Easler became the top winner in the HTMA/Precise Racing Products RUSH Sportsman Modifieds. A season high 101 cars filled the pit area for the four-division program on Integra Excavating Night.
Making his first visit of the season, Dave Hess, Jr. put on a dominating performance. Hess won the dash then proceeded to lead all 30 laps of the inaugural "Bill Gabrielson Memorial" feature over a star-studded field of UMP Modified competitors. Hess pocketed $4,116 for his night's earnings!
"The field of cars that are here is second to just about none," stated the 39-year-old Waterford, Pa. standout. "We've traveled for a lot of years with the Modifieds and the guys that are here are just as tough as anyone that I've ever raced against. When we showed up and saw the cars that were in the pits we knew we had our work cut out, but to be able to rise to the top is a great feeling."
"We made a couple minor changes after the dash but this car took great to this race track," continued Hess. "There were a couple bumps that were getting me in the dash, but once they did a little track work at intermission it smoothed it up enough that made it much more comfortable up there by the wall. I started figuring out at the end I could roll the middle and drift up to the top and that seemed much safer for me. This Longhorn Chassis was dialed in and I have to thank all my crew guys as this just keeps getting better and better in time for some big races at the end of the year. Also, I have to thank Joe and Crystal Sanger for believing in me and giving me a shot to drive their car."
Hess took off in the lead over fast qualifier Nathon Loney, while Dan Davies passed Jeremy Double for third. Hess immediately stretched out his lead in the early laps. Davies meanwhile began to work on Loney and drove around the Ohio invader in turn four on lap four for second. By the time fourth starting Davies got to second, Hess had a lead of 3.8 seconds built up. Hess caught lapped traffic on lap eight as his lead ballooned to more than four seconds. A caution for July 22 winner Bud Watson erased Hess' lead with nine laps scored.
When racing resumed on lap 10, ninth starting David Stremme went sixth to third. Stremme then muscled second away from Davies following a restart on lap 13. The event's final caution slowed action when Nate Young got into the fence running seventh. He was chosen as the hard luck recipient and picked up an extra $100.
The caution put Stremme alongside Hess for the double file restart, but Hess was too strong on the top and quickly pulled away once again. Hess caught lapped traffic on lap 29, but it wouldn't matter. When the checkered flag waved, Hess crossed the finish line first by a margin of 5.594 seconds in the Sanger's Investments/Everhart Asphalt Maintenance/Plyer Entry Systems/Johnson's Car Care & Collision/Frankland Racing Supply/Furniture Town/Jackson Water Hauling/Sandman Concrete-sponsored #44. It was Hess' first Sharon win since April 24, 2021 and was the fifth of his career, which is the same number of victories his father Dave Hess, Sr. had in the Super Late Models.
Stremme earned $1,158 for second. "Dave (Hess) is always really good," stated the 46-year-old South Bend, Indiana native, who now calls Mifflintown, Pa. home. "I just got too tight running up there where he was at so I had to run the middle to bottom and search around. Dave (Willoughby) and the track crew did a great job. It was fun and you could race all over the place. You couldn't have asked for a better race track other than maybe not as much tackiness up there in (turns) one and two, but no they did a really great job. I had a lot of fun and we'll come back again sometime."
Ty Rhoades, who won the last UMP Mod show at Sharon on August 5, was third for $1,058 after getting by Davies on lap 17. Davies was fourth over Double. Loney dropped to sixth. Adam Stricker, who made his first ever visit, went 12th to 7th. Brent Rhebergen raced from 15th to 8th. Joel Watson was ninth over Michael Altobelli. After earning the last transfer spot in B main 1, Mason Lobb started 23rd in the feature and finished 13th to earn the $158 hard charger honor.
Loney set fast time over the 38-car field with a lap of 17.551 to earn $358 ($200 from FTM Contracting and $158 from the Gabrielson Family). Winning the $158 heat races presented by the Gabrielson Family were Rhoades, Young, Stremme, and Joe Gabrielson. Watson and Mike McGee won the twin last chance B mains.
After finishing second to Chad Ruhlman in three of the four RUSH Sprint Car races at Sharon this year, Myers finally put it to the standout racer. Myers charged from eighth to make a last lap pass of Ruhlman in his heat race to earn the outside pole then fended off Ruhlman in the 20-lap Terry Bowser Excavating feature for his first victory of the season at Sharon; however, it was his third straight on the Hovis Auto & Truck Supply RUSH circuit in Sunbelt Rentals Weekly Series action. The caution-free feature was timed in 6:53.887.
"I have all due respect for Chad (Ruhlman) but damn it's hard to beat him," expressed the 19-year-old Franklin, Pa. resident. "This is unbelievable. I know I haven't raced for all the years that Chad has but this is my first three in a row so I'm pretty happy right now. At the beginning, I didn't think I had enough when I saw Ryan (Fraley) down on the bottom digging away then he disappeared. I have to thank my entire family, my amazing girlfriend Riley, everyone that comes to support me, and most importantly everyone that's on this car as I couldn't do it without them- they are amazing people, amazing companies."
Fourth starting Ryan Fraley and Myers raced side-by-side for the first four laps trading the lead several times before Myers broke free on lap five. Ruhlman meanwhile started fifth and was up to fourth on lap four. Ruhlman had the outside working as he drove around Brandon Blackshear in turn two on lap six for third then did the same to Fraley two laps later for second.
Myers had a near two-second advantage built up when Ruhlman made his way to second. Ruhlman began to close in on Myers on lap 12, but Myers changed his line slightly and began to pull back away on lap 14. Myers crossed the finish first by 2.386 seconds in his J.I. McCall Construction/John Pleger Roofing/Billy's Garage/Linda Lou's Restaurant/Lowry Auto Body/DiFrischia Recycling/McDaniel & Assoc. Tax Prep/J.I.'s Place/Jolley Roofing & Construction/Bodien's Hot Dog Stand-sponsored #43JR. It was Myers' second career win in the division and third overall at Sharon as he also has a RUSH Sportsman Modified victory.
Ruhlman had to settle for second after winning the first four shows. Fraley was third after leading early on. John Mollick went ninth to fourth to earn the $100 Summit Racing Equipment Hard Charger gift card. Pole-sitter Brandon Blackshear dropped to fifth. Arnie Kent went 11th to 6th over Bill Cunningham. Zach Morrow made his debut in Bob Graham's #6 and was 8th after starting 12th. Gale Ruth, Jr. faded from third to ninth as Zack Wilson completed the top 10. Heat winners over the season high 24-car field were Blackshear, Myers, and Ruth.
Ben Easler became the top winner of the season in the RUSH Sportsman Modifieds. Easler led wire-to-wire in the 20-lap HTMA/Precise Racing Products feature for his third victory of 2023. Like the RUSH Sprint Cars, the RUSH Modifieds also went caution-free in their 20 lapper as it was timed in 6:34.648.
"We've been so fortunate to have good cars here but have been on the struggle bus of late," explained the 16-year-old Linesville, Pa. driver. "We've had so much go wrong and bad luck, but to get back here in victory lane is a blessing. I passed for the lead off turn two and after that it was pretty much cruise control. I felt like I had a really awesome car and just had to be patient through lapped traffic. I'm just blessed to have a really good car and to be able to come out here and win in good fashion."
Easler out-dueled pole-sitter JC Boyer on the opening lap for the lead. Ayden Cipriano passed Boyer on the outside for second on lap two. Cipriano continued to run the top for nearly the duration of the event as he battled with Boyer, but the duo lost ground on Easler. Without a caution, Easler went uncontested to his fifth career win by a commanding 4.724 seconds in the Jason Easler-owned, Crawford Custom Consulting/Titusville Ford/Pore's Bodywax/Espyville Heating & Air/Russ King Racing/Lakeside Lanes/Happy Hill Farms-sponsored #02.
After leading in the final stages of the last two races only to have his engine expire twice, Cipriano finally brought his father's #5C home safely across the finish line in second. Boyer was third over Kole Holden. Rob Kristyak, who won the last show on August 5 and was the victor on Friday night at Raceway 7 in Wedge Motorsports "Route 7 Rumble" Series action, was fifth. Tony Tatgenhorst, Doug Rutana, Dalton Gabriel, Jacob Rutana, and Jacob Jordan rounded out the top 10. Heat victors were Boyer and Easler.
Garrett Calvert capped off the night by becoming the third new winner of the season. Calvert battled with Steve Haefke, Jr. for much of the race until Haefke suffered a flat tire then had to hold off 11th starting Jacob Eucker to score the victory in the 20-lap Whelen Econo Mod feature.
"I think I ran the most laps here of anyone," quipped the 26-year-old Cochranton, Pa. victor. "Jake (Eucker) was putting pressure on me. I knew he had the outside so I tried cutting him off a little coming out of the corners so hopefully he didn't have a good enough run on me. It's been awhile since I've been in victory lane here. The last time I won I drove two cars so apparently it's a good omen."
Haefke and Calvert led the field to green with Calvert taking the early lead before a five-car pile-up in turn two slowed action. When racing resumed on lap three, Eucker was already up to fourth. Eucker then took over third from Scott Burk, Jr. on lap eight after a side-by-side battle for several laps. A caution for a flat tire for Don May, Jr. slowed action with nine laps completed.
When green replaced yellow on lap 10, Haefke made the outside work on the restart to take charge. Haefke was never able to get much breathing room though as Calvert stayed right with the leader. In lapped traffic in turn four on lap 18, the two made contact with Haefke suffering a flat tire and ending his bid for his first win in the division. Calvert then denied Eucker of his third straight win by holding him off in the two-lap dash to finish as Calvert's Great Lakes Speed Shop/D&F Precision Machine/Winans Racing/Custom Automation Machine/Bath Pro Renovations-sponsored #7G took his second career win by 0.952 seconds.
Burk was a season best third. Making just his second start of the season, George Vestal IV went ninth to fourth over Bryan Wagner. After getting caught up in the big accident on lap three, Josh Double charged back through the pack to finish sixth subbing for his brother Jeremy, who was running the UMP Mods. Robert Simmons went 17th to 7th over 16th starting Branden Porter, while Gary Robinson and 15th starting Troy Pinch completed the top 10.
In addition to EZ's Orangeville Tavern and A&MP Electric being the presenting sponsor of the "Bill Gabrielson Memorial", thank you to the following sponsors for making the event possible: Gabrielson Motorsports, Paul Gabrielson Sr., Russ King Racing, Warren Diesel Performance, Razor Sharp Logistics, Gustavus Veterinary Service, Ady Excavating, Buckeye Construction, J&C Kustom Creations, Nathan Roman Financial Advisor, Mike Forney, Anita Carson, Darkside 6 Motorsports, Shoreline Truck Service, Jack Young Racing, Jarett Young Racing, Garrett Calvert Racing, Big Ed's Tire Service, Showtime Restoration, Midway Garage Doors, King Bros. Ready Mix Concrete, Gina Santagata (In memory of Jim "Tugboat" Santagata), Benny Trask, Buddy and Kim Starcher, Twin-State Auto Racing Club, FTM Contracting, and Jim Glass.
Coming up next Saturday (August 26), the Hovis Auto & Truck Supply Big-Block Modifieds will return racing for $1,500 to-win. It'll also be the rescheduled "Ray's Race" presented by R&R Enterprises and Virgile Iron & Scrap for the Gibson Insurance Agency Pro Stocks paying $2,000 to-win, $150 to-start. The Whelen Econo Mods and the HTMA/Precise Racing Products RUSH Sportsman Modifieds will round out the four-division show. Group qualifying for the Stocks will get underway at 6:40 p.m. followed by racing.
Then on Wednesday, August 30, it'll be the second installment of "Wednesday Night Thunder" presented by Cortland Mower Sales as the "410" Sprints will race for $4,000 to-win, while the Big-Block Modifieds return for $2,000 to-win. There will be no racing over Labor Day weekend.
Hovis Auto & Truck Supply UMP Modifieds "Bill Gabrielson Memorial" (30 laps, $3,585 to-win): 1. 44-DAVE HESS JR[1]; 2. 35-David Stremme[9]; 3. 12R-Ty Rhoades[7]; 4. 71D-Dan Davies[4]; 5. 83-Jeremy Double[3]; 6. 10-Nathon Loney[2]; 7. 68-Adam Stricker[12]; 8. 07R-Brent Rhebergen[15]; 9. 92-Joel Watson[6]; 10. 95-Michael Altobelli[14]; 11. 11M-Mike McGee[20]; 12. 20-Brian Skaggs[11]; 13. 28-Mason Lobb[23]; 14. 77D-Dustin DeMattia[13]; 15. 58-Joe Gabrielson[10]; 16. 21Y-Jarrett Young[24]; 17. 12C-Garrett Calvert[21]; 18. 1-Vinnie DePizzo[18]; 19. 9T-Mason Canter[22]; 20. 21R-Randy Bauknecht[17]; 21. 71C-Chris Basich[5]; 22. 42-Nate Young[8]; 23. 99L-Kyle Layton[16]; 24. 225-Bud Watson[19].
DNQ for the feature: Mark Titus (25), Steve Rex (27R), Mike Eschrich (99E), Jim Plance (4J), Andrew Beatman (5B), Gary Olson (23), Chuck Steinle, Jr. (71E), Brandon Grossman (17G), Jeremy Holbrook (51), Dan McDonald (39), Chad Wright (6), Jason Gracey (17), Jack Young (67), Mike Potosky (m20).
Longest Tow ($158) from the Gabrielson Family: Brian Skaggs
Pill 58 ($100) from Spencer Motorsports: Dave Hess, Jr.
Leader on lap 5 ($50) from Spencer Motorsports: Dave Hess, Jr.
Leader on lap 8 ($50) from Spencer Motorsports: Dave Hess, Jr.
5th on lap 5 ($50) from Jack Young Racing: Ty Rhoades
8th on lap 8 ($50) from Jarrett Young Racing: David Stremme
5th place (Hoosier Tire) & $50 from Jim Glass: Jeremy Double
8th place (Hoosier Tire) & $50 from Jim Glass: Brent Rhebergen
15th place ($58) from Twin-State Auto Racing Club: Joe Gabrielson
Hard Charger ($158) from the Gabrielson Family: Mason Lobb
Hard Luck ($100) from Spencer Motorsports: Nate Young
Terry Bowser Excavating RUSH Sprint Cars (20 laps): 1. 43JR-BLAZE MYERS[2]; 2. 68-Chad Ruhlman[5]; 3. 12-Ryan Fraley[4]; 4. 4J-John Mollick[9]; 5. 10-Brandon Blackshear[1]; 6. 9-Arnie Kent[11]; 7. 44C-Bill Cunningham[7]; 8. 6-Zach Morrow[12]; 9. 24-Gale Ruth Jr[3]; 10. 1-Zack Wilson[8]; 11. 41-Brian Cressley[10]; 12. 23-Charlie Utsinger[16]; 13. 19-Brad Blackshear[6]; 14. 69X-AJ MacQuarrie[18]; 15. 5B-Joe Buccola[19]; 16. 1T-Ricky Tucker Jr[15]; 17. 20-Jeff Metsger[13]; 18. 68K-Kevin Ruhlman[14]; 19. 16C-Amelia Clay[17]; 20. 29-Brandon Shughart[24]; 21. 54-Devon Deeter[20]; 22. 13K-Kevin Kaserman[23]; 23. 56-Tyler Clark[22]; 24. (DNS) 17M-CJ McClintock
HTMA/Precise Racing Products RUSH Sportsman Modifieds (20 laps): 1. 02-BEN EASLER[2]; 2. 5C-Ayden Cipriano[3]; 3. 12-JC Boyer[1]; 4. 2-Kole Holden[5]; 5. 00-Rob Kristyak[6]; 6. 60-Tony Tatgenhorst[8]; 7. 46R-Doug Rutana[4]; 8. 333G-Dalton Gabriel[7]; 9. 57R-Jacob Rutana[9]; 10. 28J-Jacob Jordan[11]; 11. 59-Bill Cunningham[13]; 12. 1*-Jeff Watson[10]; 13. 2LC-Lucas Canon[14]; 14. 59C-Billy Cunningham Jr[12]; 15. 00K-Jackson Kristyak[16]; 16. 0-Mike Smith[15].
Whelen Econo Mods (20 laps): 1. 7G-GARRETT CALVERT[2]; 2. 64-Jacob Eucker[12]; 3. 2-Scott Burk Jr[3]; 4. 4-George Vestal IV[10]; 5. 56-Bryan Wagner[5]; 6. 83-Josh Double[9]; 7. 4RJ-Robert Simmons[17]; 8. 2P-Branden Porter[16]; 9. 44R-Gary Robinson[6]; 10. 12-Troy Pinch[15]; 11. 71A-Don Watson[18]; 12. 89C-Travis Carothers[20]; 13. B4-Buzz Seitz[14]; 14. 20-Alex Siekkinen[23]; 15. 35-Rick Wilson Jr[19]; 16. 39-Steve Haefke, Jr.[1]; 17. 47S-Gary Sullivan[8]; 18. 15-Eric Nellis II[13]; 19. 5M-Donnie May[7]; 20. 26X-Carter Bidwell[11]. DNS: 8B-Brian Toto, 55W-Bob Wagner, 37-Ryan Wisniowski.
Sharon Speedway is owned by the Blaney, Weller, and Kirila Families and is a 3/8-mile dirt track located on Custer-Orangeville Road in Hartford, Ohio near the intersection of Routes 7 & 305. For more information, check out the website at www.sharonspeedway.com or call 330-772-5481. Become a fan of Sharon Speedway on Facebook at www.facebook.com/sharonspeedway and follow us on Twitter at www.twitter.com/sharonspdwy.
---
Article Credit: Mike Leone
Back to News