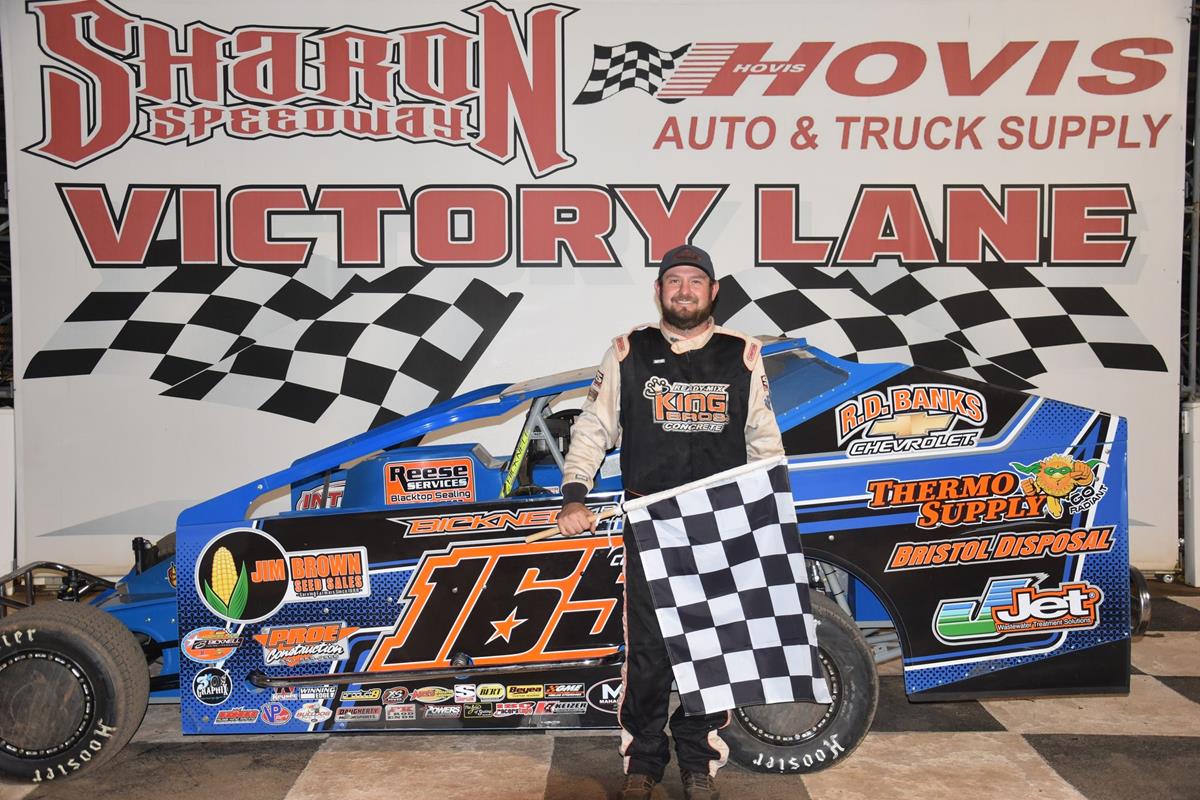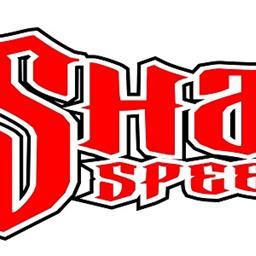 ---
LAST LAP PASS NETS REX KING JR BIG-BLOCK MOD WIN; CAREER 1ST SHARON STOCK WIN FOR TYLER DIETZ IN $2000 "RAY'S RACE"; CIPRIANO & DOUBLE REPEAT
By Mike Leone
August 26, 2023
(Hartford, OH)…After several rainy and dreary days, skies cleared late Saturday morning resulting in a beautiful evening at Sharon Speedway for the final "Steel Valley Thunder" program of the 94th anniversary season. Celebrating in the Hovis Auto & Truck Supply victory lane on Mark Thomas Ford Night were Rex King, Jr.-Hovis Auto & Truck Supply Big-Block Modifieds, Tyler Dietz-Gibson Insurance Agency Pro Stocks in "Ray's Race" presented by R&R Enterprises and Virgile Iron & Scrap, Ayden Cipriano-HTMA/Precise Racing Products RUSH Sportsman Modifieds, and Jeremy Double-Whelen Econo Mods. One hundred cars filled the pits missing the season high 101 cars obtained the week before.
Rex King, Jr. took advantage of a caution on the last lap and stole a career first Big-Block Modified win away from Will Thomas III on the ensuing restart in the 20-lap Hovis Auto & Truck Supply feature. King became the season's third different winner in three races and earned $1,500 thanks to sponsorship from Alcon Mechanical, Autism Awareness, King Bros. Ready Mix Concrete, King's Sanitary Services, and Russ King Racing.
"We fell back early in the race and that little Ayden Cipriano had to show me where to run," explained the 32-year-old Bristolville, Ohio standout. "He drove by me on the outside and I was like 'man I better get up there because I'm falling back quick'. If it would have stayed green, Will (Thomas) would be here right now, but that last caution played in our favor. He had a great car. I was in the traction wide open and he was going through the slick and navigating the spot better. It's always fun here especially when the track is like this. We had some stuff up against the wall. I know they had a lot of water and were worried about it, but it came out great and I don't think you could ask for anything better. I don't know how the racing was behind me, but I can tell you the racing in front of me was awesome!"
Chas Wolbert set sail early on taking the lead from pole-sitter Mike Kinney, while Thomas passed Chad Reitz for third on the opening lap. Thomas then drove around Kinney for second on lap two and began to close in on Wolbert on lap five. Thomas pulled even with Wolbert on lap six before a caution for Brad Rapp. Ayden Cipriano started eighth and found the high side to his liking as he was up to third when racing resumed on lap seven in his "358" powered car.
On lap eight, Wolbert and Thomas continued their side-by-side battle. On lap 10, the two made heavy contact going down the backstretch as Thomas got by for the lead. A caution for Steve Feder slowed action at the halfway point. King, who started fifth, wasn't even a factor in the first half of the event, but became a contender when racing resumed on lap 11 as he took over second.
All eyes shifted to Garrett Krummert, who started 18th after breaking a rear-end in a heat race accident. Krummert moved into the top five following the restart, passed Justin Shea for fourth on lap 12, and nabbed third from Wolbert on lap 13. Krummert appeared to have the fastest car, but both Thomas and King were running the preferred high line as the laps were ticking off; however, Rob Kristyak went up in smoke setting up a one-lap shootout to the finish.
Thomas chose the bottom for the double file restart, and it was King with the momentum on the top as he shot past Thomas off turn two on the final lap. King's Jim Brown Seed Sales/RD Banks Chevrolet/Bristol Disposal/Reese Services/Thermo Supply/Jet/Proe Construction-sponsored #165 went on for his 28th career win by 0.545 seconds. Thomas was a disappointed second with Krummert third. Cipriano had a great run in fourth with Shea coming from 13th to complete the top five.
After starting on the front row, Wolbert and Kinney dropped to sixth and seventh respectively at the finish. Jim Rasey was eighth. J.R. McGinley was ninth aboard Rick Regalski's #13. Kyle Fink completed the top 10. Heat winners were Rapp and King over the 19-car field.
Tyler Dietz has won a lot of Pro Stock races all throughout the East, but had never won at Sharon before. That changed on Saturday night as the four-time and recently crowned Lernerville Speedway track champion passed fellow Lernerville regular Chase Lambert on lap six and went uncontested to the 25-lap Gibson Insurance Agency $2,000 victory in the sixth annual "Ray's Race" honoring the late Ray Virgile. In doing so, Dietz became the event's six different winner! Dietz also became the amazing 9th different winner in 10 Pro Stock races this season at Sharon!
"Ever since I built this car I've had a lot of luck as it's won the first time it's been at every race track that I took it to except here," revealed the 34-year-old Saxonburg, Pa. driver. "I just realized that today and I really, really wanted to win up here. I've been running real good and having a lot of success. I haven't been as excited to come to a race in awhile until tonight so this is really cool. I knew the car was really good in qualifying and the heat race, but it was too stuck. Most people don't have that problem where they're trying to take traction out of it. It was still a little too tractioned up, but that was the most stuck car I've ever drove. I could have drove it with one hand around there and I could do whatever with it I wanted. I didn't know him (Ray Virgile), but I've heard he's helped a lot of people and there aren't a lot like that in racing that are on 10 or 12 cars. You have to really love the sport to do that."
Lambert used the outside to take the lead away from pole-sitter Steve D'Apolito. Dietz started sixth, but was halfway to the front after the opening lap then drove around D'Apolito for second on lap two. Following a caution for Tim Bish with five laps scored, Dietz would make what would be the winning move, while Chris McGuire raced into second.
While great racing took place from second on back, Dietz was too strong up front. A few cautions gave McGuire and others a shot at Dietz, but Dietz would power on to become the fifth new Sharon Pro Stock winner of 2023! Dietz took the checkered flag first by 1.876 seconds in his Fox Trucking/Moody Sales & Service/Dan DeWalt Cement Finishing/Peluso Roofing/955 Automotive/Integra Racing Shocks/Daugherty Motorsports/Kip Johnson Upholstery/C.R. Welsh Notary Public-sponsored #00.
McGuire came home a season best second. Christian Schneider and D'Apolito swapped third and fourth several times with Schneider getting the spot for good on lap 18. D'Apolito came home fourth in his first race back since getting upside down at the "Steel Valley Pro Stock Nationals" more than a month ago. Curt J. Bish was fifth over Bobby Whitling.
Chris Schneider went 22nd to 7th to earn the $200 hard charger from Les Frickshun Products. After getting up to third early on, eighth starting Brandon Connor dropped back to eighth at the finish. Paul Davis went 24th to 9th as Shaun Hooks completed the top 10 aboard Pat Fielding's #23. Hunter Exley set fast time overall in qualifying against the 33-car field with a lap of 17.621 to earn $100 from Slider Chassis. Picking up $50 heat race victories presented by SS Chassis were D'Apolito, Josh Seippel, Dietz, and Christian Schneider. Tyler Wyant, whose grandfather was Ray Virgile, won the $300 dash! Tim Bish and Chris Schneider won the last chance B mains.
Fourth starting Ayden Cipriano took charge of the HTMA/Precise Racing Products RUSH Sportsman Modified feature on lap two and dominated the remaining 18 laps ripping around the top side of the speedway in route to his second win. After winning three of the first four races part of the Wedge Motorsports "Route 7 Rumble" Series in conjunction with Raceway 7, it was Cipriano's first win since May 26. With 25 cars on hand, Cipriano earned $550.
"We always do well on the top and it was there for us tonight," explained the 17-year-old Hermitage, Pa. driver. "I didn't know how close anyone was behind me so I just kept going as fast as I could. This has been a great night for us."
Kole Holden led the opening lap over Jordan Ehrenberg and Cipriano before a caution for a spin by Chris Rudolph. Ehrenberg would jump the ensuing restart and was docked two spots, which put Cipriano alongside Holden. When racing resumed, Cipriano used his famed outside line to take charge on lap two. The event's final caution occurred with four laps completed for Rob Kristyak, who went up in smoke for the second time of the night.
When green replaced yellow for the final time, eighth starting Ben Easler raced past Holden for second. Brandon Ritchey passed Ehrenberg for fourth on lap nine then snuck under Holden for third on lap 12. Lapped traffic came into play for Cipriano on lap 15, but that didn't slow his run at all as his fourth career win came by a commanding 5.081 seconds in the William Cipriano-owned, Wheatland Steel Processing/Novus Mortgage of Hermitage/Rudy's Tavern/RKR/Fin & Bear It/Stainless Steel Engineering/Grossman's Garage-sponsored #5c.
Easler was second as the defending "Route 7 Rumble" Series Champion maintained his points lead over Cipriano. Ritchey matched his best finish in third since June 4, 2022. JC Boyer went 12th to 4th over 11th starting Tony Tatgenhorst. After leading the first lap, Holden dropped to sixth at the finish ahead of pole-sitter Ehrenberg. Doug Rutana beat out his brother Jacob Rutana for eighth, while 17th starting Jacob Jordan completed the top 10. Former Big-Block Modified racer, Chris Rudolph, made his first ever RUSH start and went 25th to 15th to earn the $100 Summit Racing Equipment gift card. Heat winners over the 25-car field were Billy Cunningham, Ritchey, and Cipriano.
Jeremy Double led the 20-lap Whelen Econo Mod feature from start-to-finish for his milestone 20th career win. Despite several cautions and double file restarts, Double was never challenged for his first win since May 27. "We've been tweaking on this thing and have been really close but I feel like we should have won three other races," acknowledged the 26-year-old Bristolville, Ohio driver. "I made some driver mistakes and just unlucky on cautions and redraws. The car has been pretty good, but I think this is the best it's been. I was watching Jake (Eucker) and knew if he started coming up on the scoreboard then he probably had the top rolling, but other than that I knew pretty much everyone else would stay on the bottom."
Double took off in the lead from the pole over Scott Burk, Jr., Jacob Eucker, and Garrett Calvert. While Double set the pace out front, Burk, Eucker, and Calvert put on a great race trading second through fourth numerous times throughout the event. It wasn't until lap 18 when Eucker made the pass for second for good. It was too little, too late though as Double crossed the finish line first by 1.681 seconds in the T-N-T Motorsports LLC-owned, Malone Diesel/Competition Products/Bala Management-sponsored, Elite Chassis #83. Double is now just one win behind Brandon Blackshear's all-time mark of 21 with two races remaining this season.
Calvert, who had to start sixth after winning last Saturday night, got up to second on lap 15 before losing the spot to Eucker three laps later and settled for third. Burk had another good run in fourth over Bryan Wagner. Gary Robinson went 12th to 6th over 13th starting Gary Olson. Second year racer Eric Nellis II had a career best eighth after starting 20th. Troy Pinch went 19th to 9th over 18th starting Chuck Steinle, Jr. Taking heat race wins over the 23-car field were Double, Calvert, and Burk.
Racing returns to Sharon this Wednesday night (August 30) as it'll be the second installment of "Wednesday Night Thunder" presented by Cortland Mower Sales. The Hovis Auto & Truck Supply "410" Sprints will race for $4,000 to-win, $400 to-start while the Big-Block Modifieds return for $2,000 to-win. Pits open at 4 p.m., while general admission opens at 5. Group qualifying for the "410" Sprints will get underway at 6:30 p.m. with racing to follow.
There will be no racing over Labor Day weekend. The next events will be September 8-9 for the "Apple Festival Nationals". The UMP Mods and Pro Stocks will run a complete show on Friday night, while heat races will be contested for the Big-Block Modifieds, RUSH Sprint Cars, RUSH Sportsman Modifieds and Econo Mods. On Saturday night, the "410" Sprint Cars will run a complete show for $3,000 to-win, while the classes that ran heat races only on Friday will run the remainder of their show.
Hovis Auto & Truck Supply Big-Block Modifieds (20 laps, $1,500 to-win): 1. 165-REX KING, JR.[5]; 2. 9-Will Thomas[4]; 3. 29-Garrett Krummert[18]; 4. 5C-Ayden Cipriano[8]; 5. 14S-Justin Shea[13]; 6. C3-Chas Wolbert[2]; 7. 20P-Mike Kinney[1]; 8. 32-Jim Rasey[11]; 9. 13-JR McGinley[10]; 10. 66F-Kyle Fink[9]; 11. 45-Steve Feder[7]; 12. 18JR-Mike Dougherty Jr[15]; 13. 17-Brad Deeter[17]; 14. 74-Kevin Green[16]; 15. 9R-Chad Reitz[3]; 16. 35-Steve Slater[19]; 17. 00-Rob Kristyak[12]; 18. 11R-Brad Rapp[6]; 19. 83T-Tom Glenn[14].
Gibson Insurance Agency Pro Stocks "Ray's Race" (25 laps, $2,000 to-win): 1. 00-TYLER DIETZ[6]; 2. 63-Chris McGuire[3]; 3. 56-Christian Schneider[5]; 4. 84-Steve D'Apolito[1]; 5. 29-Curt J Bish[7]; 6. 7W-Bobby Whitling[9]; 7. 55-Chris Schneider[22]; 8. 55C-Brandon Connor[8]; 9. 3-Paul Davis[24]; 10. 23-Shaun Hooks[10]; 11. 05-Ed Bolyard II[14]; 12. 8C-Russ Coyne[16]; 13. 965-Andy Buckley[11]; 14. 02C-Brian Carothers[19]; 15. 51-Tim Bish[21]; 16. 67J-Jamie Duncan[15]; 17. 22JR-Chase Lambert[2]; 18. 1K-Cody Koteles[17]; 19. 23HJR-Hunter Exley[13]; 20. 14-Scott Stiffler[23]; 21. 04-Joe Stajnrajh[18]; 22. 24-Tyler Wyant[12]; 23. 84S-Josh Seippel[4]; 24. 25M-Jason Fosnaught[20]. DNQ for the feature: Larry Kugel (0), Matt Bernard (7B), Jacob Dietz (27), Jacob Wheeler (44), Jamie Scharba (11S), John Peterman, Jr. (68), Joe Gillespie (41), Jonathan Davis (8), Randy Wyant (11T)
HTMA/Precise Racing Products RUSH Sportsman Modifieds (20 laps, $550 to-win): 1. 5C-Ayden Cipriano[4]; 2. 02-Benjamin Easler[8]; 3. 1R-Brandon Ritchey[5]; 4. 12-JC Boyer[12]; 5. 60-Tony Tatgenhorst[11]; 6. 2-Kole Holden[2]; 7. JD57-Jordan Ehrenberg[1]; 8. 46R-Doug Rutana[7]; 9. 57R-Jacob Rutana[9]; 10. 28J-Jacob Jordan[17]; 11. 59-Bill Cunningham[3]; 12. 59C-Billy Cunningham Jr[6]; 13. 333G-Dalton Gabriel[15]; 14. 10-Chelsie Kriegisch[18]; 15. 01T-Chris Rudolph[25]; 16. 1-Jim Bryce[14]; 17. 71-Gage Priester[21]; 18. 7P-Caden Petry[23]; 19. 717-Bill Adams[19]; 20. 2LC-Lucas Canon[20]; 21. 1*-Joe Watson[16]; 22. 55-Scott Kay[24]; 23. 00K-Jackson Kristyak[22]; 24. 00-Rob Kristyak[10]; 25. 7K-Brenten Kay[13].
Whelen Econo Mods (20 laps): 1. 83-Jeremy Double[1]; 2. 64-Jacob Eucker[3]; 3. 7G-Garrett Calvert[6]; 4. 2-Scott Burk Jr[2]; 5. 56-Bryan Wagner[4]; 6. 44R-Gary Robinson[12]; 7. 23-Gary Olson[13]; 8. 15-Eric Nellis II[21]; 9. 12-Troy Pinch[19]; 10. 71E-Charles Steinle[18]; 11. 35-Rick Wilson Jr[17]; 12. 965-Andy Buckley[5]; 13. 17-Dennis Dellinger[8]; 14. 47S-Gary Sullivan[14]; 15. 27-Nate Arp[11]; 16. 20-Alex Siekkinen[15]; 17. 4-George Vestal IV[7]; 18. 38-Josh McDonald[9]; 19. 26X-Carter Bidwell[10]; 20. 71A-Don Watson[20]; 21. 89C-Travis Carothers[22]. DNS: 5M-Donnie May, 55W-Bob Wagner.
Sharon Speedway is owned by the Blaney, Weller, and Kirila Families and is a 3/8-mile dirt track located on Custer-Orangeville Road in Hartford, Ohio near the intersection of Routes 7 & 305. For more information, check out the website at www.sharonspeedway.com or call 330-772-5481. Become a fan of Sharon Speedway on Facebook at www.facebook.com/sharonspeedway and follow us on Twitter at www.twitter.com/sharonspdwy.
---
Article Credit: Mike Leone
Back to News