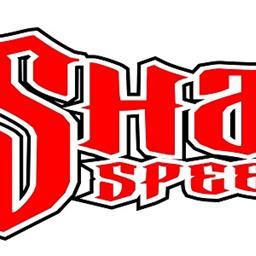 ---
DAVE BLANEY WINS 410 SPRINT CAR THRILLER FROM 10TH FOR 3RD SHARON WIN OF 2023 WORTH $4000 IN "WEDNESDAY NIGHT THUNDER"; MAT WILLIAMSON 2-FOR-2 IN MODS
By Mike Leone
August 30, 2023
(Hartford, OH)…Despite a persistent drizzle throughout the evening with fall-like conditions, Sharon Speedway was able to persevere and defeat Mother Nature in the second and final Cortland Mower Sales "Wednesday Night Thunder" program of the 94th anniversary season. The fans in the stands and around the world watching on DIRTVision were treated to two spectacular feature events! Celebrating in the Hovis Auto & Truck victory lane were Dave Blaney-Hovis Auto & Truck Supply "410" Sprint Cars and Mat Williamson-Hovis Auto & Truck Supply Big-Block Modifieds.
Tenth starting Dave Blaney passed Lee Jacobs on lap 12 then held off 12th starting Dale Blaney and a furious charge by 22nd starting Brandon Spithaler over the final five laps to win a thrilling 30-lap Hovis Auto & Truck Supply "410" Sprint Car feature. After winning the $3,000 season opener and the $3,000 Western PA Speedweek event, the elder Blaney's third victory of 2023 was worth $4,000.
"The track changed so much," explained the 60-year-old Concord, North Carolina National Sprint Car Hall of Fame racer. "It was really sticky early. When I came out for the feature it was way slippery and I was sure I didn't have the right setup in to even have a chance, but it went right to the front. I'm surprised, but happy so it's a great night. I can't believe the rain held off either just as much as me winning. Starting 10th, the first couple laps is key, and I had a really good first couple laps around the bottom to clear some guys. I saw Dale (Blaney) was behind me and didn't know where to go on the restart or to block; I could hear him, but luckily never saw him."
After crashing hard in the lead at the last event on July 29, Lee Jacobs took off in the lead getting by Dan Kuriger at the start of the feature with A.J. Flick and Bob Felmlee in tow. The "Buckeye Bullet" was already halfway to the front in fifth after the opening lap then passed Felmlee for fourth on lap two. One lap later, Blaney ducked under Flick for third. Up front, Jacobs had checked out from the field, while Blaney quickly caught Kuriger. On lap six, Blaney made the pass of Kuriger for second, but found himself 3.494 seconds behind Jacobs.
While all eyes were on Blaney's charge as he closed in on Jacobs, some of the attention focused to Spithaler, who was making his way forward. Spithaler cracked the top five on lap eight then passed Flick for fourth on lap 10. Back up front, Blaney caught Jacobs on lap 11 and made what would be the winning move one lap later on the bottom of turn two.
Spithaler continued to run the fence as he drove around Kuriger for third on lap 12 then did the same to Jacobs on lap 15 for second. Spithaler was 1.520 seconds behind leader Blaney when he made his way into second. As Spithaler tried to track down the elder Blaney, he couldn't clear the lapped car of Jeremy Kornbau with his slider as he scrubbed off a bunch of speed allowing Dale Blaney to close in. Dale Blaney seemingly came out of nowhere as he then snuck under Spithaler for second on lap 20.
A caution for All Star Circuit of Champions regular, Zeth Sabo, slowed action with 25 laps completed. Under cautions, fourth running Jacobs suffered a flat tire as it appeared he may have run over Sabo's debris. The last five laps had fans on the edge of their seats as the lead trio ran three distinct different lines; Dave Blaney the bottom, Dale Blaney the middle, and Spithaler the top!
The trio battled hard running nearly three-wide until Dave Blaney got away on the final lap and took his 37th career Sharon "410" win by 0.704 seconds in his DRE Custom Trailers/Ryan Blaney Family Foundation/UPMC Concussion Group/Mohawk/Bill Davis-sponsored #10.
Dale Blaney came up short in his quest of beating his brother to three wins this year as Dale won the first "Wednesday Night Thunder" show on June 28 followed by a victory on July 21, but had to settle for the $2,000 runner-up in the Tiger Barris #32B.
"I'm sure he (Dave Blaney) could hear me around his right rear at least the first three after that caution," described the 59-year-old Hartford, Ohio Nationals Sprint Car Hall of Fame racer. "I should have beat the top down here. I knew Brandon (Spithaler) was probably going to make another run, and if he cleared me he was probably going to have a shot at Dave, but he got into the wall a little and I got back in front of him. I should have been more patient in the center of the corner and caught that little bit on exit through the middle. I was really good from about lap 10 through 25 and got rolling good everywhere so I'm really happy with it."
After crashing in his heat, Spithaler's crew and several other teams pitched in to get his rear-end changed and his car fixed just in time to run the last chance B main where he went ninth to fourth to transfer to the feature. Spithaler then passed 19 cars in the feature to earn the $100 Summit Racing Equipment hard charger gift card in addition to a $1,500 payday.
"The car was good but first and foremost I need to thank my crew and everyone that chipped in helping to put a rear-end in- Carl Bowser, the whole McCandless crew, and Lee Jacobs," stated the 32-year-old Butler, Pa. resident. "I hurt it pretty bad in the heat race. To come from the tail, and I had my shot at it. I didn't know if I was going to get another one so I put my foot in it so see if I could squirt past both Blaneys in one corner. If the track was a little wider, I might have got it done."
Carl Bowser went ninth to fourth for $1,200 as he returned to the seat of the McCandless #29, which he'll finish the season in on the All Star Circuit of Champions. Flick was fifth. Dan Kuriger dropped from the pole to sixth at the finish. Michigan's Dan McCarron made his first Sharon visit in nearly three years and was seventh. Adam Kekich was eighth as Felmlee dropped to ninth. George Hobaugh started 19th and came home 10th.
Henry Malcuit set fast time overall against the 29-car field in qualifying with a lap of 14.459. Heat winners were Felmlee, McCarron, and Max Stambaugh, while Hobaugh won the last chance B main.
After winning his career first Sharon Speedway race on July 8 for the $2,500 "Lou Blaney Memorial" with the BRP Tour Series, Mat Williamson returned on Wednesday night and made the three hour plus tow worthwhile. After dropping back to sixth early on in the 25-lap Hovis Auto & Truck Supply feature, Williamson charged to the front on the outside and passed fellow Northeast DIRTcar standout Erick Rudolph on lap 22 then pulled away to make it two-for-two in Big-Block Modified competition this season. Williamson earned $2,000 for his 199th career win in the caution-free event timed in 7:38.176.
"It's a ton of fun coming down here to race," acknowledged the 33-year-old Ridgeway, Ontario professional racer. "I wish we had more tracks like this up north. You fans are really lucky to have tracks like this down here. You fans are the best in the world and I love coming down here. The top came around to me. The beginning of the race I got passed by a few people on the bottom. I didn't want to give up on the top because I knew I wasn't going to win if I stuck to the bottom so I kept beating the cushion up and she came in about 15 laps into the race."
Rick Regalski, Jr. raced out to the early lead in search of his first career Big-Block Modified victory. Regalski, who also runs a RUSH Sprint Car, led the first five laps before Rudolph snuck under in turn three for the lead on lap six. While the top five were all running the bottom, Williamson stuck it out on the top and eventually cleaned it off and made headway. Williamson passed both Will Thomas III and last Saturday night's winner Rex King, Jr. on lap 12 to move into fourth. Williamson then snuck under Garrett Krummert for third on lap 13 before driving around Regalski for second off turn two on lap 15.
By the time Williamson made his way to second, he faced a deficit of 2.291 seconds with just 10 laps remaining. Williamson continued to run the top as he chewed into Rudolph's lead and closed in with five laps to go. With Rudolph running the bottom, Williamson drove around the New York star in turn four to lead lap 22. Once in front, Williamson pulled away in his S&W Service Centre/Becker Bros. Trucking/Marin Drywall/Williamson Welding/Bicknell Racing Products-sponsored #6 to become the first repeat Big-Block Modified winner of the season.
Rudolph earned $1,200 for second. Krummert, who started eighth, passed Regalski on lap 21 to finish third. Regalski dropped to fourth over King. Mike Kinney was sixth as Jim Rasey, Mike Dougherty, Jr., Justin Shea, and Ayden Cipriano completed the top 10. Heat winners were Regalski and Rudolph.
There will be no racing over Labor Day weekend. The next events will be September 8-9 for the "Apple Festival Nationals". The UMP Mods and Pro Stocks will run a complete show on Friday night, while heat races will be contested for the Big-Block Modifieds, RUSH Sprint Cars, RUSH Sportsman Modifieds and Econo Mods. On Saturday night, the "410" Sprint Cars will run a complete show for $3,000 to-win, while the classes that ran heat races only on Friday will run their remainder of their show. Stay tuned for more details.
Hovis Auto & Truck Supply "410" Sprint Cars (30 laps, $4,000 to-win): 1. 10-DAVE BLANEY[10]; 2. 32B-Dale Blaney[12]; 3. 22-Brandon Spithaler[22]; 4. 29-Carl Bowser[9]; 5. 2-AJ Flick[3]; 6. 08-Danny Kuriger[1]; 7. 22M-Dan McCarron[7]; 8. 5K-Adam Kekich[11]; 9. 6-Bob Felmlee[4]; 10. 40-George Hobaugh Jr[19]; 11. 70M-Henry Malcuit[5]; 12. 13-Brandon Matus[18]; 13. 5M-Max Stambaugh[6]; 14. 27K-Jeremy Kornbau[23]; 15. 35B-Stuart Brubaker[15]; 16. 23-Darren Pifer[14]; 17. 47-Brett Brunkenhoefer[16]; 18. 33-Brent Matus[17]; 19. 86-Michael Lutz Jr[13]; 20. 81-Lee Jacobs[2]; 21. 97-Zeth Sabo[8]; 22. 7T-Andy McKisson[20]; 23. 47L-Dusty Larson[21]; 24. 90-Jeffrey Neubert[24]. DNQ: Andy Cavanaugh (X7), Jon Carpenter (22C), Eric L. Williams (4W), Cameron Nastasi (99), Chris Verda (3V).
Hovis Auto & Truck Supply Big-Block Modifieds (25 laps, $2,000 to-win): 1. 6-MAT WILLIAMSON[5]; 2. 25-Erick Rudolph[2]; 3. 29-Garrett Krummert[8]; 4. 13-Rick Regalski Jr[1]; 5. 165-Rex King Jr[3]; 6. 20P-Mike Kinney[4]; 7. 32-Jim Rasey[7]; 8. 18JR-Mike Dougherty Jr[9]; 9. 14S-Justin Shea[11]; 10. 5C-Ayden Cipriano[6]; 11. 9-Will Thomas[10]; 12. 11R-Brad Rapp[14]; 13. 45-Steve Feder[12]; 14. 35-Steve Slater[16]; 15. 5A-Austin Eyler[13]; 16. 00-Rob Kristyak[15].
Sharon Speedway is owned by the Blaney, Weller, and Kirila Families and is a 3/8-mile dirt track located on Custer-Orangeville Road in Hartford, Ohio near the intersection of Routes 7 & 305. For more information, check out the website at www.sharonspeedway.com or call 330-772-5481. Become a fan of Sharon Speedway on Facebook at www.facebook.com/sharonspeedway and follow us on Twitter at www.twitter.com/sharonspdwy.
---
Article Credit: Mike Leone
Back to News