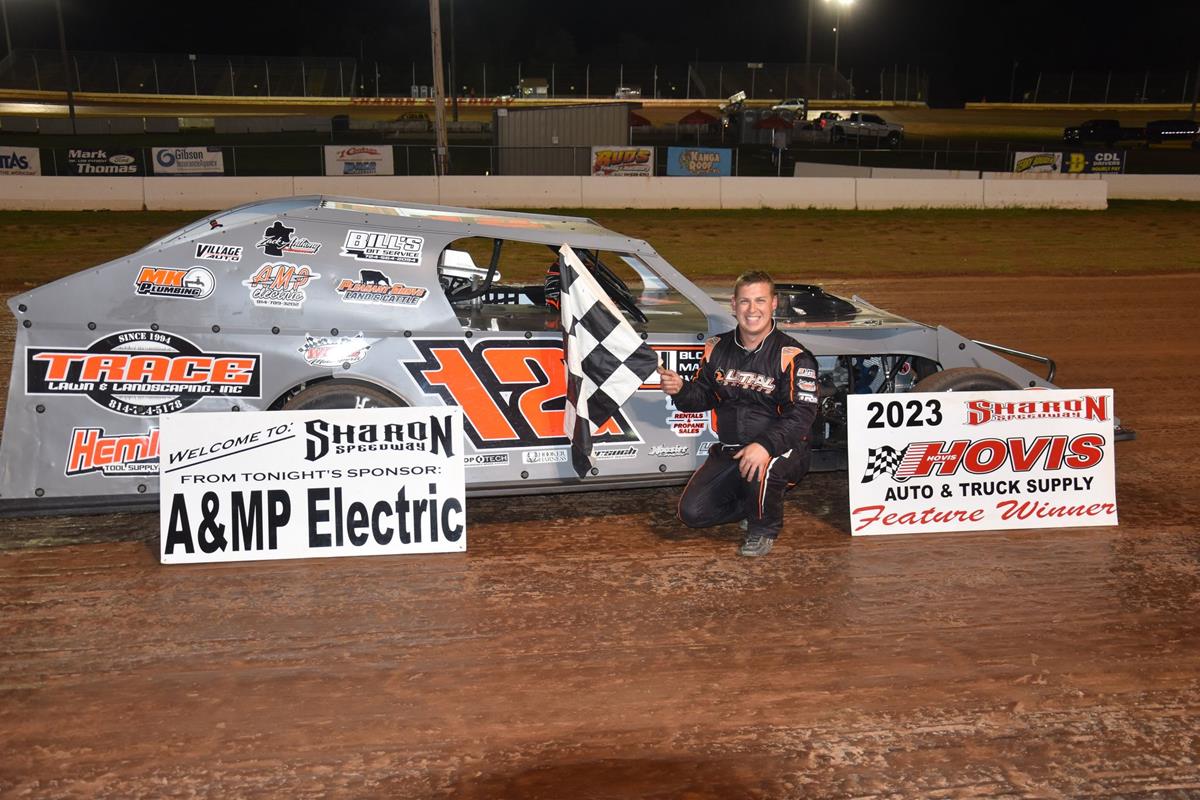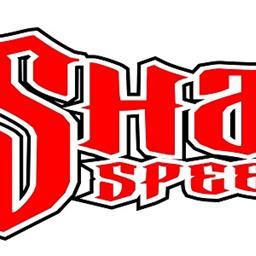 ---
TY RHOADES TRACKS DOWN NATE YOUNG FOR UMP MOD WIN IN NIGHT 1 OF "APPLE FESTIVAL NAT'S" AT SHARON; CURT J. BISH FROM THE TAIL TO WIN PRO STOCKS
By Mike Leone
September 8, 2023
(Hartford, OH)…Sharon Speedway kicked off the annual "Apple Festival Nationals" on Friday night presented by A&MP Electric. Celebrating with wins in the Hovis Auto & Truck Supply victory lane were Ty Rhoades-Hovis Auto & Truck Supply UMP Modifieds and Curt J. Bish-Gibson Insurance Agency Pro Stocks "Fallen Drivers Tribute" presented by Jasinski Family & Race-1. There were 115 cars in the pit area.
Ty Rhoades made up a four-second deficit as he tracked down race-long leader Nate Young and made the winning pass with three laps to go to win the 20-lap Hovis Auto & Truck Supply UMP Modified feature. Rhoades earned $1,000 in the event presented by A&MP Electric as he became the first repeat winner of the season in the UMP Mod finale. The feature went caution-free in 6:51.677.
"I knew I had a long way to go," explained the 32-year-old Harmony, Pa. driver. "I was trying to be patient. I really couldn't feel by right rear yet. My guys were giving me the signal to get going. Nate (Young) is one of the strongest guys here- they have that Longhorn figured out. I saw there were 13 laps in and knew I really needed to get going. I knew my car had a lot more to go. I just wanted to be careful in lapped traffic and bring the car home in one piece. (Dave) Willoughby and the team here give probably the best facility to race on every time we come here. I wish we could race here weekly, but I'm fortunate I get to travel quite a bit."
Young took off in the lead over Troy Johnson, Rhoades, Dan Davies, and Jeremy Double. Young instantly pulled away from the pack, while a three-car battle between Johnson, Rhoades, and Davies ensued on lap four. Rhoades snuck under Johnson, the veteran New York racer, for second on lap five, but faced a four-second deficit with 15 laps to go. Davies would follow in third past Johnson on lap seven.
Rhoades slowly began to chew into Young's lead, but then started drastically cutting into the lead past the halfway mark. Rhoades, who was running the bottom, really closed in on Young, who was running the top, on lap 14. Rhoades made quick work of Young sneaking under and past the leader on lap 17. Young would keep pace with Rhoades in lapped traffic, but was unable to make a bid at regaining the lead.
Rhoades crossed the finish line first by 0.700 seconds in his Trace Lawn & Landscaping/Hemly Tool Supply/Bloom Machine Works/Rent-A-Wreck Car Rentals & Propane Sales-sponsored #12R. It was Rhoades' third career UMP Modified victory and eighth overall at Sharon thanks to five Econo Mod victories.
Young just missed out on his first career Sharon win as he had to settle for second over Davies. Double was fourth after getting by Johnson on lap eight. Johnson dropped to fifth. Jared Spalding was sixth in his first ever visit. Bud Watson went 12th to 7th to earn the $100 Summit Racing Equipment Hard Charger gift card. Garrett Calvert, Joel Watson, and Kyle Layton completed the top 10. Heat winners were Young and Johnson.
After getting sent to the tail for spinning Jamie Duncan on the opening lap, a determined Curt J. Bish worked his way through the pack, benefitted from some late race cautions, and made a last lap pass of Jason Fosnaught to score an exciting victory in the 20-lap Gibson Insurance Agency Pro Stock feature. Bish joined Tim Bish (no relation) as the season's only repeat winners in 11 events. Bish earned $1,000 in the "Fallen Drivers Tribute" event presented by the Jasinski Family and Race-1.
"I knew the top was way better," acknowledged the 39-year-old Cranberry, Pa. racer. "The cars kind of went to the middle on that one restart and I figured I'm going to stick it on the top- it's been really good to me. There was lots of traction there and good moisture. I rolled the dice and hoped I wasn't going to stuff it in the fence. If we wouldn't have gotten those late cautions, I wouldn't be standing here. It's tough to see a guy lead the whole race and lose it on the last lap. I want to apologize to Jamie Duncan for getting into him on the start- that was my fault."
Fosnaught used the outside to take the early lead, while Jason Jones went sixth to second ahead of Tim Bish and Steve D'Apolito. Tim Bish began to pressure Jones on lap 10 and the two ran side-by-side for two laps before Bish made the pass for second on lap 12. Lapped traffic came into pay on lap 15, while D'Apolito passed Jones for third on lap 16. After 16 caution-free laps, fifth running Brian Carothers went up in smoke to bring out the caution. That would be the first of three cautions over the next two laps as top runners Coleton Longwell and Tyler Wyant suffered flat tires from contact.
The issues for Carothers, Longwell, and Wyant along with the cautions that set up double file restarts were just what the doctor ordered for Curt J. Bish, who had been running ninth with four laps to go. Curt J. Bish flew into second on the final restart with two laps to go then drove around race-long leader Fosnaught on the last lap. Bish quickly pulled away on the top side of the track and crossed the finish first by an impressive 0.737 seconds in the Tarr Motorsports, Pioneer Electric Supply/R.K. Virgile Scrap Metal/Virgile Iron & Steel/Allegheny Tool & Supply/Fastenal/Bish Heating & Cooling/Bernard's Electrical Services/Double E Landscaping/Log Cabin Family Restaurant-sponsored #29 for his 11th career win.
Fosnaught, who ended a five-year victory drought at Sharon by winning in his own #J19 on July 22, just missed winning in the McDonald #25 after leading more than 19 laps. Tim Bish was third in Mike Miller's #51. Sixteenth starting Jacob Wheeler was an impressive career best fourth. After challenging for second, D'Apolito dropped to fifth at the finish. Jones, who was as high as second on lap 11, faded to sixth as 12th starting Chris McGuire, Chris Schneider, Jamie Scharba, and Russ Coyne completed the top 10. Bish and Fosnaught were the heat race winners over the 18-car field.
The Hovis Auto & Truck Supply Big-Block Modified heat race winners were Will Thomas III and Dave Murdick over the 16-car field. The Terry Bowser Excavating RUSH Sprint Cars continued their trend of 20 or more cars for all events this season as their heats went to John Mollick and Blaze Myers. The HTMA/Precise Racing Products RUSH Sportsman Modifieds had 25 cars as it was the third time in the past five events they went over a full field of cars; winning their heats were Ben Easler, Rob Kristyak, and Ayden Cipriano. The Whelen Econo Mods heats went to Jeremy Double and Garrett Calvert for their 20-car field.
Saturday is night two of the "Apple Festival Nationals" presented by Stackhouse Construction. The Hovis Auto & Truck Supply "410" Sprint Cars will run a complete show for $3,000 to-win, $250 to-start. The Hovis Big-Block Modifieds ($2,500 to-win, $250 to-start), Terry Bowser Excavating RUSH Sprint Cars ($1,000 to-win, $175 to-start), HTMA/Precise Racing Products RUSH Sportsman Modifieds ($800 to-win, $160 to-start) & Whelen Econo Mods ($800 to-win, $160 to-start) will run the balance of their Friday program. Pits open at 4 p.m., general admission at 5. Sprint qualifying at 6:30 p.m. with racing at 7. General admission $25, kids 13 & under free, and pit passes are $35.
Hovis Auto & Truck Supply UMP Modifieds (20 laps, $1,000 to-win): 1. 12R-TY RHOADES[3]; 2. 42-Nate Young[1]; 3. 71D-Dan Davies[4]; 4. 83-Jeremy Double[5]; 5. 2J-Troy Johnson[2]; 6. 11-Jared Spalding[8]; 7. 225-Bud Watson[12]; 8. 12C-Garrett Calvert[6]; 9. 92-Joel Watson[7]; 10. 99L-Kyle Layton[10]; 11. 67-Jarrett Young[9]; 12. 17G-Brandon Grossman[16]; 13. 17-Jason Gracey[14]; 14. 2-Bill Watson[11]; 15. 1-Vinnie DePizzo[15]; 16. 9R-Garrett Rons[13].
Gibson Insurance Agency Pro Stocks "Fallen Drivers Tribute" presented by Jasinski Family & Race 1 (20 laps, $1,000 to-win): 1. 29-CURT J. BISH[5]; 2. 25M-Jason Fosnaught[2]; 3. 51-Tim Bish[1]; 4. 44-Jacob Wheeler[16]; 5. 84-Steve D'Apolito[4]; 6. 81J-Jason Jones[6]; 7. 63-Chris McGuire[12]; 8. 55-Chris Schneider[9]; 9. 11S-Jamie Scharba[13]; 10. 8C-Russ Coyne[11]; 11. 948-Joey Zambotti III[14]; 12. 05-Ed Bolyard II[15]; 13. 0-Larry Kugel[17]; 14. 7-Coleton Longwell[8]; 15. 24-Tyler Wyant[7]; 16. 67J-Jamie Duncan[3]; 17. 02C-Brian Carothers[10]; 18. 55C-Brandon Connor[18].
Sharon Speedway is owned by the Blaney, Weller, and Kirila Families and is a 3/8-mile dirt track located on Custer-Orangeville Road in Hartford, Ohio near the intersection of Routes 7 & 305. For more information, check out the website at www.sharonspeedway.com or call 330-772-5481. Become a fan of Sharon Speedway on Facebook at www.facebook.com/sharonspeedway and follow us on Twitter at www.twitter.com/sharonspdwy.
---
Article Credit: Mike Leone
Back to News