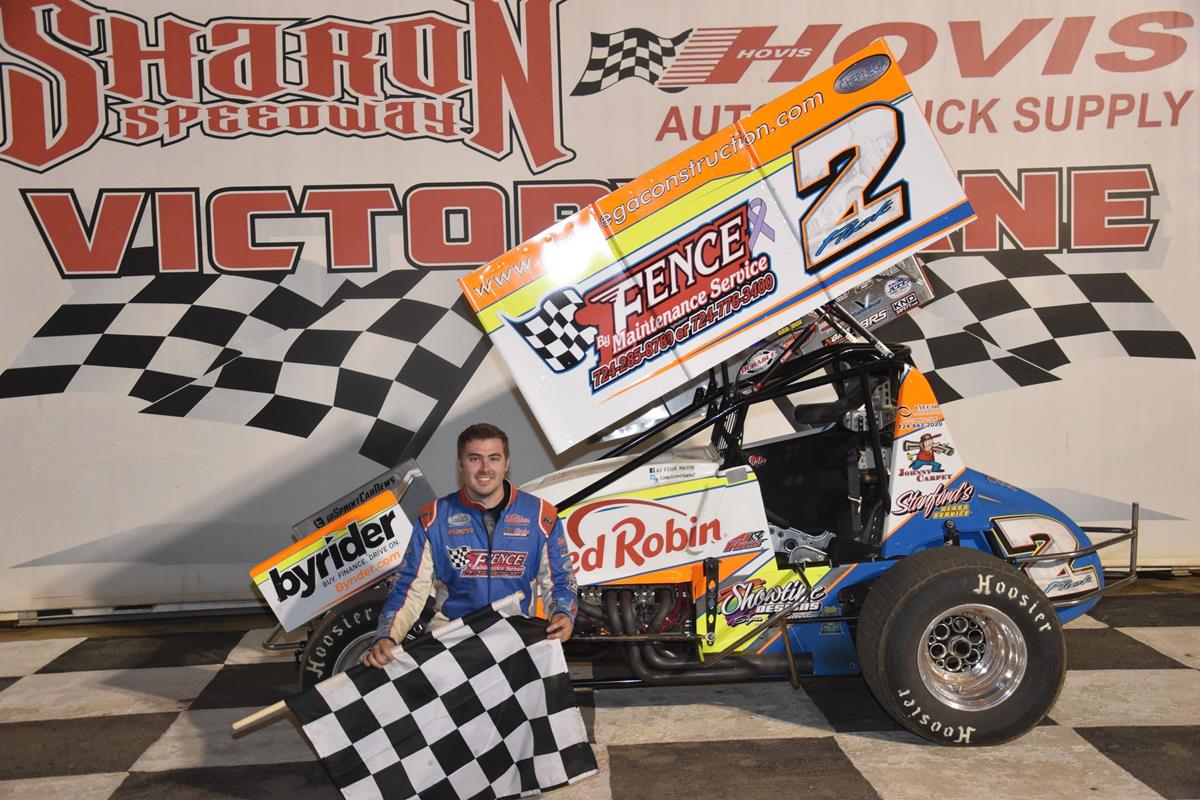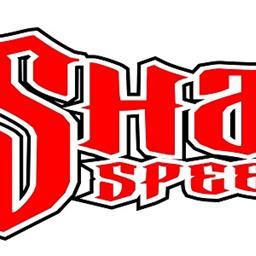 ---
FLICK CONTINUES STELLAR "410" SPRINT SEASON WITH 2ND SHARON WIN; RUTH REPEATS IN RUSH SPRINTS; BISH WINS STOCK THRILLER; 1ST FOR CALVERT IN ECONO MODS
By Mike Leone
June 25, 2022
(Hartford, OH)…After losing five out of the first six scheduled events to start the 93rd anniversary season, Sharon Speedway wrapped up the month of June by completing the fifth straight event. On a sunny 90-degree day, the following western Pennsylvania drivers celebrated in the Hovis Auto & Truck Supply victory lane: A.J. Flick- Hovis Auto & Truck Supply "410" Sprint Cars, Gale Ruth, Jr.-Terry Bowser Excavating RUSH Sprint Cars, Curt J. Bish-Gibson Insurance Agency Pro Stocks, and Garrett Calvert-Whelen Econo Mods. Mark Thomas Ford added $250 into the feature purse for each of the four competing divisions ($100, $75, $50, $25)!
After picking up his first Sharon win of the year back on June 4 during his sweep of Western PA Speedweek, A.J. Flick continued his stellar 2022 season with another 30-lap Hovis Auto & Truck Supply "410" Sprint Car win. The 29-year-old Apollo, Pa. driver passed Bob Felmlee on lap eight and went on for the $3,100 victory- his eighth overall of the year.
Felmlee and Dan Kuriger traded the lead early before Kuriger took command. Kuriger was fresh off a "410" Sprint Car win one week ago at Pittsburgh's PA Motor Speedway; however, he'd suffer a heartbreak when he couldn't avoid the spinning Randy Wyant on lap five. Felmlee regained the lead in his bid for his first win since his return to racing, but fourth starting Flick put a quick end to those hopes taking the lead on lap eight.
Flick survived some mid-race cautions and kept fifth starting Brandon Spithaler at bay over the second-half of the event for his third career Sharon win in his Ferguson Heating & Air Conditioning/Fence by Maintenance Service/Red Robin/Chernega Construction-sponsored #2. Spithaler, who had the night off from All Star Circuit of Champions competition in Bryan Grove's #28, was aboard his own #22 and was banging the fence trying to stay within striking distance, but the final deficit was 2.201 seconds. Hobaugh was third, while Felmlee dropped to fourth. Carl Bowser went 10th to fifth.
Sixth through ninth were Dan Shetler, Brandon Matus, Leyton Wagner, and Adam Kekich aboard Bob McMillin's #5. After getting to the track late and missing the heat races, Brett Brunkenhoefer raced his "305" powered Sprint Car from 21st to 10th to earn the $100 Summit Racing Equipment hard charger gift card. Spithaler set fast time over the 21-car field in qualifying with a lap of 15.736. Heat winners were Kuriger and Flick.
They always say the first one is the hardest. After finally getting his first career RUSH Sprint Car win at Sharon last Saturday night in year number four of the division, Gale Ruth, Jr. made it two straight victories on Saturday night. Ruth's 19th career win in the division came in the 20-lap Terry Bowser Excavating sponsored feature and was worth $700.
While the 44-year-old Pleasantville, Pa. racer led from green-to-checkered, you could throw a blanket over the top six for much of the event. Ruth, who also won a "410" Sprint Car feature in his own #5x back in 2010, wheeled the Rich McConnell-owned, Rustler Sales & Service/Krill Recycling/Economy Landscaping/Boice's Auto Sales/Fat Chad's Taproom & Steakhouse/Knox Bakery/Matus Motorsports-sponsored #24 to the victory by just 0.954 seconds.
Dustin DeMattia continued his impressive start to his Sprint Car career. The 2019 Econo Mod Champion, who most recently won the $1,500 Renegades of Dirt UMP Modified victory on June 18, bettered his fifth place RUSH Sprint run that night with a second place finish on Saturday night in just his third Sprint Car start! Ryan Fraley was third. Eighth starting Jarod Larson, who won his first race of 2022 on Friday night at Raceway 7, was fourth over Nolan Groves. Completing the top 10 were Brian Hartzell, rookie Zack Wilson, Blaze Myers, Ricky Tucker, Jr., and Arnie Kent. Heat winners were Groves and Myers.
Two-time track champion Curt J. Bish made a winning season debut on Saturday night. Bish stole a first career Sharon Pro Stock victory away from former UMP Modified standout and 70-year-old Larry Kugel with a turn four, last lap pass to take the victory by just 0.081 seconds! The 38-year-old Cranberry, Pa. driver earned $650 for the 20-lap Gibson Insurance Agency feature win, which was the closest finish of the season.
Kugel took over from Scott Stiffler on lap two and held the spot until 50' from the finish line when 11th starting Bish made the thrilling pass. Bish, who won the 2019 $10,000 "Steel Valley Pro Stock Nationals", upped his Sharon career win total to seven aboard the Bernard's Electrical Service & Troubleshooting/R.K. Virgile Scrap Metals/Double E Landscaping & Fencing-sponsored #29.
Bobby Whitling charged from 10th to third in his first Sharon start of 2022. Tyler Wyant also made big gains going 13th to fourth. Garrett Calvert made his first start in Paula Bruno's #97 and was an impressive fifth. Completing the top 10 were Steve D'Apolito, 15th starting Brian Carothers, Jordan Perkins, Joe Stajnrajh, Jr., and Scott Malone. Heat winners over the 21-car field were Perkins, opening night winner Chris McGuire, and D'Apolito.
Garrett Calvert has shown a lot of speed the last two season at Sharon in the Econo Mod, but had never been able to break through into victory lane. That all changed on Saturday night as the second generation racer passed race-long leader Gary Olson on lap seven and went unchallenged to the 20-lap Whelen-sponsored feature win worth $550.
The 25-year-old Cochranton, Pa. resident became the third different winner in as many Econo Mod races run in 2022 and the 36th different driver to score a feature win since the division debuted at Sharon in 2010. Calvert's #7G with sponsorship from Winans Racing took the checkered flag first by a comfortable 2.459 seconds. Opening night winner Jeremy Double started eighth and came home second. Brian Toto was a season best third. Olson dropped to fourth over Jacob Eucker. Sixth through 10th were Jordan Simmons, 20th starting Keith Felicetty, 19th starting Steven Haefke, Andy Buckley, and Kenny Meadows. Heat winners over the 24-car field were Scott Burk, Jr., Double, and Eucker.
There will no racing over the Independence Day holiday. The next event will be Saturday, July 9 for the second annual "Bill Forney Memorial" featuring the RUSH Late Model Flynn's Tire Touring Series for $3,199 to-win plus Hovis Auto & Truck Supply UMP Mods, Terry Bowser Excavating RUSH Sprints, HTMA/Precise Racing Products RUSH Sportsman Modifieds, and Gibson Insurance Agency Pro Stocks. Race time is 7 p.m.
Hovis Auto & Truck Supply "410" Sprint Cars (30 laps, $3,100 to-win): 1. 2-A.J. FLICK[4]; 2. 22-Brandon Spithaler[5]; 3. 40-George Hobaugh Jr[3]; 4. 6-Bob Felmlee[1]; 5. 11-Carl Bowser[10]; 6. 29-Dan Shetler[6]; 7. 13-Brandon Matus[7]; 8. 38-Leyton Wagner[8]; 9. 5-Adam Kekich[13]; 10. 47-Brett Brunkenhoefer[21]; 11. 23-Darren Pifer[11]; 12. 16-Jimmy Morris III[15]; 13. 33-Brent Matus[18]; 14. 4W-Eric L Williams[12]; 15. 22R-Ryan Fredericks[14]; 16. 11T-Randy Wyant[16]; 17. 901-Bob Lime[17]; 18. 08-Danny Kuriger[2]; 19. 76-Davey Jones[19]; 20. 29-Logan McCandless[9]. DNS: 32-Rod Jones.
Terry Bowser Excavating RUSH Sprint Cars (20 laps, $700 to-win): 1. 24-GALE RUTH, JR.[1]; 2. 77D-Dustin DeMattia[2]; 3. 12-Ryan Fraley[4]; 4. 47-Jarod Larson[8]; 5. 25-Nolan Groves[6]; 6. 69-Brian Hartzell[3]; 7. 1-Zack Wilson[10]; 8. 43JR-Blaze Myers[5]; 9. 1T-Ricky Tucker Jr[9]; 10. 9-Arnie Kent[12]; 11. 44C-Bill Cunningham[11]; 12. 13K-Kevin Kaserman[14]; 13. 16C-Amelia Clay[13]; 14. 23-Charlie Utsinger[15]; 15. 68-Chad Ruhlman[7].
Gibson Insurance Agency Pro Stocks (20 laps, $650 to-win): 1. 29-CURT J. BISH[11]; 2. 0-Larry Kugel[2]; 3. 7W-Bobby Whitling[10]; 4. 24-Tyler Wyant[13]; 5. 97-Garrett Calvert[3]; 6. 84-Steve D'Apolito[7]; 7. 02C-Brian Carothers[15]; 8. 13J-Jordan Perkins[9]; 9. 04-Joe Stajnrajh[5]; 10. 12M-Scott Malone[18]; 11. 25-Brett McDonald[19]; 12. 67J-Jamie Duncan[14]; 13. 82R-Eric Wilson[12]; 14. 94B-David Baker[16]; 15. 7-Coleton Longwell[21]; 16. 17-Jackson Humanic[6]; 17. 3-Paul Davis[4]; 18. 11S-Jamie Scharba[17]; 19. 1-Buzz Seitz[20]; 20. 14-Scott Stiffler[1]; 21. 63-Chris McGuire[8].
Whelen Econo Mods (20 laps, $550 to-win): 1. 7G-GARRETT CALVERT[4]; 2. 83-Jeremy Double[8]; 3. 8B-Brian Toto[6]; 4. 23-Gary Olson[2]; 5. 64-Jacob Eucker[7]; 6. 13-Jordan Simmons[5]; 7. 98-Keith Felicetty[20]; 8. 39-Steven Haefke [19]; 9. 965-Andy Buckley[11]; 10. 10T-Kenny Meadows[3]; 11. 4-George Vestal IV[15]; 12. 17-Jason Gracey[13]; 13. 16B-Tylar Barr[16]; 14. 9JR-Emily Stoyer[10]; 15. 12-Troy Pinch[18]; 16. 10-Wayne Tessean Jr[12]; 17. 71A-Don Watson[22]; 18. 89-Junior Mechling[21]; 19. 15-Eric Nellis II[17]; 20. 37-Ryan Wisniowski[23]; 21. 47S-Gary Sullivan[1]; 22. 51-Brian Lacey[24]; 23. 2-Scott Burk Jr[9]; 24. 44R-Gary Robinson[14].
Sharon Speedway is owned by the Blaney, Weller, and Kirila Families and is a 3/8-mile dirt track located on Custer-Orangeville Road in Hartford, Ohio near the intersection of Routes 7 & 305. For more information, check out the website at www.sharonspeedway.com or call 330-772-5481. Become a fan of Sharon Speedway on Facebook at www.facebook.com/sharonspeedway and follow us on Twitter at www.twitter.com/sharonspdwy.
---
Article Credit: Mike Leone
Back to News