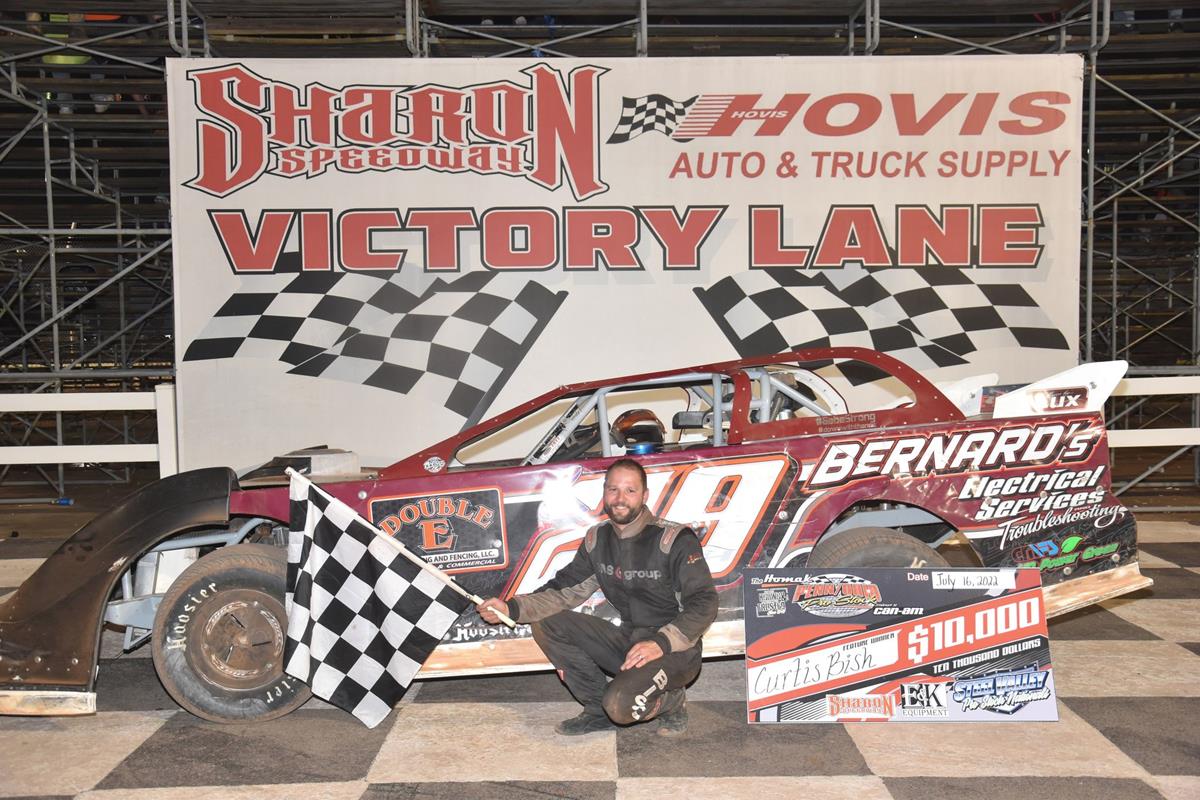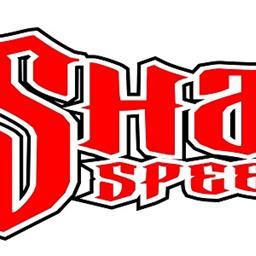 ---
CURT J. BISH CHARGES FROM 26TH TO BECOME 1ST REPEAT WINNER IN $10,000 "STEEL VALLEY PRO STOCK NAT'LS"; JACOB EUCKER ENDS A NEAR 3-YR WINLESS DROUGHT
By Mike Leone
July 16, 2022 FOR IMMEDIATE RELEASE
(Hartford, OH)...Sharon Speedway hosted the fourth annual "Steel Valley Pro Stock Nationals" presented by Can-Am this past weekend. After practice, qualifying, and a king of the hill on Friday night, Curt J. Bish celebrated in the Hovis Auto & Truck Supply victory lane for the Gibson Insurance Agency Pro Stocks in the Penn-Ohio Championship Series event on Saturday night as did Jacob Eucker in the Whelen Econo Mods. Seventy-two race cars were on hand for the two-division program.
Curt J. Bish charged from the 26th starting spot to pass Paul Davis for the lead on lap 61 then fended off last year's winner, Chris Schneider, to capture the 75-lap $10,000 victory for the Gibson Insurance Agency Pro Stocks in the Penn-Ohio Championship Series event. The two-time track champion became the first repeat winner of the "Steel Valley Pro Stock Nationals" with his second win of 2022.
"This is an incredible feeling," expressed the 38-year-old Cranberry, Pa. racer. "First off, I need to thank two people; Jason Johns for the radiator hose after I broke one in the B main along with Chris Schneider. Jason was grateful enough to give us one and that just shows you the sportsmanship in this class- I really appreciate it. Chris Schneider's name speaks for himself and builds a good car."
"This race is all about trying to take care of your equipment, but I knew I couldn't take care of it too long from where I was starting and had to get moving," explained Bish. "I gambled a little harder on the right rear and the longer we went the better the car got. I could drive right through the middle and that's where I was picking people off. I could go to the top and stick to the bottom as well. The car was really good. I wasn't good last night in qualifying and was terrible in the heat race. Luckily there was a top in the B main; Tyler (Wyant) showed me that. I was able to get up there and follow him to get to second. Then you guys saw the result here in the feature. I want to thank all you fans for coming out, all the people that help me, my family, the car owners, sponsors and my engine builder Travis Harry, who always seems to get forgotten, as he puts the power out there."
The lengthy event was marred by a 14-car and a 9-car accident in the opening three laps. When racing got going, Scott Stiffler set the early pace out front ahead of Will Thomas III, Dylan Cecce, Tim Bish, and Paul Davis. Sixth starting Davis moved into fourth past Bish on lap four with 10th starting Schneider entering the top five on lap five. Schneider then passed Davis for fourth on lap eight before Noah Brunell went up in smoke to bring out the caution.
When racing resumed on lap nine, Cecce passed Thomas for second. Two laps later, Schneider drove around Thomas for third. Schneider continued his progression to the front passing Cecce around the top for second on lap 15. Stiffler had a half-straightaway lead by the time Schneider got to second, but his lead evaporated in two laps. Davis meanwhile also got by Thomas and Cecce for third and began to close in on the lead duo on lap 20 as a three-car battle for the lead ensued.
Schneider was unable to drive around Stiffler for several laps so he went to the bottom, but that opened up the top for Davis, who drove around Schneider for second on lap 23. Davis hounded Stiffler then grabbed the lead racing off turn four on lap 26 with a three-wide move with the lapped car of Jake Dietz. Within two laps, Davis began to stretch out his lead. After battling with Stiffler for 19 laps, Schneider finally made the pass with an inside move for second on lap 36.
Thomas' fine run in his Pro Stock debut ended with a cut tire after contact with the fence with 37 laps completed. When racing resumed on lap 38, positions shuffled around as Cecce and Steve D'Apolito both passed Schneider for second and third respectively. Schneider regained third from D'Apolito on lap 43. Shaun Hooks, who was driving Pat Fielding's #23, brought out the caution with a flat tire after 51 laps were completed.
When green replaced yellow on lap 52, Bish entered the fray taking third from Schneider then second from Cecce one lap later. Bish quickly caught Davis and was all over the leader on lap 54. Davis slammed the turn four fence on lap 60 as he barely held onto the lead, but Bish was able to sneak by on lap 61 as Davis hit the fence again in turn two. Bish quickly stretched out his lead and appeared to be in cruise control; however, a caution for debris slowed action with 65 laps scored.
The caution was what Schneider needed as 28 laps after losing second place, and at one point falling back to fourth, he was able to reclaim the runner-up spot when racing resumed on lap 66 as Davis began to backslide. Cautions with 70 and 72 laps completed gave Schneider two shots alongside Bish on the double file restarts, but Bish was too strong. Bish didn't let Schneider make a bid for the lead as he took the checkered flag first by 1.383 seconds in the Bob Tarr-owned, Bernard's Electrical Service & Troubleshooting/R.K. Virgile Scrap Metals/Double E Landscaping & Fencing-sponsored #29 for his eighth career win. Bish also received the $100 Summit Racing Equipment hard charger gift card.
Schneider, who won the tune-up race last Saturday night, earned $3,000 for second. Tyler Dietz went ninth to third to earn $1,500. New York invader, Cecce, was fourth. After leading the first 25 laps, Stiffler dropped to fifth. Davis, who controlled laps 26-60, faded to sixth in the final 15 laps. Andrew Gordon went 22nd to seventh. Jackson Humanic was eighth over Cody Koteles in his season debut. Josh Seippel completed the top 10 after starting 29th.
Jason Johns captured the 15-lap Non-Qualifier event. The 51-year-old Venus, Pa. veteran started fifth and inherited the lead on lap seven after Jim Kurpakus made contact with leader Jason Fosnaught sending both drivers spinning in turns three and four. Johns then held off seventh starting Christian Schneider for the $500 payday. Dale Tuche was third after starting ninth as Larry Kugel and 11th starting Mike Bordt completed the top five.
On Friday night, Gordon set fast time overall in qualifying against the 52-car field with a lap of 19.701. Also on Friday night, Christian Schneider topped 32 competitors that participated in the king of the hill to earn $500 in the Paul Petrovich-owned #74. Heat winners on Saturday were Tim Bish, Davis, Thomas, Stiffler, Humanic, and Cecce. Stiffler also won the dash to earn the pole position for the feature. The B mains were won by Tyler Wyant and Coleton Longwell.
Thank you to the following sponsors that made the 2022 "Steel Valley Pro Stock Nationals" possible: Can-Am, E&K Equipment, Witmer's Feed & Grain and Becks Seed, Wedge Motorsports, Bish Heating & Cooling, BT Truck & Auto Service, Les Frickshun, 3C Graphix, R&R Enterprises, Virgile Iron & Steel, RCR Automotive, Hooks Auto, SS Chassis & Supply, Stoneboro Recycling, World of Wheels, Close Racing Supply, NorthStar Unlimited, Shaffer's Auto & Exhaust, The Dirt Network, Shingledecker Welding, Roostit Chassis, and STAAR Trucking.
2018 track champion, Jacob Eucker, ended nearly a three-year winless drought by leading wire-to-wire in the 20-lap Whelen Econo Mod feature. Eucker earned $450 for his first win since August 10, 2019 as he became the season's fourth different winner in as many races.
"This feels amazing," expressed the 21-year-old Fowler, Ohio driver. "We've had a lot of top 5s this season, a lot of seconds. It feels great to finally get a win at Sharon. The slick track has thrown us for a loop several times. We've worked on the setup and think we're finally there. It worked good. I could hear him (Jeremy Double). I knew I'd get it if I could just hold the bottom and my line and run a good race."
Eucker used the outside to power into the lead past pole-sitter Brian Toto on the opening lap. Fourth starting Jeremy Double edged ahead of Jordan Simmons for third on lap two. Eucker began to pull away on lap three, while a three-car battle was on for second with Toto trying to hold off Double and Simmons. By lap seven, Scott Burk, Jr. and Garrett Calvert entered the fray making it a five-car race for second before a caution for Steven Haefke.
When racing resumed on lap eight, Double and Simmons both disposed of Toto for second and third respectively. Eucker and Double quickly began to distance themselves from the field. Double was all over Eucker looking for a way by. Lapped traffic came into play on lap 16, but Eucker made the right moves as he kept Double at bay and took the checkered flag first by 0.470 seconds in his Danski Dyno/Ohio Commerce Center/Close Racing Supply/Western Reserve Gynecology-sponsored #64 for his 13th career Econo Mod win and 14th overall at Sharon.
Simmons was a season best third as Toto dropped to fourth over Calvert. Burk was sixth as Keith Felicetty, Kenny Meadows, Bryan Wagner, and Robert Simmons completed the top 10. Simmons and Eucker copped the heat races over the 20-car field.
Sharon Speedway will host the Camping World SRX Racing event next Saturday night (July 23). Parking lots will open at 1 p.m., while admission gates open at 2. The Whatchamacallitz band will be playing in the pavilion from 2-4 p.m. SRX practice will take place from 4-6 p.m. with racing at 8. Advance adult general admission tickets are on sale for $40 through the following link: https://www.simpletix.com/e/srx-general-admission-tickets-99369 or $45 on race day. Note: reserved tickets, patio seats, VIP fan suite seats, and camping are sold out.
Penn-Ohio Championship Series for the Gibson Insurance Agency Pro Stocks "Steel Valley Nationals" (75 laps, $10,000 to-win): 1. 29-CURT J. BISH[26]; 2. 55-Chris Schneider[10]; 3. 00-Tyler Dietz[9]; 4. 18*-Dylan Cecce[4]; 5. 14-Scott Stiffler[1]; 6. 3-Paul Davis[6]; 7. 25-Andrew Gordon[22]; 8. 17-Jackson Humanic[5]; 9. 1K-Cody Koteles[13]; 10. 84S-Josh Seippel[29]; 11. 55X-Rob Shook[28]; 12. 45-Todd Weldon[16]; 13. 73-Brian Daugherty[11]; 14. 84-Steve D'Apolito[7]; 15. 7W-Bobby Whitling[23]; 16. 25M-Jim Fosnaught[27]; 17. 11B-Tim Bish[3]; 18. 7 11-Todd English[8]; 19. 4H-Brett Hutira[18]; 20. 7-Coleton Longwell[25]; 21. 23-Shaun Hooks[20]; 22. 9-Will Thomas[2]; 23. 27-Jacob Dietz[15]; 24. 8-Jonathan Davis[12]; 25. 18-Noah Brunell[14]; 26. 02C-Brian Carothers[30]; 27. 22-Chase Lambert[21]; 28. 24-Tyler Wyant[24]; 29. 11X-Joe Martin[17]; 30. 10-Nick Kocuba[19]. DNS: 18S-Marty Spade.
Pro Stock Non-Qualifier (15 laps, $500 to-win): 1. 31-Jason Johns[5]; 2. 74-Christian Schneider[7]; 3. 310-Dale Tuche[9]; 4. 0-Larry Kugel[3]; 5. 26-Mike Bordt[11]; 6. 05-Ed Bolyard[12]; 7. 44B-Aden Boozell[10]; 8. 72B-Jim Kurpakus[6]; 9. 39B-Joshua Blum[13]; 10. 7B-Matt Bernard[8]; 11. J19-Jason Fosnaught[1]; 12. 11S-Jamie Scharba[2]; 13. 28-Doug Iorio II[4]; 14. 12B-Blake Scharba[16]. DNS: 1R-Alan Dellinger, 23H-Hunter Exley, 101-Bruce Hartzfeld, 69H-Mark Hopkins, 67J-Rocky Kugel, 12M-Scott Malone, T6-Michael Miller.
Whelen Econo Mods (20 laps, $450 to-win): 1. 64-JACOB EUCKER[2]; 2. 83-Jeremy Double[4]; 3. 13-Jordan Simmons[3]; 4. 8B-Brian Toto[1]; 5. 7G-Garrett Calvert[6]; 6. 2-Scott Burk Jr[5]; 7. 98-Keith Felicetty[9]; 8. 10T-Kenny Meadows[7]; 9. 56-Bryan Wagner[14]; 10. 4RJ-Robert Simmons[12]; 11. 20-Alex Siekkinen[16]; 12. 44R-Gary Robinson[20]; 13. 9JR-Emily Stoyer[15]; 14. 15-Eric Nellis II[19]; 15. 47S-Gary Sullivan[13]; 16. 12-Troy Pinch[18]; 17. 71A-Don Watson[17]; 18. 39-Steven Haefke[8]; 19. 23-Gary Olson[11]; 20. (DNS) 16B-Tylar Barr
Sharon Speedway is owned by the Blaney, Weller, and Kirila Families and is a 3/8-mile dirt track located on Custer-Orangeville Road in Hartford, Ohio near the intersection of Routes 7 & 305. For more information, check out the website at www.sharonspeedway.com or call 330-772-5481. Like us on Facebook at www.facebook.com/sharonspeedway and follow us on Twitter @sharonspdwy.
---
Article Credit: Mike Leone
Back to News