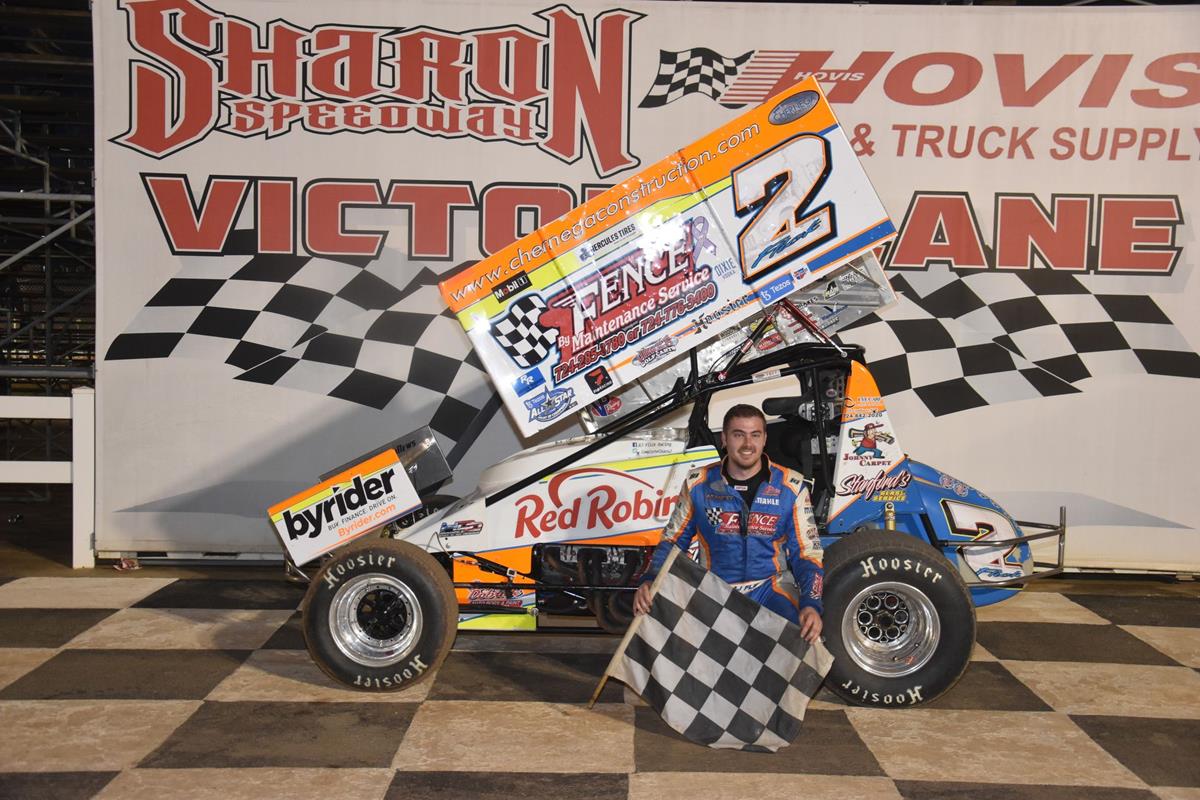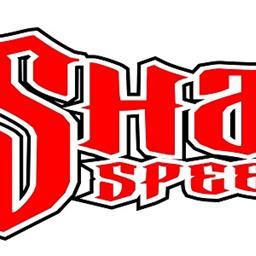 ---
AJ FLICK NOW 3-FOR-3 AT SHARON AFTER THRILLING 410 SPRINT WIN; WILL THOMAS DOUBLES UP IN STOCKS & ECONO MODS; BEN EASLER IS 1ST RUSH MOD REPEAT WINNER
By Mike Leone
August 6, 2022 FOR IMMEDIATE RELEASE
(Hartford, OH)… Sharon Speedway completed its 11th straight event during the 93rd anniversary season on a humid evening in Northeast Ohio on Saturday night. Celebrating in the Hovis Auto & Truck Supply victory lane on the "Bill Kirila Memorial" were A.J. Flick- Hovis Auto & Truck Supply "410" Sprint Cars, Will Thomas III-Gibson Insurance Agency Pro Stocks & Whelen Econo Mods, and Ben Easler-HTMA/Precise Racing Products RUSH Sportsman Modifieds. A total of 85 cars were in the pit area for the four-division "Super Series" event on Barris Supply and Hovis Auto & Truck Supply Night.
A.J. Flick has taken a liking to Sharon Speedway in 2022. Flick passed last week's winner, George Hobaugh, coming to the white flag to earn his third "410" Sprint Car win in as many starts at the track this season. Flick's 30-lap Hovis Auto & Truck Supply feature win was worth $3,000, and was his 11th overall "410" Sprint Car win of 2022!
"Three-for-three is pretty cool," expressed the 29-year-old Apollo, Pa. racer. "I tried to be as patient as I could, but every single time I hit the bottom and needed to get a run on him (Hobaugh) there was a lapped car there. It had to happen six, seven or eight times. I had him going into the bottom and then the 29 (Logan McCandless) was there. He wasn't taking up anyone's lane, he was just doing what he needed to do. It was just bad timing or whatever and that's how races play out sometimes. I think I was doing a good job on the bottom, keeping my momentum up, and the wing back. I showed George the bottom and he runs around here on the bottom. I was able to get him off my line in turns one and two, was able to hit it pretty hard one lap and was able to roll down the backstretch and get him in (turn) three."
"I almost junked a car in turn two a couple times the way we were racing," added Flick. "If we ever come here against the Outlaws or All Stars that's exactly what those guys are going to do so I needed to push my limits and see what kind of abilities I have and tonight it paid off for us. I have to give a shout-out to Sharon's officials. When this track has moisture in the top and bottom, it's the best race track in the area. Thank you to all you fans for coming out. When I woke up this morning I didn't think anyone was going to race within a 300-mile radius."
Flick started fifth and moved into fourth on the opening lap. Flick then grabbed third from Cody Bova on lap two and took over runner-up from Carl Bowser on lap 10. After some half-dozen attempts at overtaking Hobaugh throughout the rest of the event, Flick's winning move came on lap 29 to earn his fourth career Sharon win in his Ferguson Heating & Air Conditioning/Fence by Maintenance Service/Red Robin/Chernega Construction-sponsored #2.
After his $3,000 win the week before, Hobaugh earned $1,300 for second place. Bowser was third for $1,000 for the second straight week. Sodeman returned to Sharon for the first time since his only start of the season on June 4 and finished fourth after starting seventh. Brandon Matus was fifth. Completing the top 10 were Brandon Spithaler, Dan Kuriger from 11th, Vivian Jones, Darren Pifer, and Bob Felmlee from 15th as he received the $100 Summit Racing Equipment gift card for being the hard charger. Flick set fast time overall in qualifying with a lap of 14.846. Heat winners were Matus and Flick.
Will Thomas III doubled up winning both the Econo Mod feature as well as the Pro Stock main event! Thomas topped a season high 28-car field for his second Econo Mod victory worth $450 then jumped in his new Pro Stock and won the 20-lap $550 to-win Gibson Insurance Agency feature for his first career win in that division in just his third start! Both wins came in Hallman Originals/Colonial Metal Products-sponsored #9 cars.
In the 20-lap Whelen Econo Mod main, Thomas started fifth and made the winning move on Eric Wilson on lap six. Jeremy Double, who became the division's first repeat winner one week ago, passed Wilson for second on a restart on lap 19. Double though would have to settle for second as Thomas pulled away over the final two laps and took the checkered flag first by 1.474 seconds. Thomas has now won seven of the 10 Econo Mod features he's run over the past two years.
"I'm just hoping I have enough gas in me for the Stock Car race," joked the 46-year-old Sharpsville, Pa. ace. "We've been really fortunate in this car all season long, but have only run the Stock a couple times so hopefully we can string together a few good laps."
Wilson was third aboard Keith Felicetty's #98. Dennis Lunger, Jr. went seventh to fourth over Jacob Eucker. Gary Robinson was a season best sixth as Bryan Wagner, Garrett Calvert, Gary Olson, and Daniel Moffitt completed the top 10. Heat winners were Double, Thomas, and Eucker, while Robert Simmons copped the last chance B main.
Scott Stiffler led the first eight laps of the Pro Stock feature until sixth starting Thomas took over on the ninth circuit. Thomas would go unchallenged the rest of the way taking the win by 2.125 seconds over Stiffler, who was runner-up for the second straight week. The two victories on the night upped Thomas' all-time win total at Sharon to 27, which have come in four different divisions; RUSH Late Models (15), Econo Mods (7), UMP Mods (4), and now Pro Stocks (1). Thomas has also competed in the Big-Block Modified, RUSH Sportsman Modified, and Super Late Model divisions at Sharon without being victorious.
"This is a rare feat to win two and real special to do this at Sharon with my wife Tammy and son Willy here," stated Thomas. "I'm just really, really blessed to be surrounded by the people and family I have. I always says I'm blessed to live five minutes away from this place. I've been fortunate enough to do a lot of cool things in racing, but this ranks up there and it's pretty neat. I thought the Econo Mods were tough because of the inexperience, but this is war out there to be honest with you. I'm not used to a lot of contact like in these Stock Cars. Scott (Stiffler) was leading and I saw him getting tighter and tighter. It's not a secret the way I get around here is on the bottom and he kind of opened the door for me and I got by him."
Steve D'Apolito finished third over Paul Davis and eighth starting Jason Fosnaught, who was aboard Brett McDonald's #25. Pole-sitter Jonathan Davis dropped to sixth. Scott Malone was a season best seventh after starting 12th. Lernerville Speedway regulars Dale Tuche and Chase Lambert finished eighth and ninth. Jason Jones was 10th. Heat winners were Fosnaught and Perkins.
Second year RUSH Sportsman Modified racer Ben Easler continued his impressive season. After winning his first career Touring Series event and first ever at the track on June 18, Easler drove a flawless race through lapped traffic leading wire-to-wire in the caution-free 20-lap HTMA/Precise Racing Products feature. Easler's fourth overall victory in RUSH competition extended his points lead in both the $3,500 to-win Hovis Weekly Series and $1,000 to-win Wedge Motorsports "Route 7 Rumble" Series Championships! The event's non-stop time was 6:40.099 more than 15 seconds faster than last week's caution-free event.
"It was getting stressful at the end with all that lapped traffic," revealed the 15-year-old Linesville, Pa. driver. "I just tried to stay calm, keep hitting my marks, and get through lapped traffic as smooth as possible. I'm just glad we were able to get it done again. I thought Garrett (Krummert) would be there, but I just tried not to think about it getting through lapped traffic and focus on the lapped cars. I kept watching the scoreboard to see the laps ticking down."
Easler became the division's first repeat winner of the season as he took the checkered flag first in the Jason Easler-owned, Crawford Custom Consulting/Titusville Ford/Pore's Bodywax/Espyville Heating & Air/Tanner Southern Auto Parts/Latta Bros. Racing/Russ King Racing/Smokin J's Country Corner Inn/Lakeside Lanes/Happy Hill Farms-sponsored #02 by just 0.678 seconds over Garrett Krummert. Fifth starting Josh Deems easily recorded his season's best effort on the circuit in third topping last week's seventh place run.
After winning his first career feature one week ago, JC Boyer had a solid fourth place after starting sixth. Justin Shea completed the top five from his eighth starting spot. Rounding out the top 10 were Kole Holden, Ayden Cipriano, Rob Kristyak, pole-sitter Jordan Ehrenberg, and a season best run for Dalton Gabriel. Heat victors over the 23-car field were Ehrenberg, Easler, and Krummert.
Coming up next Saturday night (August 13) will be a "Steel Valley Thunder" event featuring the Hovis Auto & Truck Supply UMP Modifieds for $1,000 to-win plus the Terry Bowser Excavating RUSH Sprint Cars, Gibson Insurance Agency Pro Stocks, and HTMA/Precise Racing Products RUSH Sportsman Modifieds. Race time is 7 p.m.
Hovis Auto & Truck Supply "410" Sprint Cars (30 laps, $3,000 to-win): 1. 2-A.J. FLICK[5]; 2. 40-George Hobaugh [2]; 3. 11-Carl Bowser[3]; 4. 23JR-Jack Sodeman Jr[7]; 5. 13-Brandon Matus[6]; 6. 22-Brandon Spithaler[9]; 7. 08-Dan Kuriger[11]; 8. 32V-Vivian Jones[8]; 9. 23-Darren Pifer[4]; 10. 6-Bob Felmlee[15]; 11. 32-Adam Kekich[10]; 12. 33-Brent Matus[17]; 13. 29-Logan McCandless[13]; 14. 16-Jimmy Morris III[12]; 15. 20B-Cody Bova[1]; 16. 11X-George Englert[16]; 17. 22R-Ryan Fredericks[14]
Gibson Insurance Agency Pro Stocks (20 laps): 1. 9-WILL THOMAS III[6]; 2. 14-Scott Stiffler[3]; 3. 84-Steve D'Apolito[5]; 4. 3-Paul Davis[4]; 5. 25-Jason Fosnaught[8]; 6. 8-Jonathan Davis[1]; 7. 12M-Scott Malone[12]; 8. 310-Dale Tuche[11]; 9. 22-Chase Lambert[9]; 10. 81-Jason Jones[15]; 11. 11S-Jamie Scharba[14]; 12. 44B-Aden Boozell[13]; 13. 0-Larry Kugel[2]; 14. 97-Garrett Calvert[10]; 15. 67J-Jamie Duncan[16]; 16. 13J-Jordan Perkins[7]. DNS: 82R-Ray Gregory
Whelen Econo Mods (20 laps): 1. 9-WILL THOMAS III[5]; 2. 83-Jeremy Double[6]; 3. 98-Eric Wilson[3]; 4. 71L-Dennis Lunger Jr[7]; 5. 64-Jacob Eucker[4]; 6. 44R-Gary Robinson[9]; 7. 56-Bryan Wagner[13]; 8. 7G-Garrett Calvert[1]; 9. 23-Gary Olson[10]; 10. 52M-Daniel Moffitt[15]; 11. 52-Zac Etzel[20]; 12. 4RJ-Robert Simmons[18]; 13. 15-Eric Nellis II[22]; 14. 12-Troy Pinch[16]; 15. 47S-Gary Sullivan[8]; 16. 4-George Vestal IV[19]; 17. 20-Alex Siekkinen[14]; 18. 5M-Donnie May[12]; 19. 965S-Seth Brenot[21]; 20. 71A-Don Watson[23]; 21. 37-Ryan Wisniowski[24]; 22. 9JR-Emily Stoyer[17]; 23. 10-Wayne Tessean Jr[11]; 24. 89-Junior Mechling[2]. DNS: 2-Scott Burk, Jr. DNQ: 1N-Travis Newberry, 51-Brian Lacey, 35-Rick Wilson, Jr.
HTMA/Precise Racing Products RUSH Sportsman Modifieds (20 laps): 1. 02-BEN EASLER[2]; 2. 10S-Garrett Krummert[3]; 3. 9D-Josh Deems[5]; 4. 12-JC Boyer[6]; 5. 14S-Justin Shea[8]; 6. 2-Kole Holden[7]; 7. 5C-Ayden Cipriano[9]; 8. 00-Rob Kristyak[12]; 9. JD57-Jordan Ehrenberg[1]; 10. 333G-Dalton Gabriel[4]; 11. 21X-Chas Wolbert[17]; 12. 1R-Brandon Ritchey[15]; 13. 86-Shayne Izzo[11]; 14. 8-Kyle Martell[10]; 15. 71-Gage Priester[13]; 16. 29-Cole Edwards[16]; 17. 59-Bill Cunningham[14]; 18. 7P-Caden Petry[19]; 19. 2LC-Lucas Canon[21]; 20. 57R-Jacob Rutana[20]; 21. 46R-Doug Rutana[18]; 22. 111-Dave Price[23]. DNS: 7-Jacob Wolfe.
Sharon Speedway is owned by the Blaney, Weller, and Kirila Families and is a 3/8-mile dirt track located on Custer-Orangeville Road in Hartford, Ohio near the intersection of Routes 7 & 305. For more information, check out the website at www.sharonspeedway.com or call 330-772-5481. Become a fan of Sharon Speedway on Facebook at www.facebook.com/sharonspeedway and follow us on Twitter at www.twitter.com/sharonspdwy.
---
Article Credit: Mike Leone
Back to News