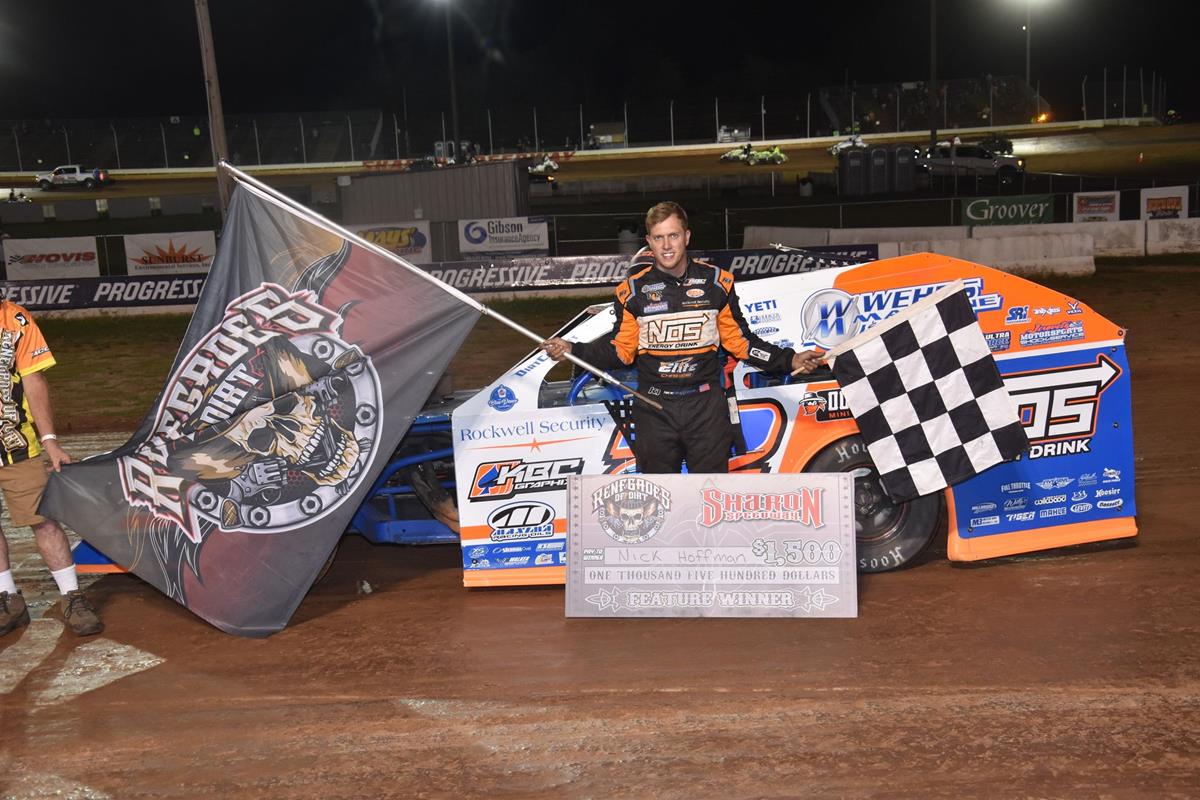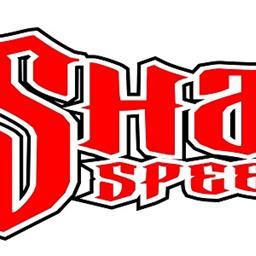 ---
HOFFMAN DOMINATES ROD UMP MODS IN 1ST SHARON VISIT; 1ST FOR MYERS IN RUSH SPRINTS; CIPRIANO REPEATS IN RUSH MODS; Econo Mods to Eucker & Thomas
By Mike Leone
August 27, 2022
(Hartford, OH)…A stormy Friday led to sunshine on Saturday and set up a beautiful evening of racing allowing Sharon Speedway to complete its 13th consecutive event during the 93rd anniversary season. Celebrating in the Hovis Auto & truck Supply victory lane were Nick Hoffman-Renegades of Dirt Hovis Auto & Truck Supply UMP Modifieds, Blaze Myers-Terry Bowser Excavating RUSH Sprint Cars, Ayden Cipriano-HTMA/Precise Racing Products RUSH Sportsman Modifieds, Jacob Eucker-Whelen Econo Mods (8/20 make-up), and Will Thomas III-Whelen Econo Mods. Ninety-three cars filled the pit area for the four-division program on A&MP Electric and Hovis Auto & Truck Supply Night.
Making his first ever Sharon Speedway visit, North Carolina standout Nick Hoffman totally dominated the night for the Renegades of Dirt UMP Modifieds. Hoffman set fast time, went fourth to first in the dash, and was never challenged throughout the 25-lap Hovis Auto & Truck Supply feature. In fact, Hoffman had more than a 12-second advantage when the event's only caution occurred with 20 laps in, and still won by well over five seconds to earn $1,500.
"This is my type of track here," acknowledged the 30-year-old Mooresville, North Carolina racer. "I had never been here before, but had heard really good things; Devin Moran, Frank Heckenast, a couple of my Late Model buddies said I would be pretty good here. It's right up my alley- momentum, slick. I had a of fun. I obviously didn't have to work too hard for it. I didn't have to pass anyone, but that dash was a lot of fun being able to maneuver and get by those guys. Hats off to all you race fans for coming out. I've watched a lot of Sprint Car and Late Model races from here and knew it would be my kind of track. I enjoyed this place and will definitely come back. I'm going to run some Late Model stuff next year so will hopefully be back for that. The only reason I'm here is we're chasing after our fourth straight national championship; have to travel anywhere and everywhere."
Hoffman quickly blasted into the lead at the start over Joe Gabrielson, Ty Rhoades, fifth starting Nate Young, and Mike McGhee. Young passed Rhoades for third on lap two. While Hoffman pulled away, Young went to work on Gabrielson. The duo ran side-by-side for three laps before Young made the pass stick off the bottom of turn four on lap six. By the time Young advanced to runner-up, Hoffman had built a straightaway lead and that advantage grew by the time lapped traffic came into play on lap 10.
As Hoffman continued to set a torrid pace out front, Young still had his hands full with Gabrielson and Rhoades. It was actually three-wide for the spot on lap 16 as Young continued to hold on. Dustin DeMattia, who won the June 18 $1500 RoD event, slowed to bring out the first and only caution of the event with 20 laps scored. Hoffman's lead of 12.209 seconds was gone. The final five laps went caution-free as Hoffman drove away and still took the checkered flag first over Young by 5.456 seconds in his Elite Chassis NOS Energy Drink/Fox Shocks/Wehrs Machine/Rockwell Security-sponsored #2 to become the 60th all-time winner in the division's history.
Gabrielson and Rhoades swapped third back and forth in the final five laps with Gabrielson getting back by for good on lap 22. Rhoades was fourth ahead of McGhee. North Carolina's Austin Holcombe was sixth. Joel Watson, who won the last two UMP Mod features at Sharon and has 30 wins all-time, could only muster a seventh. Carl McKinney was eighth in his first Sharon race of the season as Indiana's John DeMoss and New York's Mason Lobb completed the top 10. Hoffman set fast time in qualifying over the 20-car field with a lap of 17.924 then went on to win the dash. Heat victors were DeMattia and Watson.
On June 2, 2018 at 14 years of age, Blaze Myers won his first career RUSH Sportsman Modified feature. Fast forward a little more than five years, and Myers drove a perfect race right up on the fence leading wire-to-wire to garner his first Sharon Sprint Car victory in the 20-lap Terry Bowser Excavating RUSH feature.
"It feels good to finally be standing here with a Sprint Car win," expressed the 18-year-old Franklin, Pa. racer. "The beginning of the year I was trying to run the bottom and be consistent, but wasn't very good compared to last year when we were second and third every week. Finally you just have to stop caring and go to the top once in awhile. It was a slim margin up there and you couldn't mess up. I did down here, hit the wall, and thought it was over. I'm just glad to be here and have all my family backing me. Everyone here does phenomenal work to this thing; whatever I want they do. Hats off to all those guys as without them I wouldn't be here."
Myers started second and drove into the lead past Jeff Metsger with fourth starting Gale Ruth, Jr. moving into second, while Brandon Blackshear charged from sixth to third. Myers and Ruth quickly distanced themselves from the field before a caution for Brandon Shughart, who was unable to clear the track, with three laps scored. When racing resumed, fifth starting Chad Ruhlman and seventh starting Ryan Fraley both passed Blackshear for third and fourth respectively.
By lap five, Myers pulled away, while Ruhlman caught Ruth in the battle for second. Ruhlman slapped the fence in turns three and four on lap seven losing ground Ruth. Myers had a 3.5-second lead when he caught lapped traffic on lap 10. Ruth slightly cut into the lead then got a caution when Ruhlman stopped with 16 laps completed. One more caution slowed action when Don Blaney got into the fence in turn four with 18 laps scored.
Ruth was unable to make a bid for the lead as Myers was too strong up on the cushion as he took the checkered flag first by 1.040 seconds in his J.I. McCall Construction/John Pleger Roofing/Billy's Garage/Linda Lou's Restaurant/Jen Morris-Mays Insurance/Lowry Auto Body/DiFrischia Recycling/McDaniel & Assoc./J.I.'s Place/Jolley Roofing & Construction-sponsored #43JR to become the 12th different winner in 24 races run all-time for the class at Sharon.
Ruth's runner-up allowed him to expand his lead in RUSH's $5,000 to-win Equipment Rental Options Weekly Series points. Fraley, who has two wins at Sharon this year, had a solid third. Andy Priest went ninth to fourth over Nolan Groves. Blackshear was sixth as Dustin DeMattia, Zack Wilson, Joe Buccola, and Tyler Newhart completed the top 10. Ricky Tucker, Jr. went 20th to 14th to earn the $100 Summit Racing Equipment Hard Charger gift card. Heat winners over the 21-car field were Priest, Groves, and Fraley.
Ayden Cipriano continued his hot streak in the RUSH Sportsman Modifieds. After winning his first career feature on July 8 at Raceway 7, the 16-year-old added a win at Tri-City Raceway Park, and on Saturday night made it two in a row at Sharon in the 20-lap HTMA/Precise Racing Products feature event. With over a full field on hand, Cipriano earned $550.
"I think I proved tonight I could do it on the top and bottom," stated the Hermitage, Pa. driver. "We had a good setup, got the gear just right for tonight, I feel like I did a good job driving it, and my crew did a good job adapting to the track. I feel the most important part to racing these is keeping your composure throughout the race and I think I did that really well tonight."
Ben Easler, who leads both the Wedge Motorsports "Route 7 Rumble" Series and Hovis Auto & Truck Supply Weekly Series points, and Rob Kristyak literally ran side-by-side the first four laps. Easler was credited leading the first three laps, but Kristyak finally nosed ahead on lap four with enough momentum off the top of turn four before a caution after four cars tangled.
When green replaced yellow, Easler jumped the start and was docked a row. After a pair of cautions with five laps scored, the final 15 went green-to-checkered. Sixth starting Cipriano made the winning move overtaking Kristyak for the lead on lap seven, while eighth starting Garrett Krummert moved up to third. The top four of Cipriano, Kristyak, Krummert, and Easler distanced themselves from the field by the halfway point. Cipriano then began to pull away and opened up a lead of 1.5 seconds when he caught lapped traffic on lap 14.
Kristyak was unable to gain any ground as Cipriano did a nice job through lapped traffic and took the checkered flag first by 1.632 seconds in the William Cipriano-owned, Wheatland Steel Processing/Waterstone Mortgage of Hermitage/Black Viper Barber Shop/RKR/Colonial Metals/Fin & Bear It/Stainless Steel Engineering/JR's Garage-sponsored #5c.
Kristyak's second place was his best finish of the season at Sharon. Krummert was third over Easler. Veteran Bill Cunningham turned in his best career finish in the RUSH Sportsman Modifieds with a fifth place. Rounding out the top 10 were 19th starting Kole Holden, Kyle Martell, Gage Priester, Jacob Rutana, and Dalton Gabriel. Cipriano, Easler, and Kristyak copped the heat race victories over the 25-car field.
Jacob Eucker kicked off the night by winning the August 20 make-up feature for the Econo Mods. Eucker took the lead from Jordan Simmons on lap six and kept Will Thomas III at bay during the second half of the 20-lap Whelen feature to score his second win of the season, worth $500.
"I could hear him (Thomas) there," revealed the 21-year-old Fowler, Ohio racer. "I was a little too tight on the bottom and loose in the middle. I'd like to thank Will as he kept it clean the whole race. I felt him a couple times, but it was clean. It feels nice to get back here in victory lane. I have to thank my number one sponsors- my mom and dad along with my other sponsors."
Simmons led the first five laps in search of his first career win, but fourth starting Eucker drove around the youngster in turn four to lead lap six before a caution for Garrett Calvert. When racing resumed, sixth starting Thomas was halfway to the front he passed Gary Olson for third. Thomas then drove under Simmons for second on lap 11. Thomas was all over Eucker before a caution for Don Watson with 16 laps completed.
Eucker was able to hold off Thomas by 0.513 seconds for his 14th career win in his Danski Dyno/Ohio Commerce Center/Close Racing Supply/Western Reserve Gynecology-sponsored #64. Jeremy Double made a nice crossover move to pass Gary Olson for third on lap 19. Olson, who started on the pole, slipped to fourth at the finish. Jarrett Young went 17th to fifth to earn the $100 Summit Racing Equipment Hard Charger gift card. Andy Buckley, Brian Toto, 16th starting Wayne Tessean, Jr., and Gary Robinson were sixth through 10th.
Will Thomas then brought down the curtain by winning the nightcap for the Whelen Econo Mods. Thomas passed Double on lap six and in a reversal of the first 20-lap feature, held off Eucker to score his division leading third feature win and fourth overall of the season thanks to a Pro Stock feature. With more than a full field of cars, Thomas earned $450.
"This place is really, really slippery tonight and maybe the cautions were because of that," explained the 46-year-old Sharpsville, Pa. racer. "Normally we have plenty of drive off the corner, but tonight we had to be careful. I say it all the time; I live by here so we're fortunate to be able to come here- it's great. Thanks to the fans for waiting this one out- it was a long one. Jake (Eucker) was really good in that first feature and we were a little too tight. I was hoping we could get a run when we got alongside of him then we didn't need that last caution. He did a good job- he's a good racer. He's way younger than me, but probably has more laps around here than I do."
Double set the pace out front for the first five laps, but on lap six got held up by the lapped car of Jamon Davis allowing Thomas to sneak by on the inside. Double was later docked two spots for jumping a restart then got too low on another restart, clipped an infield tire, made contact with Calvert, and spun to bring out the caution with 13 laps scored. When racing resumed on lap 14, Eucker moved past Calvert for second. Thomas though pulled away over the final five laps; however, a caution for a spin on the final lap gave Eucker one more shot at Thomas.
Thomas though was too strong in his Hallman Originals/Colonial Metal Products-sponsored #9 as he pulled away on the final restart to win by 0.435 seconds over Eucker for his 28th overall win of his career at Sharon. Casey Bowers drove Tom Spencer's #00 to a solid third place after starting 12th. Brian Toto had went 10th to third before losing the spot to Bowers at the end of the event. Kenny Meadows was fifth as Calvert, George Vestal IV, Robinson, and Tessean rounded out the top 10. Thomas, Scott Burk, Jr., and Calvert picked up heat race wins over the 27-car field.
Coming up next Friday and Saturday (September 2-3) will be the return of the "Sharon Nationals". Friday night will include the Tezos All Star Circuit of Champions Sprint Cars for $6,000 to-win along with the RUSH Sportsman Modified Flynn's Tire Touring Series for $1,000 to-win presented by Jerry Rents, and the Gibson Insurance Agency Pro Stocks for $750 to-win. Saturday night will be the "Lou Blaney Memorial" with $12,000 up for grabs for the All Stars! The BRP Tour for Big-Block Modifieds will also be on the card for $2,500 to-win. Reserve seats, general admission tickets, VIP fan suite seats, patio seats, and camping permits are all available for purchase through the following link: https://sharonspeedway.simpletix.com/
Renegades of Dirt Hovis Auto & Truck Supply UMP Modifieds (25 laps, $1,500 to-win): 1. 2-NICK HOFFMAN[1]; 2. 42-Nate Young[5]; 3. 58-Joe Gabrielson[2]; 4. 12R-Ty Rhoades[3]; 5. 11M-Mike McGee[4]; 6. 8A-Austin Holcombe[6]; 7. 92-Joel Watson[8]; 8. 6M-Carl McKinney[9]; 9. 79D-John DeMoss[11]; 10. 28-Mason Lobb[10]; 11. 1-Vinnie DePizzo[12]; 12. 32-Alan Atkinson[15]; 13. 39-Dan McDonald[14]; 14. 55-Alyssa Rowe[19]; 15. 25-Mark Titus[17]; 16. 77D-Dustin DeMattia[7]; 17. 33-Ed Wilson, Jr.[18]; 18. 27-Jeff Johnson[16]; 19. 37-Josh McDonald[13]. DNS: Joey Sanger (98).
Terry Bowser Excavating RUSH Sprint Cars (20 laps, $600 to-win): 1. 43JR-BLAZE MYERS[2]; 2. 24-Gale Ruth, Jr.[4]; 3. 12-Ryan Fraley[7]; 4. 41-Andy Priest[9]; 5. 25-Nolan Groves[8]; 6. 10-Brandon Blackshear[6]; 7. 77D-Dustin DeMattia[11]; 8. 1-Zack Wilson[3]; 9. 5B-Joe Buccola[12]; 10. 57N-Tyler Newhart[13]; 11. 44C-Jarod Larson[10]; 12. 23-Charlie Utsinger[15]; 13. 20-Jeff Metsger[1]; 14. 1T-Ricky Tucker, Jr.[20]; 15. 16C-Amelia Clay[14]; 16. 13K-Kevin Kaserman[18]; 17. 35S-Nick Simon[17]; 18. 68-Chad Ruhlman[5]; 19. 11-Don Blaney[21]; 20. 19-Brad Blackshear[16]; 21. 29-Brandon Shughart[19]
HTMA/Precise Racing Products RUSH Sportsman Modifieds (20 laps, $550 to-win): 1. 5C-AYDEN CIPRIANO[6]; 2. 00-Rob Kristyak[2]; 3. 10S-Garrett Krummert[8]; 4. 02-Benjamin Easler[1]; 5. 59-Bill Cunningham[4]; 6. 2-Kole Holden[19]; 7. 8-Kyle Martell[3]; 8. 71-Gage Priester[11]; 9. 57R-Jacob Rutana[9]; 10. 333G-Dalton Gabriel[12]; 11. 7P-Caden Petry[7]; 12. 01T-Todd English[23]; 13. 29-Cole Edwards[21]; 14. JD57-Jordan Ehrenberg[15]; 15. 46R-Doug Rutana[17]; 16. 2LC-Lucas Canon[10]; 17. 28J-Jacob Jordan[16]; 18. 21X-Ryan Riffe[24]; 19. 111-Dave Price[20]; 20. 717-Bill Adams[14]; 21. 9D-Josh Deems[5]; 22. 1R-Brandon Ritchey[18]; 23. 25-Greg Porter[13]; 24. 12-JC Boyer[25]. DNS: Tony Tatgenhorst (63T).
Whelen Econo Mods (20 laps, $450 to-win): 1. 9-WILL THOMAS III[5]; 2. 64-Jacob Eucker[6]; 3. 00-Casey Bowers[12]; 4. 8B-Brian Toto[10]; 5. 10T-Kenny Meadows[2]; 6. 7G-Garrett Calvert[3]; 7. 4-George Vestal IV[24]; 8. 44R-Gary Robinson[16]; 9. 10-Wayne Tessean, Jr.[11]; 10. 4RJ-Robert Simmons[14]; 11. 85-Jim Dellinger[19]; 12. 15-Eric Nellis II[15]; 13. 89-Junior Mechling[22]; 14. 2-Scott Burk, Jr.[4]; 15. 62-Dale Reiser[23]; 16. 12-Troy Pinch[21]; 17. 71A-Don Watson[17]; 18. 52M-Daniel Moffitt[18]; 19. 27-Nate Arp[20]; 20. 14D-Jamon Davis[25]; 21. 83-Jeremy Double[1]; 22. 98-Keith Felicetty[7]; 23. 23-Gary Olson[9]; 24. 21-Jarrett Young[8]; 25. 965-Andy Buckley[13]. DNS: Jordan Simmons (13), Dennis Dellinger (8).
Whelen Econo Mods 8/20/22 make-up (20 laps, $500 to-win): 1. 64-JACOB EUCKER[4]; 2. 9-Will Thomas[6]; 3. 83-Jeremy Double[5]; 4. 23-Gary Olson[1]; 5. 21-Jarrett Young[17]; 6. 965-Andy Buckley[9]; 7. 8B-Brian Toto[8]; 8. 10-Wayne Tessean, Jr.[16]; 9. 44R-Gary Robinson[7]; 10. 4-George Vestal IV[12]; 11. 52M-Daniel Moffitt[11]; 12. 15-Eric Nellis II[14]; 13. 12-Troy Pinch[15]; 14. 71A-Don Watson[20]; 15. 13-Jordan Simmons[2]; 16. 7G-Garrett Calvert[3]; 17. 89-Junior Mechling[13]; 18. 98-Keith Felicetty[10]. DNS: Steven Haefke, Jr. (39), Gary Sullivan (47s), Bryan Wagner (56).
Sharon Speedway is owned by the Blaney, Weller, and Kirila Families and is a 3/8-mile dirt track located on Custer-Orangeville Road in Hartford, Ohio near the intersection of Routes 7 & 305. For more information, check out the website at www.sharonspeedway.com or call 330-772-5481. Become a fan of Sharon Speedway on Facebook at www.facebook.com/sharonspeedway and follow us on Twitter at www.twitter.com/sharonspdwy.
---
Article Credit: Mike Leone
Back to News