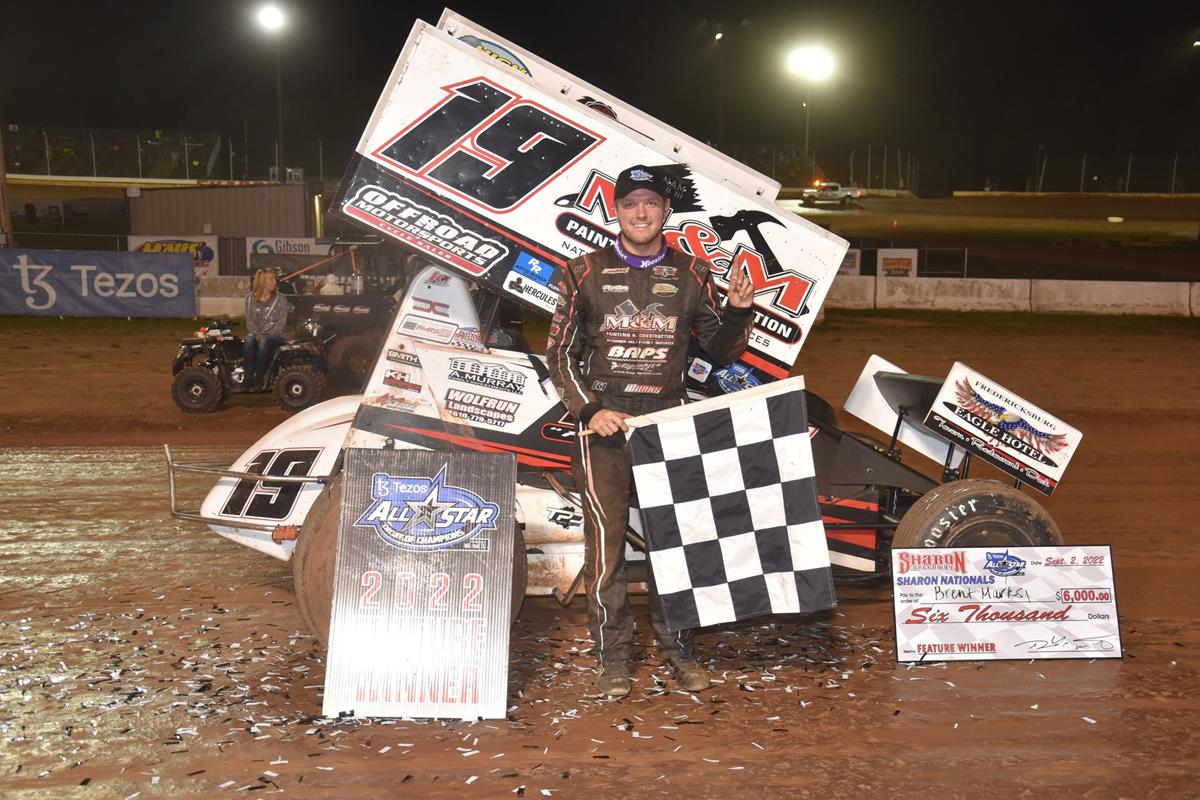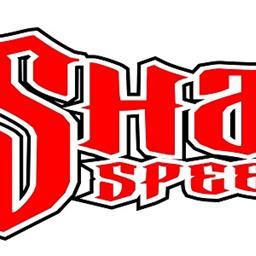 ---
BRENT MARKS OPENS SHARON NATIONALS WITH ALL STAR WIN; KRISTYAK ENDS 3+ YR WINLESS DROUGHT IN RUSH SPORTMAN MODS; 1ST STOCK WIN FOR STIFFLER
By Mike Leone
September 2, 2022
(Hartford, OH)…Sharon Speedway kicked off night one of the return of the "Sharon Nationals" after 17 years on Friday night as it was the 14th straight event completed during the 93rd anniversary season. Celebrating with wins in the Hovis Auto & Truck Supply victory lane were Brent Marks-Tezos All Star Circuit of Champions Sprint Cars, Rob Kristyak-HTMA/Precise Racing Products RUSH Sportsman Modified Flynn's Tire Touring Series, and Scott Stiffler-Gibson Insurance Agency Pro Stocks. There were 87 cars in the pit area for the three-division show on Bala Management Night.
After losing the April 30 All Star event on the final lap to Cap Henry, Brent Marks redeemed himself with an impressive first career Sharon win to open the "Sharon Nationals". Marks took the lead from Bill Balog on eight, fended off a mid-race challenge by Dale Blaney, then kept 11th starting Tyler Courtney at bay in the closing laps for the $6,000 win in the 30-lap feature. For Marks, it was his fourth All Star win of the season and 15th overall in "410" Sprint Car competition part of his career best season.
"I knew it had to be close," stated the 31-year-old Myerstown, Pa standout. "We had one heck of a night. Forced to bounce back after a crash during qualifying, the guys busted their butts to get us back out there for the heat race. The driveline was still bent after the heat so we had to come back and replace that. I'm just so thankful for them to work their butts off to get us back to where we are now. With so much going on, we really didn't get a chance to analyze any setups. It wasn't until after the dash that we got a chance to kinda sit down and discuss our approach. Even at that point, we were still kinda guessing on what this thing needed."
After an opening lap flip by Kyle Reinhardt, Balog used the outside to pass pole-sitter Marks for the early lead, while Dale Blaney passed his brother Dave for third. The Blaneys continued their battle over the next several laps. Meanwhile, the battle for the lead heated up as Balog and Marks raced side-by-side with Balog up top and Marks on the bottom. Marks snuck past Balog off the bottom of turn four for the winning move on lap eight before a caution for George Hobaugh. Two laps later, Dave Blaney, Zeb Wise, and Justin Peck, who were running fourth through sixth, got collected in a turn two melee to bring out the final caution of the event.
When green replaced yellow, Dale Blaney drove under Balog for second on lap 11. The "Low Rider" then caught Marks on lap 14, while Courtney entered the picture challenging Balog for third. Courtney and Balog put on an excellent side-by-side battle for five laps before Courtney got by for good on lap 18. Back up front, Blaney was all over Marks on laps 19 and 20. Marks caught traffic on lap 21 and was able to gap Blaney, who had his hands full with Courtney. Courtney slipped past Blaney on lap 23 for second then went after Marks.
Marks though was able to make the right moves in lapped traffic and took the checkered flag first for his eighth career All Star win by 1.584 seconds in the Murray-Marks Motorsports, M&M Painting & Construction/BAPS Paint/Fredericksburg Eagle Hotel-sponsored #19. Courtney's runner-up finish allowed him to extend his All Stars points lead over Peck, who failed to finish the feature. Balog got by Blaney on lap 24 to finish third. Dale Blaney was fourth in his first All Star race in more than a year. Hunter Schuerenberg went 10th to fifth.
After winning the season opener at Sharon, Henry had a strong sixth after starting 17th! A.J. Flick was eighth and earned a $150 bonus from Mobile Bail Bonds for being the highest eligible local finisher. Rico Abreu was ninth after starting 15th. Wise came back to finish 10th.
Marks set fast time overall against the 40-car field in qualifying with a lap of 14.805. Heat winners were Peck, Wise, Balog, and Flick. Marks also won the dash to earn the pole, while Kasey Kahne won the last chance B main in his first All Star and Sharon start of 2022.
Rob Kristyak ended a winless drought of more than three years at Sharon with a dominating performance in the 25-lap HTMA/Precise Racing Products feature presented by Jerry Rents LLC. Kristyak, who owns 11 career Big-Block Modified wins, led wire-to-wire taking the $1,000 victory by nearly six seconds in the non-stop feature timed in 8:22.894. Kristyak became the fourth different Flynn's Tire Touring Series winner in as many 2022 races as he also ended more than a three-year winless drought in the Tour with his first win since July 11, 2019 at Expo Speedway.
"I needed that to go green-to-checkered," acknowledged the 44-year-old Bristolville, Ohio veteran. "I knew Tony (Tatgenhorst) would be coming on the low side. I told the pit crew before I went out that I just needed to drive slow and don't go to the high side. Thank you to Jerry Schaffer for the extra money, Vicki (Emig), and Sharon Speedway for putting this on. We picked up a new sponsor this year, Bala Management with Scott Thompson- hopefully he's up there. I have to thank all my sponsors, my wife, son, and everyone that helps me. I have to thank my guys for sticking with me; I could take them anywhere."
Kristyak used the outside to power past Doug Rutana on the start with Tony Tatgenhorst following in second. By lap two, the top two of Kristyak and Tatgenhorst quickly began to distance themselves from the field, while Cole Edwards moved into the top five by passing Bill Cunningham. Kristyak pulled away from Tatgenhorst on lap eight and caught lapped traffic on lap 12; meanwhile, Rutana was trying to fend off Todd English and Edwards in the battle for third.
Lapped traffic didn't slow Kristyak during the second half of the event as he pulled away and took the checkered flag first by a commanding 5.761 seconds in his Mark Thomas Ford/Jeff's Towing & Auto Repair/Wedge Motorsports/ BALA Management/Bristol Disposal/C&R Tire/Texas Roadhouse Niles-sponsored #00. While the win was Kristyak's ninth of his career in RUSH Sportsman Modified competition, it was just his third at Sharon and first since June 22, 2019 and second of his career with the Touring Series. Kristyak also became the seventh different winner in nine races this year at Sharon.
Tatgenhorst, who won his first career Sharon feature on May 28, was a career best second in Touring Series competition. Rutana's third place was a career best finish for the second year racer. English was fourth. Edwards earned his first career top five finish at Sharon and with the Touring Series in fifth for the 14-year-old second year racer. In addition to the extra $200 to the winner, positions two through five received a $100 bonus from Jerry Schaffer of Jerry Rents.
After struggling in his heat race, Ayden Cipriano, who had won the last two races at Sharon, raced from 15th to sixth and was all over Edwards at the finish. Cipriano, who took over the Flynn's Tire Tour points lead, received a $50 Precise Racing Products gift card and a $100 Summit Racing Equipment gift car for being the hard charger. Kyle Martell was seventh. After a season best fifth place finish last Saturday night at Sharon, Cunningham dropped from fourth to eighth at the finish. Josh Deems was ninth beating out Eric Gabany, who was subbing for Garrett Krummert. Heat winners over the 21-car field were Edwards, Tatgenhorst, and Holden.
Using a car he built from scratch two years ago, Scott Stiffler returned to victory lane for the first time in more than six years at Sharon with his first ever Pro Stock win at the track! Stiffler, a 20-time E-Mod winner, led wire-to-wire in the 20-lap Gibson Insurance Agency feature holding off three-time 2022 winner and former track champion, Curt J. Bish, for the $750 victory.
"I was worried about all the restart but the guy that was helping me called it saying there were going to be some cautions," explained the 52-year-old Farmdale, Ohio racer. "He told me to take care of them (tires) and I did. I heard Bish and saw the 7 (Longwell) was coming and I thought 'it's about to get interesting'- then I quit hearing Bish so that was a good thing. I was entering a little too fast and using the brake to get back down instead of letting it float- that was driver error."
Stiffler took off in the lead from the pole, while Bish passed Brian Carothers for second. Coleton Longwell got into Carothers while making the pass for third on lap four. Will Thomas III then dropped Carothers back another spot when he grabbed fourth on lap five. Thomas slowed with a flat tire bringing out the caution with eight laps completed. A four-car accident on the ensuing restart was the last stoppage as the final 12 laps went green-to-checkered.
Bish pressured Stiffler during the second-half of the feature, but Stiffler was able to hold on by 0.441 seconds for his 21st career win in his Integra Fabricating/Wehrs Machine/Close Racing Supply/Wedge Motorsports/Cyndi's Custom Creations-sponsored #14. Longwell crossed the finish in third, but was disqualified in post-race tech for a deck height violation. Carothers was credited with third.
Steve D'Apolito was fourth after starting eighth. Bobby Whitling was fifth. Thomas came back to finish sixth over Paul Davis. Larry Kugel went 15th to eighth. Jordan Perkins was ninth. Sixteenth starting Jonathan Davis completed the top 10. Heat winners over the 26-car field were Stiffler, Carothers, and Bish.
The "Sharon Nationals" will conclude on Saturday night (September 3) with the 14th annual "Lou Blaney Memorial" paying $12,000 to-win plus the BRP Tour for the Hovis Auto & Truck Supply Big-Block Modifieds for $2,500 to-win. Premier Pallet and Ryan Blaney have added a $2,200 bonus to the highest finishing non All Star team, while positions 10-24 (all teams) will receive an extra $100. Bala Management has added $2,000 in bonus monies for the Modifieds. Gates open at 3 p.m. with warmups at 6:30 with qualifying and racing to follow. General admission is $30, kids 13 and under are free, and pit passes are $40.
All Star Circuit of Champions Sprint Cars (30 laps, $6,000 to-win): 1. 19M-BRENT MARKS[1]; 2. 7BC-Tyler Courtney[11]; 3. 17B-Bill Balog[2]; 4. 10B-Dale Blaney[4]; 5. 55-Hunter Schuerenberg[10]; 6. 4-Cap Henry[17]; 7. 2-AJ Flick[7]; 8. 24-Rico Abreu[15]; 9. 26-Zeb Wise[6]; 10. 18-Giovanni Scelzi[9]; 11. 42-Sye Lynch[8]; 12. 11-Anthony Macri[13]; 13. 19-Chris Windom[16]; 14. 97-Greg Wilson[18]; 15. 22-Cole Duncan; 16. 9-Kasey Kahne; 17. 33-Brent Matus[12]; 18. 81-Lee Jacobs; 19. 5K-Adam Kekich[20]; 20. 10-Dave Blaney[3]; 21. 13-Justin Peck[5]; 22. 08-Dan Kuriger[19]; 23. 40-George Hobaugh; 24. 91-Kyle Reinhardt[14].
DNQ for the feature: Cody Bova (20B), Jeremy Weaver (5), Jordan Thomas (17), Bob Felmlee (6), Brandon Spithaler (22), Michael Bauer (46), Brett Brunkenhoefer (47), Carl Bowser (11), Logan McCandless, Ryan Fredericks (22R), Vivian Jones (32V), Conner Morrell (28M), Brandon Matus (13), Darren Pifer (23), Michael Lutz, Jr. (86), David Kalb, Jr. (11J).
HTMA/Precise Racing Products RUSH Sportsman Modified Flynn's Tire Touring Series (25 laps, $1,000 to-win): 1. ROB KRISTYAK (00) 2. Tony Tatgenhorst (63T) 3. Doug Rutana (46R) 4. Todd English (01T) 5. Cole Edwards (29) 6. Ayden Cipriano (5c) 7. Kyle Martell (8) 8. Bill Cunningham (59) 9. Josh Deems (9D) 10. Eric Gabany (JGCP 10s) 11. Ben Easler (02) 12. Kole Holden (2) 13. Nick Ritchey (1R) 14. Dalton Gabriel (333G) 15. Ryan Riffe (21x) 16. Jacob Rutana (57R) 17. Jacob Jordan (28J) 18. Jordan Ehrenberg (JD57) 19. Lucas Canon (2LC) 20. Dave Price (111) 21. Preston Cope (24)-DSQ (rev box).
Gibson Insurance Agency Pro Stocks (20 laps, $750 to-win): 1. 14-Scott Stiffler[1]; 2. 29-Curt J Bish[3]; 3. 02C-Brian Carothers[2]; 4. 84-Steve D'Apolito[8]; 5. 7W-Bobby Whitling[9]; 6. 9-Will Thomas[5]; 7. 3-Paul Davis[12]; 8. 0-Larry Kugel[15]; 9. 13J-Jordan Perkins[10]; 10. 8-Jonathan Davis[16]; 11. 63-Chris McGuire[7]; 12. 11S-Jamie Scharba[26]; 13. 97-Garrett Calvert[13]; 14. 12M-Scott Malone[14]; 15. 17S-Matt Sampson[18]; 16. 05-Ed Bolyard[24]; 17. J19-Jason Fosnaught[6]; 18. 7B-Matt Bernard[21]; 19. 67J-Jamie Duncan[17]; 20. 21-Troy DeZarn[22]; 21. 11-Randy Nagy[20]; 22. 30-Shane Applebee[11]; 23. 7-Coleton Longwell[4]-DSQ (deck height). DNS: Jacob Wheeler (44), Rusty Wheeler (927), Tyler Wyant (24).
Sharon Speedway is owned by the Blaney, Weller, and Kirila Families and is a 3/8-mile dirt track located on Custer-Orangeville Road in Hartford, Ohio near the intersection of Routes 7 & 305. For more information, check out the website at www.sharonspeedway.com or call 330-772-5481. Become a fan of Sharon Speedway on Facebook at www.facebook.com/sharonspeedway and follow us on Twitter at www.twitter.com/sharonspdwy.
---
Article Credit: Mike Leone
Back to News