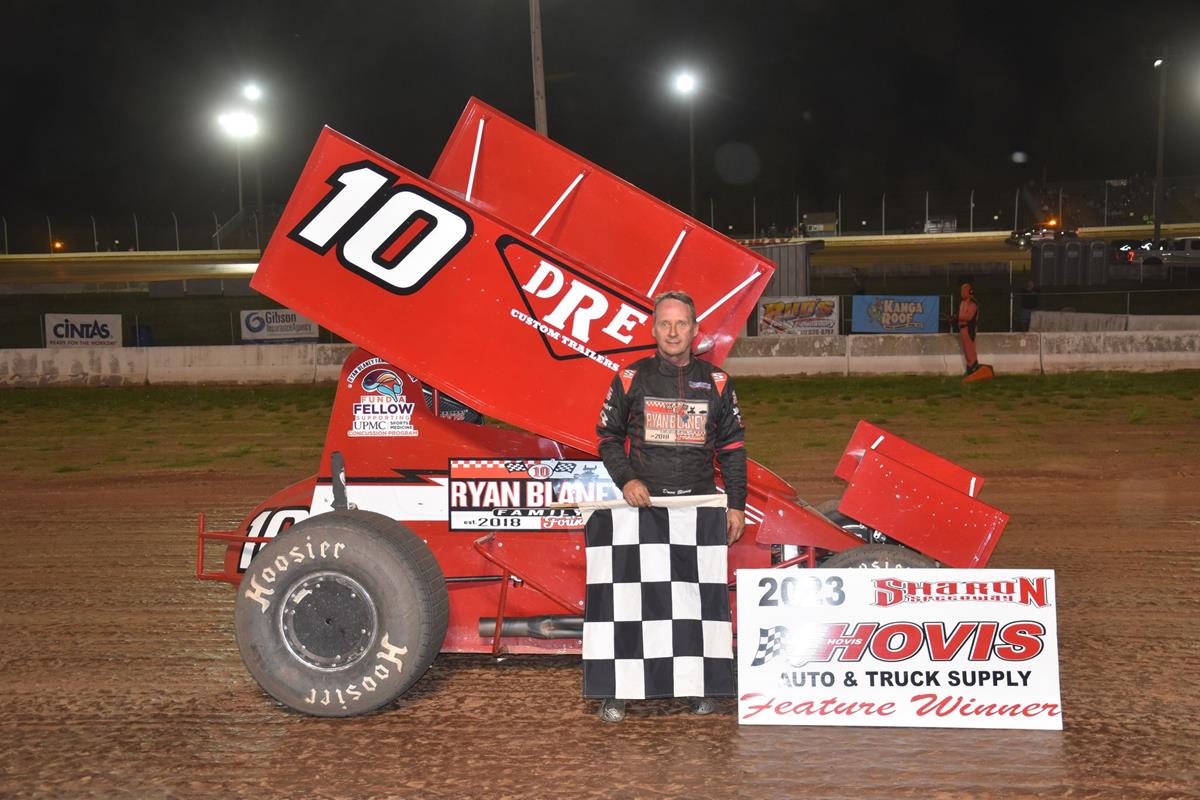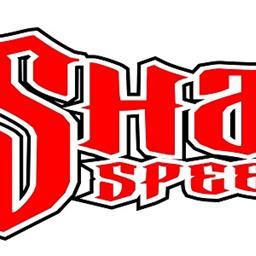 ---
DAVE BLANEY OPENS 94TH ANNIVERSARY SEASON WITH HIS 35TH "410" SPRINT WIN; STANDOUTS CHAD RUHLMAN, BEN EASLER & DUSTIN DEMATTIA ALSO WIN
By Mike Leone
May 13, 2023
(Hartford, OH)…After some sprinkles and light showers for much of the morning and early afternoon, skies cleared allowing Sharon Speedway to open the 94th anniversary season on Saturday night for the first "Steel Valley Thunder" program of 2023. Celebrating in the Hovis Auto & Truck Supply victory lane were Dave Blaney-Hovis Auto & Truck Supply "410" Sprint Cars, Chad Ruhlman-Terry Bowser Excavating RUSH Sprint Cars, Ben Easler-HTMA/Precise Racing Products RUSH Sportsman Modifieds, and Dustin DeMattia-Whelen Econo Mods. It was Hovis Auto & Truck Supply night.
Hometown hero Dave Blaney turned in an excellent tune-up for next Saturday's NOS Energy Drink World of Outlaws Sprint Car event by kicking off the season with a victory in the 30-lap Hovis Auto & Truck Supply "410" Sprint Car feature. The 60-year-old National Sprint Car Hall of Famer, who now calls High Point, North Carolina home, led from wire-to-wire to capture his 35th career "410" victory at his home track which he co-owns.
Blaney took the $3,000 feature victory by a margin of 1.591 seconds in his #10 over invader, Dylan Cisney, who made the long tow from central Pennsylvania after the World of Outlaws cancellation at Williams Grove Speedway. Cisney started seventh and closed in on Blaney late, but ran out of time settling for a runner-up in his first visit to the Hartford, Ohio oval. A.J. Flick, who has taken a liking to Sharon in recent years, was third after starting from the pole. Lee Jacobs was fourth in his first race of 2023 over Adam Kekich.
Two-time All Star Champion, Greg Wilson, charged from 14th to sixth over fellow Ohio standout Cole Duncan. George Hobaugh, 19th starting Brett Brunkenhoefer and Darren Pifer completed the top 10. Dan Shetler set fast time overall against the strong 30-car field in qualifying with a lap of 15.018. Heat race winners were Dale Blaney, Dave Blaney, and Darin Gallagher, while Brunkenhoefer won the last chance B main.
Four-time RUSH Sprint Car Sunbelt Rentals Weekly Series Champion, Chad Ruhlman, looks primed for a fifth $5,000 title in six years. The 46-year-old Erie, Pa. driver of Tim Engles' #68 led from green-to-checkered in the 20-lap Terry Bowser Excavating feature. One late race restart was all that slowed Ruhlman's run to his 10th win in 25 races run all-time at Sharon.
Blaze Myers was 1.009 seconds behind Ruhlman as he fended off multi-division talent John Mollick for the runner-up spot. Brandon Blackshear was fourth over Brian Hartzell. Zack Wilson, Arnie Kent, Brian Cressley, Ricky Tucker, Jr., and Joe Buccola completed the top 10. Heat winners over the 23-car field were Ruhlman, Hartzell, and Myers.
Ben Easler picked right back where he left off last year in the RUSH Sportsman Modifieds. The 16-year-old Linesville, Pa. racer, who won RUSH's $3,500 Weekly Series and $1,000 "Route 7 Rumble" Series presented by Wedge Motorsports titles last year, had the most dominating performance of the night.
Easler started third and took the lead on lap two from Doug Rutana in the 20-lap HTMA/Precise Racing Products feature. Easler's #02 took the checkered flag first by a commanding 4.835 seconds over fourth starting JC Boyer for his third career Sharon victory. Jacob Wolfe was third over Rob Kristyak, while Rutana dropped to fifth. Ayden Cipriano, Kole Holden, Jacob Rutana, Dalton Gabriel, and Chelsie Kriegisch completed the top 10. Heat race winners were Easler and Cipriano.
2019 track champion, Dustin DeMattia, was back in an Econo Mod on Saturday night after having success in recent years in the UMP Modifieds. The 25-year-old Montville, Ohio driver started third and took the lead on lap two following a restart. DeMattia withstood numerous restarts in the 20-lap HTMA/Precise Racing Products feature including a last lap, one-lap shootout and held off Will Thomas III by just 0.181 seconds for his fourth career win in the division and fifth overall at the track in his #77D.
Super Late Model racer, Eric Wilson, was third subbing for Garrett Calvert. Eighteen-time division winner, Jeremy Double, was fourth over Brian Toto. Steve Haefke (Jr), Scott Burk, Jr., Kevin Vanderhoof, Eric Nellis III, and Troy Pinch completed the top 10. Heat victors were Double and Wilson.
Coming up next Saturday (May 20) will be the first of two appearances by the World of Outlaws NOS Energy Sprint Cars in a $10,000 to-win event along with the Gibson Insurance Agency Pro Stocks. Warm-ups begin at 6:30 p.m. Tickets and pit passes will be available at the gate; however, reserved and advance tickets are available through the World of Outlaws at https://mpv.tickets.com/?agency=WRG_SNG_MPV&orgid=52711&eventId=89857. Those interested in reserving a camping spot can book through the following link: https://www.simpletix.com/e/rv-trailer-tent-camping-tickets-98988#smtx-click
Hovis Auto & Truck Supply "410" Sprint Cars (30 laps, $3,000 to-win): 1. 10-Dave Blaney[2]; 2. 5-Dylan Cisney[7]; 3. 2-AJ Flick[1]; 4. 81-Lee Jacobs[11]; 5. 5K-Adam Kekich[9]; 6. W20-Greg Wilson[14]; 7. 22-Cole Duncan[17]; 8. 40-George Hobaugh Jr[12]; 9. 47-Brett Brunkenhoefer[19]; 10. 23-Darren Pifer[15]; 11. 12-Darin Gallagher[4]; 12. 46-Michael Bauer[8]; 13. 08-Danny Kuriger[18]; 14. 11-Carl Bowser[24]; 15. 20B-Cody Bova[23]; 16. 3V-Chris Verda[16]; 17. 11J-David Kalb Jr[21]; 18. X7-Andy Cavanagh[13]; 19. 86-Michael Lutz Jr[20]; 20. 33-Brent Matus[22]; 21. 13-Brandon Matus[5]; 22. 29-Dan Shetler[6]; 23. 32B-Dale Blaney[10]; 24. 6-Bob Felmlee[3]. DNQ: Bob Lime (901), Eric L. Williams (4W), Joe Butera (3), Steve Bright (13B), Brandon Meszaros (21x), Cameron Nastasi (99).
Terry Bowser Excavating RUSH Sprint Cars (20 laps): 1. 68C-Chad Ruhlman[1]; 2. 43JR-Blaze Myers[3]; 3. 4J-John Mollick[4]; 4. 10-Brandon Blackshear[7]; 5. 69-Brian Hartzell[2]; 6. 1-Zack Wilson[9]; 7. 9-Arnie Kent[6]; 8. 41-Brian Cressley[8]; 9. 1T-Ricky Tucker Jr[11]; 10. 5B-Joe Buccola[12]; 11. 20-Jeff Metsger[13]; 12. 69X-AJ MacQuarrie[10]; 13. 68K-Kevin Ruhlman[14]; 14. 29-Brandon Shughart[18]; 15. 23-Charlie Utsinger[5]; 16. 13K-Kevin Kaserman[19]; 17. 16C-Amelia Clay[16]; 18. 15-Lacey Shuttleworth[22]; 19. 11-Don Blaney[21]; 20. 54-Devon Deeter[20]; 21. 56-Tyler Clark[17]. DNS: 19-Brad Blackshear, 5E-Hunter Exley.
HTMA/Precise Racing Products RUSH Sportsman Modifieds (20 laps): 1. 02-Benjamin Easler[4]; 2. 12-JC Boyer[6]; 3. 7-Jacob Wolfe[7]; 4. 00-Rob Kristyak[9]; 5. 46R-Doug Rutana[2]; 6. 5C-Ayden Cipriano[3]; 7. 2-Kole Holden[5]; 8. 57R-Jacob Rutana[1]; 9. 333G-Dalton Gabriel[8]; 10. 10-Chelsie Kriegisch[10]; 11. 00K-Jackson Kristyak[11].
Whelen Econo Mods (20 laps): 1. 77D-Dustin DeMattia[3]; 2. 9-Will Thomas[8]; 3. 7X-Eric Wilson[5]; 4. 83-Jeremy Double[6]; 5. 8B-Brian Toto[1]; 6. 39-Steve Haefke (Jr) [4]; 7. 2-Scott Burk Jr[2]; 8. 99V-Kevin Vanderhoof[11]; 9. 15-Eric Nellis II[16]; 10. 12-Troy Pinch[9]; 11. 26X-Carter Bidwell[12]; 12. 89C-Travis Carothers[15]; 13. 20-Alex Siekkinen[14]; 14. 71A-Don Watson[13]; 15. J19-Jason Fosnaught[10]; 16. 98-Keith Felicetty[7]. DNS: 965-Andy Buckley.
Sharon Speedway is owned by the Blaney, Weller, and Kirila Families and is a 3/8-mile dirt track located on Custer-Orangeville Road in Hartford, Ohio near the intersection of Routes 7 & 305. For more information, check out the website at www.sharonspeedway.com or call 330-772-5481. Become a fan of Sharon Speedway on Facebook at www.facebook.com/sharonspeedway and follow us on Twitter at www.twitter.com/sharonspdwy.
---
Article Credit: Mike Leone
Back to News