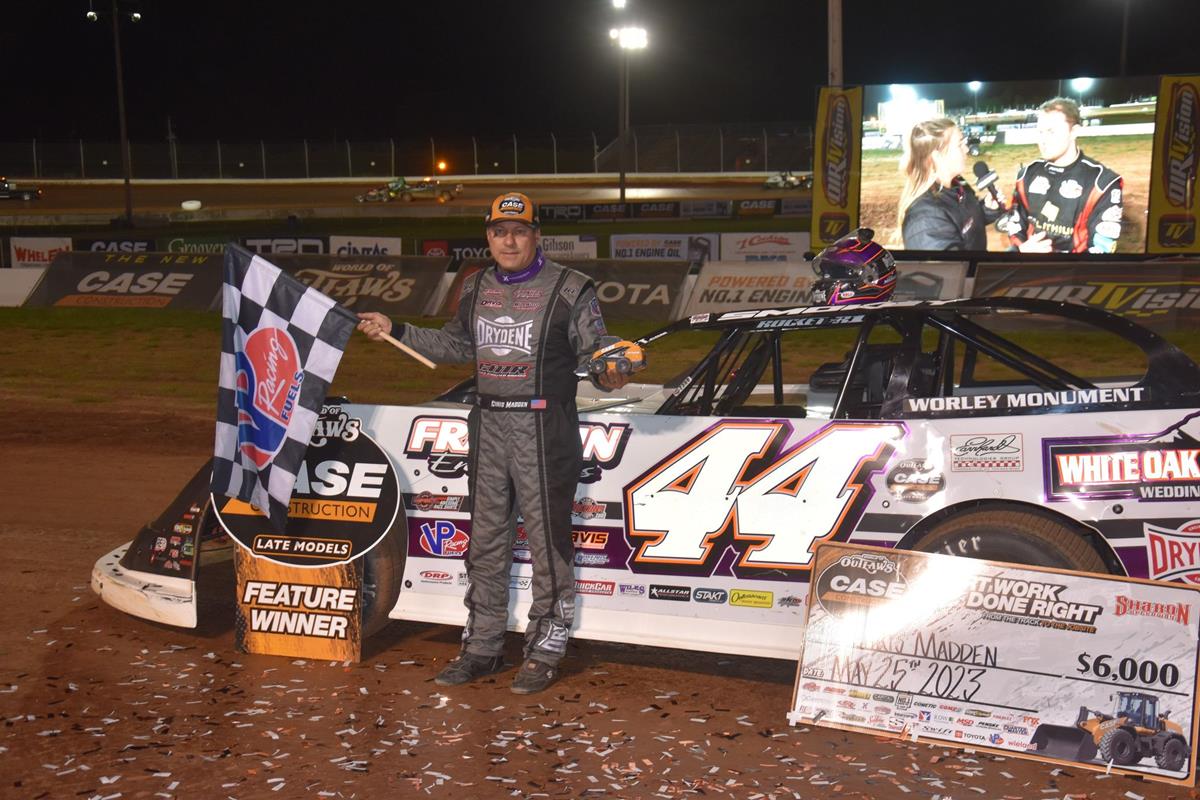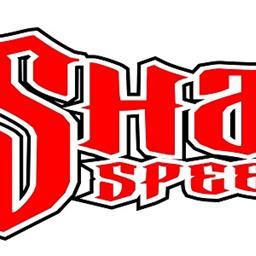 ---
WORLD OF OUTLAWS POINTS LEADER CHRIS MADDEN OPENS "BATTLE AT THE BORDER" WITH 1ST CAREER SHARON LATE MODEL WIN; RUHLMAN 2-FOR-2 IN RUSH SPRINTS
By Mike Leone
May 25, 2023
(Hartford, OH)…Sunshine and chilly, fall-like weather greeted race fans and racers as the "Battle at the Border" kicked off for night one of the three-night affair at Sharon Speedway on Thursday night. Celebrating in the Hovis Auto & Truck Supply victory lane were Chris Madden-World of Outlaws CASE Construction Equipment Late Models and Chad Ruhlman-Terry Bowser Excavating RUSH Sprint Cars. Race #3 of the 94th anniversary season marked the 19th straight completed event dating back to last season at Memorial Day weekend.
World of Outlaw points leader, Chris Madden, came into Sharon winless during the 2023 season. That ended on Thursday night with a dominating performance in the 25-lap feature to kickoff the "Battle at the Border". Madden got by Drake Troutman on the opening lap and went unchallenged to the $6,000 victory- the first of his career at Sharon.
"It's the best it's been all year," expressed the Gaffney, South Carolina standout from victory lane. "We just haven't been able to put a finger on it and find it, but we've worked extremely hard, changed quite a few things, and I think we're at least in the ballpark now. We have something we can work with. I'm just happy to have a balance I can feel and work off of again. I just want to thank my sponsors and my guys for not giving up on me. This is a tough, humbling sport. Everybody's got to be tough, and your skin's got to be thick to do this. You got to have good guys and good sponsors that stick with you through the toughness. We're just thankful to have those."
While Madden grabbed the early lead, Mike Marlar raced into second past Troutman. Fifth starting Bobby Pierce got by Troutman for third on lap two with an inside pass. While Madden began to pull away on lap three, the battle was on for second with Marlar trying to fend off Pierce and Troutman. Madden had a lead of 1.430 seconds when he caught lapped traffic on lap nine. Madden was in heavy traffic on lap 12, which allowed Marlar to close.
The event's first and only caution was displayed with 13 laps scored when Pierce made heavy contact with Troutman on the frontstretch. The contact caused Breyton Santee to spin with Gregg Satterlee also caught up. The damage to Troutman ended his night, while Pierce was able to continue.
When racing resumed, Pierce and eighth starting Brandon Sheppard passed Marlar for second and third respectively. While Madden continued to lead, it was a great side-by-side battle for second with Pierce, Sheppard, and Marlar going at it. When the checkered flag waved, Madden had an advantage of 2.570 seconds in the Drydene/Henderson Amusements/Millwood Plumbing-sponsored #44 over Pierce for his 34th career World of Outlaws win and extended his points lead to 40 points over Ryan Gustin.
Marlar got back by Sheppard late for third. Sheppard was fourth over Tuesday's Stateline Speedway winner, Nick Hoffman. Brian Shirley went 11th to sixth over 13th starting Kyle Bronson. Tanner English, Gustin, and Shane Clanton completed the top 10.
Marlar set fast time overall against the 40-car field with a lap of 16.866 in qualifying. Heat winners were Marlar, Satterlee, Madden, and Troutman, while Chub Frank and Johnny Scott copped the last chance B mains.
Chad Ruhlman made it two-for-two in the Terry Bowser Excavating RUSH Sprint Cars in 2023. After a dominating performance in the May 13 opener, Ruhlman started fourth, passed Ryan Fraley for the lead on lap three and drove a great race through lapped traffic for the $800 victory- his 11th in 26 races all-time at Sharon. The race went non-stop in 7:25.440.
"I couldn't tell where we were (how big of a lead) with lapped traffic," acknowledged the 46-year-old Erie, Pa. resident who leads the $5,000 to-win Sunbelt Rentals Weekly Series points. "Here when you get in traffic like that you just have to make the moves and make the most of it; twenty-laps I can stay up on the wheel that long. For all the years we spent out at Eldora (Speedway) racing, this track is an Eldora-Lernerville type track. The track crew here does an awesome job and you can race all over it. I hope we put on a good show for everyone on TV (DIRTVision) and who was here."
In his season debut, Fraley led the first two laps of the 20-lap feature. Ruhlman was ripping the top riding the fence and nosed ahead with a big run off the top four to take over on lap three. Fraley held tough and the duo raced side-by-side for the lead on laps four and five before Ruhlman broke free. Fifth starting Brandon Blackshear slipped under Brian Hartzell for third on lap 10 after a side-by-side battle for several laps.
By the halfway point, Ruhlman pulled away and had a lead of 2.234 seconds on Blackshear when he caught lapped traffic on lap 12. Ruhlman continued to extend his lead in traffic until lap 19 when he encountered heavy traffic and had to make three-wide passes. At the finish, Ruhlman took the Tim Engles-owned, Dirt Road Logistics/LINC Products/Billy @ Suppa Racing/Dynamic Machine/Cre8ions by Maddie-sponsored #68 to his 45th career Hovis Auto & Truck Supply RUSH Sprint Car Series win.
Fraley had a strong season debut over Blackshear. After going sixth to third, Brian Hartzell was fourth as Zack Wilson completed the top five. A.J. MacQuarrie went 10th to sixth to earn the $100 Summit Racing Equipment Hard Charger gift card. Arnie Kent, Blaze Myers, 13th starting Ricky Tucker, Jr., and Bill Cunningham in his season debut rounded out the top 10. Heat winners over the 22-car field were Hartzell, Blackshear, and Ruhlman.
The World of Outlaws Late Models are back at Sharon for night two of the "Battle at the Border" on Friday night featuring another $6,000 to-win complete show along with the HTMA/Precise Racing Products RUSH Sportsman Modifieds for $800 to-win. Pit gates open at 2 p.m. with general admission at 5. Warmups begin at 6:30 p.m. following by qualifying and racing. Reserved Tickets: $40 General Admission: $35 Kids 12 & under: $10 Pits: $40. For reserved/advance tickets, go to: https://mpv.tickets.com/?agency=WRG_SNG_MPV&orgid=52711&eventId=90030
World of Outlaws CASE Construction Equipment Late Models (25 laps, $6,000 to-win): 1. 44-CHRIS MADDEN[2]; 2. 32-Bobby Pierce[5]; 3. 157-Mike Marlar[3]; 4. B5-Brandon Sheppard[8]; 5. 9-Nick Hoffman[7]; 6. 3S-Brian Shirley[11]; 7. 40B-Kyle Bronson[13]; 8. 96V-Tanner English[16]; 9. 19R-Ryan Gustin[6]; 10. 25-Shane Clanton[14]; 11. B1-Brent Larson[24]; 12. 1C-Alex Ferree[9]; 13. 1*-Chub Frank[17]; 14. 28-Dennis Erb Jr[10]; 15. 1ST-Johnny Scott[18]; 16. 2S-Stormy Scott[12]; 17. 11-Gordy Gundaker[23]; 18. 0-Rick Eckert[15]; 19. 36-Logan Martin[20]; 20. 27W-Eric Wilson[22]; 21. 97-Cade Dillard[21]; 22. 30-Todd Cooney[25]; 23. 14W-Dustin Walker[26]; 24. 7T-Drake Troutman[1]; 25. 22-Gregg Satterlee[4]; 26. 9S-Breyton Santee[19].
DNQ for the feature: Dan Stone (2), Matt Lux (111), Deshawn Gingerich (0G), Daryl Charlier (3RK), Logan Zarin (1z), Levi Yetter (9y), Colton Flinner (48), Cory Lawler (93), Andy Boozel (12B), Rob Anderzack (8), Kenny Schaffer (13x), John Garvin, Jr. (J4), Mike Smith (96), Clay Ruffo (14R)
Terry Bowser Excavating RUSH Sprint Cars (20 laps, $800 to-win): 1. 68-CHAD RUHLMAN[4]; 2. 12-Ryan Fraley[1]; 3. 10-Brandon Blackshear[5]; 4. 69-Brian Hartzell[6]; 5. 1-Zack Wilson[3]; 6. 69X-AJ MacQuarrie[10]; 7. 9-Arnie Kent[9]; 8. 6-Blaze Myers[2]; 9. 1T-Ricky Tucker Jr[13]; 10. 44C-Bill Cunningham[7]; 11. 41-Brian Cressley[15]; 12. 68K-Kevin Ruhlman[8]; 13. 29-Brandon Shughart[12]; 14. 23-Charlie Utsinger[11]; 15. 15-Lacey Shuttleworth[14]; 16. 5B-Joe Buccola[18]; 17. 17-Trent Marshall[17]; 18. 54-Devon Deeter[21]; 19. 13K-Kevin Kaserman[16]; 20. 12C-Josalyn Hibbard[20]; 21. 16C-Amelia Clay[19]; 22. 11-Don Blaney[22]
Sharon Speedway is owned by the Blaney, Weller, and Kirila Families and is a 3/8-mile dirt track located on Custer-Orangeville Road in Hartford, Ohio near the intersection of Routes 7 & 305. For more information, check out the website at www.sharonspeedway.com or call 330-772-5481. Become a fan of Sharon Speedway on Facebook at www.facebook.com/sharonspeedway and follow us on Twitter at www.twitter.com/sharonspdwy.
Back to News