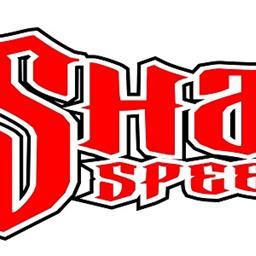 ---
RYAN GUSTIN BECOMES 1ST WORLD OF OUTLAWS LATE MODEL REPEAT WINNER AT SHARON TAKING NIGHT 2 OF "BATTLE AT THE BORDER"; RUSH MODS TO AYDEN CIPRIANO
By Mike Leone & Mike Warren (WoO PR)
May 26, 2023 FOR IMMEDIATE RELEASE
(Hartford, OH)…Sunshine and warmer temperatures greeted race fans and racers for night two of the "Battle at the Border" on Friday night at Sharon Speedway. Celebrating in the Hovis Auto & Truck Supply victory lane were Ryan Gustin-World of Outlaws CASE Construction Equipment Late Models and Ayden Cipriano HTMA/Precise Racing Products RUSH Sportsman Modifieds. Race #4 of the 94th anniversary season marked the 20th straight completed event dating back to last season at Memorial Day weekend.
Less than a year after scoring his first career World of Outlaws CASE Construction Equipment Late Model Series win at Sharon Speedway, Ryan Gustin added another piece of history to his resume. The Marshalltown, IA driver held off a late charge by Kyle Bronson to win his second feature at the Ohio facility. Gustin became the first driver to win a second World of Outlaws race at Sharon since the Series first debuted in 2004.
Gustin and Bronson led the field to the green in the 25-lap feature as "The Reaper" quickly pulled away from the #40B. While Gustin continued his torrid pace early, two cautions slowed the field. The first was for Stormy Scott's flat tire on lap six, and the second was for Alex Ferree, who stopped in turn four on lap 15. On the restart following the caution for Ferree, Bronson took his chance at trying to wrestle the lead from Gustin. The Brandon, FL driver thundered to the top side, clearing Sheppard and closing on Gustin's Rocket XR1.
But just as Bronson was a few car lengths behind, Gustin slid up the track in turns one and two, taking the lane away. From there, Gustin held on, leading all 25 laps to earn his second World of Outlaws CASE Construction Equipment Late Models win of the season and fourth overall. Gustin alluded to his team's tire choice as one reason he bounced back from Thursday's ninth-place finish.
"I had a little bit different tire selection," Gustin said. "And really, the race car was a fair bit different too. I don't know, [Taylon Center, his crew chief] just went to work and got us where we needed to be. I've been trying to give him the best information I can in the seat, and basically, we hit it tonight."
Despite making the lane change in the race's closing laps, Gustin said he didn't realize Bronson was there.
However, he was glad he moved to the top as it helped him grab the $6,000 payday. "It sounded like he was ripping the top," Gustin said. "I felt really good on the bottom until the tire kind of got hot, and the brown started going away. Once that's gone, then the top comes in hard for a little while until the bottom kind of cleans up. TC was telling me to rip the fence, and I'm glad we went up there when we did because it sounded like he was right there."
Bronson crossed the line second, his second World of Outlaws podium of the 2023 season. The Brandon, FL driver said he made one mistake that cost him the victory. "I made one wrong move," Bronson said. "I felt like as soon as [Gustin] moved up to the cushion, the next corner, I felt like he was going to run the top, and he was going to the bottom, and I was already committed down there. That was my chance to slide him there, and I should've just blasted the top. I made one mistake, and I felt like it cost me the race."
Four-time Series champion Brandon Sheppard crossed the line third for his second podium in the last four races. The New Berlin, IL driver had a chance to pass Bronson on both restarts but couldn't make the pass.
Despite that, Sheppard said he feels good about his weekend heading into Saturday's finale.
"We had a really maneuverable car," Sheppard said. "All in all, it's been a pretty good weekend so far. I probably could've went to the top there and made some more speed. Could've, would've, should've. I didn't. The consistency is there; we just need to be a couple of spots better. I think we have a car capable of doing it. We just have to make it happen."
Mike Marlar, the 2018 Series champion, finished fourth, and Series points leader Chris Madden rounded out the top five. Completing the top 10 were Bobby Pierce, Tanner English, Brent Larson, Nick Hoffman, and Shane Clanton.
Dennis Erb, Jr. set fast time overall in qualifying with a lap of 16.383. Heat winners were Bronson, Gustin, Drake Troutman, and Johnny Scott. The last chance B mains went to locals Gregg Satterlee and Alex Ferree.
Tony Tatgenhorst's misfortunes turned into good fortunes for Ayden Cipriano in the 20-lap HTMA/Precise Racing Products RUSH Sportsman Modified feature. Tatgenhorst was out front setting the pace in his first start of 2023; however on lap 11, disaster struck. Brenten Kay slowed abruptly in front of Tatgenhost trying to exit to the infield, while the lapped car of Jackson Kristyak was up top. Tatgenhorst ran out of race track making contact with Kay and spinning. That gave Cipriano the lead, who held off May 13 opening night winner Ben Easler throughout the second half of the event to capture the $800 victory.
"We were really able to get this car to stick on the bottom," acknowledged the 17-year-old Hermitage, Pa. driver following his third career Sharon win. "We might have been a little off in gearing, but other than that the car was great and drove off the corners great. Hopefully we can keep getting wins here both on the bottom and top. This is one of the smoothest tracks we have around here. The track is great and everyone here is super nice. I can't ask for a better place to run."
It was Cipriano's third Wedge Motorsports "Route 7 Rumble" Series victory of the season as he's two-for-two at Raceway 7 in RUSH Sportsman Modified competition in the William Cipriano-owned, Wheatland Steel Processing/Novus Mortgage of Hermitage/Rudy's Tavern/RKR/Fin & Bear It/Stainless Steel Engineering/Grossman's Garage-sponsored #5c.
Easler, who started sixth, was 1.538 seconds behind Cipriano. Jacob Wolfe was third over 10th starting JC Boyer, who earned the $100 Summit Racing Equipment Hard Charger gift card, and Kole Holden. Sixth through 10th were Jordan Ehrenberg, Brandon Ritchey, Gage Priester, Rob Kristyak, and Dalton Gabriel. Heat winners were Easler and Rob Kristyak.
The World of Outlaws Late Models are back at Sharon for night three of the "Battle at the Border" on Saturday night (May 27) featuring another complete show- this time for $25,000 to-win! The Whelen Econo Mods will also be in action for $800 to-win. Pit gates open at 2 p.m. with general admission at 4. Warmups begin at 6:30 p.m. following by qualifying and racing. Reserved Tickets: $45. General Admission: $40. Kids 12 & under: $10. Pits: $45. For reserved/advance tickets, go to: https://mpv.tickets.com/?agency=WRG_SNG_MPV&orgid=52711&eventId=90031#/event/E90031
World of Outlaws CASE Construction Equipment Late Models (25 laps, $6,000 to-win): 1. 19R-RYAN GUSTIN[2]; 2. 40B-Kyle Bronson[1]; 3. B5-Brandon Sheppard[5]; 4. 157-Mike Marlar[8]; 5. 44-Chris Madden[7]; 6. 32-Bobby Pierce[12]; 7. 96V-Tanner English[11]; 8. B1-Brent Larson[13]; 9. 9-Nick Hoffman[9]; 10. 25-Shane Clanton[10]; 11. 1ST-Johnny Scott[4]; 12. 28-Dennis Erb Jr[6]; 13. 3S-Brian Shirley[22]; 14. 11-Gordy Gundaker[23]; 15. 97-Cade Dillard[14]; 16. 2S-Stormy Scott[21]; 17. 0-Rick Eckert[16]; 18. 4S-Ryan Montgomery[20]; 19. 30-Todd Cooney[24]; 20. 36-Logan Martin[15]; 21. 14W-Dustin Walker[25]; 22. 7-Drake Troutman[3]; 23. 1C-Alex Ferree[18]; 24. 22-Gregg Satterlee[17]; 25. 1*-Chub Frank[19].
DNQ for the feature: Colton Flinner (48), Matt Lux (111), Cory Lawler (93), Daryl Charlier (3RK), Deshawn Gingerich (0G), Dan Stone (2), Eric Wilson (27W), Rob Anderzack (8), Andy Boozel (12B), Tyler Wyant (24), Levi Yetter (9y), Clay Ruffo (14R), Mike Smith (96), Logan Zarin (1z).
HTMA/Precise Racing Products RUSH Sportsman Modifieds (20 laps, $800 to-win): 1. 5C-AYDEN CIPRIANO[1]; 2. 02-Benjamin Easler[6]; 3. 7-Jacob Wolfe[3]; 4. 12-JC Boyer[10]; 5. 2-Kole Holden[7]; 6. JD57-Jordan Ehrenberg[4]; 7. 1R-Brandon Ritchey[9]; 8. 71-Gage Priester[11]; 9. 00-Rob Kristyak[5]; 10. 333G-Dalton Gabriel[14]; 11. 57R-Jacob Rutana[12]; 12. 59-Bill Cunningham[8]; 13. 29-Cole Edwards[16]; 14. 28J-Jacob Jordan[15]; 15. 46R-Doug Rutana[13]; 16. 00K-Jackson Kristyak[18]; 17. 63T-Tony Tatgenhorst[2]; 18. 7K-Brenten Kay[17].
Sharon Speedway is owned by the Blaney, Weller, and Kirila Families and is a 3/8-mile dirt track located on Custer-Orangeville Road in Hartford, Ohio near the intersection of Routes 7 & 305. For more information, check out the website at www.sharonspeedway.com or call 330-772-5481. Become a fan of Sharon Speedway on Facebook at www.facebook.com/sharonspeedway and follow us on Twitter at www.twitter.com/sharonspdwy.
---
Article Credit: Mike Leone
Back to News