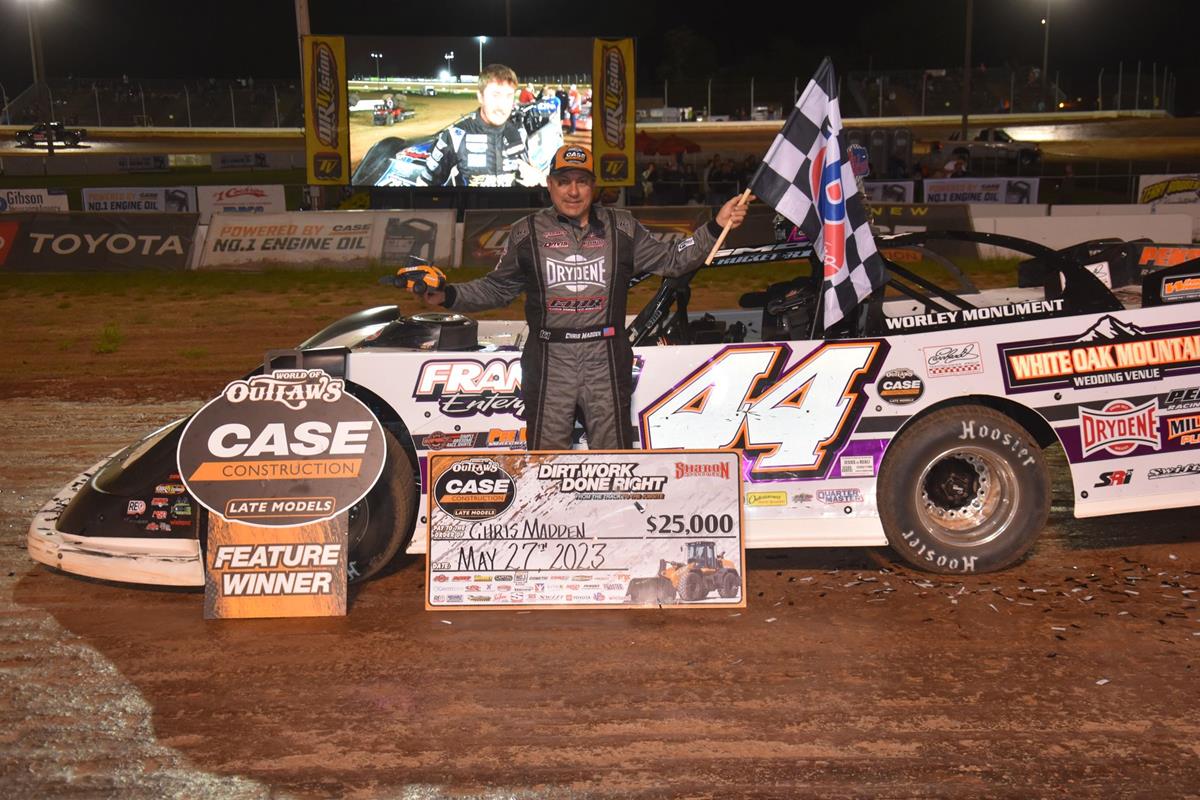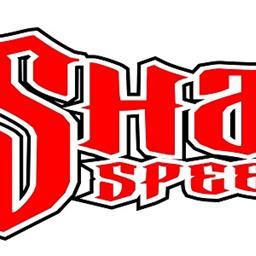 ---
CHRIS MADDEN TAKES 2 OUT OF 3 FOR WORLD OF OUTLAWS LATE MODELS AT SHARON WITH $25,000 SATURDAY NIGHT FINALE VICTORY; ECONO MODS TO JEREMY DOUBLE
By Mike Leone & Mike Warren (WoO PR)
May 27, 2023
(Hartford, OH)…Sharon Speedway wrapped up the three-night "Battle at the Border" on Saturday night as once again sunshine and warm temperatures greeted fans and racers at the Hartford, Ohio oval. Celebrating in the Hovis Auto & Truck Supply victory lane were Chris Madden-World of Outlaws CASE Construction Equipment Late Models and Jeremy Double-Whelen Econo Mods. Race #5 of the 94th anniversary season marked the 21st straight completed event dating back to last season at Memorial Day weekend.
Chris Madden is known for his patience in long-distance races. And his strategy worked to perfection in Saturday's $25,000 "Battle at the Border" finale at Sharon Speedway. The Gray Court, SC driver bided his time before passing Gregg Satterlee and Tanner English for the lead on lap 32 to earn his second World of Outlaws CASE Construction Equipment Late Models win in three days.
English and Satterlee led the field to the green flag in the 60-lap feature, as the Benton, KY driver nosed ahead on the bottom and led until a caution came out on lap 2 for Friday night's winner Ryan Gustin. On the next restart, it was Satterlee's turn out front, as the Indiana, PA driver countered English's inside line with a sweeping move on the outside of the track.
The two drivers waged war for the lead without changing lanes until a caution for Chub Frank on lap 27 changed the race's complexion. When the race resumed, Satterlee and English continued their battle while Madden, who started fourth, moved toward the front. "Smokey" closed in on the top two for the next three laps before he saw his opportunity on lap 32.
With Satterlee up high, and English down low, Madden only had one place to go- the middle. That's when Madden's Rocket XR1 gained momentum through Turns 1 and 2, pulling three wide with the other two drivers as they entered the backstretch. The epic three-way duel lasted until turn 3, when Madden's speed carried him past both drivers, giving him the lead with 29 laps to go.
From there, Madden navigated traffic with ease to score the $25,000 victory—his 35th career World of Outlaws triumph. Madden said he stayed patient, knowing the track would come to him later in the race.
"It was greasy, and I just made sure I didn't hurt my tires," Madden said. "I waited until the racetrack widened out and pretty much waited for it to come to me. I wanted to be in contention around halfway, and I think it was right around halfway when we started putting the pressure on them guys."
His patience also allowed him to be in the right place at the right time when the middle opened between English and Satterlee. He said he was grateful for how cleanly the three drivers raced for the lead.
"I'm thankful for two good drivers and both of them holding their line," Madden said. "All it would've took was a squeeze on each one, and it would've been a disaster for everybody. But it was just racing with two really good, competitive drivers, and that's what racing is. To do it three-wide on a dirt track is pretty awesome."
Madden's victory also helped him extend his Series points lead to 64 ahead of Bobby Pierce, who finished third.
Despite missing out on the victory, he said it wasn't the tires that kept him out of victory lane. "I feel like the track got greasy at the end," English said. "I got a lot of tire left, and [Madden] kind of looked just as bad as I felt, so I don't know if it just got greasy, and we were all the same at the end. I know I felt like I was babying it the whole time and just trying to make sure I kept it beneath me and didn't spin it. But I felt pretty good, and he's one of the best, and he's getting on top of his game again, and he's going to be hard to beat."
Pierce's third-place finish was his second podium of the Battle at the Border, on a night that his team had to hustle to make Qualifying after changing an engine before hot laps. "It's definitely a success," Pierce said. "We saw a lot of good cars get lapped tonight, and a lot of good cars just not finish up front. It's been tough all weekend, and the adversity we fought was just crazy. We didn't know when we had to hustle and bustle to get that stuff changed around if we'd even make qualifying. And we were like, well, at least we got a provisional, so we'll see what happens. What a night, and I can't say enough thanks to all of my crew guys."
Brian Shirley crossed the line fourth, while 2018 Series champion Mike Marlar rounded out the top five. Satterlee, who led 14 laps of the Feature, fell to sixth after his car tightened up in the race's closing stages. Nick Hoffman, Cade Dillard, Shane Clanton, and Logan Martin completed the top 10.
Dillard set fast time overall against the 38-car field in qualifying with a lap of 16.639. Heat winners were Madden, English, Satterlee, and Pierce, while Dan Stone and Dennis Erb, Jr copped the last chance B mains.
Jeremy Double passed pole-sitter Garrett Calvert on lap eight and kept Will Thomas III at bay to capture his first Whelen Econo Mod feature win of 2023. The $800 victory was Double's 19th of his career at Sharon and came in the T-N-T Motorsports LLC-owned, Malone Diesel/Competition Products/Bala Management-sponsored, Elite Chassis #83. Double, who started ninth, also received a $100 Summit Racing Equipment gift card for being the hard charger.
"Everything went wrong on the restarts at the last show and everything went right tonight," explained the 27-year-old Bristolville, Ohio resident. "I had no confidence after the heat race- something didn't feel right. We made some good changes on the car and I think I drove better too. This feels good. I have to thank Tom Sok, who gave me this opportunity to drive this car for him this year."
Thomas was 0.978 seconds back for his second runner-up in two races this season. Andy Buckley was a season best third over Brian Toto and Steve Haefke, Jr. Scott Burk, Jr was sixth. Jacob Eucker went 12th to 7th over Keith Felicetty, 15th starting Bryan Wagner and Garrett Calvert. Haefke, Thomas, and Toto won the heat races over the 22-car field.
Sharon Speedway will return to action on Saturday night (June 3) with the Western PA Sprint Speedweek paying $3,000 to-win for the Hovis Auto & Truck Supply "410" Sprint Cars. Also in action will be the Gibson Insurance Agency Pro Stocks, HTMA/Precise Racing RUSH Sportsman Modifieds, and the Whelen Econo Mods. Pits open at 4 p.m. with general admission at 5. Sprint Car qualifying will be at 6:30 p.m. with racing at 7.
World of Outlaws CASE Construction Equipment Late Models (60 laps, $25,000 to-win): 1. 44-CHRIS MADDEN[4]; 2. 96V-Tanner English[1]; 3. 32-Bobby Pierce[3]; 4. 3S-Brian Shirley[8]; 5. 157-Mike Marlar[6]; 6. 22-Gregg Satterlee[2]; 7. 9-Nick Hoffman[12]; 8. 97-Cade Dillard[7]; 9. 25-Shane Clanton[9]; 10. 36-Logan Martin[11]; 11. 1ST-Johnny Scott[13]; 12. 2S-Stormy Scott[10]; 13. B1-Brent Larson[22]; 14. B5-Brandon Sheppard[16]; 15. 0-Rick Eckert[20]; 16. 28-Dennis Erb Jr[18]; 17. 1C-Alex Ferree[21]; 18. 11-Gordy Gundaker[24]; 19. 40B-Kyle Bronson[23]; 20. 30-Todd Cooney[25]; 21. 2-Dan Stone[17]; 22. 1Z-Logan Zarin[15]; 23. 1*-Chub Frank[14]; 24. 48-Colton Flinner[19]; 25. 19R-Ryan Gustin[5]
DNQ for the feature: Breyton Santee (9), Matt Lux (111), Daryl Charlier (3RK), Drake Troutman (7), Cory Lawler (93), Tyler Wyant (24), Rob Anderzack (8), Mike Smith (96), Andy Boozel (12B), Terry Rushlow (63), Dustin Walker (14W), Eric Wilson (27W), Deshawn Gingerich (0G).
Whelen Econo Mods (20 laps, $800 to-win): 1. 83-JEREMY DOUBLE[9]; 2. 9-Will Thomas[4]; 3. 965-Andy Buckley[2]; 4. 8B-Brian Toto[3]; 5. 39-Steve Haefke[5]; 6. 2-Scott Burk Jr[8]; 7. 64-Jacob Eucker[12]; 8. 98-Keith Felicetty[7]; 9. 56-Bryan Wagner[15]; 10. 7G-Garrett Calvert[1]; 11. 27-Nate Arp[13]; 12. 16C-Amelia Clay[10]; 13. B4-Buzz Seitz[11]; 14. 26X-Carter Bidwell[16]; 15. 35-Rick Wilson Jr[21]; 16. 89C-Travis Carothers[22]; 17. 77D-Dustin DeMattia[6]; 18. 13-Jordan Simmons[19]; 19. 62-Jesse Brock[17]; 20. 20-Alex Siekkinen[18]; 21. 71A-Don Watson[20]; 22. 52-Zac Etzel[14]
Sharon Speedway is owned by the Blaney, Weller, and Kirila Families and is a 3/8-mile dirt track located on Custer-Orangeville Road in Hartford, Ohio near the intersection of Routes 7 & 305. For more information, check out the website at www.sharonspeedway.com or call 330-772-5481. Become a fan of Sharon Speedway on Facebook at www.facebook.com/sharonspeedway and follow us on Twitter at www.twitter.com/sharonspdwy.
---
Article Credit: Mike Leone
Back to News