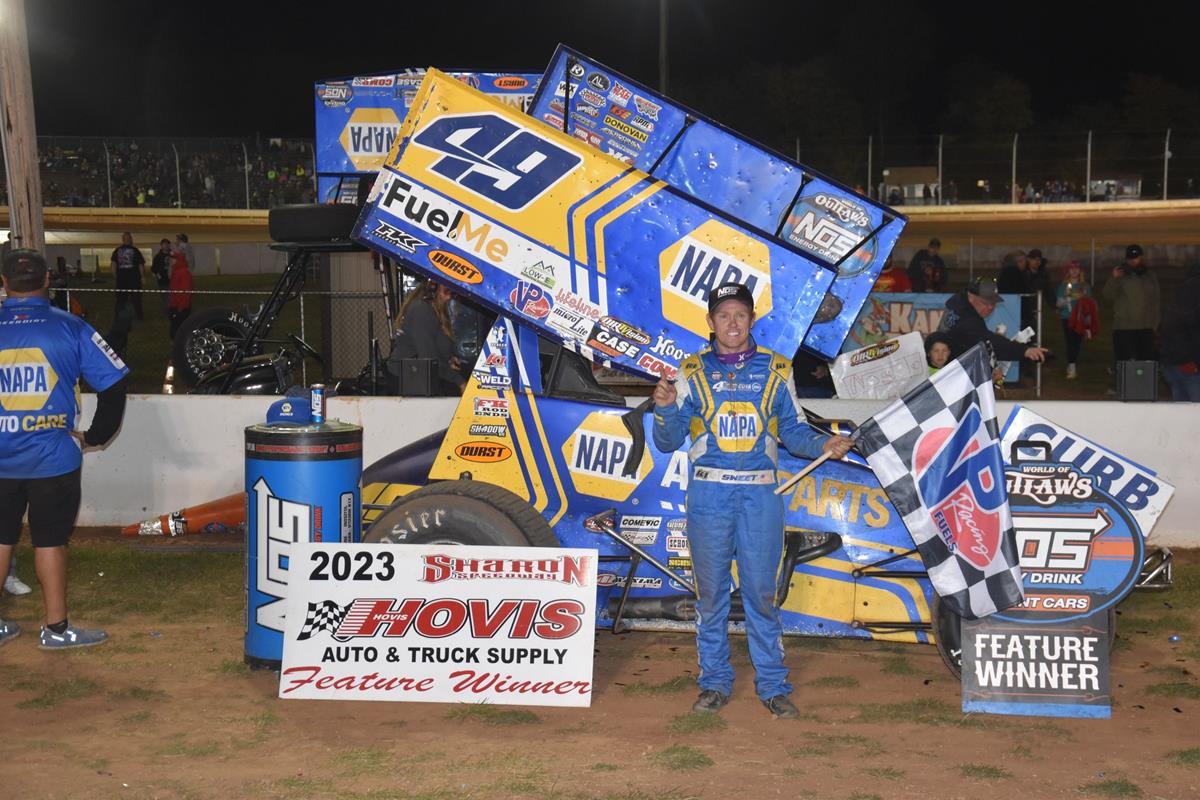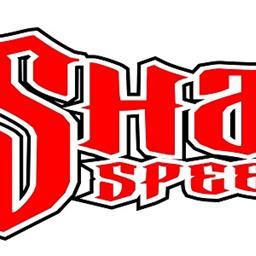 ---
4-TIME CHAMP BRAD SWEET WINS $10,000 WORLD OF OUTLAWS SPRINTS IN SHARON SEASON FINALE FOR 2ND STRAIGHT YEAR; $1000 ECONO MOD SPECIAL TO TY RHOADES
By Mike Leone
September 23, 2023
(Hartford, OH)…Despite rain to the east for the second straight event that cancelled most all of the races in Pennsylvania, eastern Ohio remained dry as Sharon Speedway was able to bring down the curtain on the 94th anniversary season on Saturday night. A near capacity crowd turned out to watch Brad Sweet-World of Outlaws NOS Energy Drink Sprint Cars and Ty Rhoades-Whelen Econo Mods capture wins and celebrate in the Hovis Auto & Truck Supply victory lane. Sixty-six cars were on hand for the two-division program.
While Brad Sweet led the entire caution-free 30-lap feature, his $10,000 victory in the World of Outlaws Sprint Car feature was far from easy. The four-time and defending Series Champion had Gio Scelzi and David Gravel all over him for the duration, but the duo were unable to race their way by as Sweet was able to extend his points lead following his ninth victory of the season. It marked the second straight year Sweet has been victorious at the Sharon finale as he joined Steve Kinser (4) and Danny Lasoski (2) as the only drivers with multiple World of Outlaws wins at Hartford, Ohio oval.
"I'm excited to get the win," Sweet said. "It was a tough battle for sure. I saw Gio (Scelzi) multiple times, I think, off of (turn) two, or it could've been David (Gravel). I just saw orange. It was a great race. The bottom got cleaned off. Once I found it, I knew if I was just patient and didn't overdrive the car it would be really hard for someone to get by me."
Following his dash victory, Sweet jumped to the lead at start of the feature, while Scelzi went fourth to second over Gravel and Tanner Holmes. Sixth starting Sheldon Haudenschild passed James McFadden on the opening lap then got Holmes for fourth on lap two. Lapped traffic came into play on lap eight and by lap 10 it was a four-car battle for the lead.
As the laps ticked off, Scelzi was all over Sweet and pulled even running the bottom on lap 20, but was unable to complete the pass. That opened the door for Gravel, who then raced side-by-side with Scelzi until making the pass for second on lap 23. It was now time for Gravel's turn at Sweet as he threw everything at the leader beginning on lap 25. Scelzi was then able to regain second on lap 27 before Gravel got back by for good on lap 28. Sweet though by now had control and took the checkered flag first for his third career Sharon win by 0.512 seconds in the Kasey Kane Racing-owned, NAPA Auto Parts-sponsored #49.
"I just didn't know where to be sometimes- lapped traffic was tough," Sweet explained. "I probably stayed up top a little too long, but I didn't want to leave that lane open. I was probably a little too free. I started off a little too good and got free pretty quick and was trying to use the wall on the (corner) exits to get me down the straightaways. I just was struggling a little bit, but we got into victory lane. That's half the battle."
Gravel, who leads the Series with 10 victories, earned his 29th podium finish of the year with his runner-up effort. "It was a good weekend," Gravel said. "I just wish I could take that start back. I thought Brad was going to go to the top and he went to the middle and kind of confused me and Gio got by me. I thought Gio was really good early, and it looked like Brad was searching and didn't know where to go as well. I thought the bottom was kind of the best place to be, but we were just a little too free down there. Then it started cleaning up, and our car really came to life when that bottom came in and the grip picked up and made our car sit right. We were alongside Brad there, and I guess I just wish I ran in harder than him and banged wheels and pushed him out of the way if I could do it over again. Obviously, we've got to beat him every night here moving forward. Obviously, if he wins, the best we can do is run second."
Scelzi was third. Holmes was able to get back by Haudenschild to take fourth, while eighth starting Carson Macedo did the same as he completed the top five. Haudenschild dropped back to sixth at the finish. Brothers Dave and Dale Blaney, who both won three "410" Sprint Car features this year at Sharon, started 10th and 11th and ironically finished seventh and eighth respectively. Spencer Bayston was ninth over Cole Duncan.
Macedo set fast time over the 36-car field in qualifying with a lap of 14.749. Heat race winners were Gravel, Haudenschild, McFadden, and Scelzi. Donny Schatz, who won the May 20 show for his first career Sharon "410" victory, captured the last chance B main. The entire World of Outlaws program had zero caution flags!
Two-time 2023 UMP Modified winner, Ty Rhoades, was a hired gun on Saturday night in the Whelen Econo Mod division. Rhoades got the call to drive Jerry Leamer's ride normally driven by Andy Buckley and Seth Brenot to offer his expertise on the #965 and delivered. The former Econo Mod regular started seventh and made the winning pass on a restart on lap 11 to win in his first start of the season in the division. Rhoades became the 6th different winner in 10 Econo Mod races in 2023. All three of Rhoades' 2023 wins were worth $1,000!
"This is incredible to win three races here this year," acknowledged the 32-year-old Harmony, Pa. driver. "Jerry, Seth, and Andy have been working really hard this year. They were struggling a little bit at the end and wanted to get a victory on the 83 (Double) and Will (Thomas), who isn't racing in the Econo Mods anymore so they asked for some advice and I gave it to them. Then the opportunity arose for me to drive it and my wife, who is at home with our one-year-old, said I should go race. It's pretty cool to get this for Jerry and his team. They have a really nice car, are great people, and really deserve this. We had (Ken) Schrader here tonight and Jake (Eucker) is one of the best in the Econo Mods short to Jeremy. I had a lot better car than I was showing early. I was trying to get my tires under me. I don't think anyone realized the middle tracked up and I was able to get him (Eucker)."
Jacob Eucker used the outside to take the lead from pole-sitter Bryan Wagner at the start of the 20-lap feature, while fifth starting Ken Schrader moved into second. Dennis Lunger, Jr. started sixth and was halfway to the front on lap two taking third from Wagner. Schrader was all over Eucker, but was unable to make the pass. A caution for an Eric Nellis II spin with nine laps completed changed the complexion of the event. On the ensuing restart, Rhoades passed both Lunger and Schrader for second then got another caution one lap later.
That caution, which would be the final one of the event, put Rhoades besides Eucker. Rhoades was able to drive around Eucker on the outside on lap 11 and then quickly took control of the event. With the last 10 laps going green-to-checkered, Rhoades' margin of victory was 3.243 seconds. It was Rhoades' sixth career Econo Mod victory and ninth overall at track.
Jeremy Double, who won three races this season to tie Brandon Blackshear for the all-time victory leading mark of 21, came up one spot shy. Double started back in ninth and made his way to third on the final restart. Double challenged Eucker the rest of the way before sneaking around him off turn four at the finish to earn the $700 runner-up spot. Eucker dropped to third after leading the first 10 laps.
Lunger was fourth. Opening night winner, Dustin DeMattia, went 11th to 5th. Schrader dropped to sixth after challenging for the lead in the first nine laps. Garrett Calvert raced from 23rd to 7th to earn the $100 Summit Racing Equipment Hard Charger gift card. George Vestal IV was eighth over Steve Haefke, Jr. Wagner dropped from the pole to 10th at the finish. Heat winners over the season high 30-car field were Double, Haefke, and Rhoades.
World of Outlaws NOS Energy Drink "410" Sprint Cars (30 laps, $10,000 to-win): 1. 49-BRAD SWEET[1]; 2. 2-David Gravel[2]; 3. 18-Giovanni Scelzi[4]; 4. 1T-Tanner Holmes[3]; 5. 41-Carson Macedo[8]; 6. 17-Sheldon Haudenschild[6]; 7. 10-Dave Blaney[10]; 8. 32B-Dale Blaney[11]; 9. 5-Spencer Bayston[12]; 10. 22-Cole Duncan[9]; 11. 83-James McFadden[5]; 12. 1S-Logan Schuchart[17]; 13. 3Z-Brock Zearfoss[20]; 14. 39M-Justin Sanders[7]; 15. 2F-AJ Flick[13]; 16. 15-Donny Schatz[21]; 17. 1M-Landon Myers[14]; 18. 13-Brandon Matus[16]; 19. 4-Danny Smith[23]; 20. 2X-Ricky Peterson[24]; 21. 5M-Jeremy Weaver[15]; 22. 11J-David Kalb[18]; 23. 08-Danny Kuriger[22]; 24. 6F-Bob Felmlee[19].
DNQ for the feature: George Hobaugh (40), Robbie Price (7s), Lee Jacobs (81), Tim Shaffer (49x), Michael Bauer (46), Henry Malcuit (70), Darren Pifer (23), Noah Gass (20G), Brett Brunkenhoefer (47), Brent Matus (33), Brian Paulus (6).
Whelen Econo Mods (20 laps, $1,000 to-win): 1. 965-TY RHOADES[7]; 2. 83-Jeremy Double[9]; 3. 64-Jacob Eucker[2]; 4. 71L-Dennis Lunger Jr[6]; 5. 77D-Dustin DeMattia[11]; 6. 9S-Ken Schrader[5]; 7. 7G-Garrett Calvert[24]; 8. 4-George Vestal IV[12]; 9. 39-Steve Haefke, Jr.[8]; 10. 56-Bryan Wagner[1]; 11. 5J-Josalyn Hibbard[19]; 12. 25-Judson Fell II[13]; 13. 47S-Gary Sullivan[15]; 14. 71A-Don Watson[17]; 15. 27-Nathaniel Arp[23]; 16. 23-Gary Olson[3]; 17. 16C-Amelia Clay[20]; 18. 15-Eric Nellis II[25]; 19. 26X-Carter Bidwell[22]; 20. 12-Troy Pinch[16]; 21. 28-Coleton Longwell[4]; 22. 4RJ-Robert Simmons[14]; 23. 2-Jeff Johnson[21]; 24. 83E-Ed Vogel[26]; 25. 57S-Royce Stanley[10]. DNS: 1M-Gary Miller Jr, C5-Calvin Clay, 89C-Travis Carothers, 4B-Alex Brockway, 48-Greg Bogard.
Sharon Speedway is owned by the Blaney, Weller, and Kirila Families and is a 3/8-mile dirt track located on Custer-Orangeville Road in Hartford, Ohio near the intersection of Routes 7 & 305. For more information, check out the website at www.sharonspeedway.com or call 330-772-5481. Become a fan of Sharon Speedway on Facebook at www.facebook.com/sharonspeedway and follow us on Twitter at www.twitter.com/sharonspdwy.
---
Article Credit: Mike Leone
Back to News